Bullet Journal Cover Page Ideas
Looking for your next bullet journal theme? Find here over 200 amazing bullet journal monthly cover inspiration!
If you have searched for anything to do with Bullet Journals on social media you will have been sure to see a whole array of beautifully decorated pages with the name of a month on them.
These are bullet journal monthly cover pages.
They not only make your journal look amazing but can be a pretty important part of any Bullet Journal.
So, you may be asking yourself, what is a monthly cover page for, and do I need a monthly cover page in my bullet journal?
This is a long post with lots of ideas. If you want to get straight to a specific month cover, just use our table of content below.
We have also included 12 FREE monthly cover page printables. You can download these at the bottom of the post.
What Is A Bullet Journal Monthly Cover Page?
At its most basic a monthly cover page is a single or double-page in your journal that has the current month and usually some form of art journaling.
Unlike most other pages in your journal, this page is pretty much just a fun space to let your creativity run wild.
I usually find with my monthly spreads they are so chockablock with all the information I need for the month, I don't have leftover space to let my imagination run free or practice things like my hand lettering and doodles.
A monthly cover page is a fun and easy way to make sure I get creative at least once a month.
Do I Need Theme Bullet Journal Ideas?
Firstly, if you are new to bullet journaling, I recommend you start by heading over to our great post on how to start a bullet journal which is full of all the information and hacks you need to begin your bujo journey.
Once you know the basics it will be easier to decide if you should have a monthly cover in your planner.
I already covered why a monthly cover is great for creativity but it can also be a really practical component of any journal. But, how?
Well, a cover page is a natural and easy way to separate the months in your bullet journal.
If you have an odd page left over after a month of journaling a cover page for the next month is a fantastic way to use that space and continue the flow of your journal seamlessly.
They are also a fun way to introduce a theme for the month as well as a space in your journal to reflect on what things you love about the season or month.
How To Use A Bujo Monthly Theme?
Sometimes we don't know what to put on a bullet journal cover page or which theme elements to use in our creative planning.
Technically all you need to have is the name of the month on a cover page to be good to go but if you want to spruce up things a bit in your journal here are some ideas that you could add and how to use the bullet journal themes list:
Add a monthly calendar to the start of your month with your favorite theme
Use a theme for your diary front page and collection spreads
Adorn a quote that is meaningful to you or reflects the month/season/theme
Doodle your mantra for the month using elements of your theme idea
Be creative with your front-page drawing or with the introduction title to reflect the season
Add a good cover page for your monthly goal and fun trackers based on your theme
Decorate with the things you love about that month and time of year
Bullet Journal Themes For Each Month
In the huge roundup below, I have collected gorgeous examples of monthly covers for each month.
There are some stunning covers done by the beautiful bujo community and are great for getting some inspiration for your own covers.
Even though I have put them in calendar order, remember that bullet journalling is an individual and unique journey so feel free to use ideas and mix them up for any month of your choosing.
I would love to see what covers you have come up with so be sure to share them with me in the comments at the end of the post.
The best thing about bullet journals is the lovely bujo community! I love that everyone is willing to share ideas, artworks, and thoughts about journaling.
January Bullet Journal Cover Page Examples
Some ideas I love for a stunning January bullet journal cover are cozy winter themes and New Years Fireworks.
It is also a great place to pop down your exciting new goals for the year.
Some January and winter-themed ideas for your bujo may be:
Fireworks
Fitness & Gym
Mountains
Wilderness
Forest
Ice
Geometric
Sky
Galaxy
Looking for a new notebook to start your bullet journal for the year? Click to check out our favorite dotted notebook.
I love how simple yet effective this cover page is. All you need is a ruler and a fine pen like this one here.
February Cover Journal Ideas
The month with love in the air. As you can probably guess, there are lots of heart themes for these cover pages but there are plenty of other gorgeous ideas too.
Some great ideas for your bullet journal theme are:
Romance
Candy
Dreams
Pink themes
Purple themes
Retro
Tetris
Key
Paris
These Tombow Dual Brush Pens are a firm favorite with bujo fans.
If you haven't tried them yet, I suggest you splash out and order some.
This would make a gorgeous cover page for if you are lucky enough to be traveling that month too.
March Journal Theme Inspiration
Spring is in the air in March. Lots of floral designs are in these March cover pages but there are also some stunning geometric doodles.
Light bulb
Animals
Aztec
Rainbow
Mint
Succulents
Feathers
Wreaths
Botanical Drawing
Bubbles
Mental Health
St. Patrick's Day
Green Theme
Coffee
Vintage
I love the idea of saying goodbye to the previous month. Such a sweet way to end the month.
As you can see, lots of these gorgeous monthly cover pages use flowers.
If you want some easy step-by-step guides to floral doodles head over to our comprehensive post where we show you over 50 different flowers to draw.
Journal Theme Ideas For The Month Of April
April shower themes and lots more springtime flowers are popular for April bullet journal themes.
Some of my faves here though are the Harry Potter spread and the fun Easter cover page.
Check these bullet journal themes for April:
Easter
Bunnies
Pastel
Rain
Birds
Owls
Spring Break
Gardening
Herbs
Games
Movies
Birthday Party
Umbrella
Arrows
Sea Animals
Bicycle
This would be such a fun cover page for your birthday month.
How amazing is this Harry Potter Cover Page!
This Disney Bullet Journal theme would be perfect if you are heading anywhere Disney in the month.
May Bujo Page Ideas
Beautiful flowers, a little more Disney magic, and a cute bee cover page are in the May collection.
Here are some ideas for bullet journal themes in May:
Butterflies
Donuts
Floral
Blossom
Bees
Outdoors
Camping
Dream Catcher
Watercolors
Pom Poms
FRIENDS
Peacock
Disney
Sun
Cinco de Mayo
June Bullet Journal Front Cover Ideas
Summer is coming! Fun colors, juicy fruits, and a simple coffee theme cover page are all included.
Some of my faves are this unicorn bullet journal theme and the stunning hot air balloon cover pages.
Find below inspirational bullet journal themes for June:
Citrus
Sunflower
Flamingo
Drinks & Cocktails
Unicorns
Cupcakes
Fruits
Peonies
Ice Cream
Cactus
Nature
Sunshine
Sunset
Paper Airplane
Washi tapes make it so simple to add color and fun to a bullet journal color page. Find out the best washi tapes for bullet journals here.
July Journal Monthly Cover Ideas
From 4th July cover pages to fun summer bullet journal themes. The sun is shining and bujos are bright and colorful.
4th July
Watermelon
Pineapples
Lighthouse
Tropical
Road Trip
Beach & Seaside
Mermaid
Constellation
Sunglasses
Vacation
Surf
Lemon
Seashells
This design is created with just washi tape! Find out more ways to use washi tape in your bullet journal here.
August Bullet Journal Title Page
Dandelion themes, feather doodles, and a stunning teepee design are some of the cover pages for August.
Hot air balloon
Ocean
Lighthouse
Picnic
Airplanes
Comic Books
Polaroid
Mandala
House Plants
Clouds
Teepees
Turtle
Blue Themes
This is a gorgeous minimalist cover page.
I love how easy this one is. Even if you can't draw this is a great way to make your cover page look great.
September Journal Page Designs
The weather is turning and so are the leaves. There are some gorgeous fall bullet journal theme ideas here.
Leaves
Washi Tape
Native American
Wild Flowers
Magic
Yellow Themes
Fall
Harvest
Acorn
Dinosaur
Music
Cartoon
Back To School
Berries
Need to learn how to do special fonts for your bullet journal? Here are some of our favorite fonts to use in bullet journals.
October Theme Ideas For Bullet Journal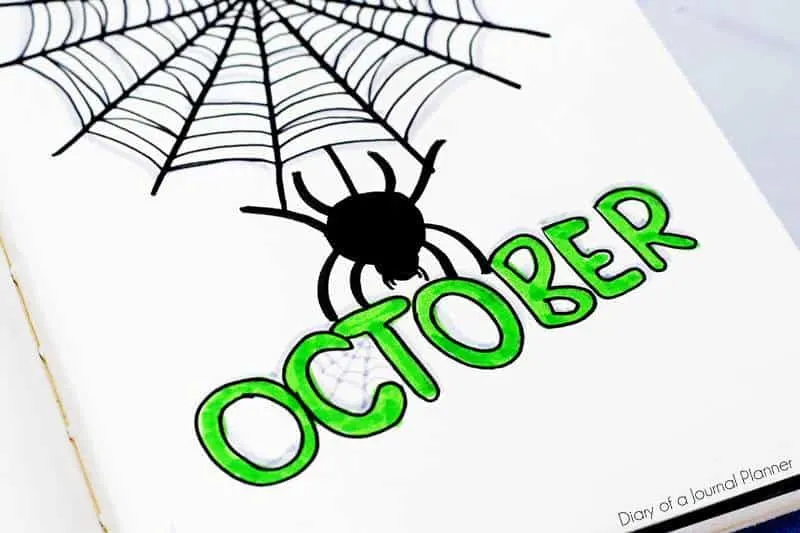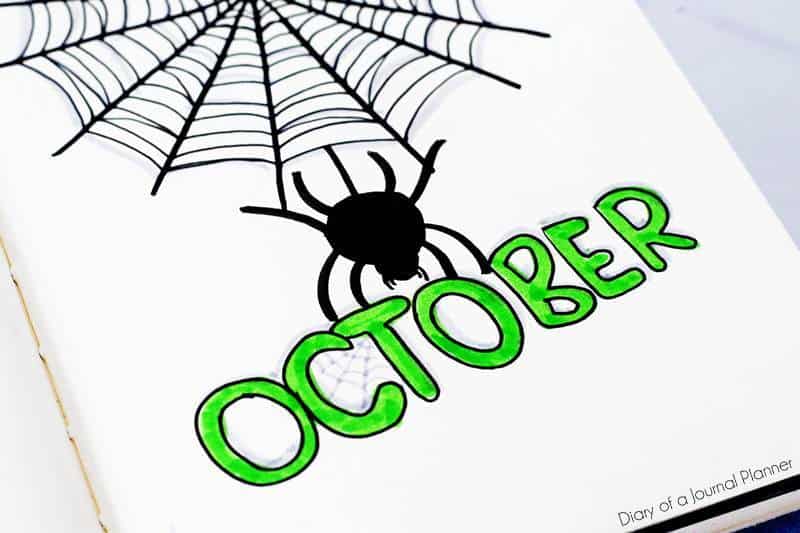 Spooky Halloween themes and more fall bullet journal ideas are here for October cover pages.
Pumpkin
Apples
Orange Themes
Spooky
Patterns
Mushrooms
Star Wars
Kittens
Candy Corn
Tea
The 90s
November Bullet Journal Monthly Cover Page Ideas
More fall muted colors, cozy cups of tea, and mountain designs. Here are some gorgeous cover page ideas for November.
Storm
Winter Clothes
Knitting
Socks
Red Themes
Baking
Makeup
Fox
Shopping
Thanksgiving
Midnight
Origami
Grey Themes
Black and White Themes
Moon
Lord of the Rings
December Bullet Journal Monthly Cover Pages
It's the festive season. Lots of Holiday doodles, Christmas cheer, and winter wonderland themes.
Frozen and icicles
Christmas Ornaments
Christmas Candies
Snowman
Winter Wonderland
Woodland Animals
Crystals
Penguins
Gold Theme
Winter Lights
Winter Sports
Stars and Space
Cities and Cityscape
Want to try this yourself? Head to our step-by-step Christmas Doodle guide.
Free Monthly Cover Page Printables
Get your free bullet journal cover pages below! These are dotted A4 printables which you can easily resize to fit your personal journal size.
Monthly Cover Page Supplies
Want to get creating your own cover page? Check out our ultimate guide doodles for bullet journals. And get stocked up on these essential Bullet Journal Supplies.
More bullet journal page ideas you will love:
PIN FOR LATER!
Bullet Journal Month Title Pages