Looking for free bullet journal printables? You came to the right place! Check out these 10 amazing free printables for planner and bullet journal that will make you more productive and creative!
I know we all want to be super productive using our bullet journal or planners. And some of us even want to have it all beautiful and perfectly organized.
I can say it for myself that at times creativity takes over productivity and am so happy I can use my planner as a creative outlet and tool for keeping me organized (and sane!) at the same time!
Only problem is that not everyone can make Instagram-worthy bullet journal spreads with their current artistic skills.
And that is okay… we can use printables!!
Bullet journal printables are here to take the artistic load of anyone and just make sure you have beautiful pages with minimum effort (who doesn't like saving time too?).
So I decide to create this round-up post with some adorable free printables for bullet journalists and planners.
Check it out below and follow the link to access the pdf printables.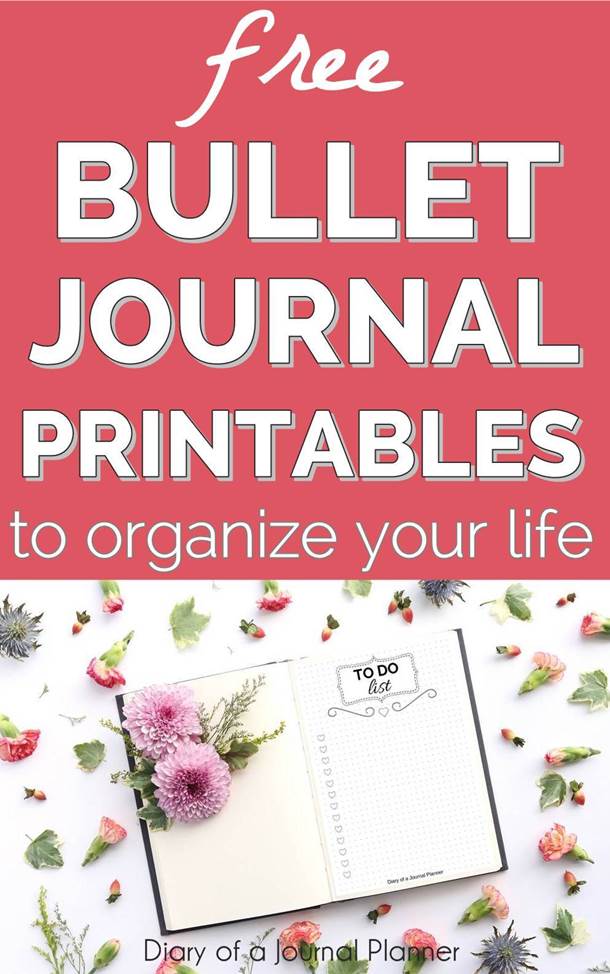 How to print the bullet journal printables to fit your notebook size
You will see that not everyone offer different sizes of printables.
There are many different notebook sizes out there and if you know what size your notebook is then you can use your printer settings to make sure the printed page will fit your notebook, planner or journal.
I create all my printables to be a little bit smaller than an A5 journal page (that way you can print it at normal size and the printed page will just fit in most A5 notebooks.
If you have a larger notebook you could print at that size too or enlarge it using your printer setting.
Here is a great tutorial to help you resize the printables to fit your own journal or planner:
How to make your own bullet journal printables?
If you are already used to having a particular bullet journal spread layout and just want to make a printable of it. If you don't know exactly where to start this tutorial below will be a great help!
I use Canva to make my own printables here and the tutorial shows you how to use this online software to create a handy planner printable.
Canva is free for most part and you don't need the pro tools to create these printables for free.
Bullet Journal Printables
10 totally free printable journal pages to help you get organized using your bullet journal.