Bullet Journal Level 10
Need help getting your life balanced and on track? Try this level 10 life bullet journal tracker to help you create a life you love.
Having a well-balanced and successful life is the goal for most of us. It can feel very overwhelming and vague as a goal though! Where do we start? What do we work on? How can we make our whole life better?
The best way to make your goals a reality is to get specific!
If you have been using your Bullet Journal for a while then you will already know that they are an amazing way to help you stay focused and work towards your goals. In fact, you are probably already using some amazing spreads that help you work towards the things in life, like habit trackers and vision boards.
We wanted to share with you today a spread we have personally found to be one of our most effective for personal growth and life balance.
Want to find out more? Keep reading to find out what a level 10 life spread is and how you can use one in your Bullet Journal to work towards your ideal life.
Level 10 Life
What is Level 10 Life?
Level 10 Life is a personal development and goal-setting tool developed by Hal Elrod in his Miracle Mornings book. By assessing 10 specific areas of our lives, we can determine how we feel about each area in terms of achievement and satisfaction. It is then possible to create specific goals to improve those areas of our lives that need a little TLC.
"If we're measuring our levels of success/satisfaction in any area of our lives, we all want to be living our best lives at a 'Level 10' in each area. Creating your 'Level 10 Life' begins with creating an honest assessment of where you are." – Hal Elrod
If you haven't read Hal Elrod's Miracle Mornings book yet then we promise you it will be a life-changer!
Deals
Level 10 Life is just one of the tools in his book. You will be sure to find lots more information and habits you can create to help you live life the way you want. But for this post, we are just going to focus on the "Wheel of Life Assessment".
What Is A Wheel Of Life Assessment?
A Wheel of Life assessment is a circle that is split into the 10 sections that represent the level 10 life principles. Each section is then further split into small progress sections that you fill in to show how satisfied you are with that part of your life at the present moment. This is on a scale of 1 to 10 with 10 being most satisfied and 0 being the least.
Although it sounds a little like something you might have had to do for school, this assessment is actually very easy and super effective.
What Are The Level 10 Life Areas?
In his book, Elrod has the below Level 10 Life sections:
Family and Friends
Romance
Health and Fitness
Spirituality
Personal Development
Finances
Fun and Recreation
Career and Business
Caring and Contribution
Home
While we have used these for the Level 10 Life pdf we have created for you, it is important to remember that these are not set in stone!
While they loosely cover most areas of life you are free to interpret them as you feel will benefit your life. For example, romance may not just mean the traditional love romance, it could be about how much love you feel in your life in regards to yourself or all your relationships.
If you do not work then you may want to change the career section to a passion, hobby or some other purpose you have (or want) in your life. This goes for any other sections that you feel do not apply to your life or you may not want to focus on.
How Do You Make A Life Level 10?
Before we show you how to create a Level 10 Life one thing we would really like to stress is that you are NOT aiming for 10 out 10 for all these things.
No one is perfect, and no one's life can ever be perfect. This is not the aim of this spread. Instead, it is to help you see what areas of your life could be improved and if there are any areas of your life that are out of balance.
If you start with an area at 2 then work towards 3 then 4 then you are doing great and improving your life. It is also perfectly normal for an area to fluctuate. You may see an area drop and that is okay. Try to understand why an area may have dropped and then you can set your goals to help you improve that area.
Level 10 Life Spread
Now to the fun part! Creating your very own Level 10 Life layout.
1. Create Your Level 10 Life Tracker
Decide on the 10 sections you want to focus on ( remember you can use the ones we mentioned above or try some of your own ) and how you want to track these. The most common way is to use a circular graph but you can use your imagination and come up with any way to track these areas.
We have seen people use bar graphs, tables, and simple numbered or colored systems to mark where they are in life. Just make sure you have ways to assess 10 different areas in your life and a way to represent from 0-10 where you are in that section.
If you do want to create a circle then it may be useful to invest in a Helix Circle Maker. We love this tool for making any size circle and use it on habit trackers, cover pages, and other spreads.
If you are overwhelmed or short on time then be sure to download our FREE level 10 life pdf which is available at the end of this post.
2. Assess Your Life
Next, you need to look at each section and assess where you are in relation to that area of your life right now.
The best way to do this is to not overthink and mark down your score on your initial gut feeling. It is also very important that you are truly honest with yourself. This spread is only effective if you are being true to your feelings. This spread is just for you! It is okay if you feel embarrassed about a score (because you are amazing for being here to work on it!), or there is an area in your life that you feel should have more value because of what others say but doesn't to you personally.
This is all about how you want your life to be. Your chart will never be the same as someone else.
Color in, mark off, or chart what number you feel about that area of your life.
3. Set Your Goals
Now that you can see where you may want to improve or what is out of balance you can start setting some goals!
This part of your spread is again super personal. Some people like to set goals to improve every area of their life, others may decide on focusing on a few areas to bring more balance into their lives. What you decide to do is totally up to you. If you feel overwhelmed looking at a huge list of goals it is okay to just set one goal an area, or a few goals spread around the sections.
It can be a good idea to set a big overall goal that may take a year or longer. Along with smaller goals that you can work towards before your next Level 10 Life review. We like to create a page for our goals next to our Wheel of Life Assessment. We break up the page into the sections of the wheel then write our goals under each section.
If you need help setting realistic and achievable goals then be sure to check out our post about how to set goals below.
4. Make Your Goals Happen
Now for the secret to making all this a reality! Breaking down those goals into manageable and actionable steps.
You can then add these small steps into your everyday Bullet Journal spreads such as your weekly spreads or habit trackers.
For example, if Finances is an area where you mark low and you have set a goal to save for an item, you can break this amount up into small weekly savings and add a tracker into your weekly or monthly pages. Alternatively, you could create a special savings spread just for that goal.
One of our favorite tips is to work towards a reward. Think of something that will motivate you towards making this goal a reality! It could be something as small as getting your nails done to having a special meal with a loved one.
5. Review
The last step in making a Level 10 life spread work for you is to review your page. Everyone loves to review their spread at different times. We suggest every 6 months as a minimum. This way you can see if you are on track to achieving your goals and improving your life balance.
Take the time to think if you feel differently about any of the scores you have in the sections. You can add new scores if you wish to. If you do add new scores we like to make sure we mark where we were initially at so that we can see our progress. You can do this by marking with a thick line, dating sections, or any other way you wish.
Level 10 Life Free Printable
If you don't want to make your own Level 10 Life chart then download our free wheel of life assessment pdf!
Want more? Try our Level 10 Life bundle! It includes a 10-page workbook to help you rate each area of life on a scale of 1 to 10, goal setting page, a vision board, and trackers.
---
Have you used the principles of Level 10 Life to improve your life? We love hearing about our reader's wins and progress so be sure to tell us your story in the comments below.
More Bullet Journal Printables To Try
PIN FOR LATER!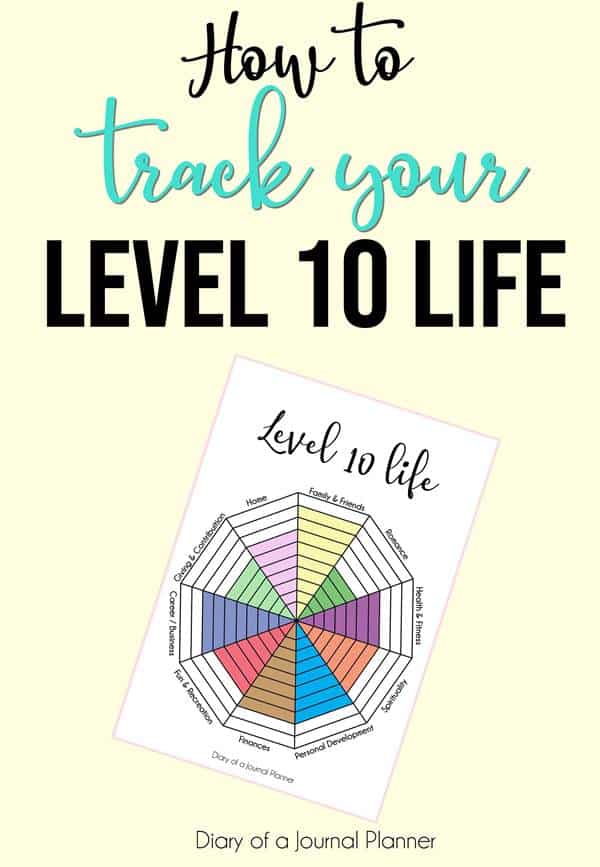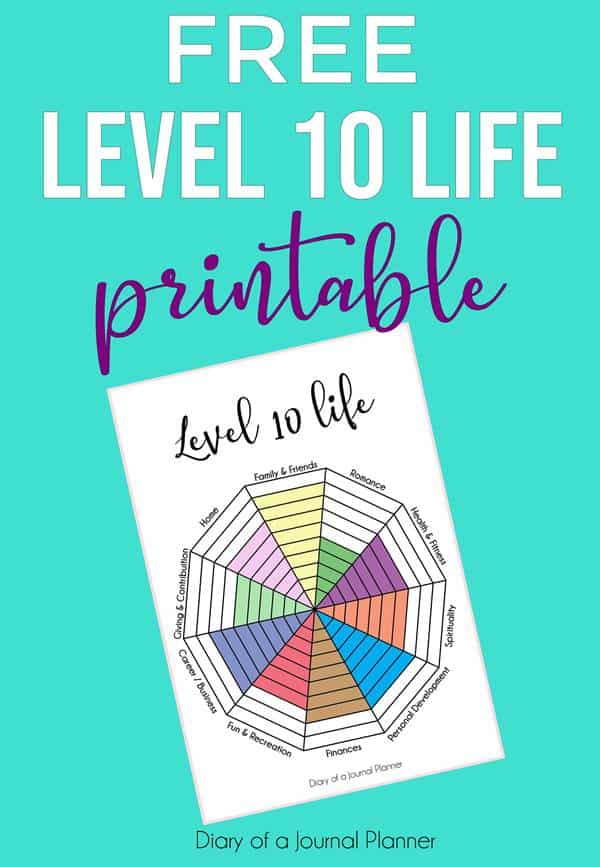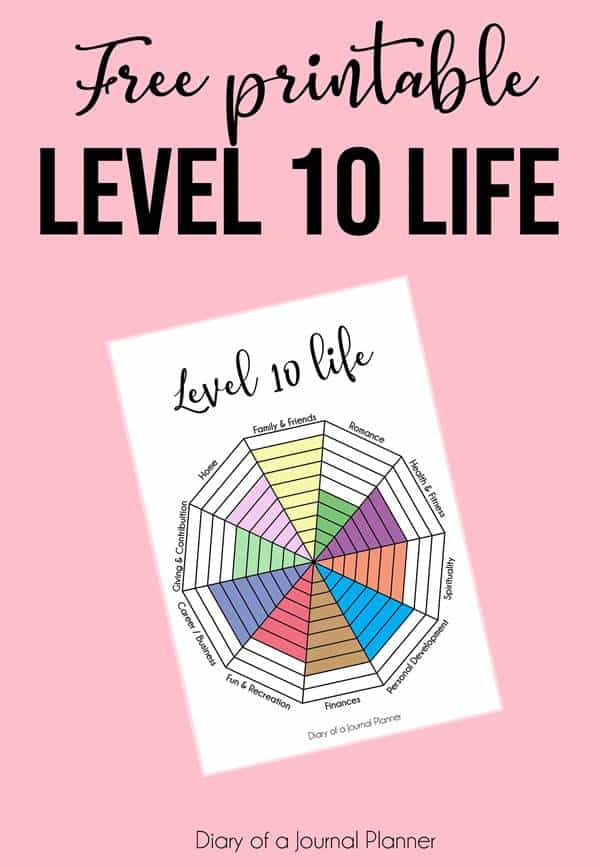 Level 10 Printable