We believe that journaling helps you gain the clarity you need to focus on what really matters in your life.
Our Story
Thass is a Brazilian living in Ireland and Kirs is an English lass living in Australia. We met in a pretty unconventional way over three years ago, through Instagram. Although we have managed to create some real-life catch-ups happen in that time too.
As well as being from opposite sides of the world, we are kind of opposites in personality too. So, before we tell you all the wonderful things about journals (because we could talk about that all day) let us introduce briefly ourselves:
Thassia loves crunching data and planning ahead while being amazing at doodling and hand lettering.
Kirs loves coming up with new ideas, being organized and getting creative.
Taking back control of your life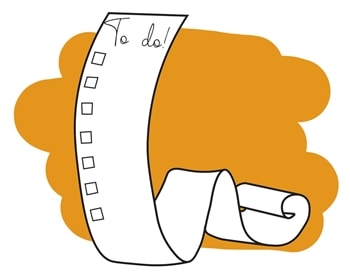 We are both busy moms so we know just how hectic life can get.
We also know just how overwhelming it can be to keep on top of to-do lists, family activities, meal planning and all those mental lists we constantly have running through our minds!
It can seem like we never have enough hours in the day to get everything done, let alone have the time to practice all those small things we enjoy doing when our to-do list isn't looming over us.
All those self-care practices that we love and know are good for us tend to be the things we never have time for in our busy schedules.
Does that sound familiar to you?
When we discovered journals we got excited with the idea of finding a system to help us get organized and productive (not to mention being an amazing creative outlet). But the reality was far from that!
The problem is that journaling doesn't come naturally to everyone.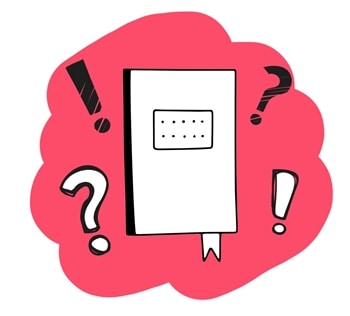 Staring at the very first blank notebook… and trying to figure out what to write, your first pages and what system to use in your journal can quickly overwhelm you and stop you from getting all the advantages of having a journal.
Because it is a very personal system, it's can also be a real challenge to find out what pages, spreads, and collections work for YOU.
Not to mention how difficult it can be to keep a journal going once you do start if you don't create the right journaling habits.
If you have tried to start and keep a journal then found out that it was actually MORE work for yourself while feeling like you have just added one more thing to your already hectic life then let me tell you that you are not alone!
Creating an effective journal means you not only have a brilliant tool for organizing your time, learning to prioritize and being more productive but you also have a great creative outlet that can help you reduce your stress levels and all those feelings of overwhelm.
After lots of experimenting (and a whole heap of mistakes), we finally figured out how to make journals really work for us.
Using a Journal has helped us to realize that actually WE DO HAVE THE TIME! We just didn't know how to prioritize and use our time productively and efficiently!
Because we saw such big changes in our own lives we wanted to share our knowledge and help others create their own life-changing journals.
This is how Diary of a Journal Planner started and how we got here, creating this website for you.
Let us help you overcome journaling overwhelm
Don't let the overwhelm stop you from finding focus and clarity in our hectic world!
Let us help you take control of your time, get organized, creative and happy.
Journals can make a HUGE difference in your life, but only when you create the right journaling habit. From personal experience we know how hard it can be to start and keep a journal and we are here to help you overcome the overwhelm.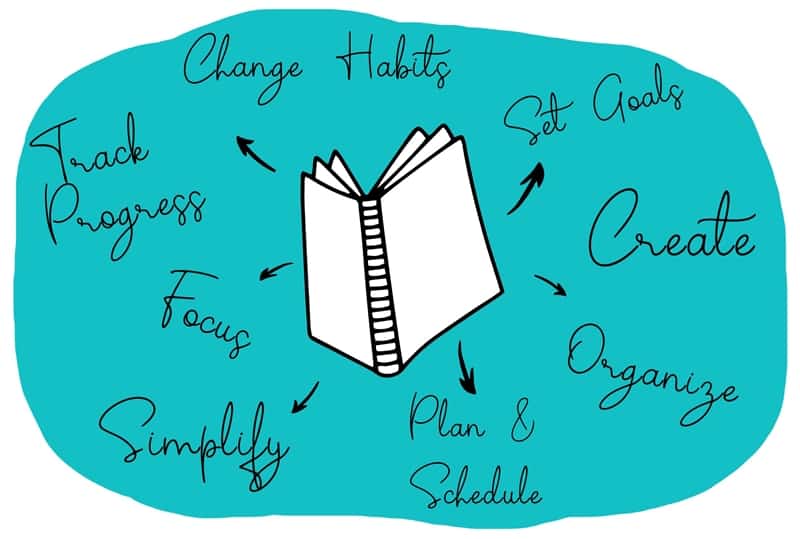 Will A Journal Work For You?
We believe that anyone can make a journal work for them, as long as you are not afraid to try and adapt it to your needs.
If you answer yes to any of the below questions then we really think that it is worth trying journaling.
Do you feel overwhelmed by how busy your life is?
Do you forget tasks, appointments, meetings, birthdays?
Do you never seem to have enough hours in your day to get through your daily tasks?
Are you stressed by the constant tasks, things to remember, and mental to-do list going through your mind?
Do you find it hard to sleep because you are always trying to plan the next day?
Do you feel like you don't know how to prioritize your daily activities?
Journaling for Focus and Clarity

Journaling can help you learn and gain clarity on what you need to focus on your life in terms of productivity, organization, task prioritization, mindfulness, and self-care.
It is about helping you with the feeling of overwhelm when you stare at the pile of tasks ahead of you and you don't know where to start.
A journal will be your planner, your diary, your vision board and your creative outlet ALL IN ONE PLACE!
So what can you expect to find on Diary of a Journal Planner?
Content on how to use the Bullet Journal Method
If you are completely new to Journaling then we also suggest you start with these few posts first.
Printables to make your Life easy
Download and print pages that will help you to start journaling immediately.
Coloring and doodle tutorials
We show you lots of easy ways you can bring mindfulness and a little creativity into your life.
A Dedicated Facebook Group For People That Love To Journal
Be sure to come and join our welcoming DJP community over on our Facebook group. It's a great space to ask questions, learn and share.
Yours In Journaling
Thass and Kirsty