Simple bullet journal fonts
Looking for bullet journal fonts to beautify your journal and improve your handwriting? Check out these amazing fonts for bullet journals that you can try today!
Although the original Bullet Journal system is intended to be quite a minimal and clean style, many bullet journalists – like myself – have found that they can use their journal also as a tool to spark creativity.
My bullet journal is definitely a mix of a planner system and a creative outlet at this point! And one area that I am working hard to improve is my handwriting and calligraphy skills.
So today I have created a post about journal handwriting fonts to give you some inspiration for journaling fonts you can try. If you love getting creative with your Bujo then you will love experimenting with bullet journaling fonts.
Not every font will be as easy to replicate. Make sure you take the time to practice your bullet journal handwriting. This is also the only way to improve cursive handwriting, so don't skip the practice.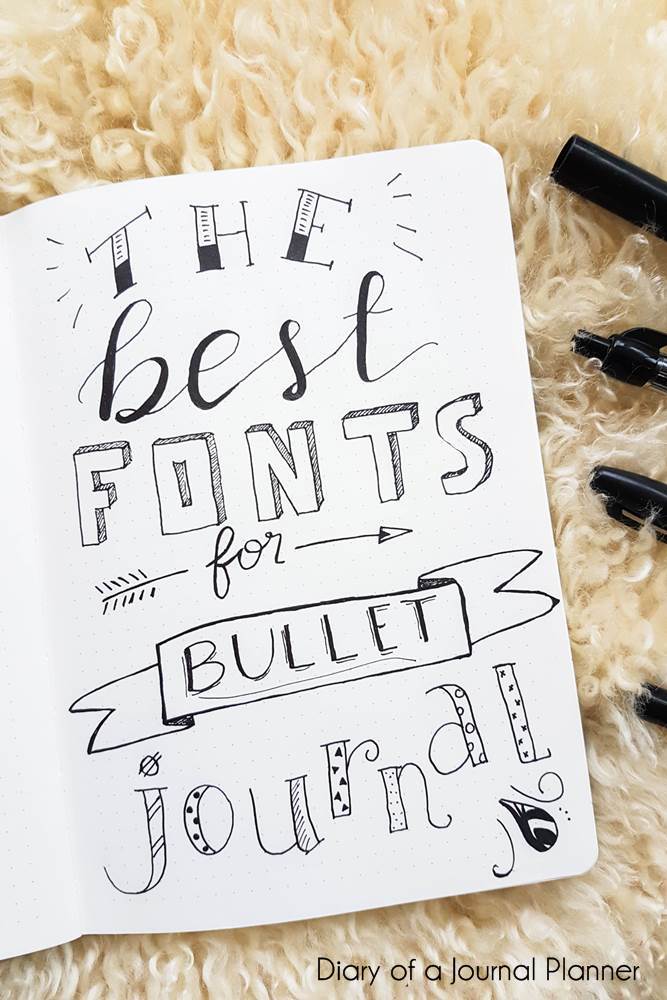 Bujo Fonts Supplies
On my journal I use a variety of pens and markers, but here are some of my favorites if you are a beginner. All of them will be perfect to use for one or more of the pretty font styles you will find below:
If you are interested in learning more about pens to use in your bullet journal, you can read my comprehensive article here!
How can I learn hand-lettering for bullet journaling
Before you try your hand at bujo calligraphy or bullet journal cursive here are some easy ways to help you improve your bujo handwriting:
Bullet Journal Handwriting Ideas:
If you hate making mistakes, why not leave blank pages in your Bujo just for handwriting practice. Or even have a special journal just for handwriting practice.
Try to use bullet journal cursive as often as you can, the more you use it the better you will become! You can use it for headings, days of the week, quotes, and special notes.
If you are really unsure about trying new bullet journal calligraphy fonts why not print them out first then trace over them, to begin with.
Use a pencil first then once you are happy with your attempt then try using a pen over the top.
Get good quality pens. It will make a big difference to your journaling font handwriting.
Be sure to use the dots in your bullet journal to help you keep your letter sizing even. The easiest way to make your handwriting look neat is to make it all a consistent size.
Watch videos on hand-lettering. There are some great videos on YouTube that will make sure you start your lettering in the right place and have the right flow.
Bullet Journal Font Ideas
Find out how to write bullet journal fonts below. I have made spreads with full alphabet and header ideas for how to use those fonts in your notebook.
I hope they give you plenty of inspiration to improve your regular journal font.
Straight line print bullet journal fonts
To those new to bullet journaling and handwriting, it is best to start with fonts that have a straight line.
Keep it simple and avoid complex designs altogether with these cool bullet journal fonts.
Once you have mastered these and improved your handwriting you can then experiment with other more challenging designs and bujo lettering.
Remember that the main goal of a bullet journal or planner is about functionality. The artistic side is a bonus that you can develop over time.
These straightforward fonts will give your bullet journal an extra level of embellishment while keeping things clean and neat, here are a few examples of print journaling handwriting.
No wonder kids learn how to write with print handwriting, because they are the easiest way to get the letters written in a uniform manner and readable when your handwriting is not well developed.
If you think they are too simple you can still add color or details around the letter to make your bullet journal visually appealing without spending a ton of time on it!
The Serif font is basically the simple print above with added serif. This is a great way to give a different look to your print handwriting.
Skinny uppercase is perfect for headers and banners inside your journal and also for making fun planner fonts. I like to use them for monthly titles or calendar headers. Add a little detail, a box, or a banner, and you are done!
This style is fun to use to give your journal some character. Basically, you write all letters with the same height, that is why I call it quirky.
This one I actually found on pinterest but I could easily replicate it by hand by just following the straight lines and joining the dots on the paper.
Anyone can recreate this, and it's also perfect for banners and monthly spreads.
Then you can add elements to all these print fonts to make personalized journaling letters that you can use on any page you want.
Here is an example of a beautiful font with a straight line that is super easy to create.
Block letter fonts for bullet journal
Block letters will add a fun element to your bujo. I like to use these large block letters for quotes, cover pages, or important headers.
The grid and dot paper in the bullet journal makes it easy to draw block letters, especially the square ones. Check out some of the examples below:
Block font for bullet journaling
The block font will give attention to your title. It may look fancy and difficult but with practice, anyone can do it too just by connecting the straight lines to make the block. Think of your dots as a grid for the alphabet.
You can also use a highlighter or any other pen with a chisel tip to make the block letter and then contour it.
If the block letters seem daunting to you then you can start with the half-block font. It's much easier to get the letters all the same size and height with this font than it is with the block letter.
You don't need to keep it clean and straight though, block letters can also be sassy, curvy and they are cute fonts to draw. When I was a child this was the font I always had in my notebooks. Check out my alphabet below.
You can make either bubbles or balloons with this font.
To give a 3D perspective you can add another dimension to the letters such as this one below.
This is not an easy font, it is easier just doing the plain block font but they are so therapeutic to draw and with practice, you can master this technique. Follow the alphabet below if you are unsure of how to create them.
Handwriting bullet journal fonts
I am always trying to improve my bullet journal hand lettering and penmanship. To achieve a level of beautiful handwriting practice is a must!
There is no other way to get better handwriting than by picking up a pen and paper and doing the repetitive work and practicing.
I write most of my bullet journal entries with cursive handwriting and then use the print and block fonts for titles and details.
Faux calligraphy bullet journal lettering
Calligraphy bullet journal fonts can be very tricky. Luckily there is another option!
Faux calligraphy is a great technique if you like the brush letter style but either, don't have the tools to make it or the skills.
You still need to do the cursive handwriting practice, because it will be the foundation of your faux lettering.
It consists of writing your text using your normal cursive writing and then adding the elements of brush lettering, basically faking the light-up stroke and heavy downstroke patterns.
Here is how the entire alphabet looks like in bullet journal faux calligraphy.
Bullet Journal brush Lettering
Brush lettering can be used to create beautiful elements for bullet journals and many bujo enthusiasts have started to use popular brush pens such as the Tombow Dual brush Pens.
Brush lettering is a technique that anyone can learn too. You will need the right tools though and practice, luckily there are some great printable sheets for brush hand-lettering online.
Perfect for detail elements in a bullet journal, to bring attention to a header, or to make quotes for Instagram.
Even though the idea of basic brush lettering is not so complicated it does take quite a lot of practice to be able to produce remarkable brush calligraphy, and of course, using the proper supplies help a ton!
I suggest you grab a brush lettering sheet, print several times, and practice, practice, practice!
Every person has their own brush letter alphabet style, here you can see mine.
The fun thing with brush lettering is that you can add different elements to this font. You can have bouncy letters but there are also flourishing, shadowing, highlighting, and blending techniques that give a different aspect to the font.
If you don't know how to draw font shadows just imagine that there is a light spot on the side of the letter casting a shadow to the left, this is the way to create realistic shadows.
The shadow can be light or dark, thick or thin, close or away from the letter. Below I made a thin dark shadow:
Finally, you can blend a few colors together to give an ombre effect to the lettering. You can do the same with faux calligraphy.
There are several different blending techniques, one that I used below was just writing with the lighter color, adding the dark tone to the bottom, and blending in the middle using another color tone.
Bullet Journal Typography Supplies
Check out our favorite supplies for creating the perfect bullet journal writing font:
---
Did you enjoy our fave Bullet Journal Fonts? From bullet journal calligraphy to easy bullet journal lettering, we hope you found one of the best bujo fonts to try out.
Do you have a favorite one too? Let me know in the comments below!
More Creative B
ujo Journal Ideas You Will Love
PIN FOR LATER!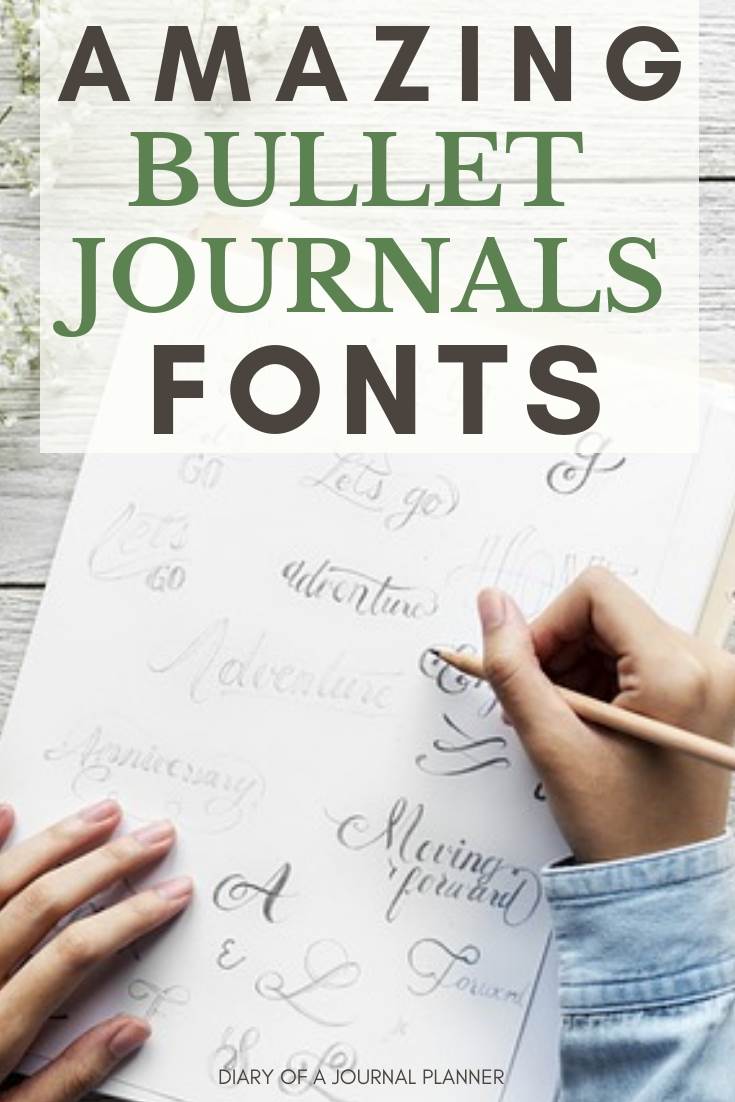 How to do bullet journal fonts