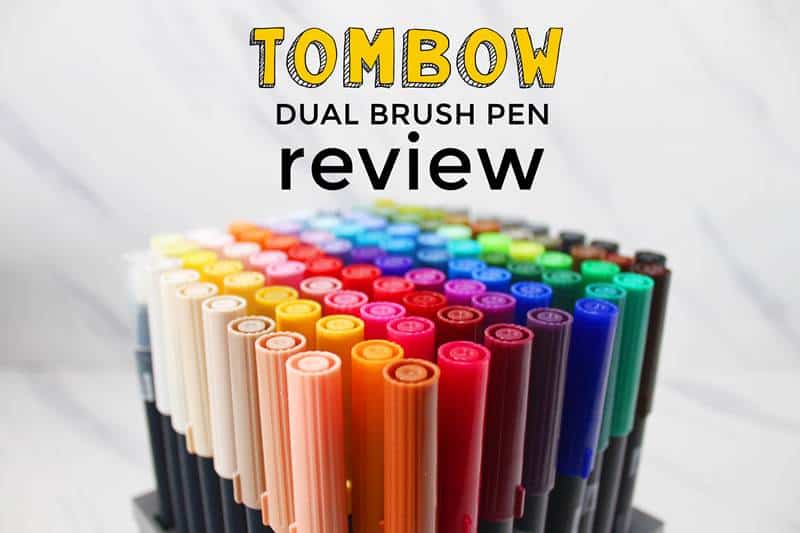 Tombow Markers Review
Are you on the fence about buying the Tombow marker pens but unsure if they are worth the price? Read my honest and full Tombow Dual Brush Pen review below to make up your mind.
The Tombow markers are very popular water-based brush pens, used by many bullet journal enthusiasts and modern calligraphy artists. However, these pens aren't the cheapest.
Today I am going to review a brand new set I got from Amazon. I am going to test it fully to find out what are the pros and cons of these Tombow dual brush pens.
But before we put these pens into action, let's learn a bit about the Tombow brand and how these pens compare to other famous pens in the market.
I am in no way affiliated with Tombow, this is my honest review based on my experience with these pens that I purchased myself!
Tombow Dual Brush Pens Overview
What are Tombow dual brush pens?
Tombow has some of the most popular brush pens for calligraphy. These dual pens have 2 nibs, one on each side of the pen. On one end you will find a nylon fiber brush tip while on the other end there is a finer felt tip.
The great thing about having these 2 nibs is that you can create different designs using the same pen as the brush nib allows for bold strokes by adjusting the pressure on the tip while the fine tip is perfect for writing and fine details.
The Tombow ABT Dual brush pens are also water-based which is particularly advantageous to bullet journal lovers because water-based markers tend to not bleed through the paper as much as alcohol-based ones. We will be testing these markers below and checking out how they perform.
They are sold either individually, in small sets of 10 pens or in big sets:
How many Tombow brush pens are there?
The complete Tombow collection has 108 dual-tip Brush Pens and can be bought in a set that comes with a marker case.
Another popular set is the 96 pen set, this does not include the newest 12 colors added to the collection. However it is already plenty of variety – this is the set I have!
The price difference between the 96 and the 108 sets is more than double if you compare Amazon price to the Tombow website (which I don't think is worth the price!).
If you really like one of the new colors you can just buy it individually.
But I know how sometimes you really just want to have the full collection! If that is the case you can upgrade to the 108 collection yourself by purchasing the Candy Set and the Vintage Set separately. You can also purchase the marker case on its own!
Want an easy way to see all the colors and what you have in your collection? Click below to find our Tombow color chart printable.
Where to get Tombow Dual Brush Pens?
The best place to buy these pens is Amazon because the products are way cheaper over there than they are on the Tombow site.
Buying the 96 pen set + the vintage set + the candy set + the marker case on Amazon is still cheaper (by about USD$100) than acquiring the 108 set collection from the Tombow website!!!

But also the individual sets are cheaper on Amazon, and they are sold by Tombow there too, so I fail to understand the price difference!
The only possible reason I would think of going to the Tombow site to purchase them instead of Amazon is in case you live outside of the US and the shipping becomes prohibitive, then perhaps the international or Europe-based site would be cheaper.
Tombow Dual Brush Pens Set Review
Now, let's get down to business and put these babies to test, shall we?
I am interested to see how they perform in comparison to other pens doing the same job, test on different paper, check their ease of use, packaging, price, bleeding, blending, etc.
Read below to find the results.
The color variety of Tombow brush markers is fantastic, as I highlighted above, there are 108 pens in the full set, all of which are different colors.
Some colors are pretty similar though as you can see from the chart above. I am a pen addict and having all these colors make me happy but maybe you don't need to get the full set.
Luckily Tombow was really thoughtful with the design of the small packages. They are put together with colors that are related to a theme.
Here is a quick summary of the smaller Tombow brush marker sets:
This is a great way to get started with brush pen lettering and calligraphy without spending a lot on pens!
The problem with the small packages is that you get 9 colors and one blender pen – sure it's nice to have one blender pen but if you get a few sets then you will have several blender pens (I would prefer having more colors!). Also, some of the colors repeat in different sets.
There are quite a few many ways to blend the colors of these pens to produce a fantastic effect on lettering and coloring.
In this post here you can find more about blending the Tombow markers. As you can see, as far as blending goes there are many techniques to be used and it is definitely an advantage of the Tombow pens.
You can purchase their blending palette sheet to mix colors or use the blender pen to mix the color into another straight on the paper.
The Tombow sets all come with a blender pen, which is colorless and designed to help you make fantastic blending effects on your artwork. You can go further and get the blending kit that comes with another blender pen, a blending palette, a mister, and a little booklet with instructions.
With all these possibilities I think the Tombow is great for blending and I am counting it as a pro factor!
Being a water-based pen is a massive advantage for avoiding ghosting and bleeding through paper.
This part is more relevant to bullet journalists because if you use sketch paper or sketchbook these pens will absolutely not bleed through, not even ghost, however not every notebook for bullet journal has thick paper (click here to check my favorite notebooks).
When it comes to bleeding and ghosting it is not only about the pen, it is a combination between the pen and paper. If the paper is thick enough or has any kind of sealant film the water-based pens will unlikely bleed through it.
The problem is that most notebooks come with normal copy paper and that is not intended for saturated ink. In fact, on the Tombow site, they stress that for best results you should avoid using the pens on normal copy paper.
I use my pens in my journal. I am an enthusiast, not a pro artist and all my tools are here to enable me to craft something and make me happy. I am not seeking perfection, or best results (beyond reason or my budget…). I am just a girl trying to relax and schedule my life while playing with these pens.
So, do Tombow dual brush pens bleed?
With, all things considered, I can say that these are non-bleeding pens, however, you should try not to saturate them on normal paper!
If you have a reasonably good notebook these pens will not bleed through the paper, but they are likely to ghost. If you use the tracing paper Tombow recommends then you will have no problem with bleeding!
These pens can be used for coloring too, especially since you can achieve the watercolor effects and blending options are endless. The ink strokes blend nicely with each other while wet too and if you work at a good pace you won't get too many lines where the ink overlaps the previous stroke that is common for water-based markers.
The fact that they come with 2 nibs helps you both color small detailed spaces as well as create fantastic effects with the brush pens.
However some of the blending techniques we discussed above can also be applied to other, more affordable brands. Specially if you like to use watercolor palettes.
With a good set you can achieve pretty much any color with a watercolor palette, these are also smaller and easier to carry, and definitely cheaper!
And also let's be honest that coloring with an alcohol-based marker is nicer and it is much better for layering.
So although I say Tombow dual markers are great for coloring, they are not above the quality of other cheaper options on the market.
Calligraphy and lettering
These pens are well known in the calligraphy industry for having this flexible and elastic brush nib that allows even non-professionals (like me) to do brush lettering.
I have a couple of pens with a softer brush nib that are indeed a lot harder to control. The black brush pen of my Sakura set for instance is so, so hard in my opinion (even though I love the fineliners like nothing else!).
So I have to agree that brush calligraphy gets easier with a good pen. However, I have had cheaper brush pens that were just as easy to write with as the Tombow. I actually got this inexpensive set here for my daughter to play with and I must say it feels pretty similar in the hand.
I also use my very cheap crayolas for lettering and they provide almost the same control, depending on the heaviness of your writing they will be even easier to do lettering with than the Tombows.
Check below for my hand lettering calligraphy using the Tombow and the Crayola super tip.
If you can not possibly see any difference then I rest my case. Tombow pens are fantastic, but they are not the be-all and end-all things. This brings me to the next rather important aspect.
Let's cut to the chase that these are not cheap markers.
The most cost-effective way to get these pens is to buy the larger set, as the price per unit will be lower than buying them individually or in smaller sets.
However, it is not every day that you have over 100 dollars to spend on a set. I know I had to save for some time!!
I know you might get massive FOMO and desperate want to get your hands in one of these pen sets. But, if you don't have the money it is okay to go with a cheaper brand.
I first bought a few pens individually, I was particularly interested in the very light greys that I wasn't able to find in any other marker set.
These first pens gave me the confidence I needed to buy my big set. However, you can do a lot with a couple of the smaller sets too. You don't have to go all in – and if you just need to have a ton of colors you can supplement these with the crayola 100 marker set which is also fantastic (and a fraction of the price).
With all that said I must admit the pricing is definitely a con – and possibly prohibitive for many people – but I have not regretted this purchase. These are professional artist-quality markers, I love my 96 pen set and I would buy it again.
Fraying is something that can happen to any brush tip overtime when the fibers of the tip are not well aligned giving a sloppy frayed effect on the result lettering.
Holding the pen at the wrong angle can speed the fraying process, you should therefore keep practicing to hold the pen in the correct way. Also not paying attention when putting the cap back on the pen can help split the brush.
Every brush pen is susceptible to fraying, including the Tombow pens. However, in our facebook group we have had readers who complained that their Tombows seemed frayed straight from the box.
This isn't something I have experienced myself but I dug deep and it seems that my readers are not the only ones who claim to have received a brand new frayed pen. I am sure I would be pretty annoyed if I had spent that amount on a marker and it arrived looking used.
I would be interested to hear from you if you experienced this too. For me so far so good but I will update this post if anything changes.
Are Tombow markers refillable? No, you cannot refill them. But then again I don't know any other water-based marker brand with this range of colors that can be refilled…
In fact, the only other marker with a large color range that I know about is the Copic markers (alcohol-based), which is one of the differences between Tombow vs Copic pens.
So in terms of reliability (is that a word?) I don't think it really applies here, all my water base markers are non-refillable too.
Are the Tombow dual brush pens worth it?
My honest opinion is that they are worth their price. As I mentioned above I suggest you buy them on Amazon though because they are cheaper over there.
You don't need the full large set to start with, you can start by getting one of the smaller sets that come with a blender pen too.
And if you really don't have the money do not get them, don't sweat on it! Grab another affordable brush pen set and slowly build your confidence and expertise to invest in a more expensive tool.
Tips for making the most of your Tombow pens
How do you store Tombow dual brush pens?
Tombow dual pens are designed to be stored either horizontally or vertically, however it is suggested that you store them horizontally to keep the ink color consistent over time.
What is interesting is that the Tombow stand that comes with the set of 96 pens is designed to keep the pens standing up, so I guess either way is fine!
What paper is best for Tombow pens?
Smooth surface papers are the paper for Tombow pens, such as tracing paper, marker paper, vellum or the HP Premium32 laserjet paper.
How long does a Tombow dual brush pen last?
I haven't run out of ink in any of my Tombow's but this will obviously vary depending on how much you use it. You can expect to use it for several months though.
I am going to practice with one pen daily and let you know when it is time to get a new one.
---
Do you have the Tombow marker pens? What do you think about them? Let me know in the comments if I have missed any feature in this pen review. I am happy to go over all the details again!
More art supplies you will enjoy:
PIN FOR LATER!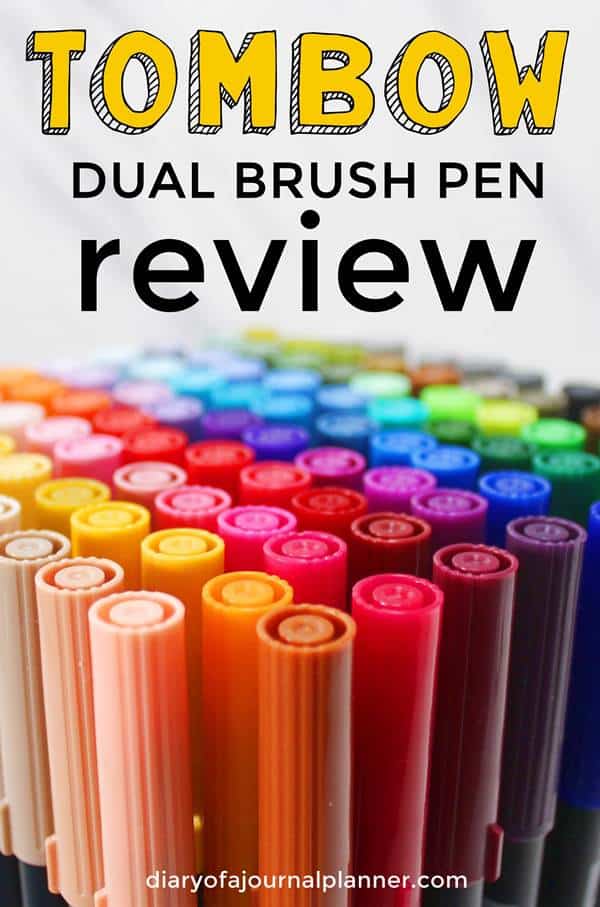 Tombow brush pen review