Christmas Themed Bullet Journal
Get into the festive mood with these magical Christmas bullet journal ideas. We share how to add a little Christmas sparkle to your Bujo spreads and get organized for Christmas.
There really is something magical about the Holiday season! Whether it's spending extra time with loved ones, ticking off all those special seasonal bucket list items, or just diving into all those Christmas movies, you just can't beat it.
It can also be an extra stressful and busy time!
In fact, I often find that I need my Bullet Journal more during the hectic festive season. I go from using a weekly spread to a daily spread as there are so many extra things on my to-do list ( as well as lots more events and appointments to remember). There are also some extra bullet journal spreads I use to overcome the Christmas overwhelm and get organized for the Holidays.
Want to get organized for Christmas? Keep reading to get some great ideas for your Christmas-themed bujo.
Holiday Themed Bullet Journal
So how can you make your spreads and pages more festive? Here are some easy ideas to try!
Christmas Doodles
Doodles are a fun and easy way to add some Christmas feels to your pages and spreads. You can add as a decoration to any page or create a whole theme around them.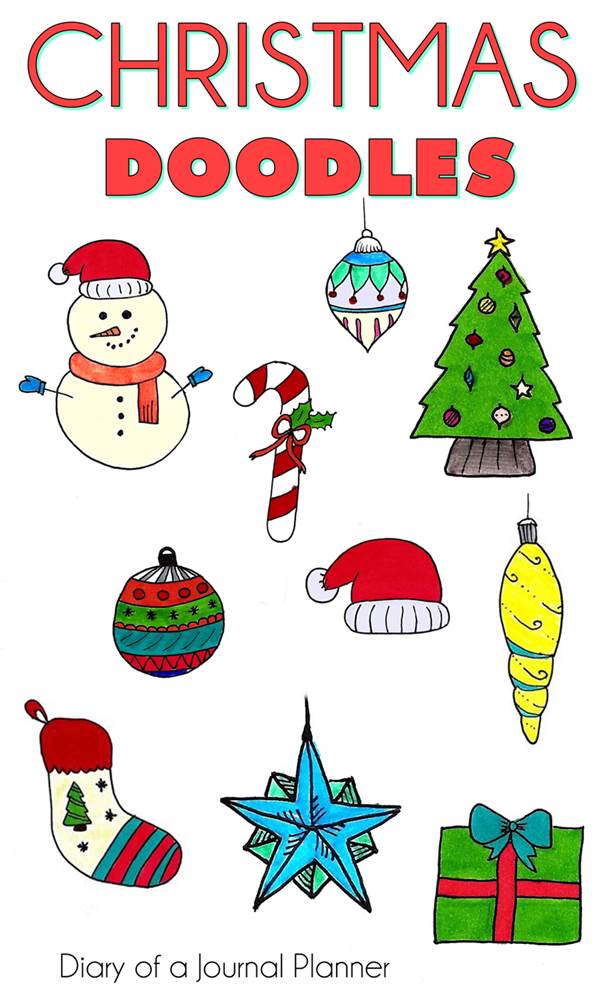 Click below to follow our super easy step-by-step tutorial for these cute Christmas doodles.
Or try these snowflake doodles for a classy Christmas look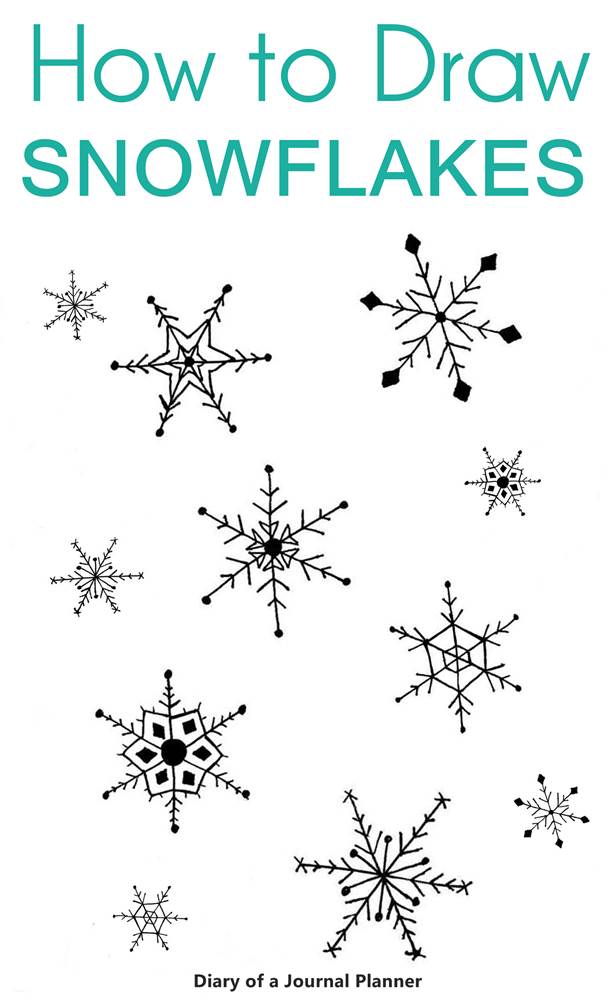 Christmas Stickers
Don't have time to draw? Instead of drawing doodles why not buy cute Christmas-themed stickers and use them to decorate your bujo spreads?
Find more Christmas Sticker designs here.
Christmas Washi Tape
You may have guessed by now that at Diary Of A Journal Planner we LOVE washi tape. It just has so many uses in your journal, from covering mistakes on your bujo pages to creating gorgeous themed looks. Why not splash out on some fun festive washi tape for the season? You can even use it to wrap your Christmas presents too!
Click to find even more Christmas Washi tape Designs
Christmas Stencils
Stencils are such a fun and easy way to create a theme. You can use a whole design or small parts of the stencil to create your own unique designs!
Find more Christmas stencil designs here
Special Pens
Add some sparkle to your page with some metallic brush pens or the perfect Christmas colors.
Bullet Journal Spreads For Christmas
Which of these Festive Bujo ideas is going to work for you?
You can choose to do your whole month in a fun and festive theme or just pick out one or two pages to add to your journal that is going to help you get organized for the Holiday season.
Christmas Bullet Journal Cover Pages
A cover page is a great way to set the mood for the whole month ahead as well as create a clear divide in your journal to celebrate starting a new month!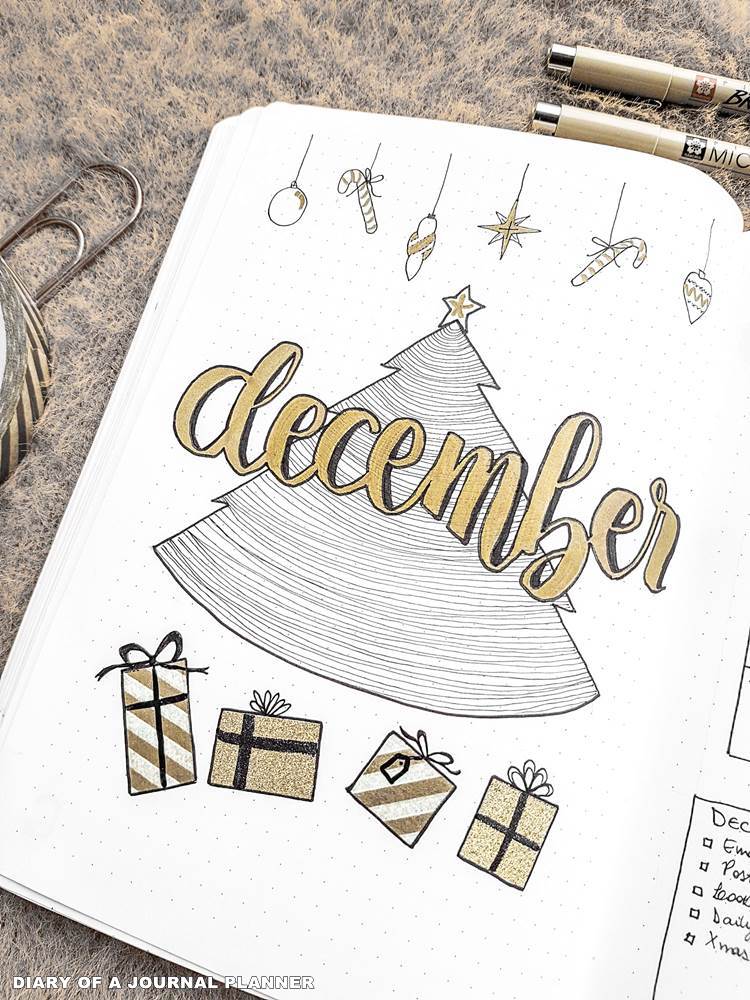 Click below to find out more about our sparkly December spread.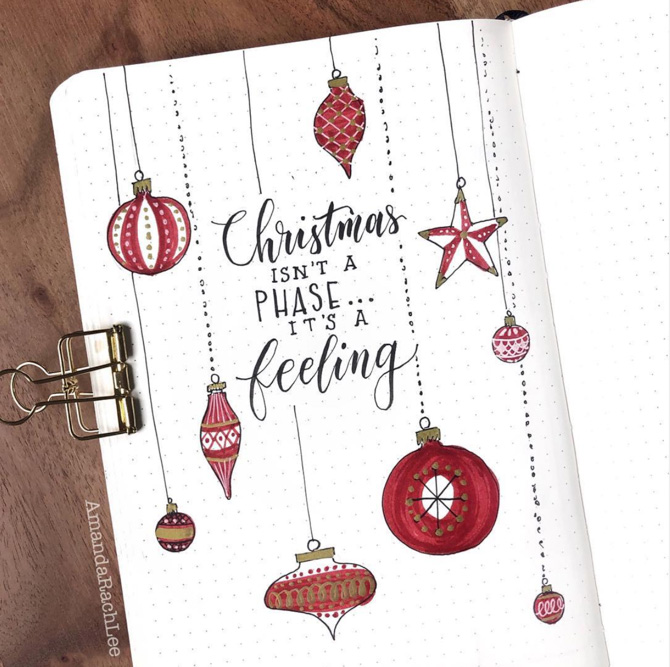 Adding your favorite Christmas quote to your cover page is a lovely way to start the month.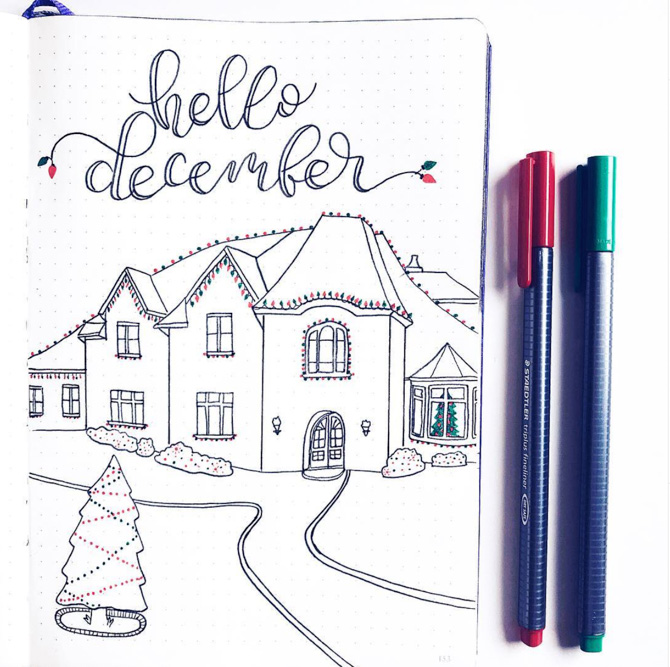 Christmas Monthly Spread Ideas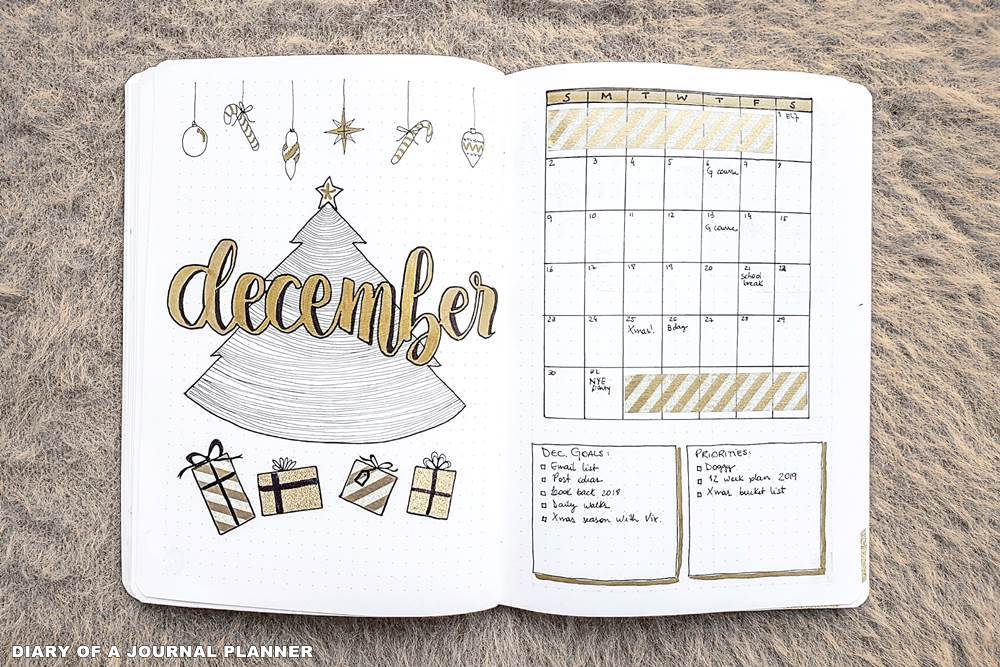 Creating a monthly spread is a good idea during the busy festive season.
You can easily glance at the spread and see what events and appointments you have planned for the whole month so you don't double book… or over-commit yourself.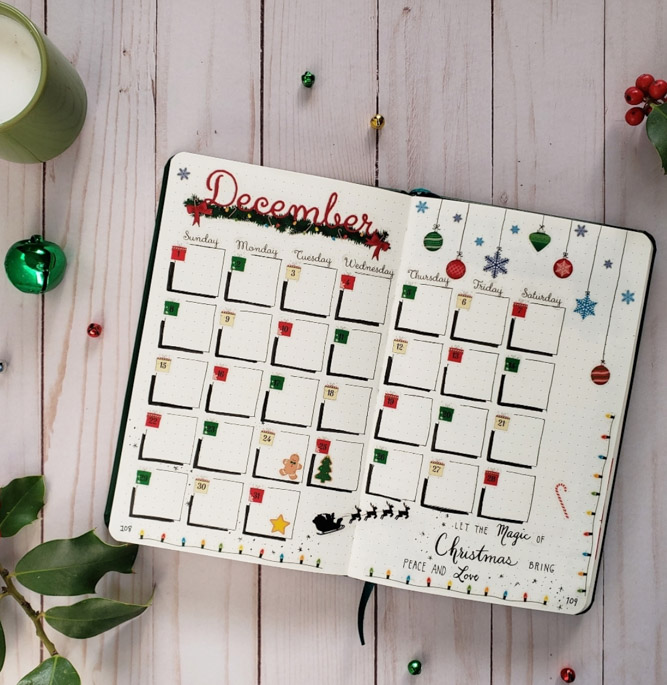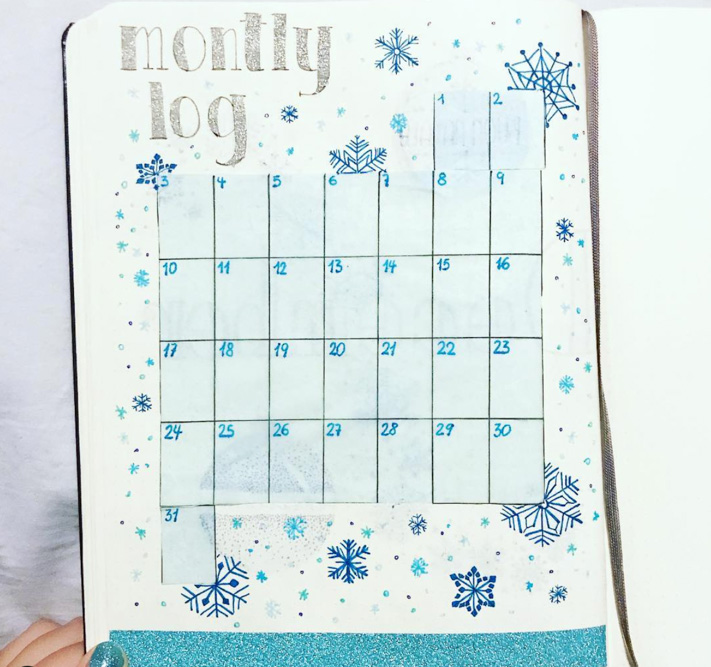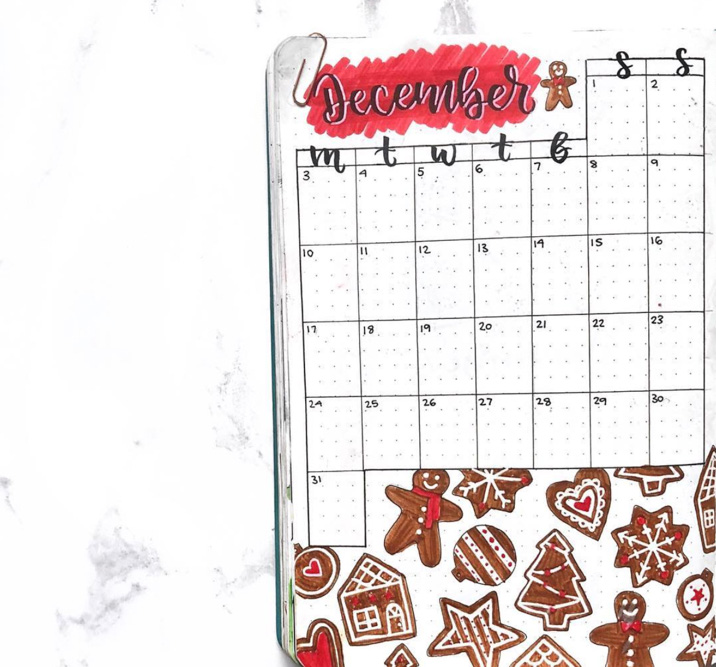 Christmas Weekly Spread Ideas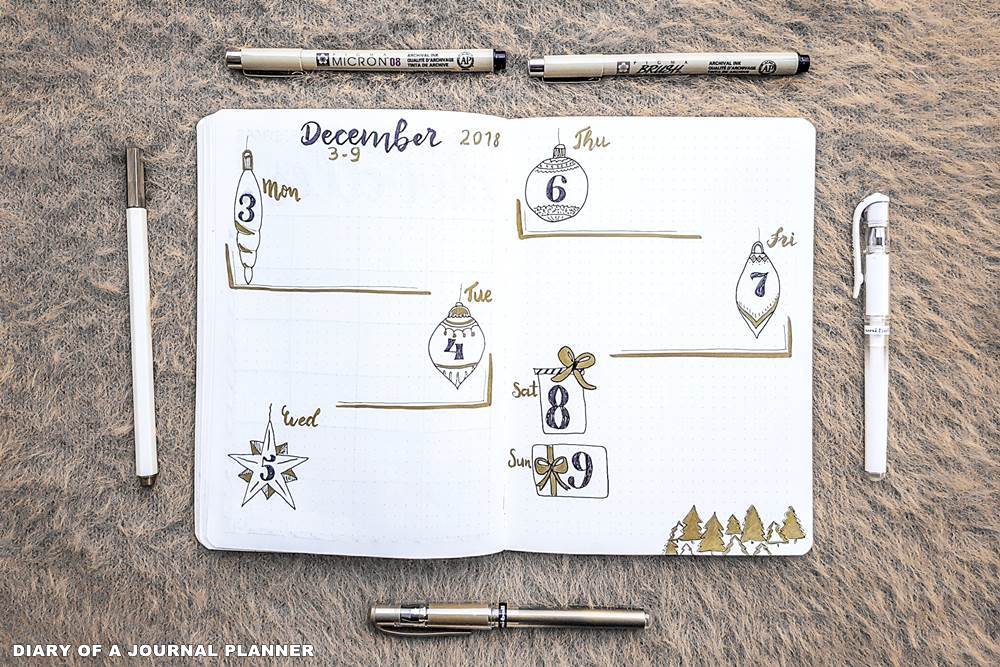 It's a good idea to create weekly spreads with a little more note space than normal during Holiday time. You can also add important notes, things to remember, and trackers to make sure you keep on top of everything.
Take the time to sit and brainstorm all the things you want to get done or have to remember then create your spread around that.
It can be really useful to do a brain dump too. Not sure what that is? Click here to learn how to do a brain dump.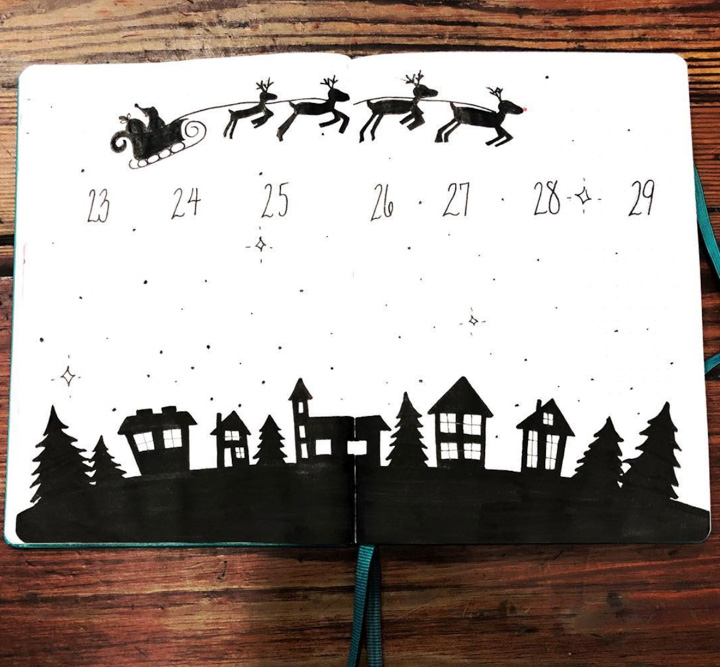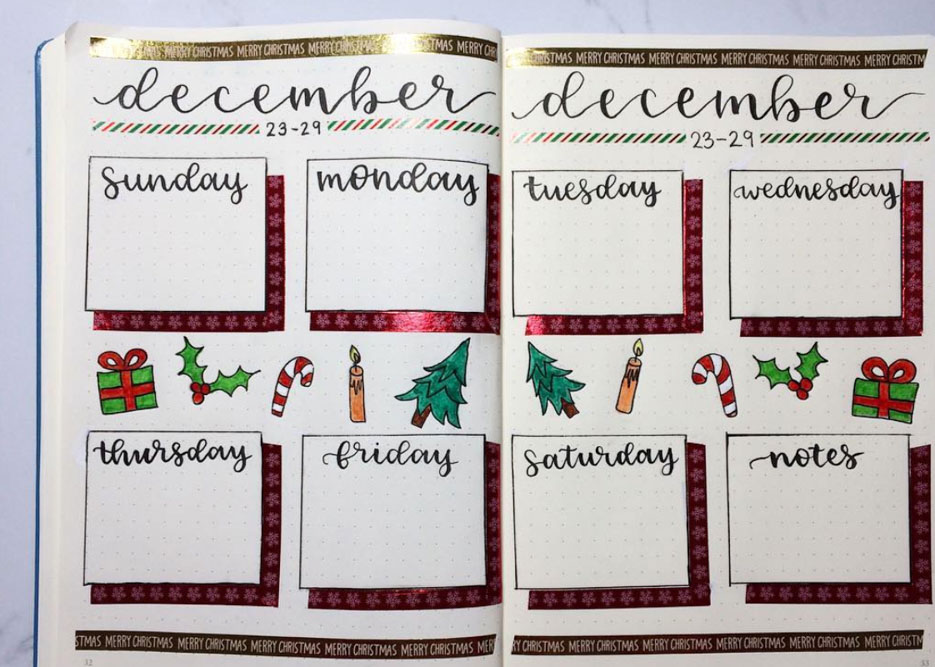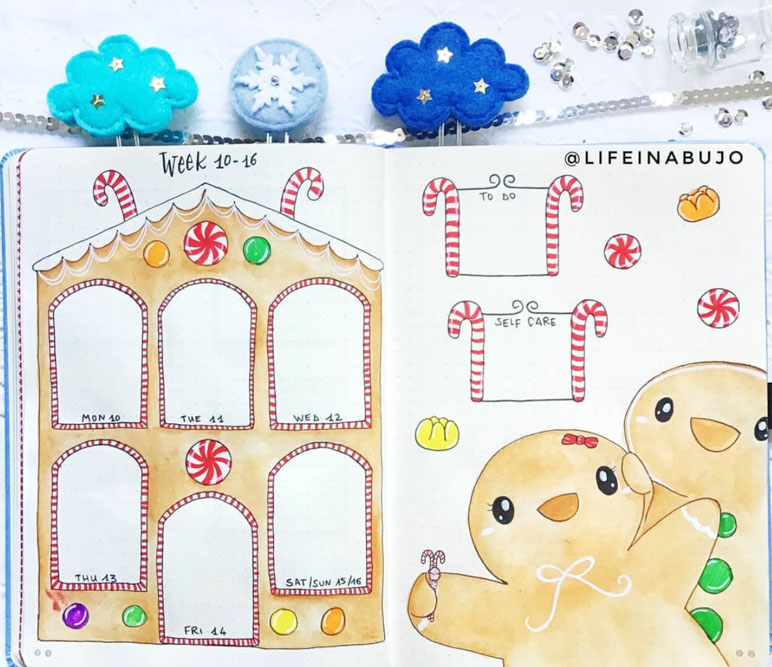 Spread Ideas To Get Organized For Christmas
Here are a few spreads and collections you may want to include special one-off pages for the year.
Things like Christmas plans, menus for Christmas day, present lists, and gratitude lists are some great things to include.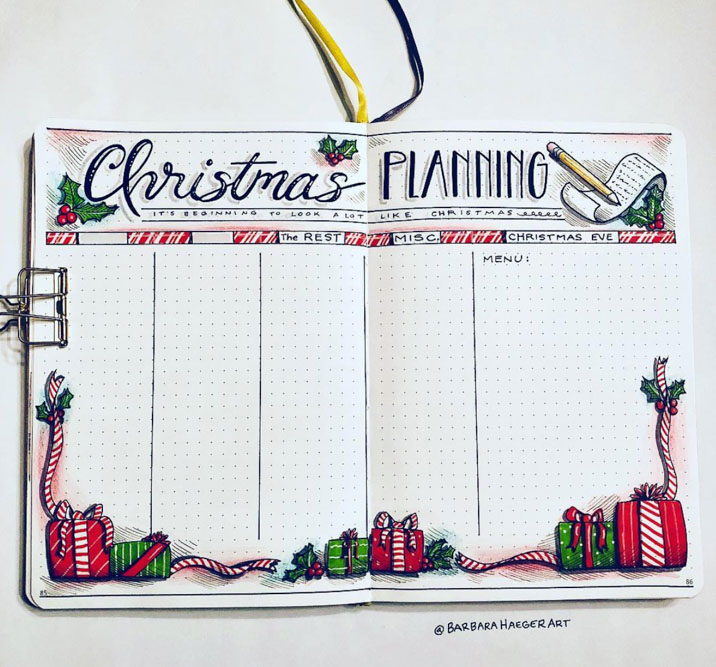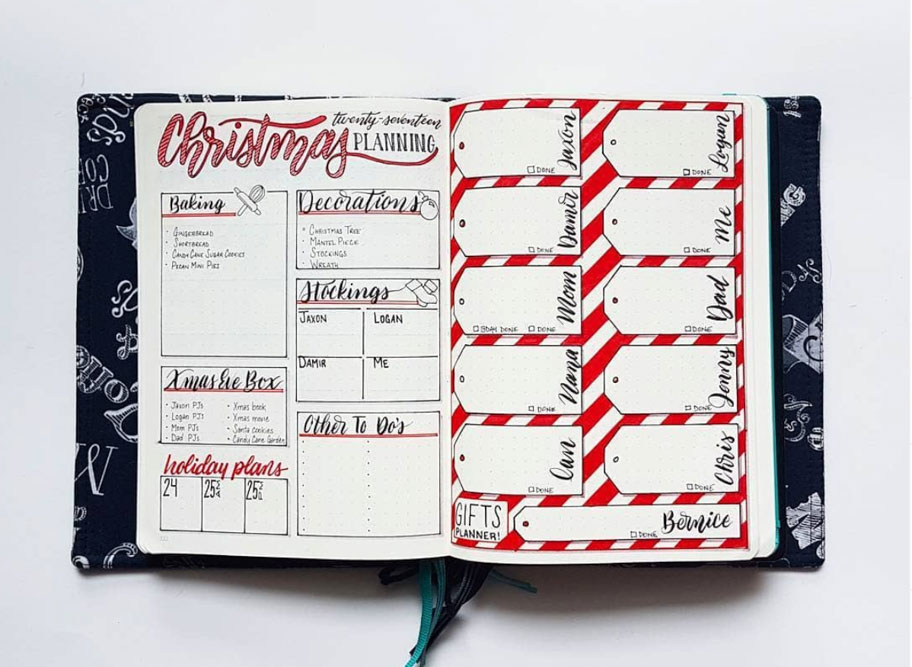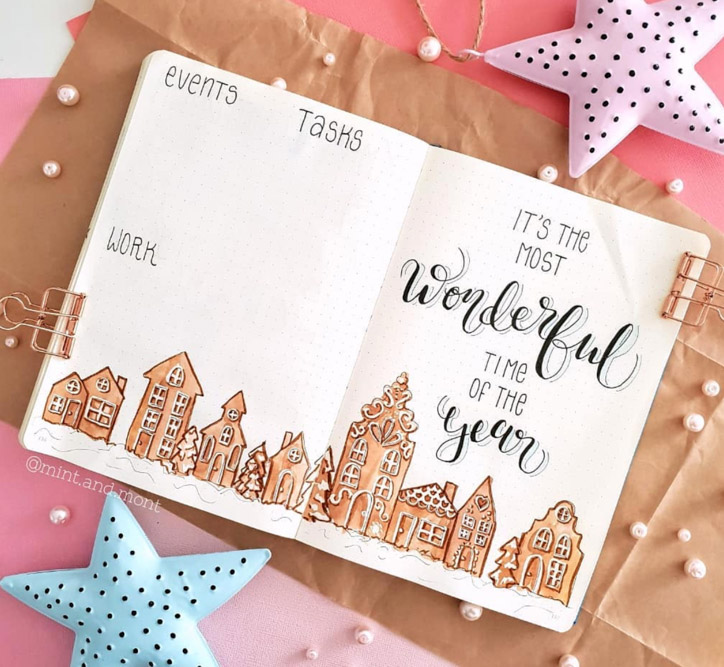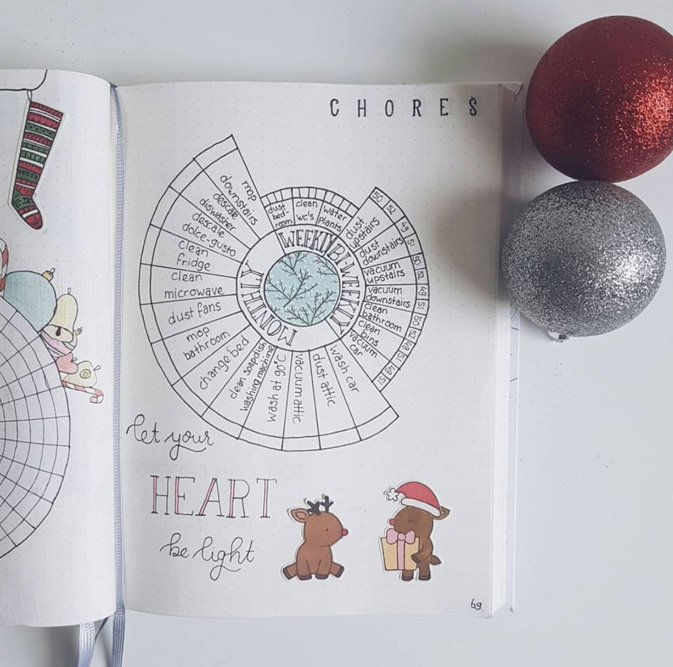 Need more Bullet Journal collection ideas? Click the link below to find a collection that will help you with your goals and organization.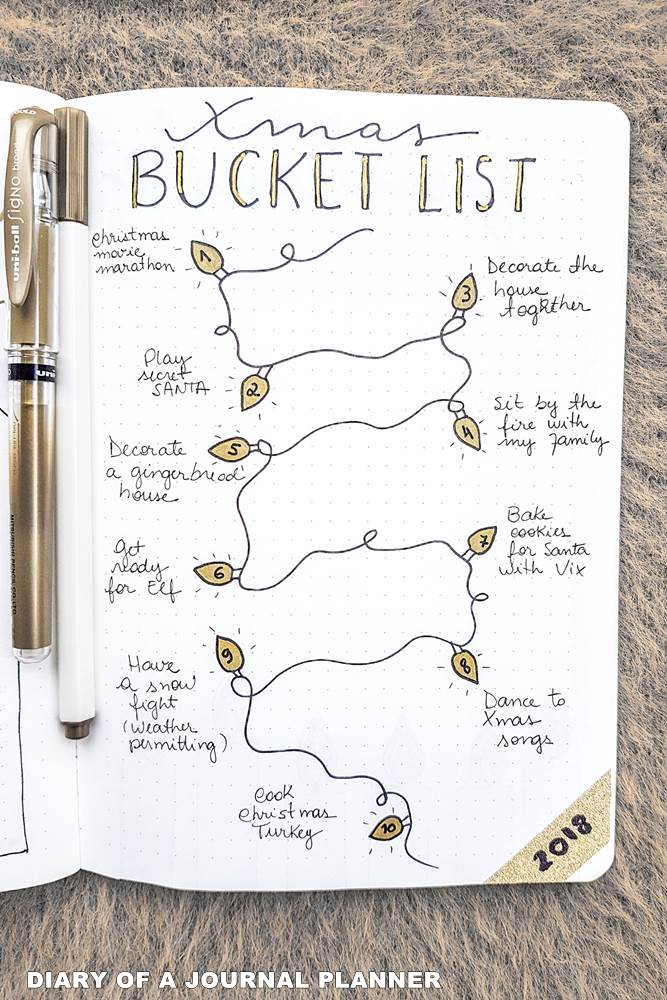 Getting into the spirit is easy with a Christmas Bucket list. It's such a fun way to create memories and to remember to slow down and enjoy the season.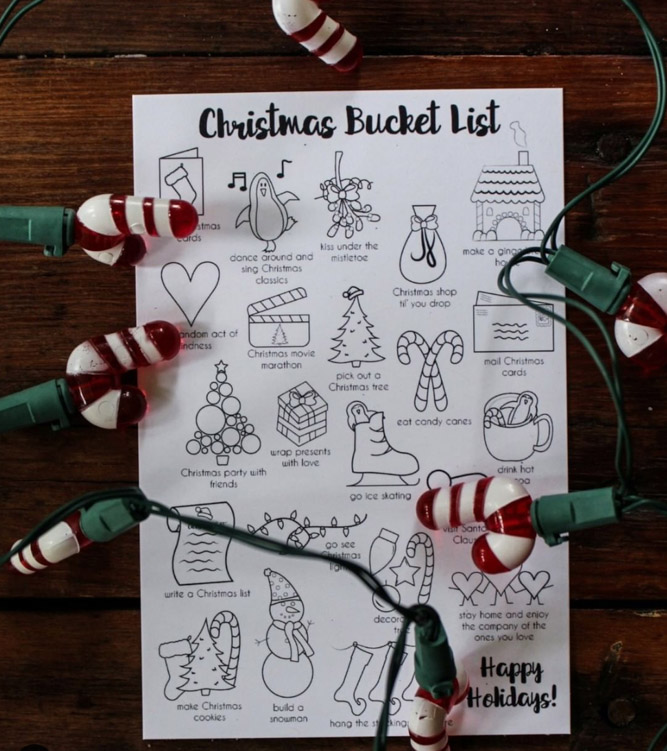 We all have Christmas movies, books, and songs that make the season feel special for us. Be sure to make a fun checklist for them.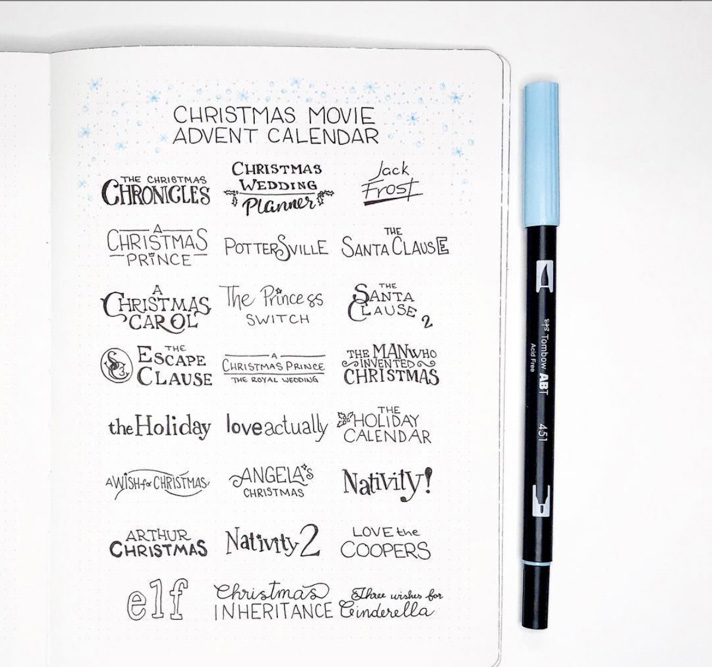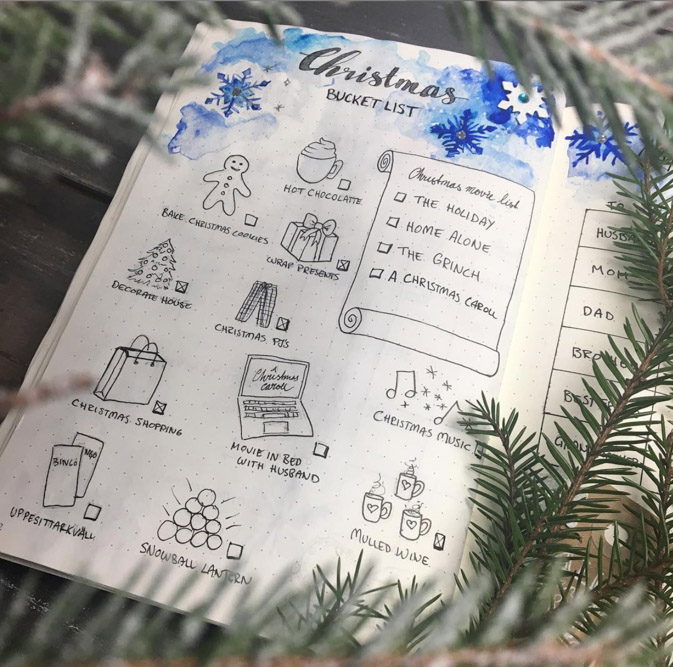 @in.my.bujo
Love this winter theme? Get more ideas for your winter-themed Bullet Journal here.
Christmas Budget Tracker Spread
Money can be a big deal at Christmas time! Creating a budget and sticking to it is a fantastic way to reduce stress this Christmas.
As well as a budget be sure to create a spending tracker to really make your savings and spending goals happen.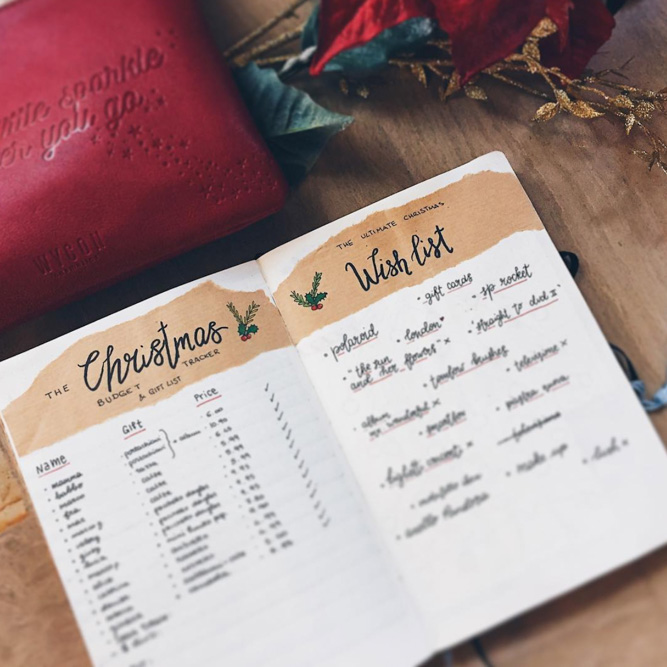 Of course, there are lots more things you can track at Christmas time! It can be easy to let your normal habits slip during the craziness of the silly season.
Add habit trackers to part of your bullet journal Christmas spreads and you will be giving yourself a head start for all those New Years' resolutions and goals.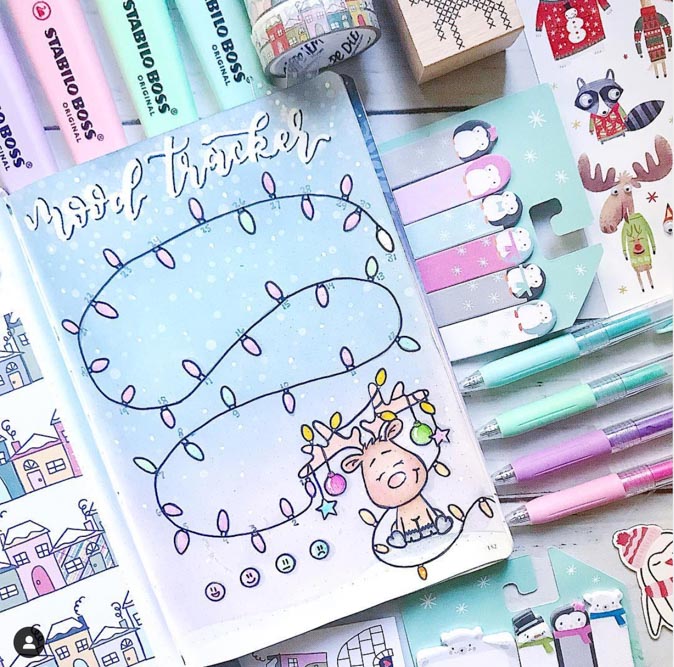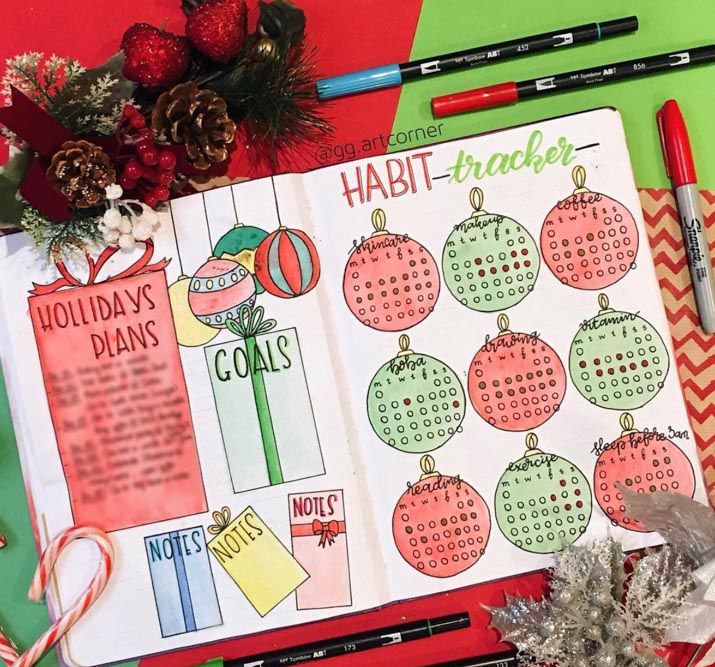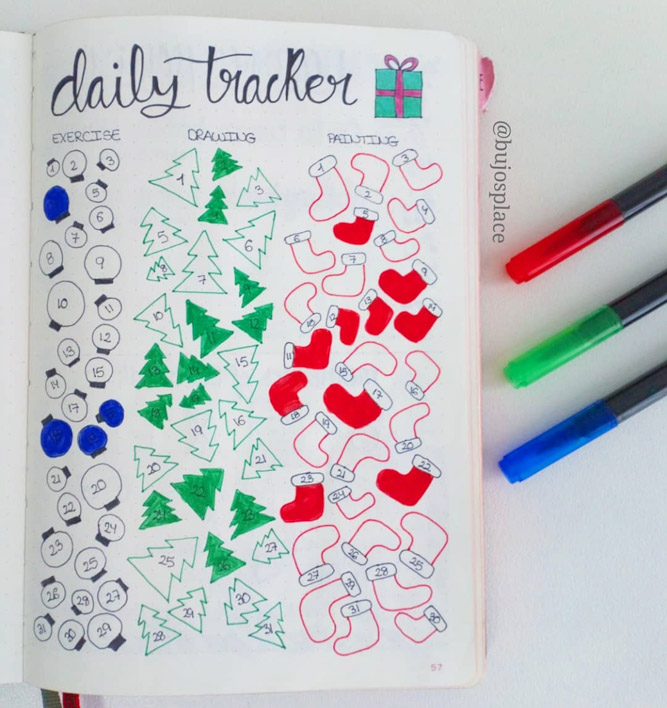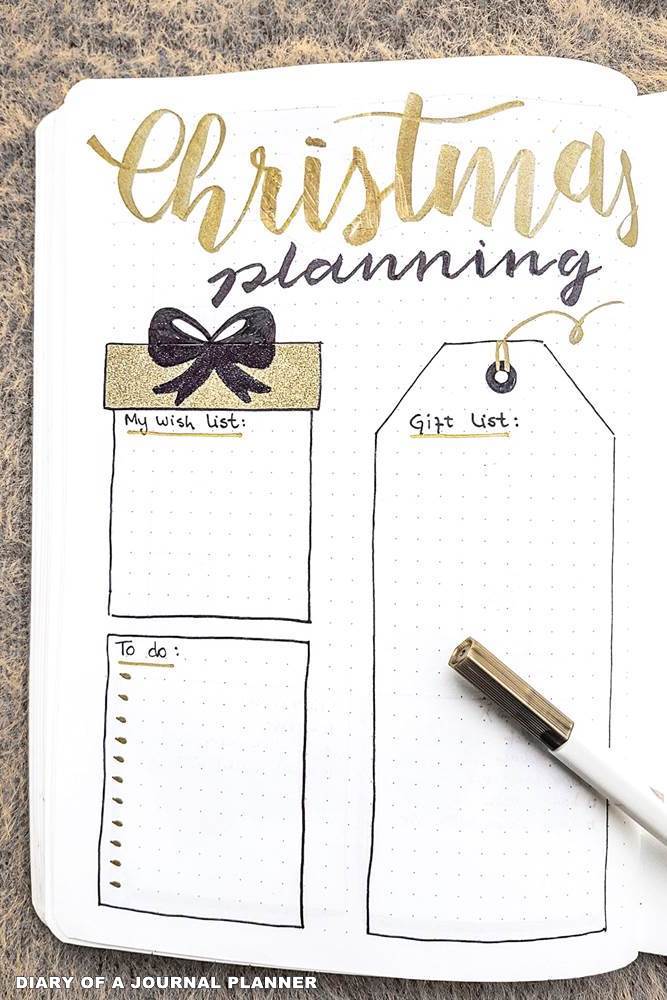 Christmas is the time of giving! Get gifts organized by keeping a list! That way you won't forget anyone ( or buy someone two presents by accident).
Another great idea is to write down the gifts you receive so you can create beautiful thank you notes later.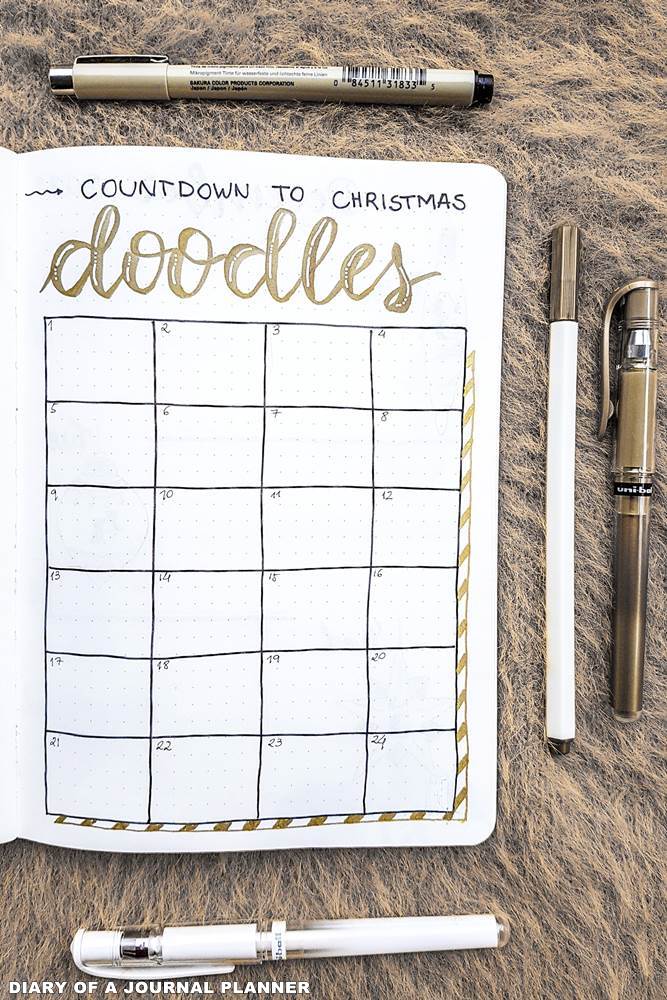 Doodling is a brilliant way to reduce anxiety so why not create a fun Christmas doodle challenge.
It's also a good way to create a daily habit for journaling too. If you pick up your journal to doodle daily you are sure to remember to flick through and check your calendar and tracker pages too.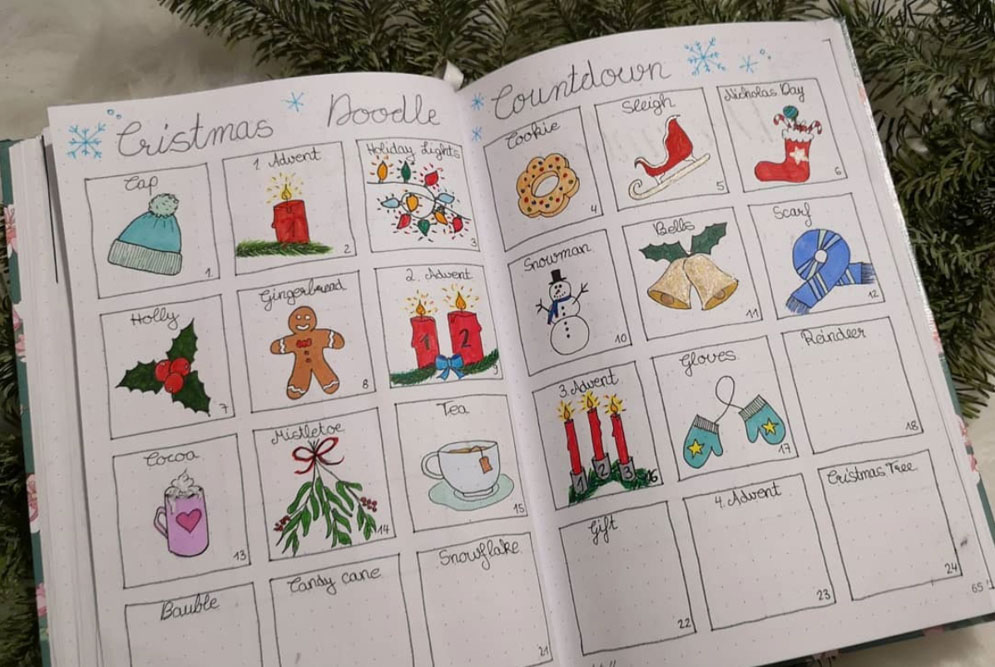 Want to get ready for next month? Check out our gorgeous January Spread ideas here.
---
I hope that you got some inspiration to help you get organized for Christmas and create a beautiful Christmas-themed Bullet Journal. Thass and I love seeing all your spreads so be sure to come and show us over on the Facebook group HERE.
PIN FOR LATER!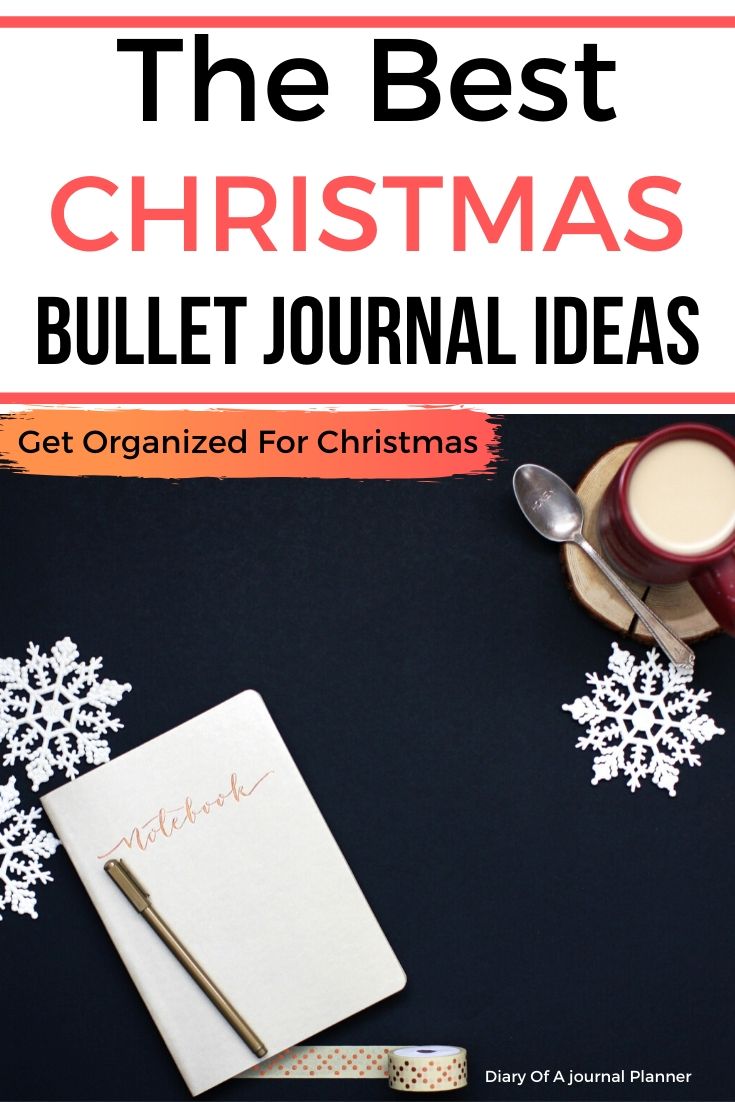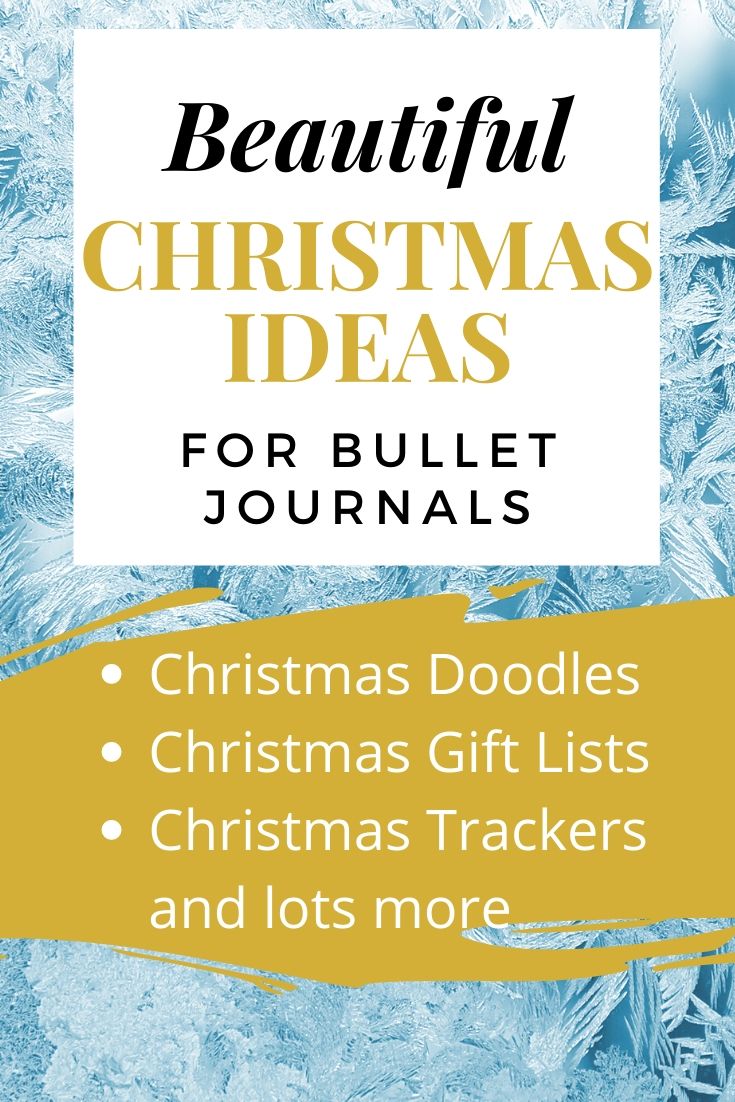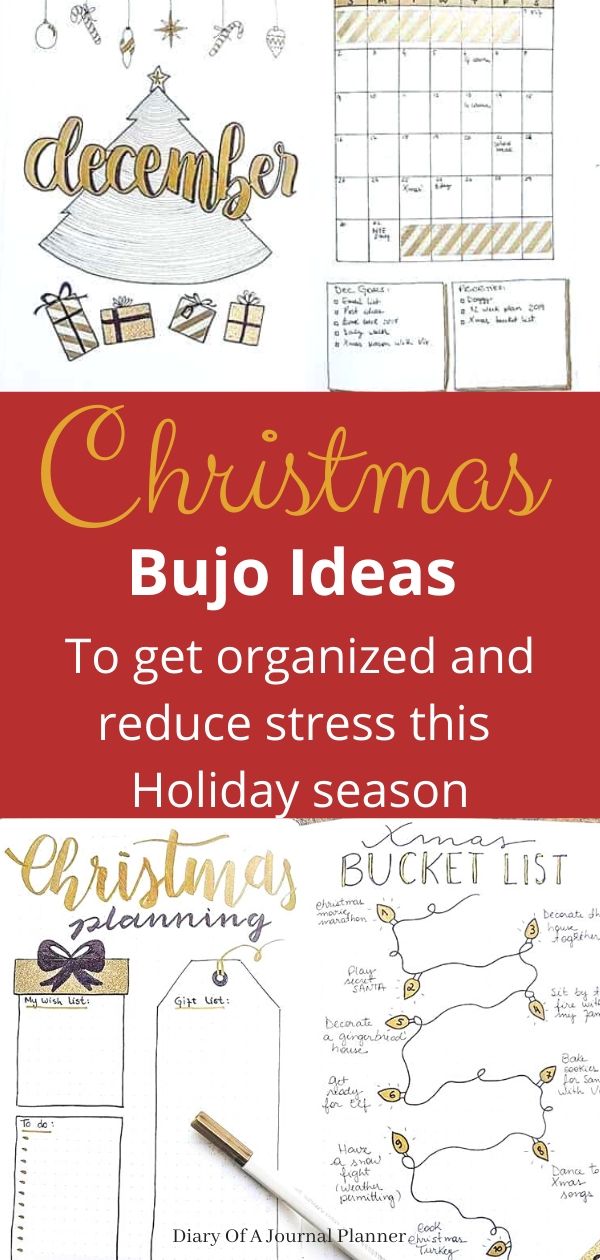 Christmas Bujo