Bullet Journal December Pages
Looking for December bullet journal ideas? Learn how I made my December plan, the bullet journal Christmas list, and the supplies I used. If you are looking for December bujo ideas feel free to be inspired by my pages!
Can you believe it is almost Christmas time already?
I know I get super overwhelmed in December. It is a jolly month but also full-on with Christmas preparation, events, end-of-the-year goals, and school break! I need my bullet journal more than ever this month!
So here I am with my Christmas spreads and bullet journal setup for December done a good 10 days before the month actually starts!
This month is all about shiny things. I decided to steer away from the obvious red and green colors and instead picked a glamorous golden sparkle style. What do you think?
Keep reading to find out how you can replicate these Christmas journal ideas. I am sharing the supplies and materials used below plus some tips and tricks to help you learn how to decorate bullet journal winter spreads.
If you are looking for a done for you Christmas planner, you can check my free printable here!
And if you are looking for more December bullet journal themes click here for my complete list of bujo themes!
How to create these December bujo spreads?
December Bullet Journal Spread Supplies
Here are all the supplies I used to create the pages.
I use here my all-time favorite black pens for bullet journal; Sakura Pigma Micron.
They come in many different nip sides and I use all of them. I buy a large set because I find that the cost per pen is cheaper this way. These pens are totally worth having.
I tried the Metallic Brush pens for the first time on these spreads and I loved it! They are not super metallic but instead give a shimmer finishing that is very unique. I used only the gold color for this spread but I have this set:
Get your Metallic Brush pens here!
I also have the Uni-ball signo pen set with a gold, silver and white gel pens. These pens have bright pigments and they look wonderful on paper.
The only caveat is that they don't dry immediately because they have a very generous flow of ink. In fact, it may take several seconds before they are completely dry. So be careful when writing with them otherwise the ink will smudge your paper.
I don't normally write with these pens but instead, use them for adding details and highlights. They are absolutely perfect for that!
The white pen is super handy to add details to your hand letters.
Get your Uni-ball gel pens here!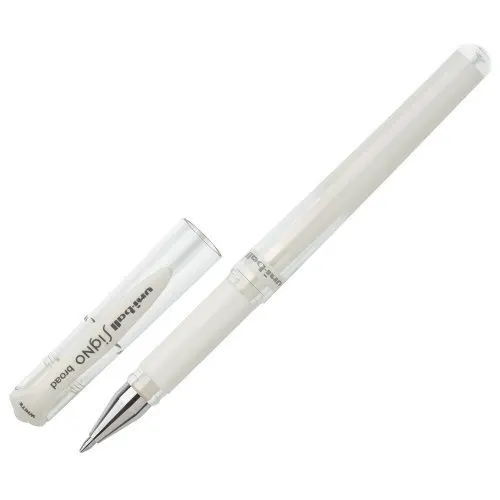 As you probably know, I love everything washi tape! So I also use some gorgeous gold washi tape. I had them on my collection already but this set here looks very similar to the ones I have:
Get your golden washi tapes here!
Bullet journal ideas for December
December Bullet Journal Cover page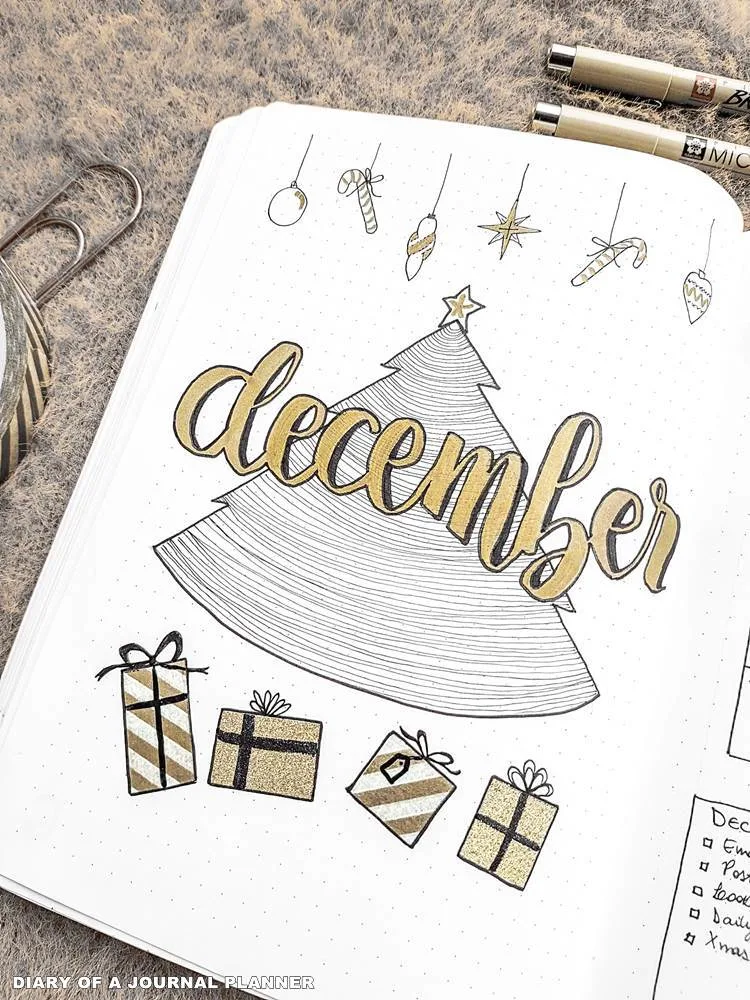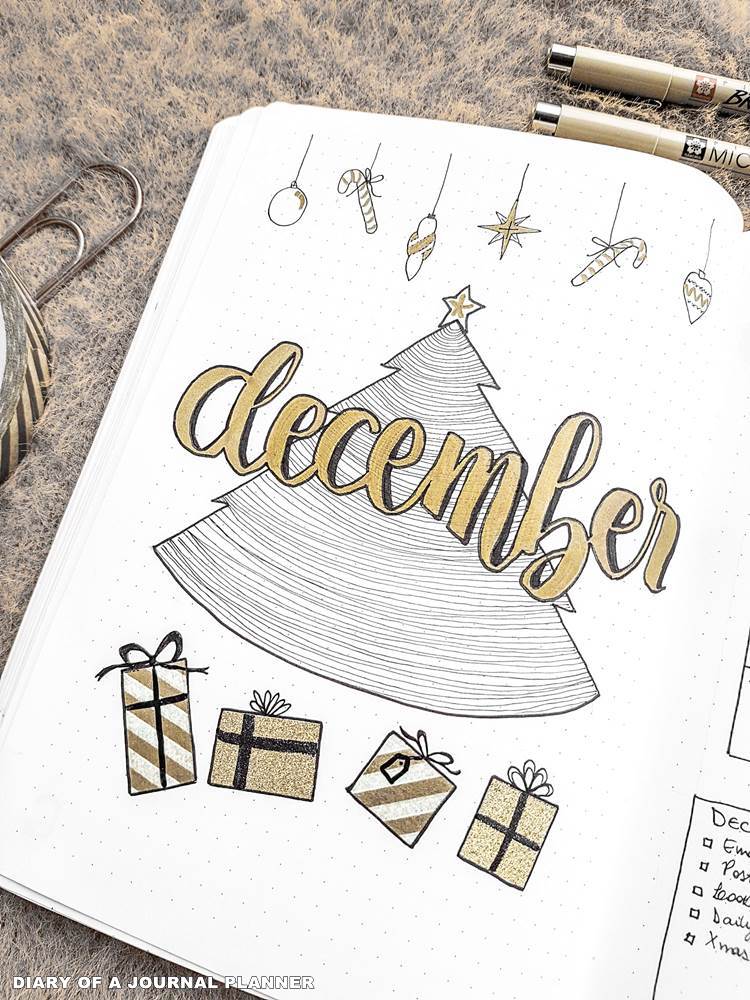 As I mentioned, I wanted to have a merry and shiny bullet journal theme for this month.
To create this spread I first drew the Christmas tree outline with my Sakura Pigma Micron pen number 08 and filled it with curved lines using the micron 005.
As you can see from the picture the thickness of the pens is considerably different, hence why I recommend you to get the set.
The different size nibs let me add texture to the drawings easily and some small elements are impossible to make with standard-sized pen nibs.
For instance, the small Christmas ornaments on the top of the page would not have all the pretty details with a thicker nib pen. For them, I used the pigma micron 005 again plus a metallic brush pen. To learn how to make these ornaments please check my Christmas doodle tutorial here!
The word December I wrote with the Gold Sta metallic pen. This pen color is truly wonderful! It pretty much covered all of the black pen with one layer (although I added a second layer to the letters on top of the Christmas tree).
It has an old gold pigment that is not too glittery. It does not ghost or bleed through paper.
I added a black contour to the letters for contrast using the Pigma micron number 08.
The gifts under the tree were made with washi tape. I used various sigma micron pen sizes to add the details around the gifts and the bows.
The details over the washi tape though were made with a black sharpie. You need to use a permanent pen to write over washi tape and sharpies are perfect for that!
However, I don't use sharpie straight to my journal because it bleeds through my notebook paper so I was careful to only use the black sharpie on top of the washi tape. The details around the washi tape I completed with the Pigma Micron pen.
On the page next to my December cover page I added my monthly log plus goals and priorities. Nothing too ambitious here as I know December is crazy busy!
In December I will complete my first 12-week year plan so I have the next 90 days planning to do! I am so excited by this because this strategy has truly changed my way of planning and setting goals, I totally recommend anyone to read this book!
The calendar page was made using the Pigma micron number 05, I added the details using the washi tape and the golden metallic brush pen.
Christmas Bullet Journal planning guide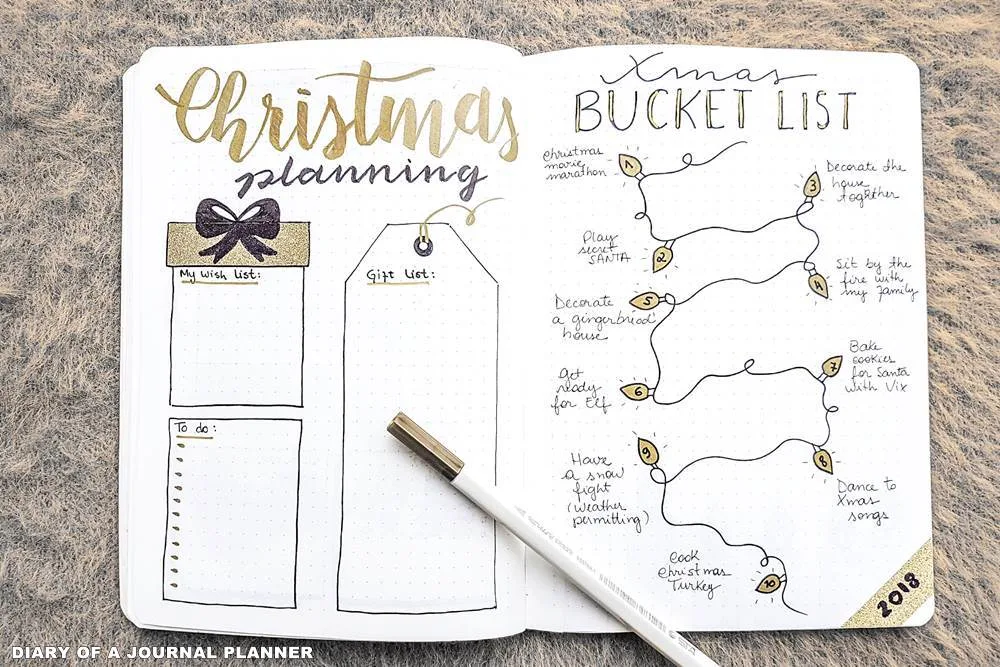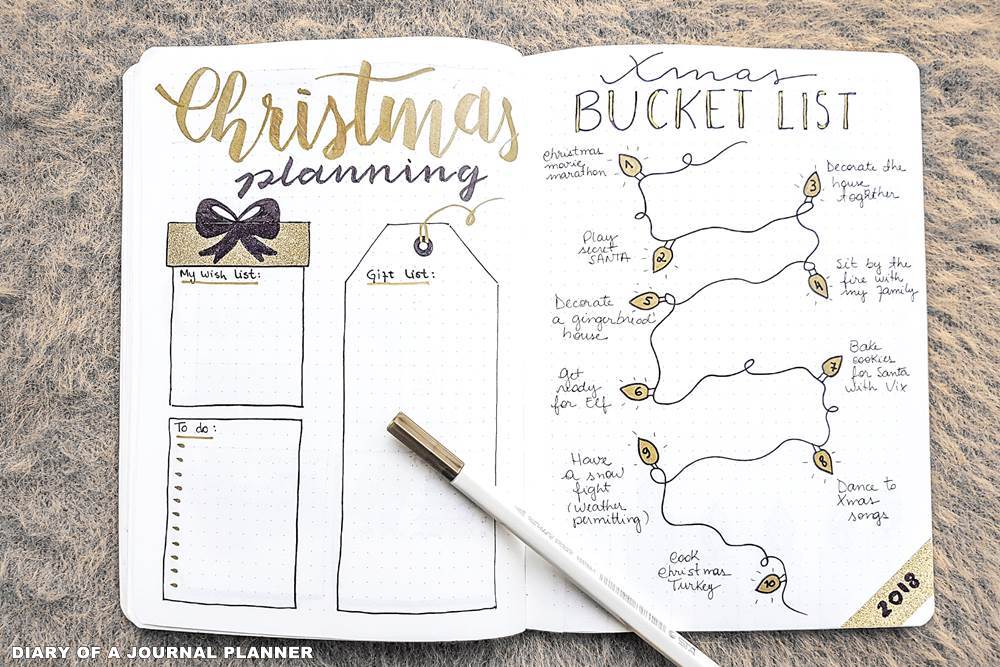 These are extra 2 bullet journal collections that I added as part of my Christmas Journal!
The large Christmas header was written with the Metallic Sta brush pen. I used my Pigma Micron brush pen to write the word 'planning' in black.
Everything else in black is just Pigma micron pens. Here I used the Uni-ball Signo broad gel pen to add the little golden highlights on both pages.
This is the general holiday plan example. Simple and straight to the point.
I knew I needed a bullet journal Christmas gift list, of course! This is so handy because I have gift ideas in the middle of my working day and I already have a place to write them down before I forget!
I also added to this page my wish list bullet journal spread so I remember to treat myself too. Plus a to-do list area for quick tasks related to Xmas.
Next to this page I created The Christmas Bucket List spread with ideas that my family and I put together.
Christmas bucket list bullet journal
This was super fun to make! Here are our top 10 activities if you need ideas for your own Christmas bucket list:
Christmas movie marathon
Play secret Santa
Decorate the house together
Sit by the fire together
Decorate a gingerbread house
Get ready for Elf (on the shelf)
Bake cookies for Santa
Dance to Xmas songs
Have a snow fight
Cook Christmas turkey
Bujo December & Holiday journal ideas
Bujo December spread for gratitude
Following my bucket list holiday journal and planning guide, I have decided to add 2 more merry and bright collections.
The gratitude log is a spread that I don't use every month (but I actually probably should!) but I don't ignore it during Christmas time.
I am definitely more of a giver than a receiver and the gratitude log is something I truly enjoy making especially at this time of the year. I will just pick a word or small sentence a day that I am grateful for having and fill this log in in no time.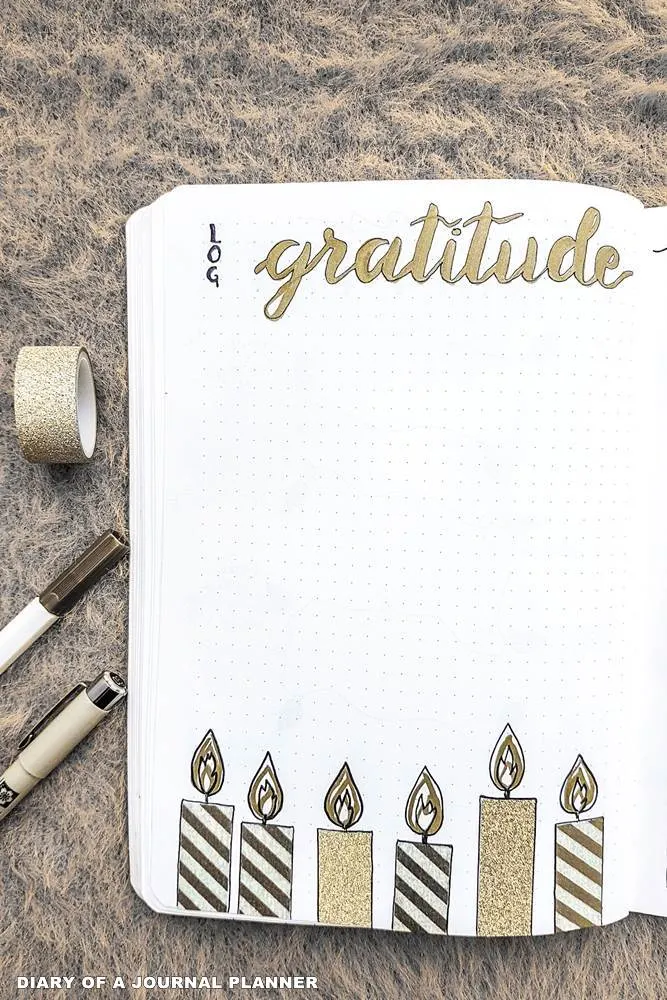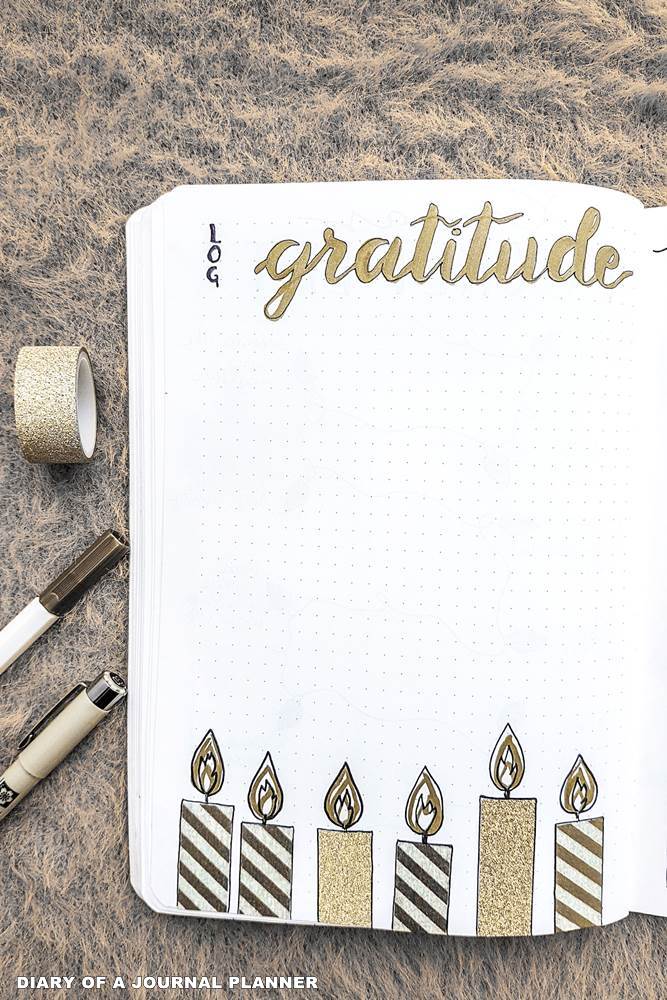 This spread was super simple to make. Using the same two golden washi tape I made the candles at the bottom of the page. I then drew the flames with the Pigma Micron pen and metallic golden brush pen.
I wrote 'gratitude' with the STA brush letter again and contoured it with the Sakura Pigma micron number 01.
And of course, I could not forget to add the merry Christmas ideas for artistic bullet journalers. The countdown to Christmas spread came in with a doodle format!
You probably already know my love for doodles and drawings – you can check all my doodle posts here! Instead of a traditional advent calendar, I decided that I will do the countdown to Xmas with Christmas doodles! Check out all my holiday drawings in this post here if you need inspiration for your Christmas doodles. I will be making them myself and a few more!
Click to find more ideas for your Christmas Bullet Journal Spreads
Countdown to Christmas bujo spread
I used all the same pens for this spread. I wrote the big 'doodle' header with the gold brush pen. This time I decorated the letters with the white uni-ball Signo gel pen.
The white pigment from the uni-ball Signo broad is very bright and not see-through! This is a great white pen for bullet journals.
As I mentioned before just make sure you wait for enough for the ink to dry so you avoid smudges. The ink flow is extremely generous and it does take time for the ink to dry on paper (a few good seconds!).
I decorated the side of the doodle grid with the Uni-ball Signo broad gold.
December Bullet Journal Weekly Spread
So far I have only created the first weekly spread. I am not sure they will be a lot different from this one for the following weeks in December. It all depends on how busy I am.
I just used again the Christmas doodles I teach you how to make in this blog post here for the date signs. I made the ornaments and the numbers in black pen then used the golden pens for highlights and details.
This is on average the amount of space I need for my weeklies. I kept it somewhat simple with a touch of holiday shine.
---
And that is it for now!
Are you already ready for December?
PIN FOR LATER!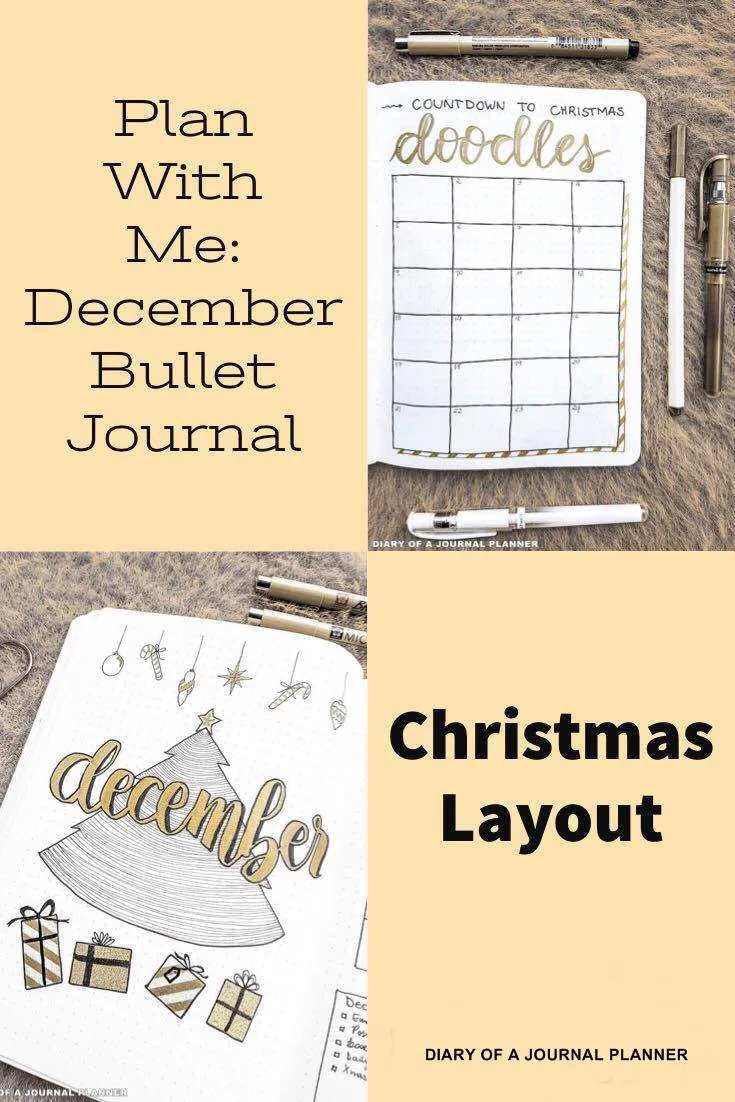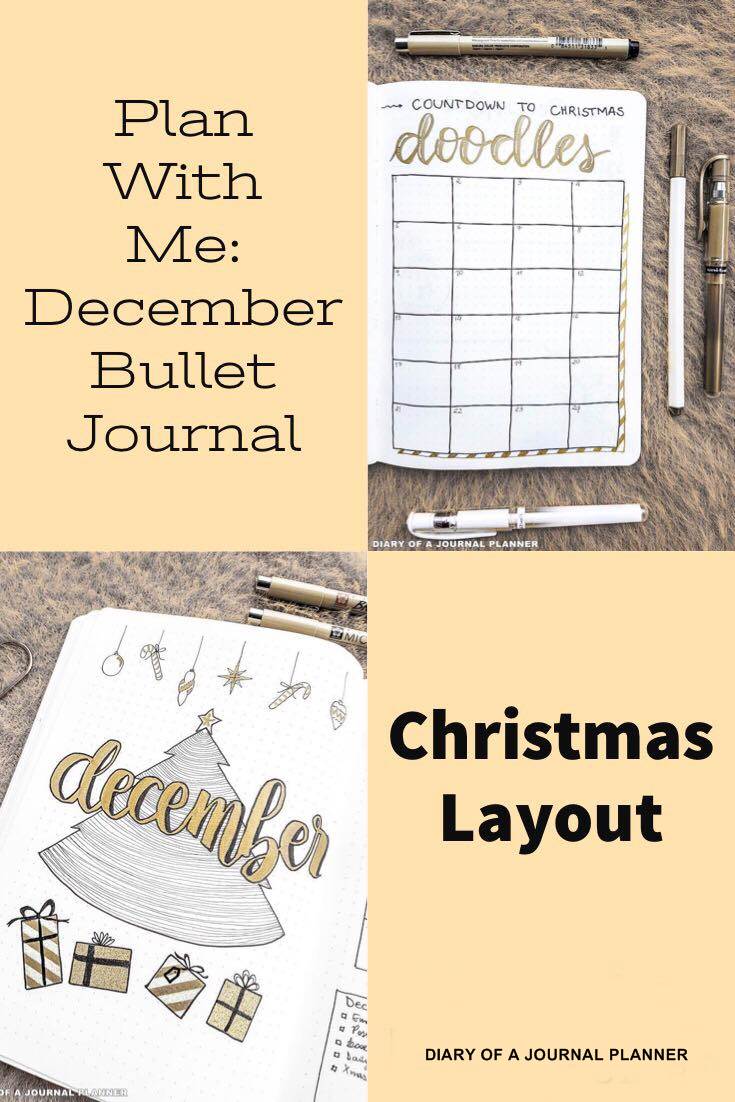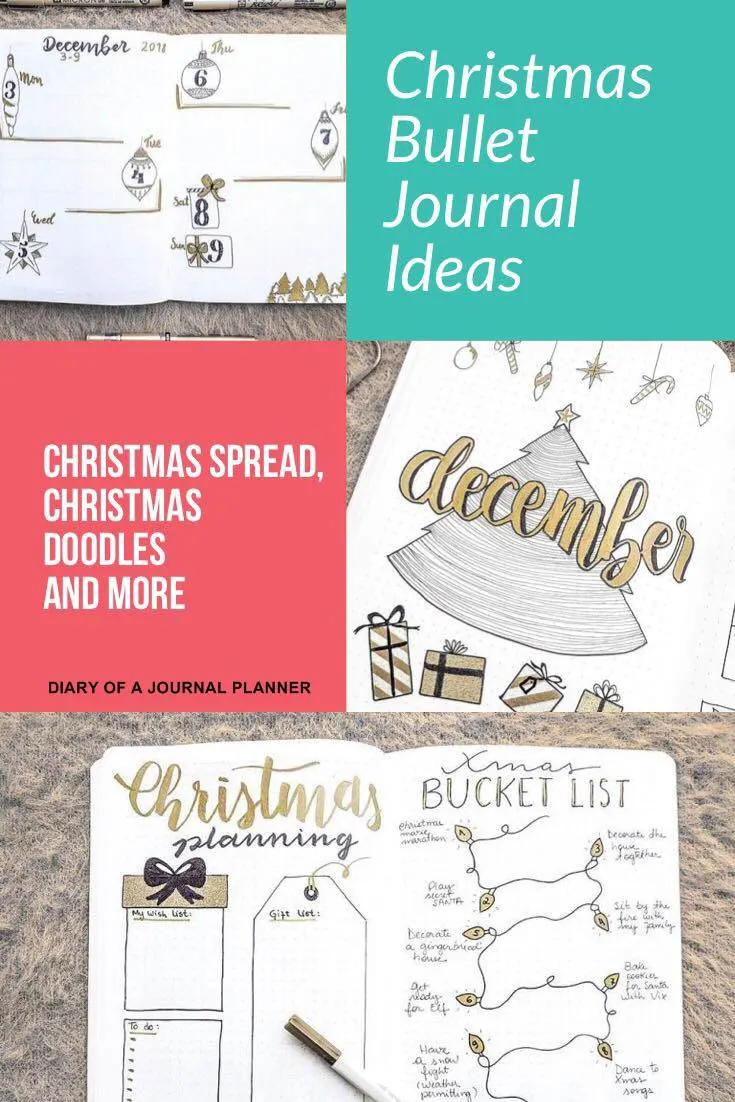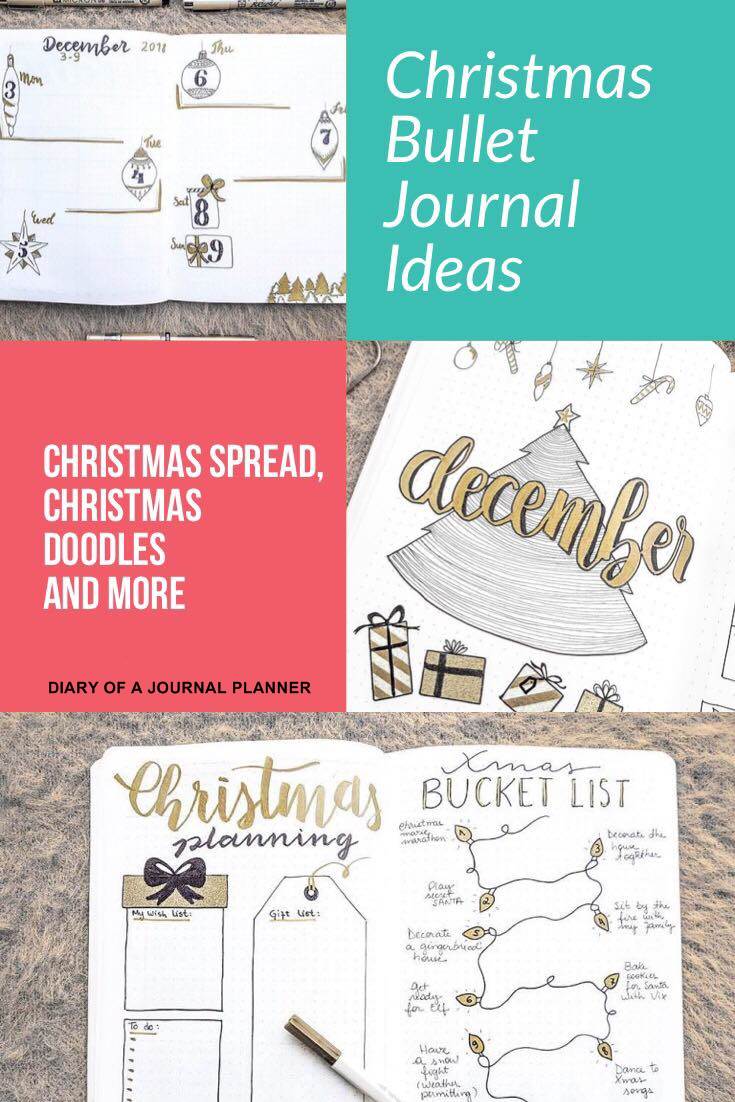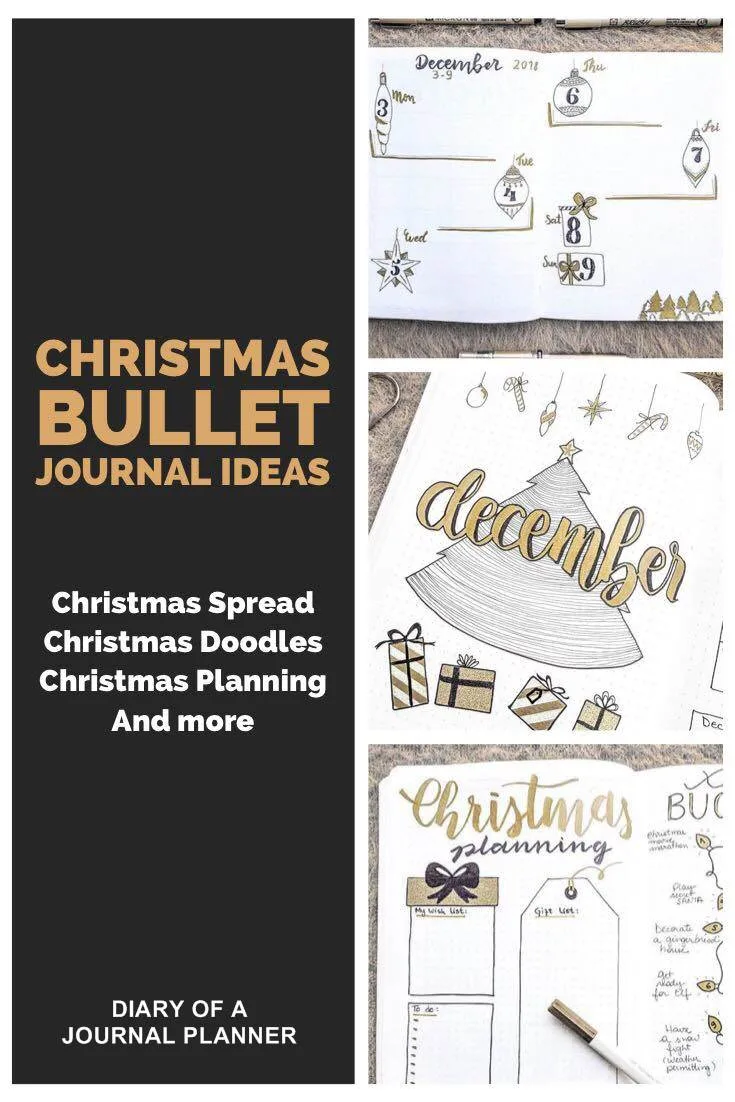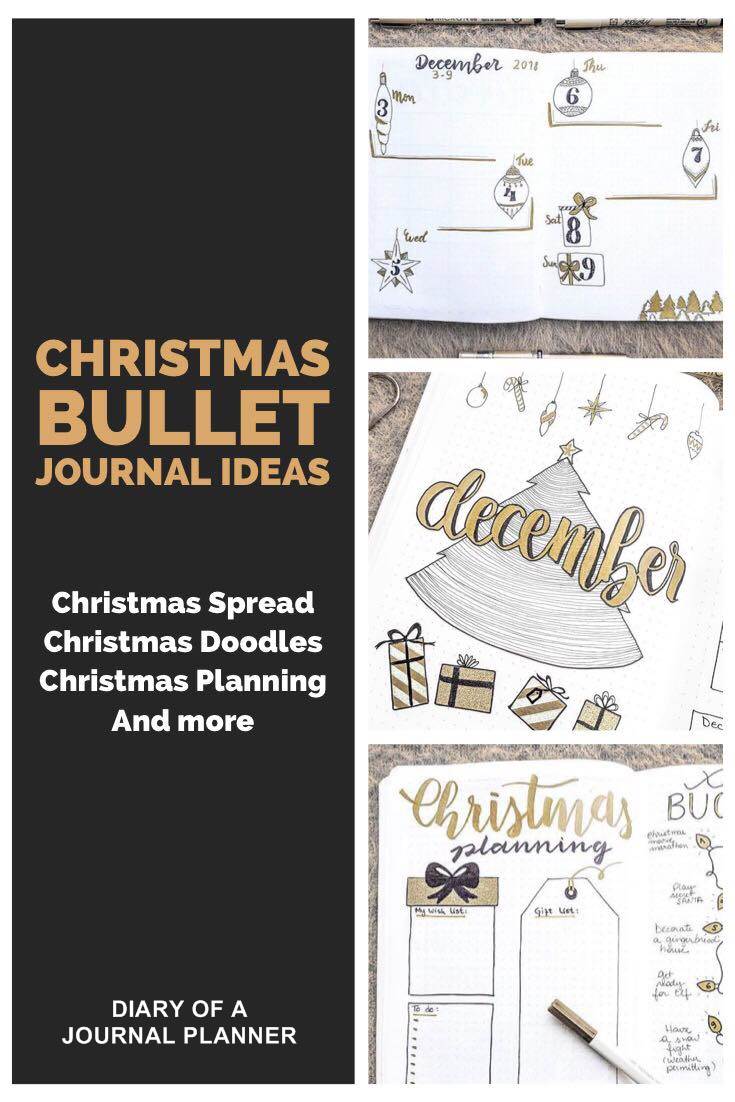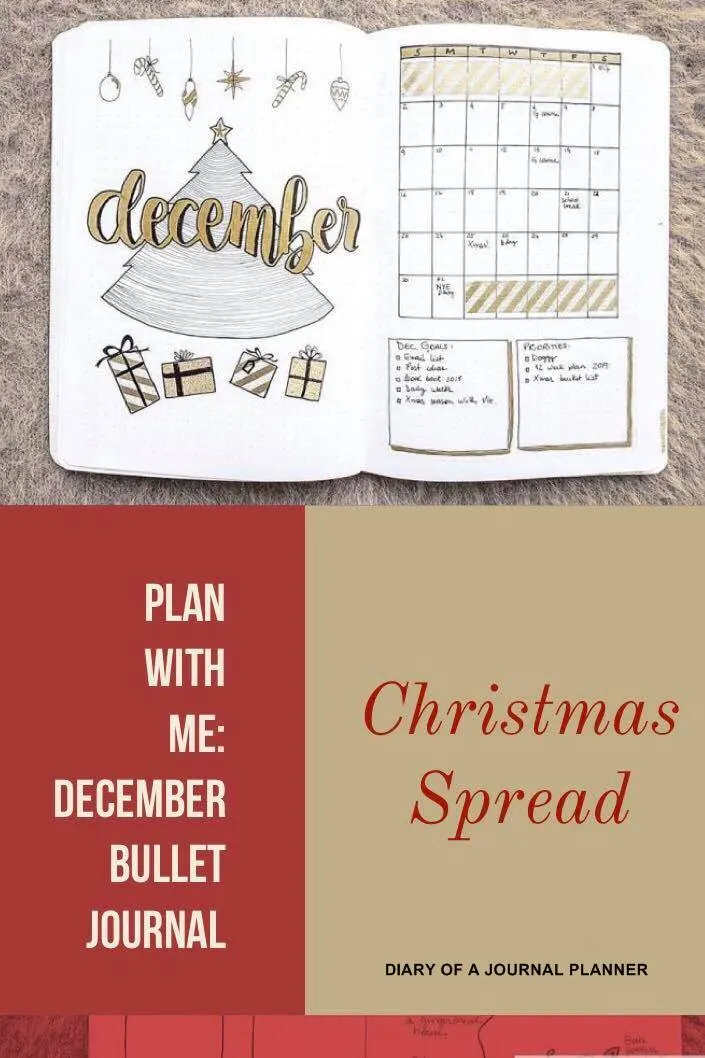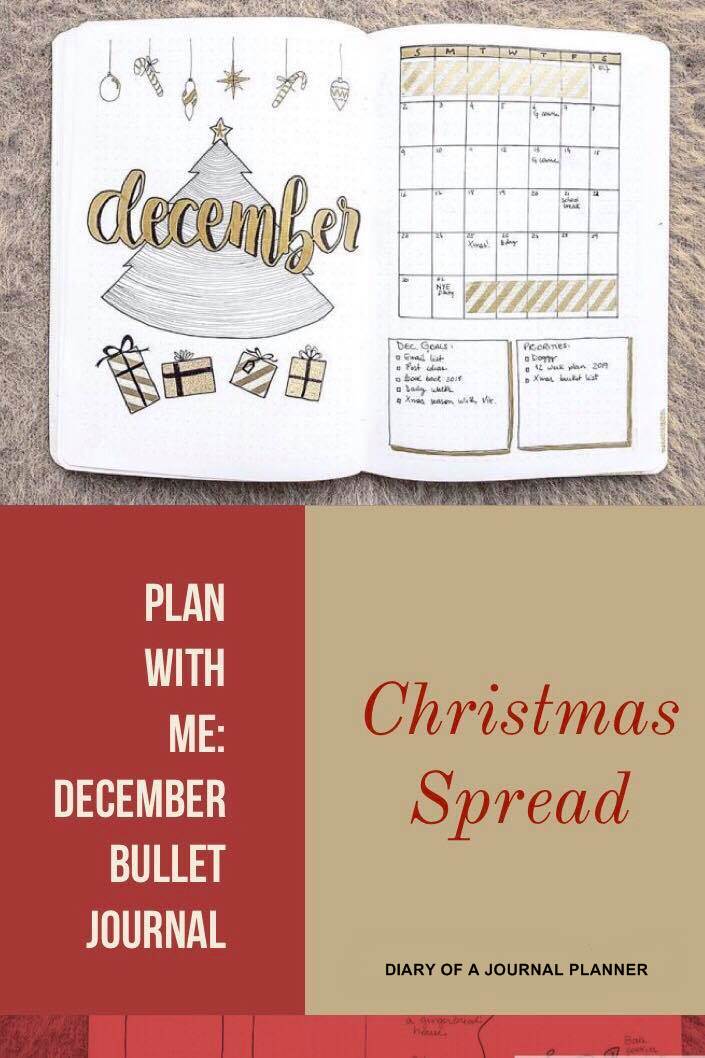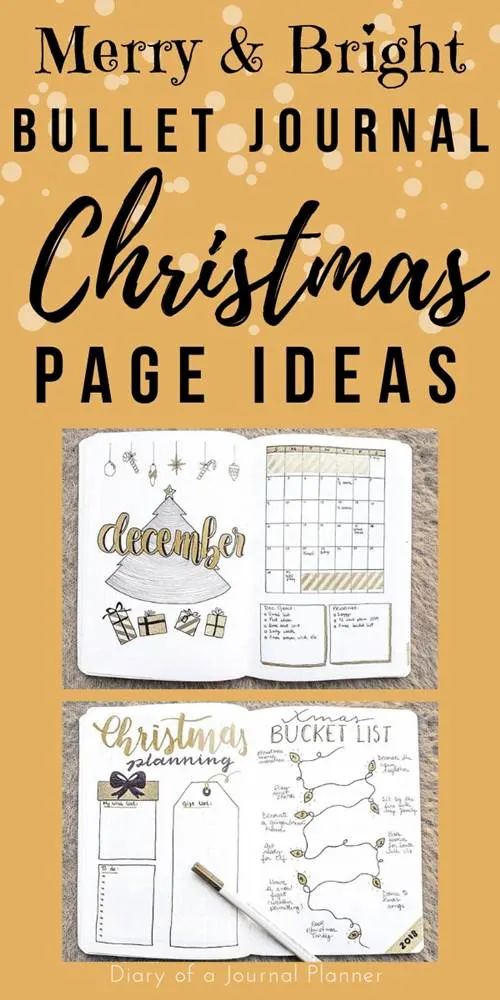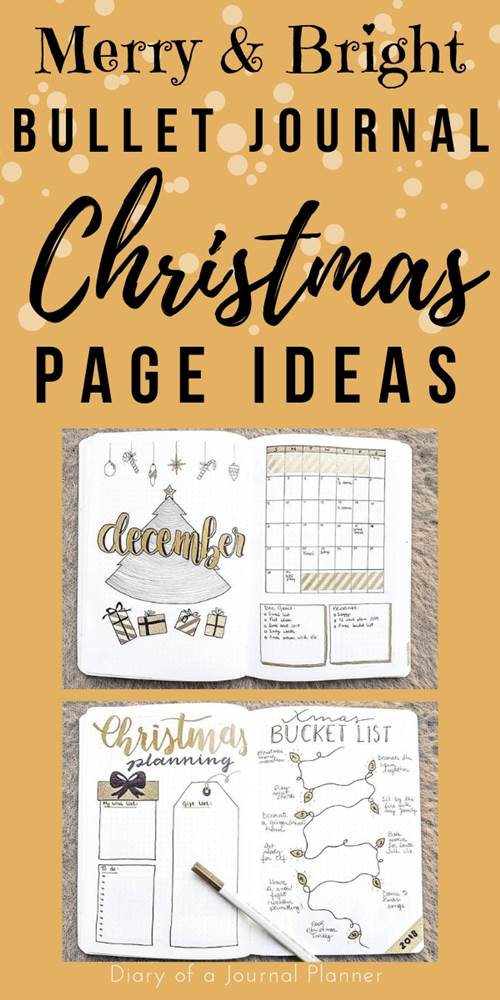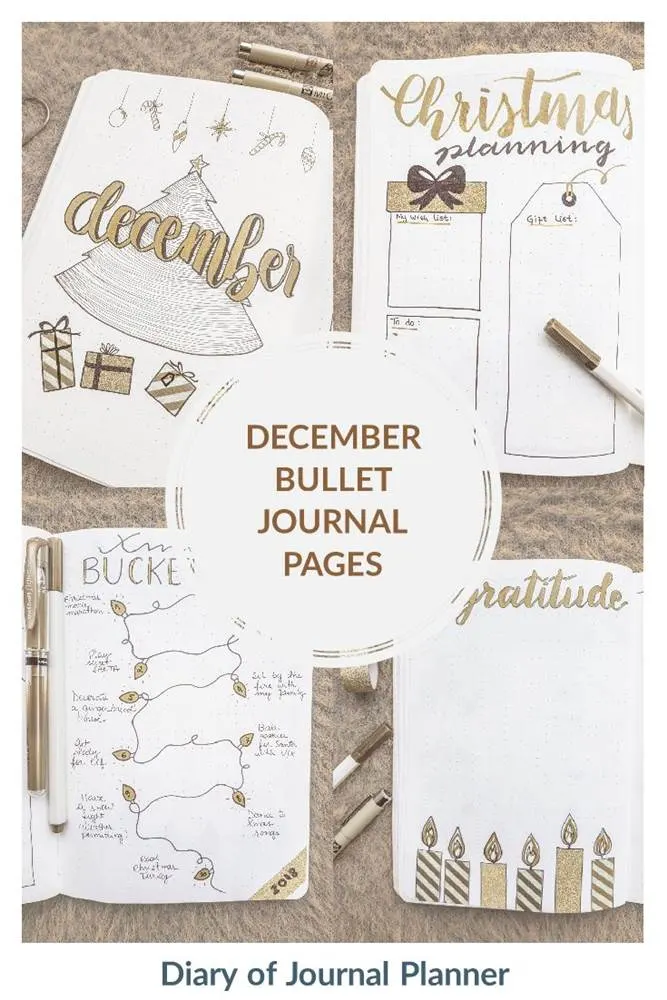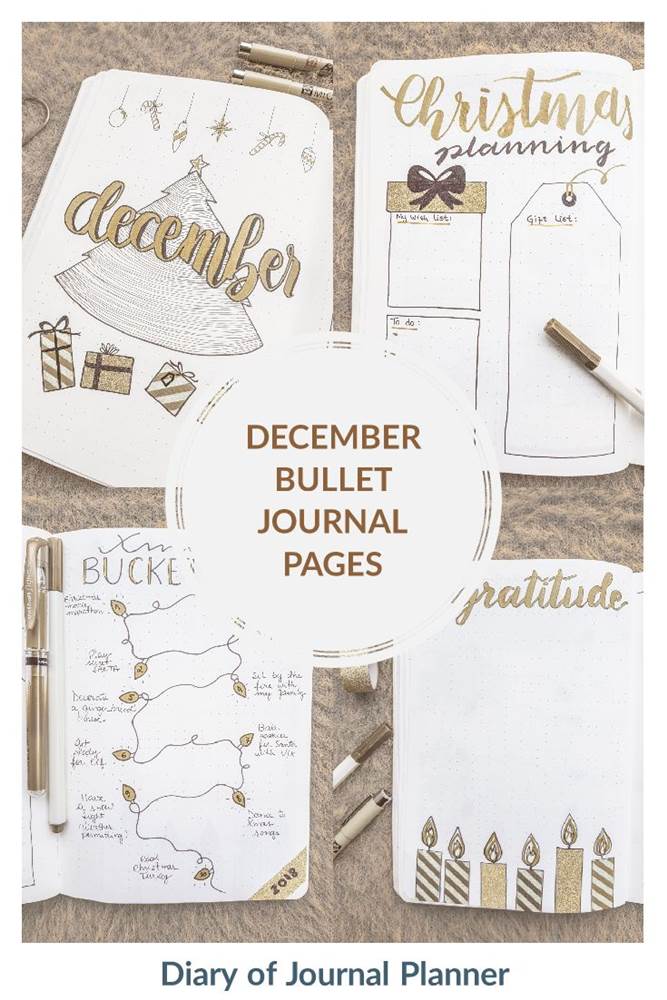 Bullet journal December spread