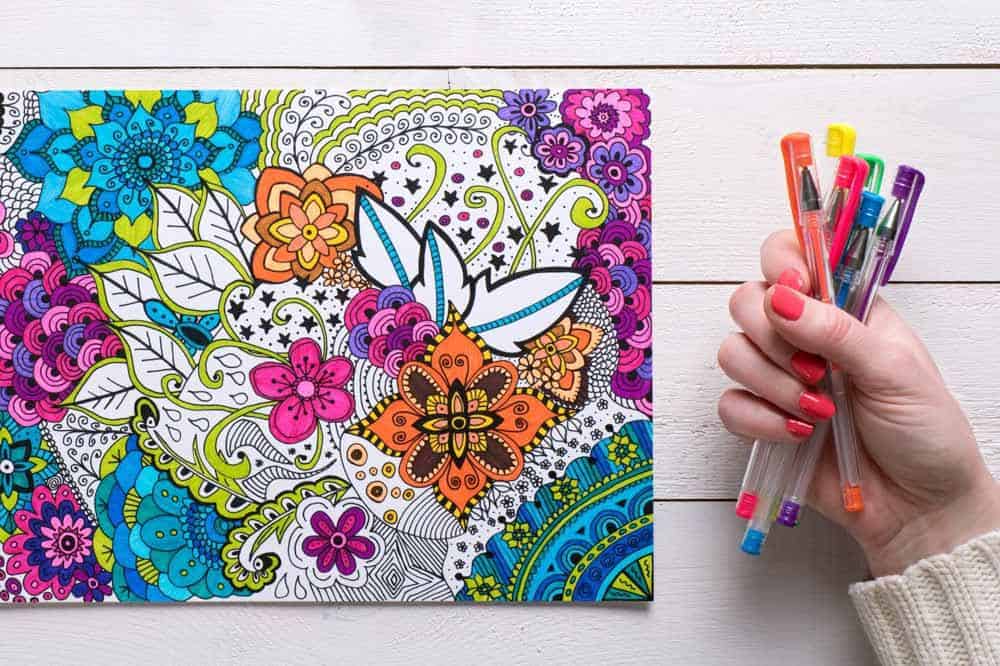 Mandala Coloring Book For Adults
Looking for the best selection of mandala coloring books for adults? We've collected the best mandala coloring book list that is sure to have one that suits your style, tastes, and needs.
Did you know that adult coloring is a great way to help with stress, reduce anxiety, and improve your mood?
The best part is that anyone can use this simple tool to improve your wellness and mental health. You can take coloring books and tools with you anywhere and it is a super cheap way to destress and relax, a much easier option than a day spa, right?
Keep reading to find out a little bit more about the magic of Mandalas before finding our comprehensive list of the best mandala coloring books.
What Is A Mandala?
Mandala is a Sanskrit term that means "circle". Mandalas represent a map of the universe in such religions as Hinduism, Buddhism, and Jainism. These maps show the different layers of the universe as well as often depiction the many deities from these religions. They are incredibly intricate and you can easily get lost finding all the small details in them.
Of course, the Mandalas you find in coloring books differ from these more traditional religious maps. These mandalas are instead more for decorative uses and as a tool for stress relief and relaxation. They tend to be more symmetrical than traditional mandalas and also use lots of geometrical shapes.
Why Do Mandala's Help With Stress Relief and Relaxation?
One of the best ways to destress and relax is through entering a mediational state. This may bring up images of sitting still and emptying the mind of all thoughts, but the truth is that you can reach this meditational state in many different ways.
The secret to being in a mediational state is mindfulness.
Because mandalas are very intricate designs you need to concentrate when you are coloring them. While you are concentrating you are naturally focusing and clearing the mind of its usual thoughts, and noise.
When you reach these state of mindfulness you reduce anxiety, create better self-awareness, and also increase your concentration span ( which is becoming shorter and shorter due to all the technology in our lives).
Adult Coloring Supplies
The great news with coloring is that when you first become a colorist ( yes, there is a cool name you can use for yourself now) you don't need any fancy supplies. You can use any supplies you have at home, including those the kids use.
As you color more and more you will naturally want to experiment with better quality supplies. Trust us, there really is a difference.
As you pay for better quality coloring supplies you will get a better and smoother coloring experience, which helps you reach that mindful state even better.
We love:
Below are some of the markers and pencils we like to use. You can find more in-depth information on pens, pencils, and gel pens to try in the posts at the end of our coloring book list.
Now let's get to the fun part the best mandala coloring books for adults that you can order online to be delivered straight to your door!
Flower Mandalas Coloring Books
This flower mandala book is perfect for beginners with 30 easy to color designs that will help you improve your coloring skills while being a great tool for relaxation and destressing.
Click to buy: Flower Mandalas Coloring Book
Make you coloring really pop with these amazing mandala designs with a black background. Perfect for gel pens and other markers.
Click to buy: Creative Haven Flower Mandalas Coloring Book
40 beautiful designs with a huge variety that will suit every coloring skill level.
Click to buy: Floral Mandalas Coloring Book For Adults
Animal Mandala Coloring Book
With high quality paper and perforated pages so you can display your coloring this book is perfect for beginners as it also includes precolored pages for ideas as well as handy tips and advice.
Click to buy: Colorful Creations Butterfly Mandalas
From birds, to cats and mythical unicorns, this mandala coloring books is full of over 50 gorgeous pages that any animal lover will enjoy to color.
Click to buy: Animal Mandala Coloring Book
With 50 designs on single sided pages ( great if you want to try painting or marker pens), this animal mandala coloring book has so many animals to choose from.
[easyazon_link identifier="1679357972" locale="US" tag="djplanner-20"]Click to buy: Animals: Animal Mandala Coloring Book for Adults featuring 50 Unique Animals Stress Relieving Design
Mandalas Color By Number
If you feel overwhelmed with picking a color pallette for your mandalas why not try these color-by-number mandalas. Create stunning coloring designs without the stress.
Click to buy: Brilliantly Vivid Color-by-Number Mandala Coloring Book
If you love these designs then you will be happy to know there are actually 5 books in this series. They also come with a great coloring guide at the back of the books which you will be sure to leanr some new colorist skills from.
Click to buy: Adult Coloring Book with Color by Number or Not
Intricate Mandala Coloring Books
If you are looking for more challenging Mandala designs then you will love the variety of these elaborate mandalas. Perfect for gel pens.
Click to buy: Intricate Mandalas: An Adult Coloring Book with 50 Detailed Mandalas for Relaxation and Stress Relief
This designs are truly intricate. Be prepared for hours of coloring and relaxation as you tackle these mandalas. There are also up to 9 different volumes in this series which is perfect if you find you love the more intricate patterns.
Click to buy: Mandalas to Color – Intricate Mandala Coloring Pages: Advanced Designs
Easy Mandala Coloring Books
Some Mandala coloring books can be too difficult for beginners or too hard to see for those with low vision. We love that this coloring book allows everyone to get the benefits of adult coloring. With easy to see designs and clear outlines, everyone can have a go at coloring mandalas.
Click to buy :Easy Mandalas: Adults Coloring Book for Beginners, Seniors and people with low vision
It can be easy to get overwhelmed some of the more complex mandala coloring books. Start simple with these easy manadala coloring designs that any beginner colorist can complete.
Click to buy: Mandalas for Beginners
These simple mandalas are perfect to loose yourself in while coloring. With over 40 designs on high quality paper they will be a joy to color for beginners.
Click to buy: An Adult Coloring Book of 40 Basic, Simple and Bold Mandalas for Beginners
Printable Mandala Coloring Book
Want to start your meditation coloring straight away? Try our printable mandala coloring book that you can download and print instantly!
---
Loved these Mandala Coloring Books For Adults and want to know the best adult coloring tools? Check out our helpful adult coloring posts below.
Adult Coloring Pens and Pencils
PIN FOR LATER!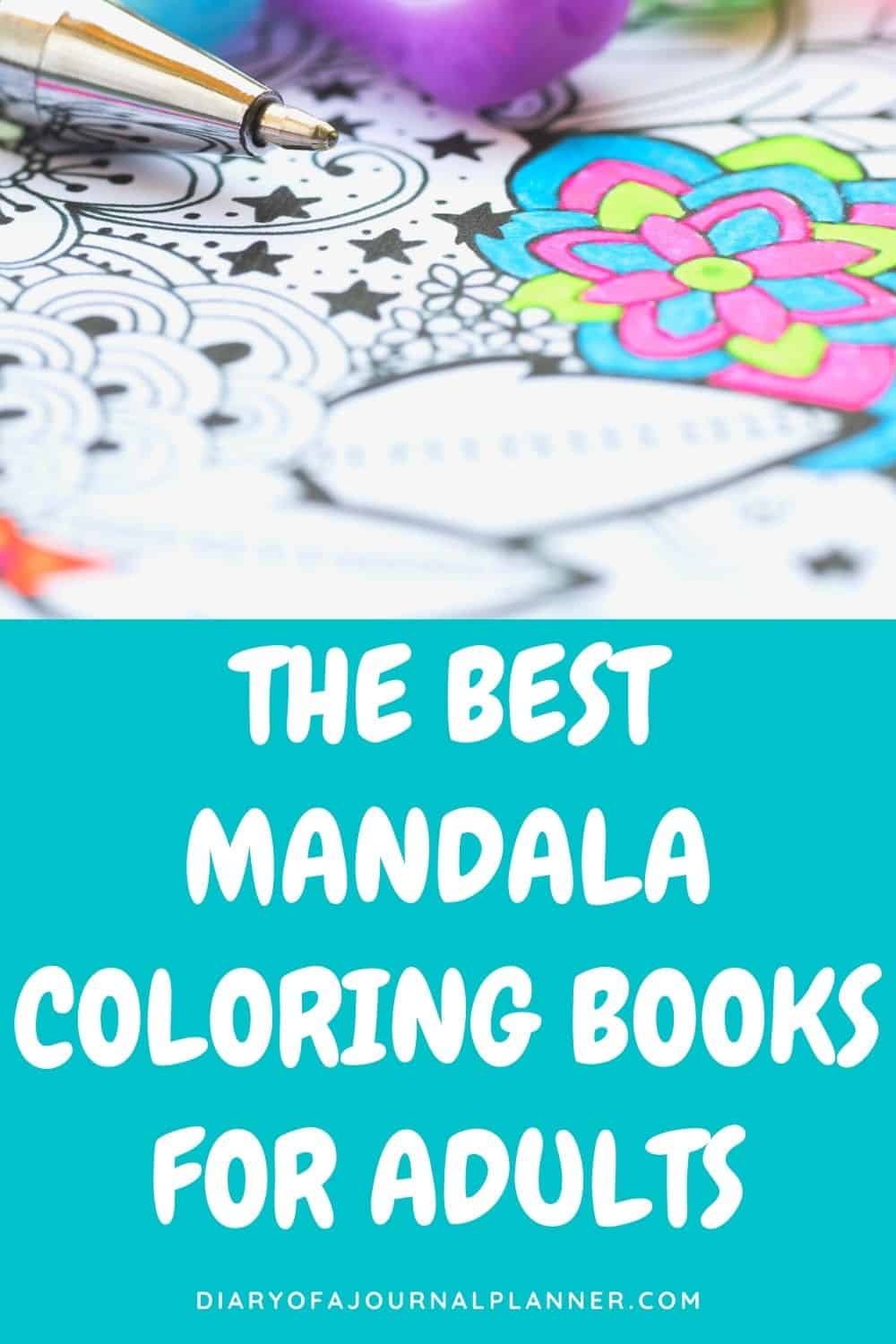 Mandala Meditation Coloring Book