Colored Pencils For Adults
Got The Coloring Bug? Want to find which is a good set of colored pencils? Discover the best coloring pencils for adults that will make your artwork pop.
Adult coloring has become more and more popular over recent years and it's easy to see why. Not only is it a cheap and cheerful hobby that you can do anywhere but it is also good for you! Winning!
Like most art pastimes, every time you color you are allowing your brain to quieten and recenter. It's the perfect way to reduce stress and anxiety. Especially when you choose calming coloring themes like our Mindfulness coloring printables.
If you are a new colorist ( yes, your new hobby gives you a new title ), then you may be surprised to learn that not all coloring pencils are created equally. In fact what tools you use on your coloring sheets and adult coloring books can make a huge difference in not only the finished effect of your artwork but also your enjoyment levels while coloring.
Keep reading to discover what you need to look for when adult coloring with pencils and which sets we recommend that will fit your budget.
Pencils For Adult Coloring
Before you go raid the kid's pencil cases for their coloring pencils here are some things to consider when choosing what pencils to use.
What to look for when buying colored pencils?
Choosing professional or artist-grade pencils rather than student pencils is a must. These pens tend to have more pigments ( or Rich Pigment quality) which means you will get much brighter and more varied colors. As they will tend to have a softer core you will also find they are smoother to use. No scratchy feel or sound, which helps make your coloring experience pure bliss.
Which is better oil-based or wax-based colored pencils?
Until I started coloring I didn't even realize that pencils came in a wax or oil base. Most professional pencils will come with an oil base as they are of higher quality. They also allow you to blend and layer colors easily. Bear in mind that these will be more costly but as they have a harder core they tend to not need sharpening as often.
Wax-based pencils are harder to blend well so you may not be able to create new colors and some cool coloring effects as easily as with oil. The wax helps your color to glide like butter over your coloring pages. One downside to using wax-colored pencils is wax bloom. This is a waxlike sheen that appears on your coloring page. It can dull the pigments of your pages but if you are a beginner this is rarely a big problem.
Want to learn how to use your pencils properly? Some of our favorite online short courses are over on Skillshare. From coloring techniques to picking color palettes and more. Click on our special link HERE for two months of FREE learning.
Adult Coloring Pencils
Here is a list of some of our favorite professional colored pencils and beginner adult coloring pencil sets. It's important to remember that it may take a little trial and error to find the perfect pencils for you as we all have different preferences. You may also find that you prefer to have different sets for different coloring projects depending on the paper used and coloring sheet themes.
Happy coloring!
Want to treat yourself to some really special pencils? Then, these may be just for you. These oil-based pencils are of superior quality. They are beautiful to use and glide onto paper. The colors are vibrant and can easily be blended so you are only limited by your imagination with hues. As an added bonus these pencils can also be used on wood and textiles.
Prismacolor premier colored pencils are wax pencils with a softcore which makes them super smooth to use. These pencils are perfect for creating layers, shading, and blending. You will have lots of fun experimenting with what you can do with these professional-quality coloring pencils.
They come in a huge variety of brightly pigmented colors ( up to 150 colors!) so you are sure to find the right set for you with many sizes and palettes to pick from.
We also love that each pencil has the color labeled for easy reference.
These wax-based professional colored pencils are durable and fun to use. With easy color identification labels ( both names and numbers ) you will have a great time creating lots of color combinations by blending and layering. The highly pigmented colors are very bright and saturated making them some of the best-colored pencils for adult coloring books. We love that they come in a handy travel tin so you can color anywhere.
If you are a beginner and looking for the best quality at a low budget then we recommend these. It would be hard to find colored pencils that blend so well as these pencils at this price point.
Derwent pencils have always been a favorite with artists. This brand is sure to have the perfect pencils for you with a huge variety to pick from. You can choose from oil-based to wax-based all with superior quality. Palettes range from vibrant to muted so you can really stamp your personal style on your coloring pages.
Take a look at some of our favorite sets below.
The Ergosoft pencils are perfect for beginners. While not professional they still have a soft core that allows you to easily layer colors. The colors are vibrant and rich while the triangular grip makes for a wonderful coloring experience.
You may be surprised to see these classroom favorites on the list but Crayola creates the perfect pencil if you are looking for a cheap beginner starting point. If your budget does not stretch to some of the other pencils on this list then you will love the huge variety of vibrant colors available with Crayola.
One downside you will find with these pencils compared to some of the more expensive brands is that they can be harder to blend. If you are coloring for fun and relaxation then this is of course not a problem. If you want to take your coloring to the next level by experimenting with colorist techniques then you may want to splash out on one of the more expensive and professional quality pencils mentioned in this list.
Adult Coloring Accessories
If you are spending money on good-quality pencils then be sure to spend a little extra on some high-quality accessories. This includes an eraser, pencil sharpener, and blending pencils. Take the time to do a little research and make sure the style you purchase suits the pencils that you have chosen.
---
Have you tried any colored pencils that you loved and we have missed from the list? Let us know in the comments below so we can add them and help other colorists.
PIN FOR LATER!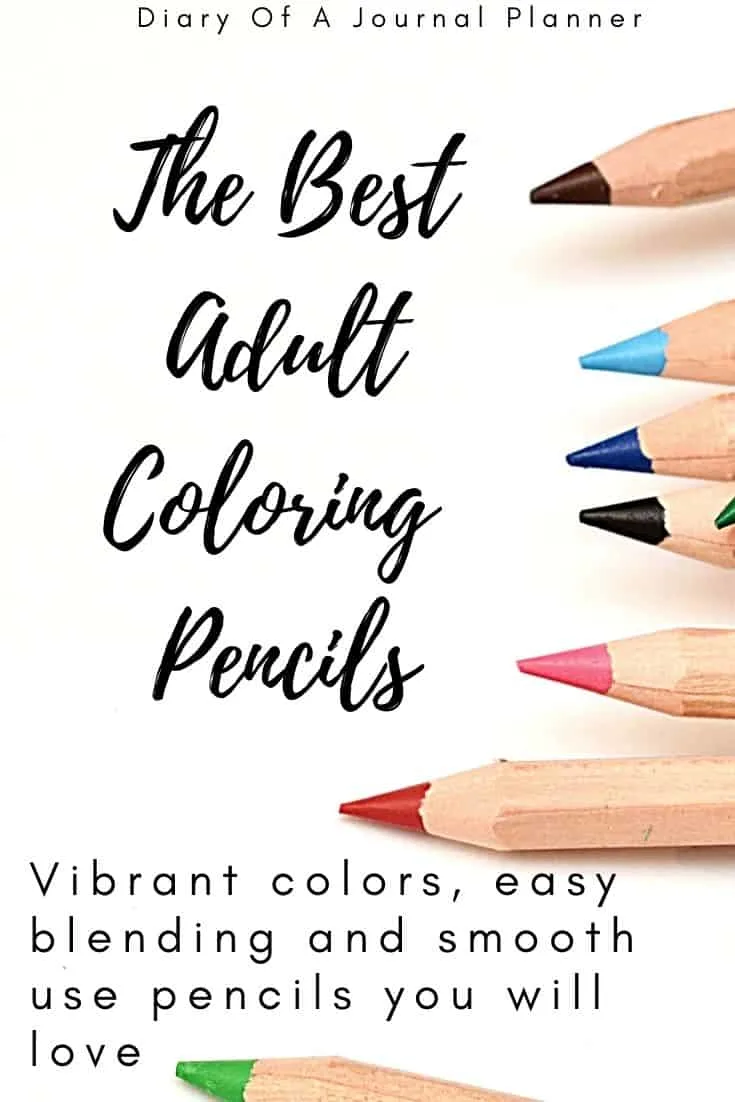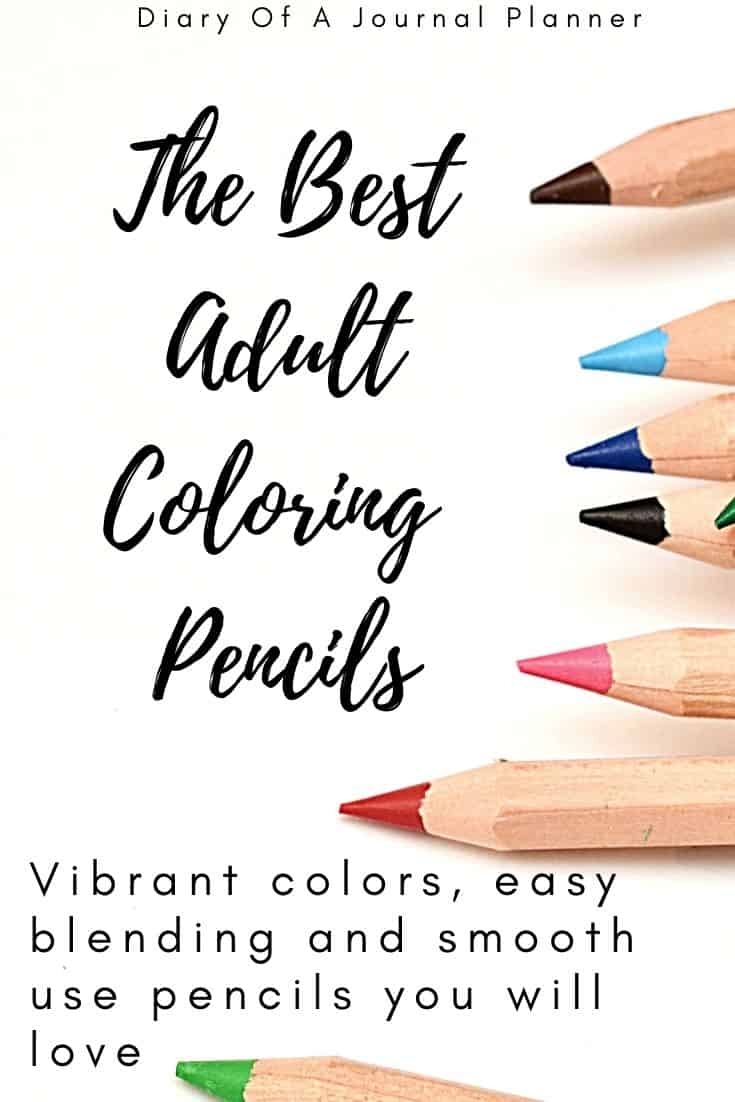 Coloring Pencils Adults