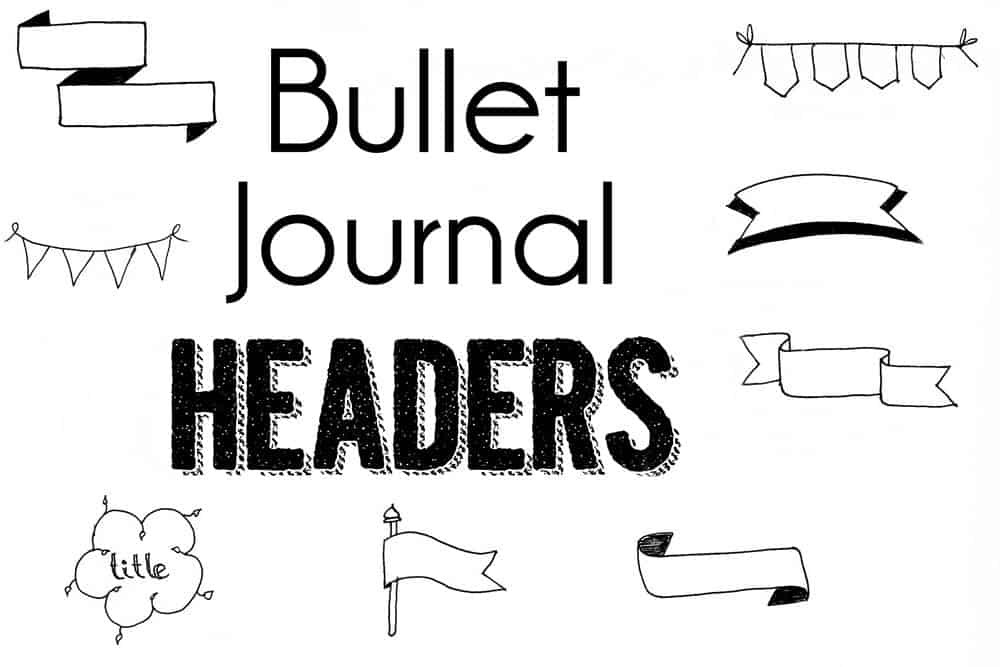 Bullet Journal Banner Drawing
Looking for tutorials on how to draw bullet journal headers and banners? In this post, I share 15 step-by-step banner tutorials plus header ideas for every day of the week.
Bullet Journal Headers are a great way to add a few artistic touches to your bujo or planner.
If you are a big fan of bullet journal doodles like I am, then you are used to your journal doodle ideas which may as well include pretty banners, dividers, bunting, cute headers, easy fonts etc.
You can use pretty headers on your bullet journal daily spreads, weekend planner, weekly spreads, or monthly spreads – and anywhere else that you want!
But if you don't have any experience with header drawing you might feel stuck on how to doodle one. That's where this banner drawing tutorial comes in handy.
In this tutorial, I am going to show you how to draw a banner step by step with images so you can easily follow along.
Read on to find out how you can draw these easy bullet journal banners and headers and make your bullet journal even more special!
When and why use headers for bullet journal?
The purpose of a header in books, magazines, and websites is to clearly explain the aim of the content and what format it is going to take.
In the same context, you can use these headings, banners, and dividers to organize your journal content. This will help you stay organized while adding an artistic element to your pages.
A few ways that I use banners and headers in my bullet journal are:
How To Draw A Banner – Favorite Supplies:
"The right tool is half the job".
To make the most beautiful drawing in my journal I use my trusted drawing pens. They are non-smudge, no bleeding, waterproof pens that make your artwork look so much better.
My go to drawing pens are the Sakura Pigma Micron. I have this set here and use them daily!
There are other drawing pen brands available but you cannot go wrong with the Microns. Get your pen set here!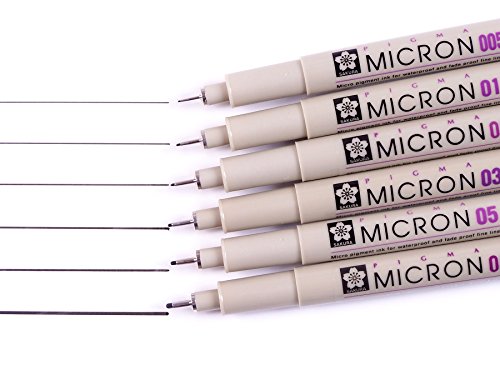 Stencil Banners For Bullet Journal
If you want to make your banners all the same size on each page of your bullet journal or planner, you are best to use a stencil.
Here is my DIY stencil tutorial!
But if you don't feel like making your own stencils, these are my favorite header banner stencils to use in your doodle bullet journal. They work really well for bullet journal date headers too.
How to Draw Bullet Journal Headers and Banners
This is the perfect beginner's banner, so easy to make with straight lines.

Works as a sticky note doodle where I add to-dos and reminder notes.

Bullet journal-title page banner
It works at the top of your page or halfway through if you need something to divide days and give a little bit of bling to your page.

Flags work well for both dates and titles.

Bullet Journal Boxes for text or quotes
I like to use these boxes to highlight a cool word or something exciting in my weekly spread.

Here is my go-to quick and easy date header, it fits nicely in the corner of my journal page.

Sometimes you just need a little divider. You can use arrows and simple forms to divide your pages but why not make it a little more fancy?

Simple bunting for your pages' title and headers.

I like to use this style on the corner of the page as it works well if you draw the bunting in a semi-circle format.

A little parchment frame to add a quick note or heading.

One of the more basic and quick header doodles for your journal.

Beautiful and simple straight lines to achieve this heading effect.
Bullet Journal ribbon banner
I love the effect that this doodle header gives and also the fact that it looks intricate but it is oh so simple to make if you follow the step by steps below.

Bullet Journal Flowers Frame
If you want to add a little sass to your bujo then this frame is a great option.

Fancy Bullet Journal Banner
This is a little more complicated but once you have done a few of the above headers you will not be intimidated by this one either. Follow the steps for an amazing header. This is brilliant for bullet journal quote pages monthly cover pages.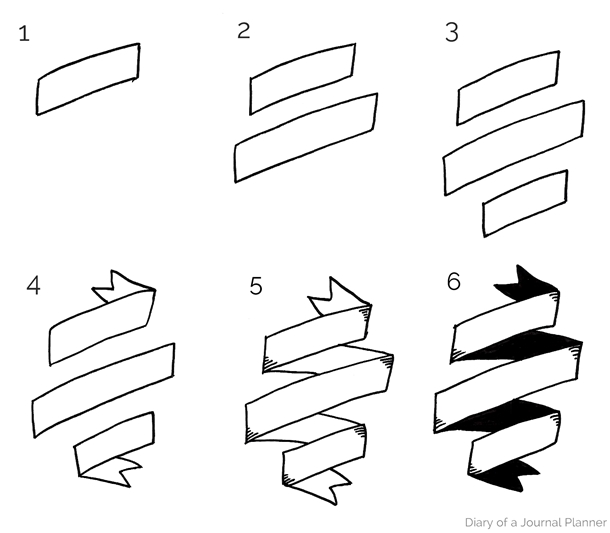 How To Use Bullet Journal Banners and Fonts
Below I have some examples of beautiful headers you can make on your bullet journal by using some cool bullet journal fonts together with the banner elements above. These are great to add color and character to your pages.
I have included both easy and more challenging elements to give you plenty of ideas and hopefully, you will like a few styles to use in your own journal.
Monday Banners Bullet Journal Ideas
Below you will find my hand-drawn daily headers for a Monday spread.
Here are some personalized date headers for Tuesday.
If you are a fan of cute banners and pretty headings I think you will enjoy the ideas below for Wednesday.
Thursday Journal Header Ideas
Cursive hand-lettering is a big part of my journaling designs.
Friday Art Header Inspiration
One of the happiest days of the week, right? Check out these pretty header banner examples for Fri-yay!
Here are some header ideas for notes on your weekend pages, I have included both Saturday and Sunday specifics but you can mix and match to make your own drawings of banners for any day of the week.
Love these pretty banners? You may also like:
PIN FOR LATER!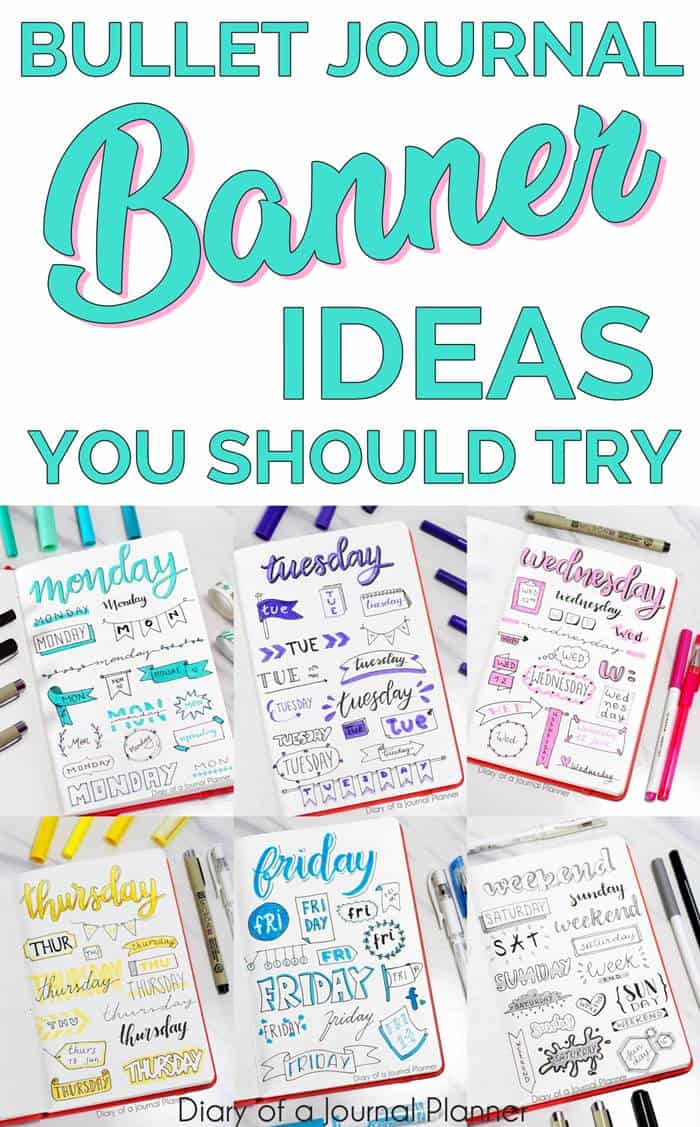 Planner Banner Journal With Dividers