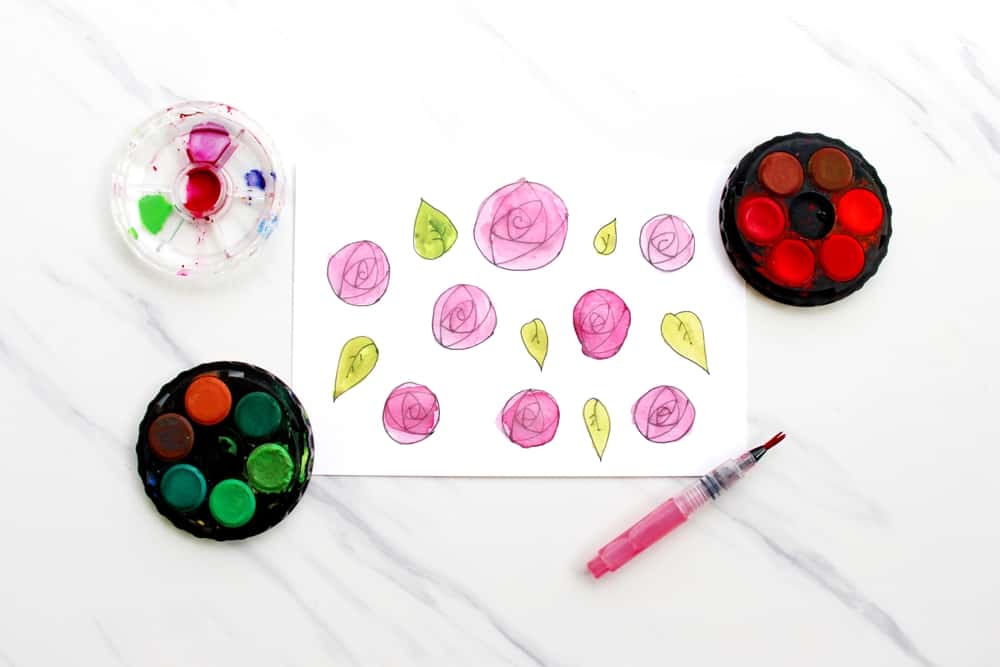 How to Draw Flowers
Looking for flower doodling ideas? Find the best flower drawing tutorials (step by step) here to get you drawing flowers like a pro!
A beautiful flower drawing or flower doodle is a simple but effective way to make your bullet journal pages look amazing.
Drawing pictures of flowers can seem overwhelming if you feel you are not very artsy but we have found that with practice and by starting with simple flower doodles it is easy for people of any artistic talent to learn how to draw a flower and create gorgeous flower doodle art.
I have put together the ultimate list of how to draw flower doodles.
You will find so many drawing flower ideas and examples of lots of different flowers drawing tutorials.
Where to use hand drawn flowers in your Bullet Journal
The potential for using floral doodles is endless and only limited by your creativity. Here are some ideas on where to use bullet journal flower doodles to beautify your notebook:
Big flower drawing as a Monthly Spread Cover page.
Small flower drawings to add a theme to your weekly layouts.
Drawing flowers with sharpies to add color and brightness to your bujo.
Flower line drawing as a mood tracker.
Want more ideas on where to draw flowers in a bullet journal? I have lots more suggestions in this Flower Bullet Journal post here!
Tips for Simple Flower Drawing
I will say it again, just in case you didn't believe me. Anyone can draw, especially an easy flower drawing.
Really, anyone!
And anyone can draw a flower too, just start at the basic level and practice your skills often until you can draw more detailed designs.
If you can write your name, you can draw.
Before you start learning how to doodle flowers here are some basic drawing tips that will help you create beautiful floral art:
Start with simple shapes: Most things around you can be drawn with basic shapes like circles, squares, and triangles.
Pencil first: Get used to drawing with a pencil where you are free to experiment without worry about making mistakes. Then you can just erase and carry on. Here is my favorite doodle pencil.
Experiment with mediums: Maybe you love drawing with a pencil and shading the light just right? Or you may find creating bold colors with fine tip markers is more your style. Finding a medium you love to use will help with creativity and skill.
Be relaxed and move when you draw: Don't keep your arm stiff, try drawing from your shoulder rather than your wrist.
Practice. Lots. And forget perfection. Have fun and make mistakes.
Flower doodle supplies to get you started
I am not going to show you the ultimate list here, just a few supplies that I love using for my doodles.
These are the basic tools you need to start doodling more, but I also love them for doing my bullet journal fonts and coloring my adult coloring pages and books.
Here you go, my fave doodling and coloring supplies:
Check out our HUGE list of bullet journal doodles for some great ideas on easy and fun bujo drawings.
Types of flower drawing
Before we get to the tutorials, let's talk a bit about different types of flowers drawing.
When you look at drawings of flowers you will see that they vary a lot in detail and difficulty. Some drawings are very detailed and realistic, while others are basic and some others are just a just made of a simple pencil outline.
Apart from the minimal or comprehensive details, you also have different styles such as cute flower arts, cool zentagle patterns, colorful designs, and creative flower drawings.
Below I will share a variety of designs that go from very easy and basic tutorials to more detailed and challenging drawings. I think that is the most helpful to cover all drawing skills. But don't feel discouraged if you cannot tackle the most intricate tutorials just yet.
Start with the basic shapes and practice until you feel more comfortable trying other templates.
And if a particular flower feels too difficult, just try and draw different flowers instead.
Best flowers to draw:
These are some of my best flower drawings plus other resources to produce the most comprehensive different flowers for drawing guide. It includes:
Rose
Dandelion
Lotus flower
Hibiscus
Daisy
Sunflower
Tulip
Poppy
Lavender
Lily
Flower Bouquet
Flower Wreath

Small Flowers Drawing

And leaves
Ultimate list of flower drawing tutorials
Now you know the basics here is a flower drawing tutorial for each of the most popular flowers.
I have collected beautiful flower drawing images from some amazingly talented and creative drawers – follow the pin to find them. From easy flower drawings to more difficult drawings of flowers, you will be sure to find a tutorial that is perfect for your skills and needs.
I hope you have fun trying to create your own doodle flower art.
Here are a few of my favorite rose flower drawing tutorials. From a basic rose doodle to a more in detail flower design drawing.
If you want to use tiny bullet journal doodles flowers, these sweet little roses will do the trick. Here is how to draw a rose easy:
They are great to add a few flowery touches in the corner of the page without taking a lot of the space.
A couple of other small roses here, these flower doodles are relatively easy to do too.
Now let's go ahead and try a moderate difficulty rose doodle: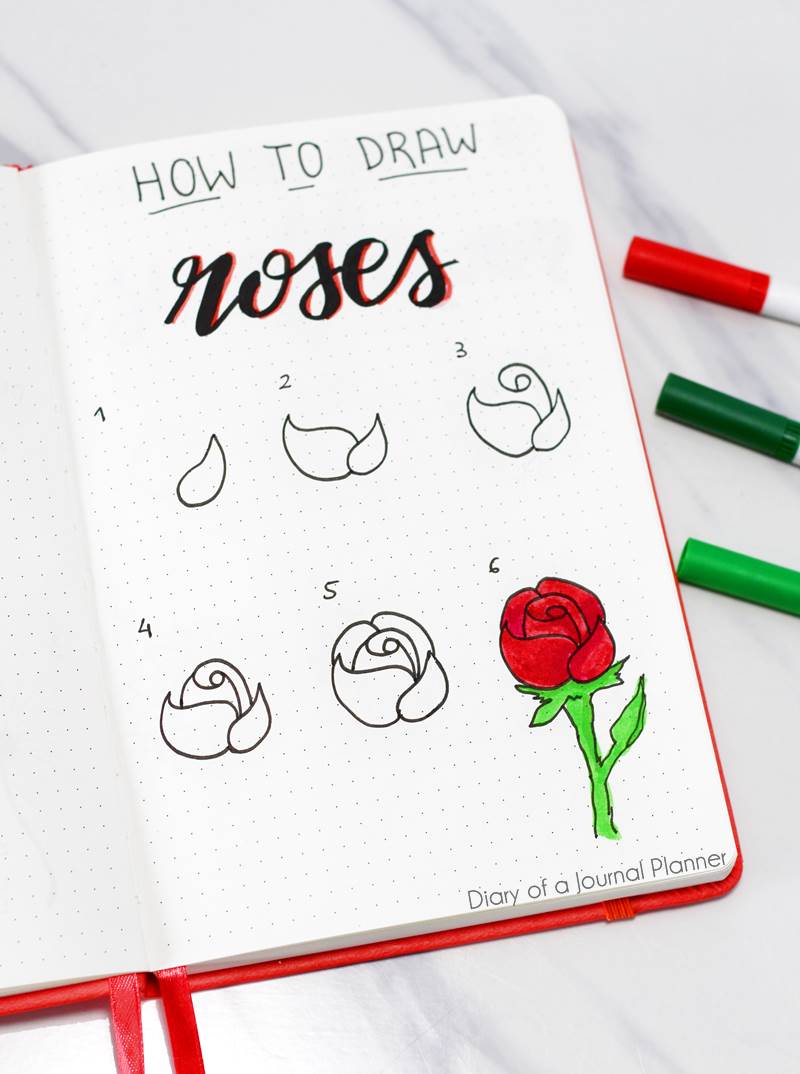 And below are 2 other tutorials on how to draw more detailed rose flowers:
And here is how to draw a rose full bloom:
Here is a flower that many people feel is a hard one to make but truly it is just like the other simple flower drawings.
Take your time and don't worry if it is not 'perfect' on the first try.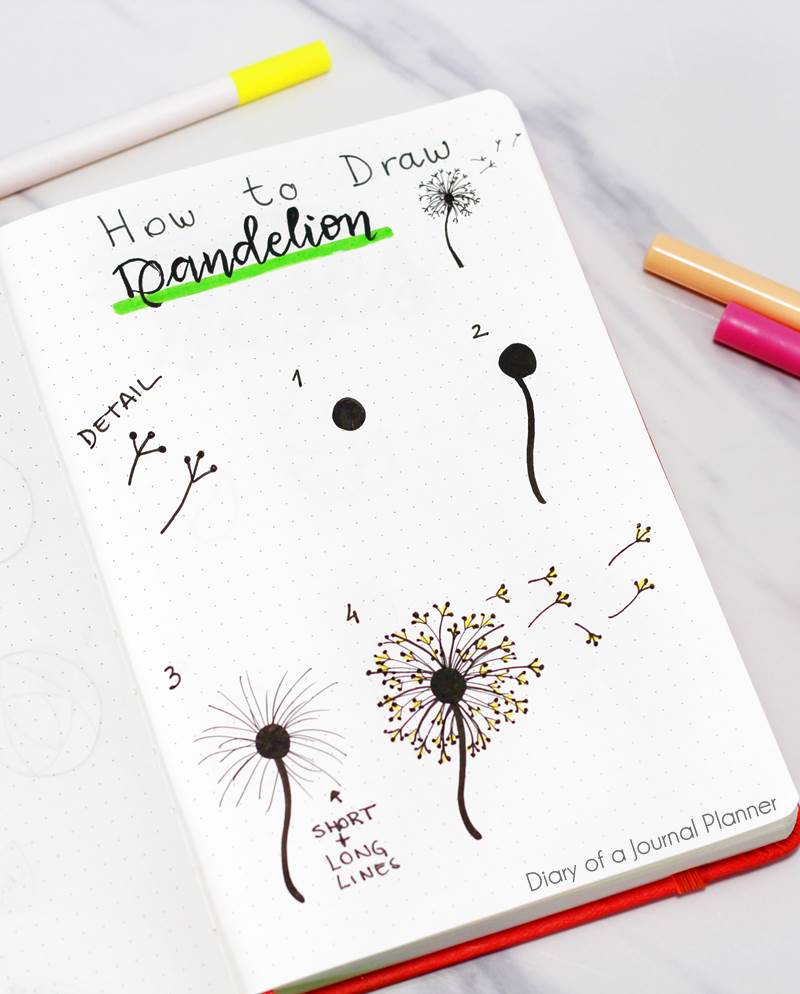 Check my post on how to draw a dandelion for more details.
Create a simple lotus flower doodle with this step-by-step flower lotus drawing. We have added a few different styles: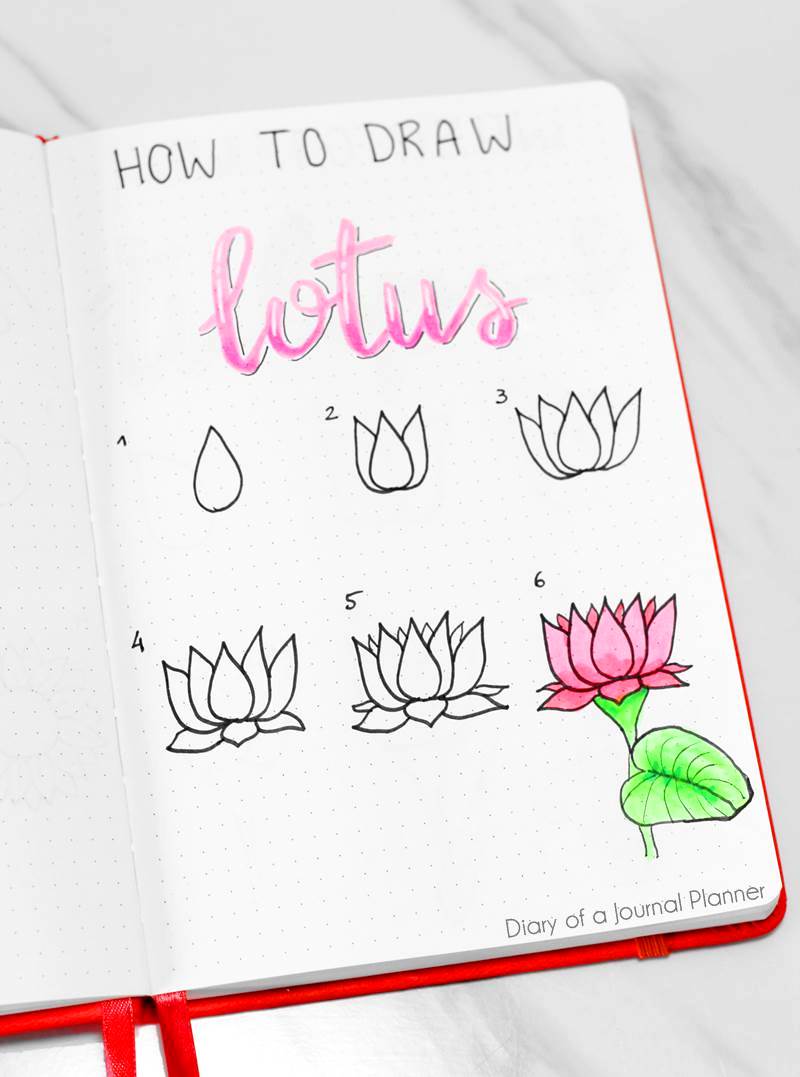 You have to start with the first petal then work from it. You can make it as full as you please.
Sunflowers are so bright, colorful and fun to make. They are also great for beginners: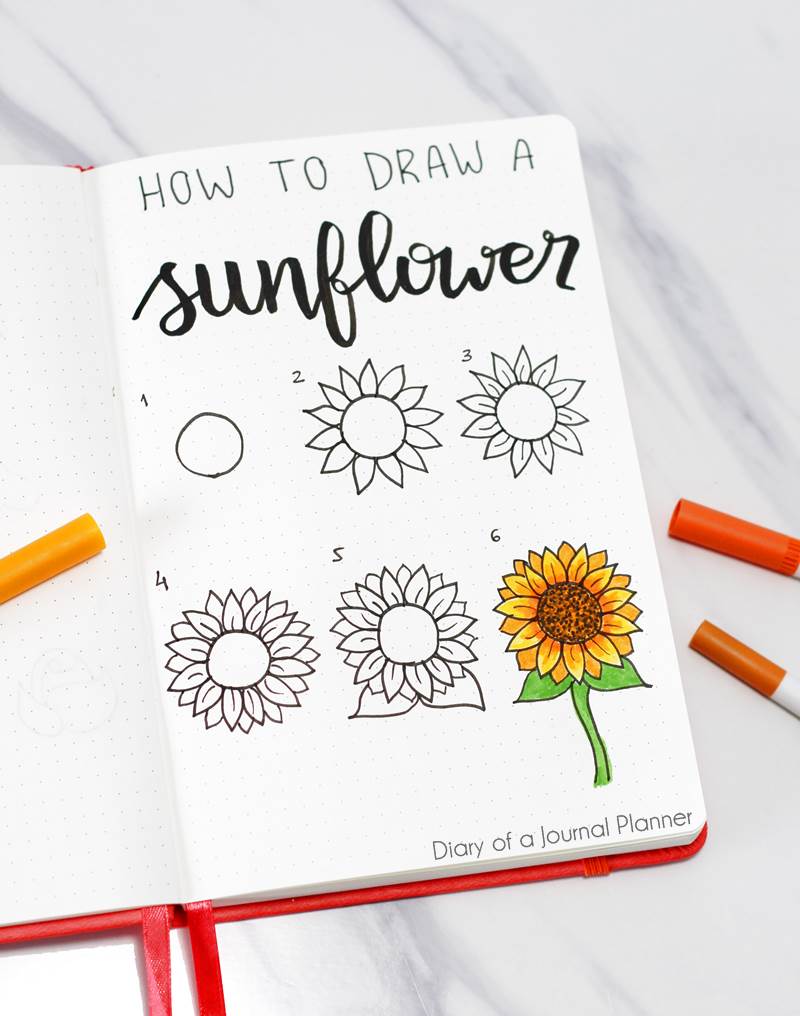 Sometimes you just want some simple and quick-to-draw flower doodles to brighten up a page or spread.
I love this tutorial for a gorgeous bunch of flowers to fill up spaces in my bullet journal with some color. You could also use this on special notes or on birthday cards!
Click here to see this Flower Bouquet step by step tutorial: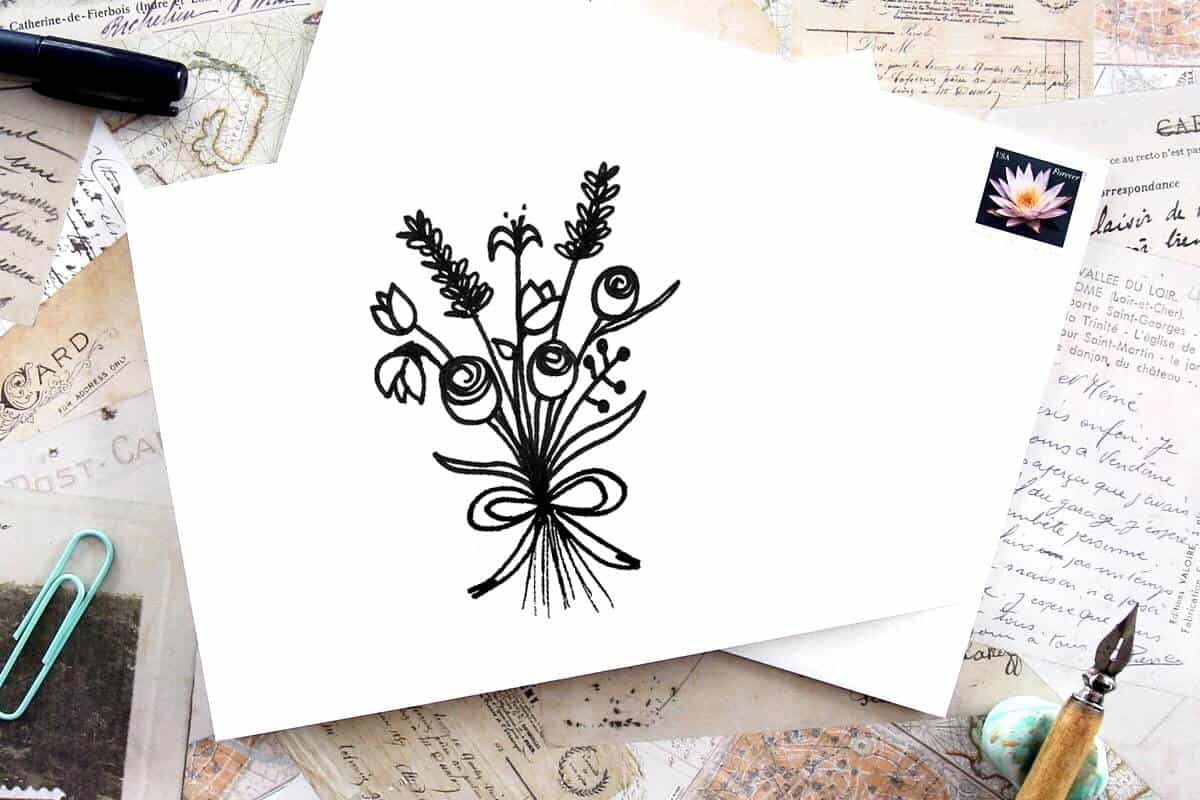 Tulips are an easy flower to doodle and you can pick from so many colors to shade them in.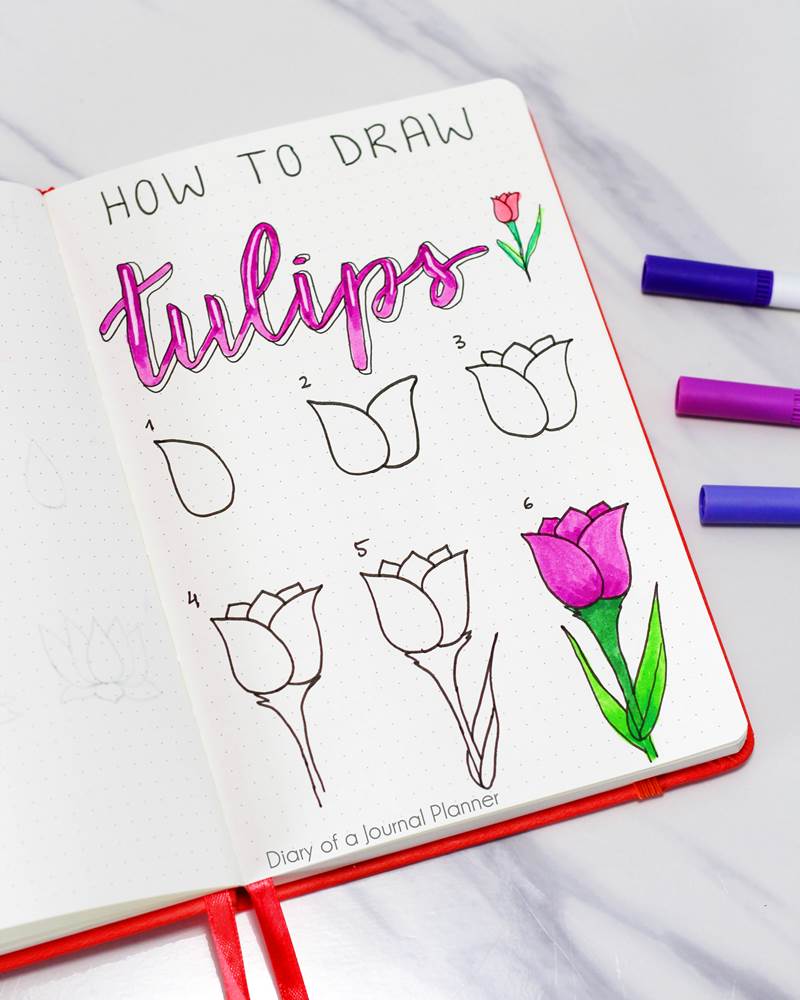 The tulip bloom can vary like below:
Lavender doodles are great for wreaths as well as springtime spreads.
Here is my own lavender drawing take and I have a simple step by step tutorial on how to draw lavender flowers here!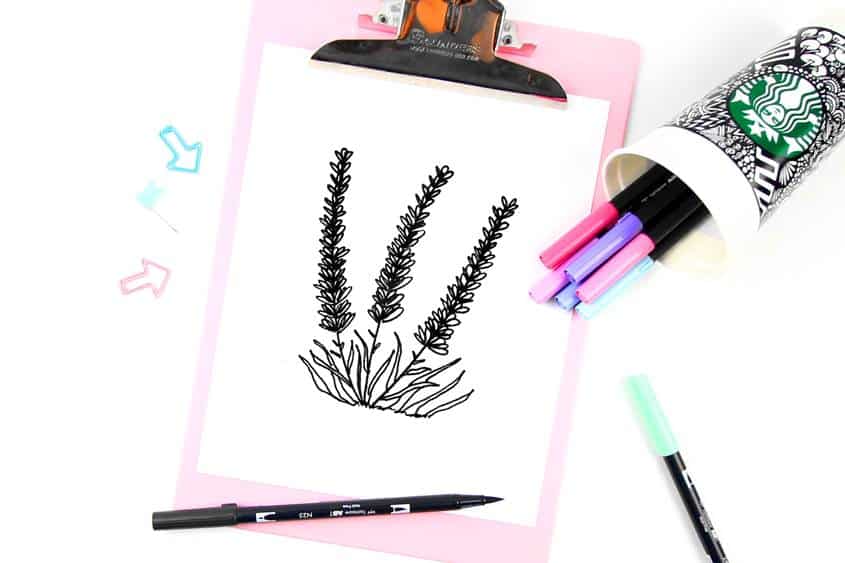 And here is a more detailed way to draw lavenders:
One of my fave flower doodle designs is the daisy. It's such a bright, fun, and easy flower sketch.
You can start with very basic shapes and minimal lines to make small doodles.
The key is layering the petals slowly until you have the full blossom.
And if you want to give a 3D perspective here is a great tip:
A beautiful flower sketch drawing is the hibiscus. I love using a hibiscus drawing on summer spreads or in my travel journal.
Another Hawaiian flower is the frangipani. Find drawing tutorials for both these flowers below.
I also added a gorgeous flower garland drawing for some extra Hawaiian fun.
Here are some great leaf drawing tutorials. Leaves can make gorgeous artwork on their own or practice your flower leaves drawing to make your flower doodles even better.
These last two tutorials would look amazing for an autumn monthly spread.
Drawing a Snowdrop Flower
Snowdrops are such a pretty flower to draw and are perfect for spring-themed spreads.
Need just a quick flower doodle? These flora doodles may not be botanically correct but they are cheerful and super easy to draw.
Flower circles or wreathe doodles can be as simple or as intricate as you like.
They are a great way to make a date or other info stand out.
Create them using your favorite flower and leaf doodles from all this wreath inspiration. The little flowers that I used to make the flower bouquet would work great!
An easy way to add floral doodles to your Bullet Journal is by picking a few of your favorite doodles and adding them to the corner of a page.
---
We hope you love all these amazing flower doodles. Don't forget to join our Happy Doodle Club for gorgeous doodles right to your inbox each week.
Love doodling? Here are some more how to draw posts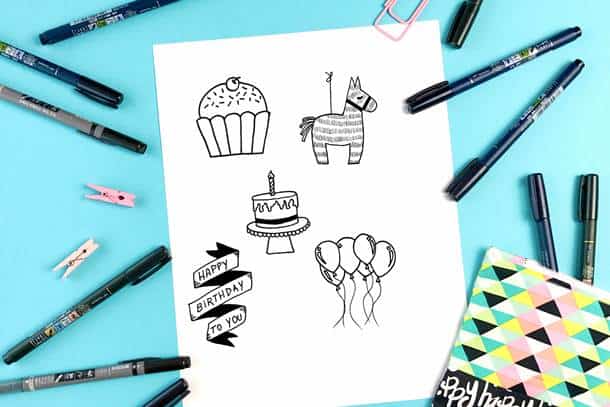 Happy Birthday Doodles
PIN FOR LATER!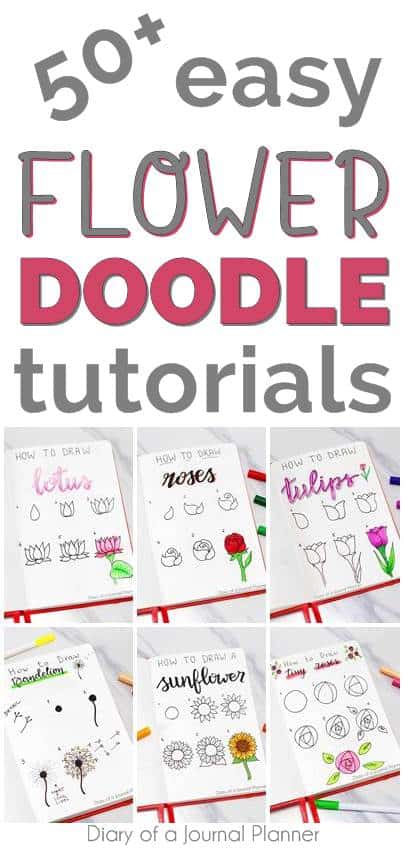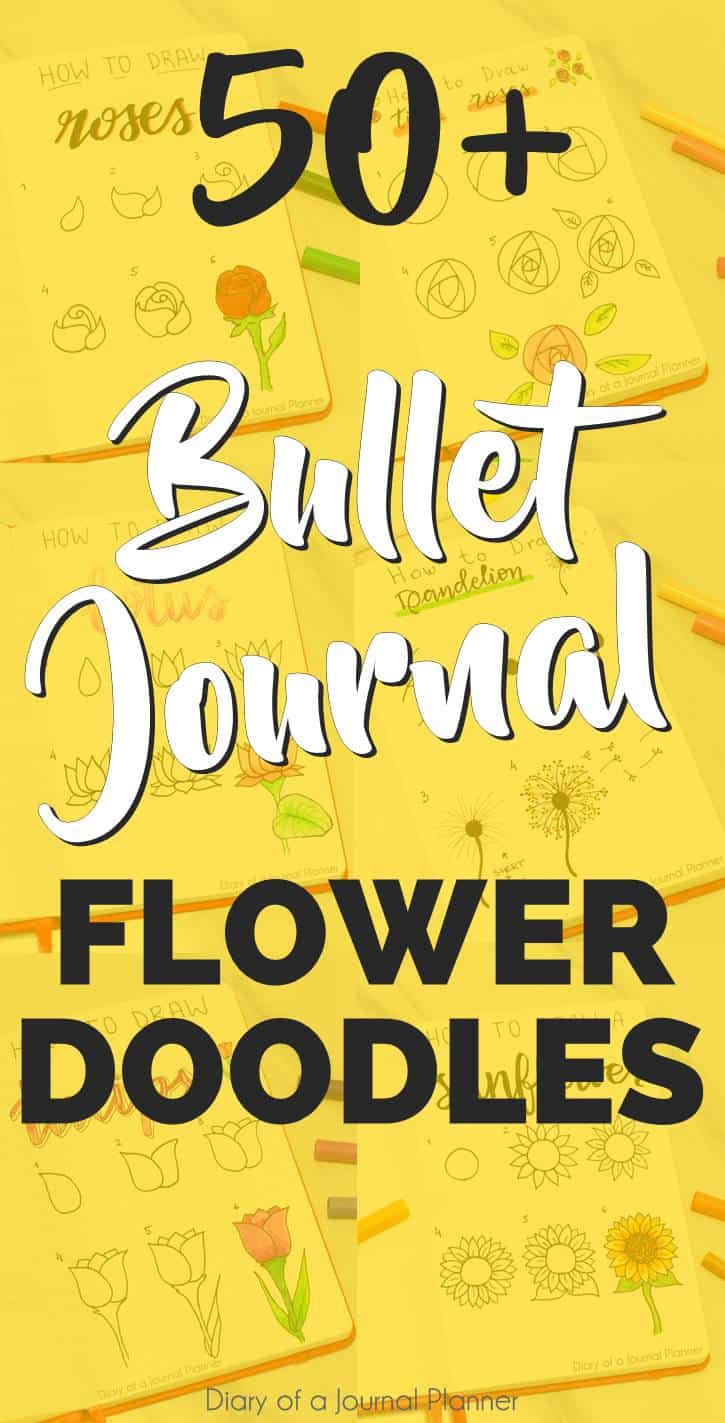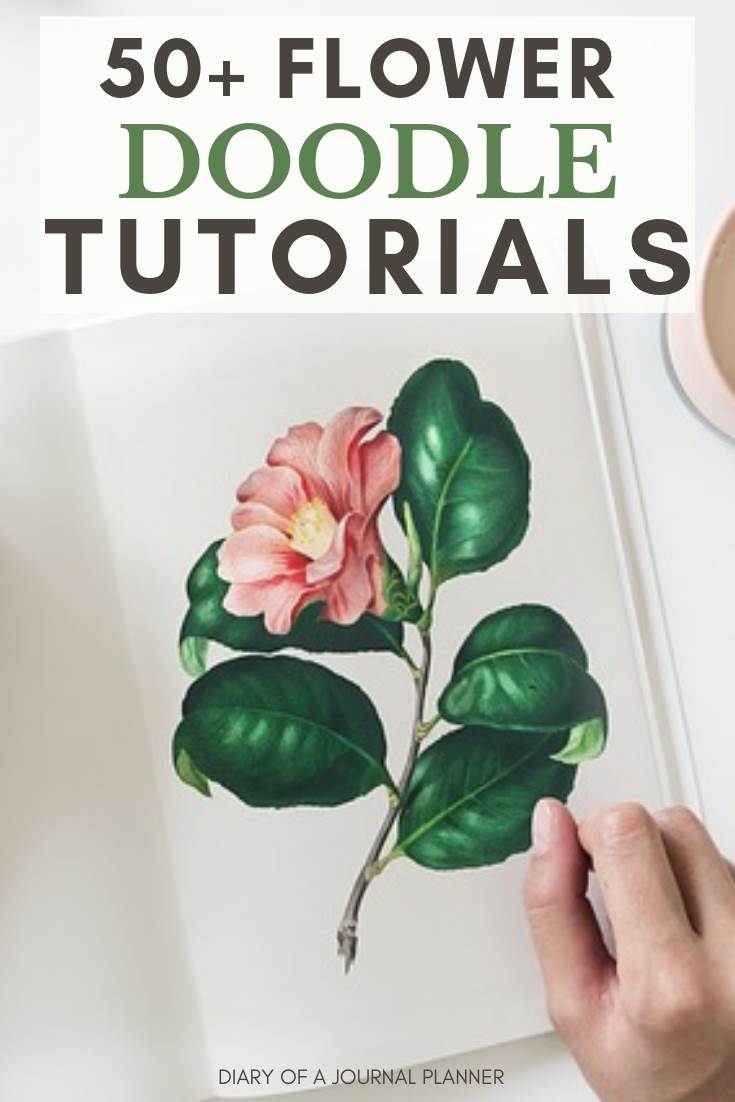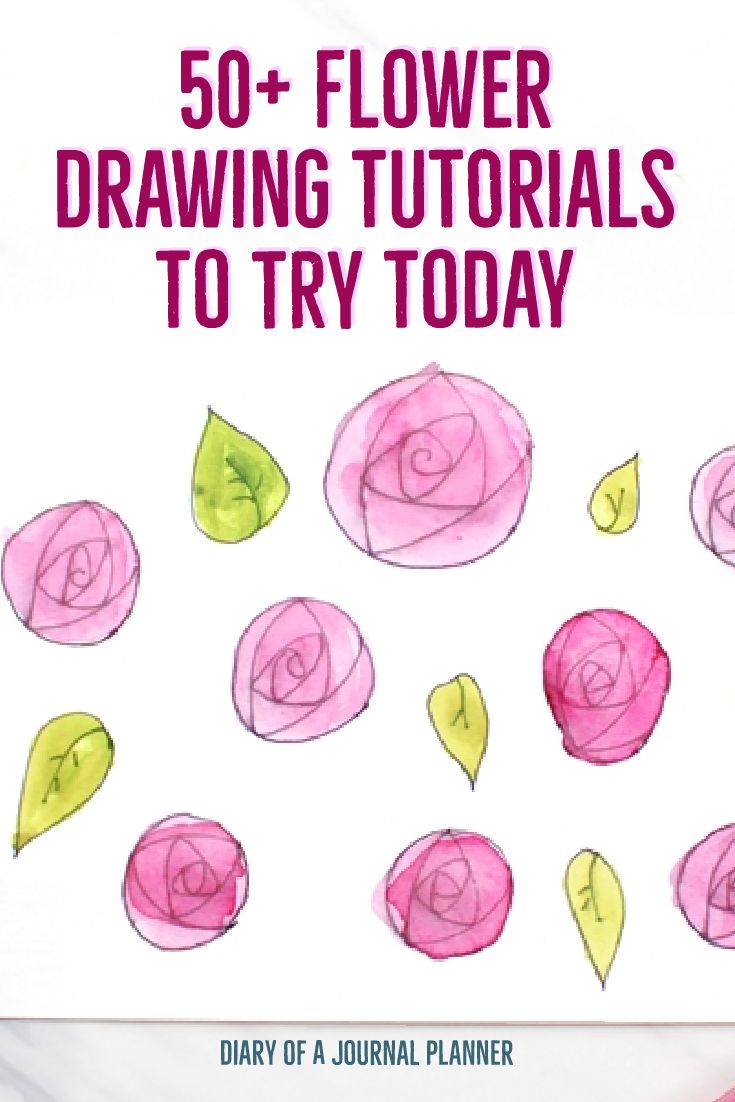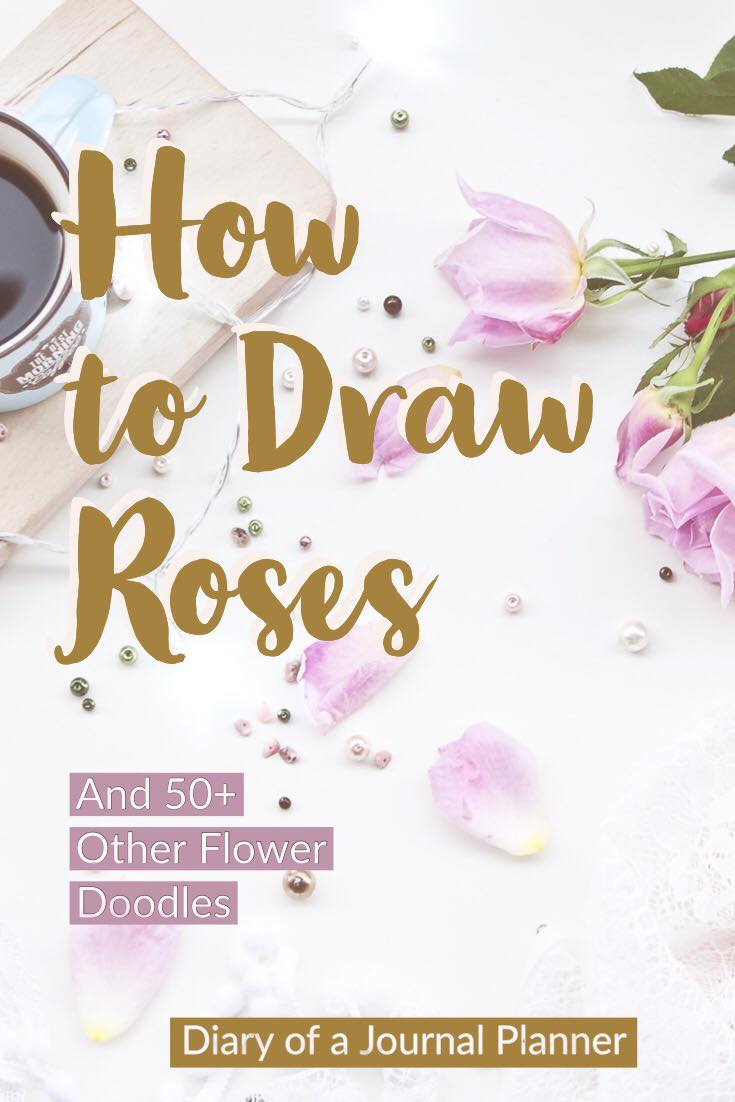 Easy Flowers To Draw