To Do List Bullet Journal
Want to get organized for good? Discover why you should be using a Bullet Journal to do list and how to make yours work for you.
We are all guilty of making notes on scraps of paper..then promptly losing them or forgetting about them.
Creating a special to-do list is a brilliant way of keeping track of all your tasks and jobs.
Not only are they great for those of us who may not have the best memory ( or are just too busy to keep track of everything) but creating a to-do list in your Bullet Journal (also known as a Bullet Journal task list), but studies show it is one of the best ways to get organized and be more productive.
Keep reading to find ideas for the best to do list template to suit you and your life.
How To Create The Perfect To Do List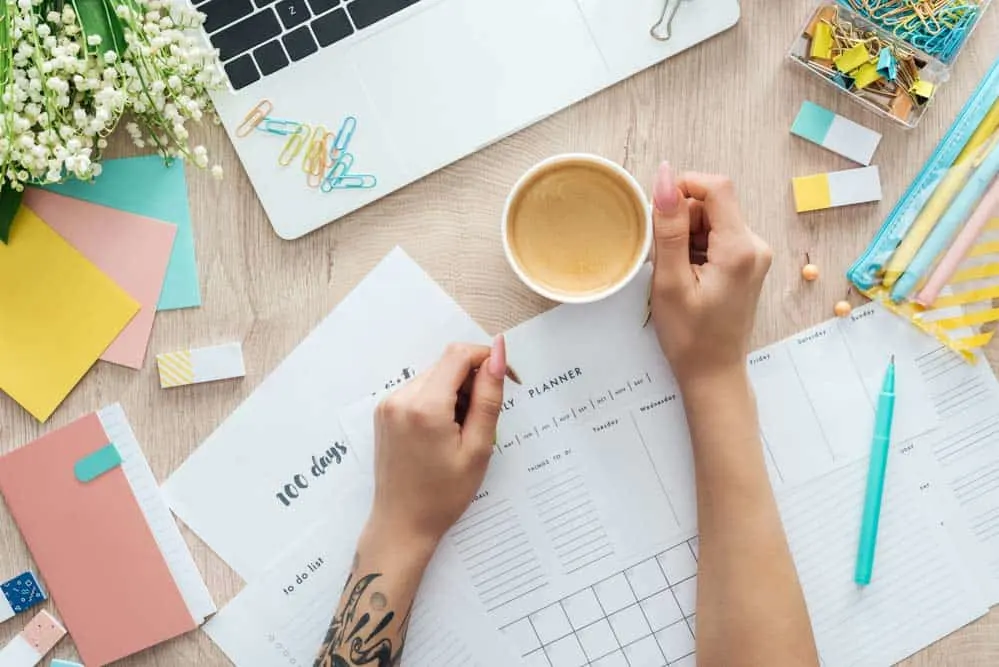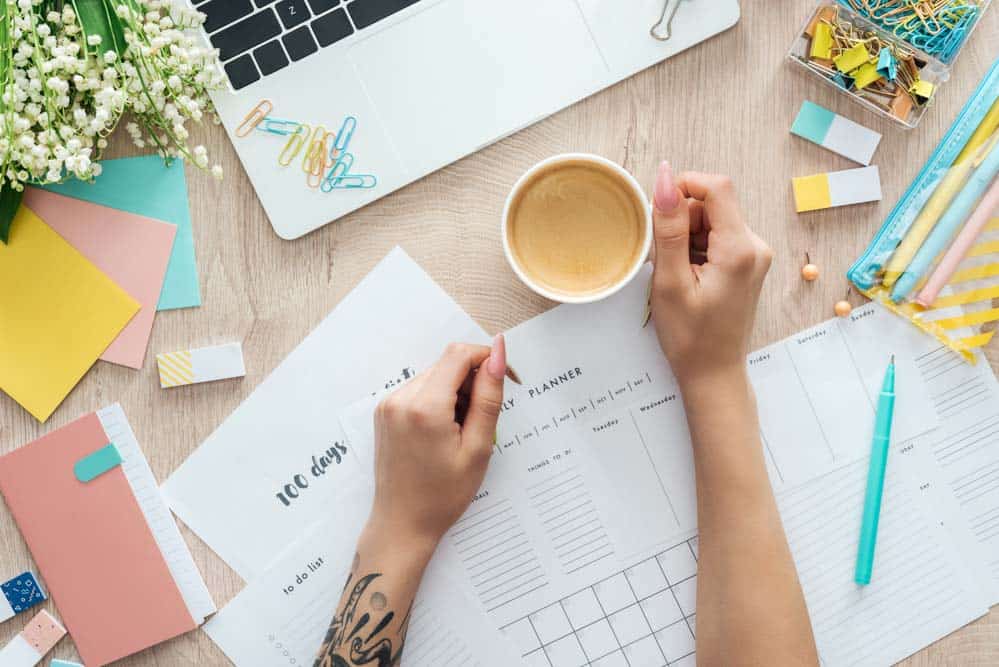 Believe it or not, creating an effective to-do list is an art form.
In fact, if you do not take the time to create a task list that is just right for you, it can leave you feeling more overwhelmed than when you started…and very unproductive.
So what are the secrets to an amazing to-do list?
1. Work Out Your Personal List Making Style
We all operate differently and have very different lifestyles. This means one type of list is not going to suit everyone.
Take a moment or two to think about what motivates you, how you get stressed, things you forget, habits you want to create, and anything else you can think of about organization and productivity.
For example. You may be someone who loves to write down every single task every day as you are motivated by seeing them getting ticked off. Or maybe you feel overwhelmed if you see a list with lots of tasks on it and instead need a short and concise list.
It may also take a little experimenting until you find the best type of to-do list for you.
2. Consider Having More Than One List
Having a master list can be a great idea. This contains everything you want to do.
Then create a daily or weekly list where you transfer these items individually as you have the time and energy to complete them ( or if a deadline is looming).
When you suddenly think of something you can add it to your master list, then when it comes to planning time, you can see when and how is best to tackle that task. This stops you from worrying about a task and helps you focus on the items that are on your daily list.
Another idea is to have a running list that includes all those tasks you repeat. For example cleaning tasks, or weekly appointments.
3. Keep It Simple
Even if you are the type of person who loves to list everything down, try to keep your list as simple as you can. Remember that we all tend to overestimate what we can get done in a day. Creating huge lists that you constantly fail to finish is a sure way to get demotivated and stressed.
If you feel you have too much to write on your list then maybe consider doing a brain dump first. This can help you see what you really need to add to your master list and what can be added to your future log or forgotten.
4. Create MIT's
An MIT is a 'Most Important Task". Learning to prioritize your to do list is a brilliant hack for productivity. A good number of MIT's to pick daily is 3-5. These are the items you MUST tick off for the day. Having tasks you must complete is a great way to make sure you don't procrastinate, or waste time doing tasks that aren't important.
It is a good habit to create your to-do list the night before and have your MIT's all planned for the next day. Think of tasks that are time-sensitive, important, or help you create the life you want to lead.
5. Create Easy Tasks
There are two parts to this one.
Firstly, make your tasks easy tasks by breaking them down.
You can bet you are going to put off a HUGE task ( like "write my book", or "clean out the garage"). You're only human after all. By breaking down the big tasks into small actionable tasks you are much more likely to get them done. For example with cleaning out the garage. Maybe the first step is to collect boxes so you can sort out items to donate, keep, or trash. Then you may decide the next task is to sort out one shelf.
The next part of this is to include easy tasks on your list and do them first as a morale booster. You can then head into the bigger tasks with more energy and determination. Easy tasks can be to make your bed, pre-prep dinner, or any other small task that is productive.
6. Make Your Tasks Specific
Add as much information to your list as you can. For example, if you have to call the electrician…add his number to the list. This is a fantastic way to stop all those time-wasting searches…that can sometimes lead to distractions.
We already mentioned breaking down tasks, be sure to make those breakdowns very specific and actionable.
7. Schedule
Plan your day and when you are going to do tasks. Group together tasks that go well and plan ahead. This can make you so much more productive and stop you from running around in circles.
You may like to consider time blocking. It can be a great method for making sure you stick to your tasks and get things done. Find out more about how to use time blocking here.
8. Reflect At The End Of The Day
When it comes time to create your next day's list, take a look at the list you have done for the day.
What items did you not complete? Can you think of why you did not get them done? Are they as important as you originally thought? They may not need adding to the next day's list, or you may find you need to do something else before that task can be completed.
Did you overestimate what you could get done? Or did an outside force stop you from getting through your list? Sometimes life just gets in the way of being productive and you need to be kind to yourself and start again tomorrow.
Don't forget to celebrate your wins too.
It is very important to realize you are not going to accomplish everything, every day. Some days things just don't go write, some days you just are low on energy. Try not to get stressed about having items not finished on your list, look at what you have completed more than what you have not.
Remember, there is always tomorrow! It is very simple to add uncompleted tasks to the next day's list if they need doing.
Bullet Journal To Do List Ideas
Now you are ready to create your list, here are some Bullet Journal to-do list spread ideas.
Remember to take the ideas that inspire you or you think may work for you. It's okay to experiment and change things up too.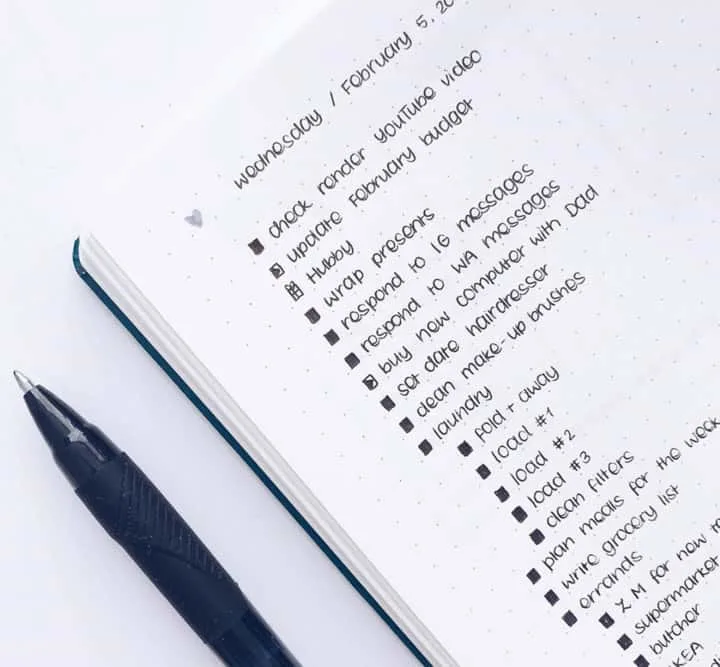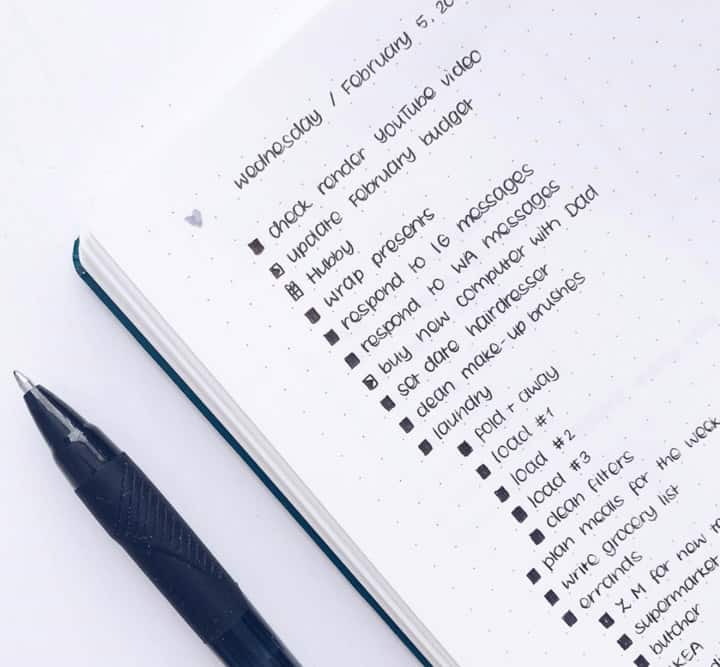 @sarahboparah uses a to-do list effectively by putting like tasks together and making sure tasks are specific.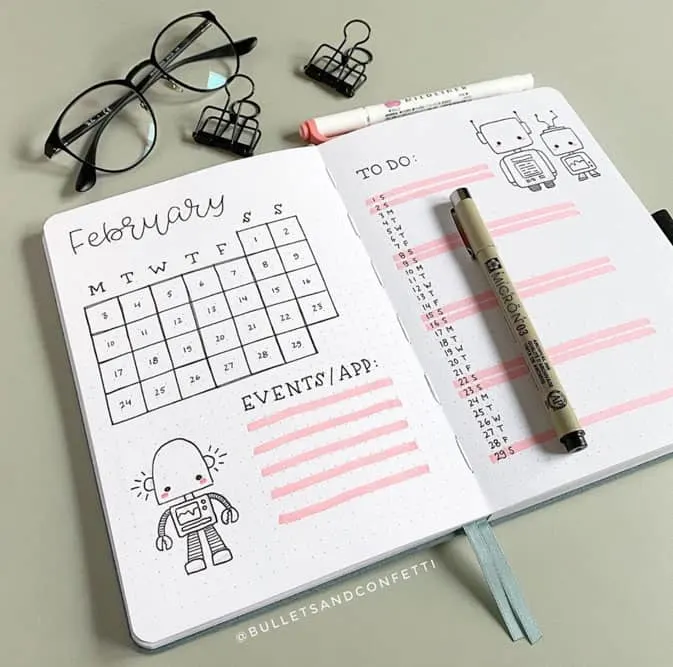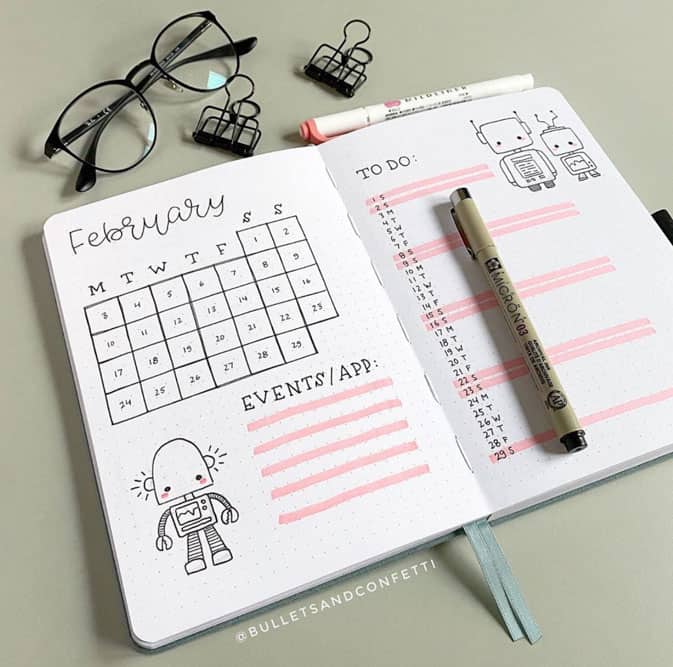 @bulletsandconfetti has a simple monthly master list. This is the perfect place to add very important tasks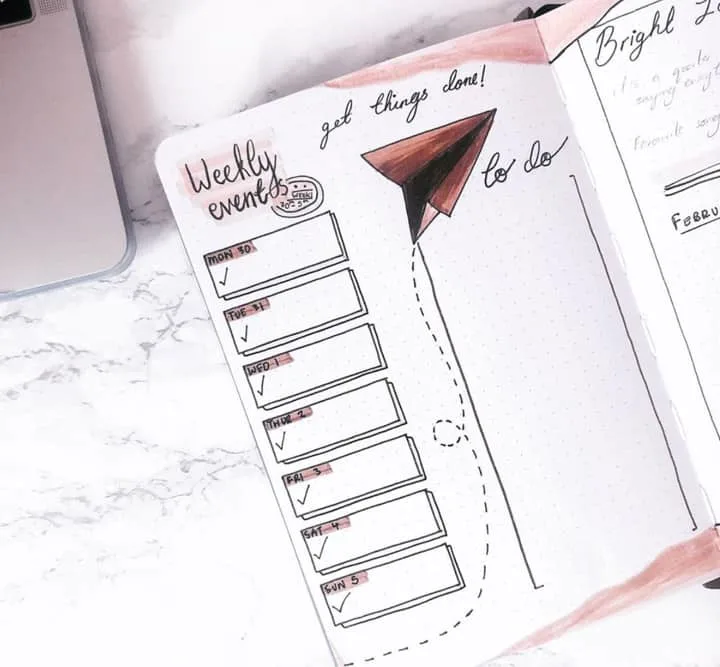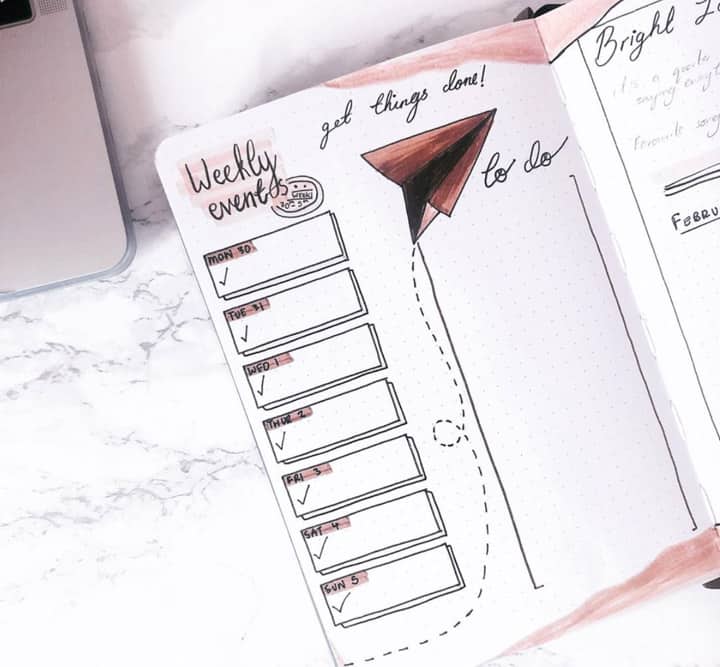 @pluvialette has created a bullet journal weekly to-do list that is fun and practical.
Supplies For Creating Your Own To-Do List
Printable To-Do List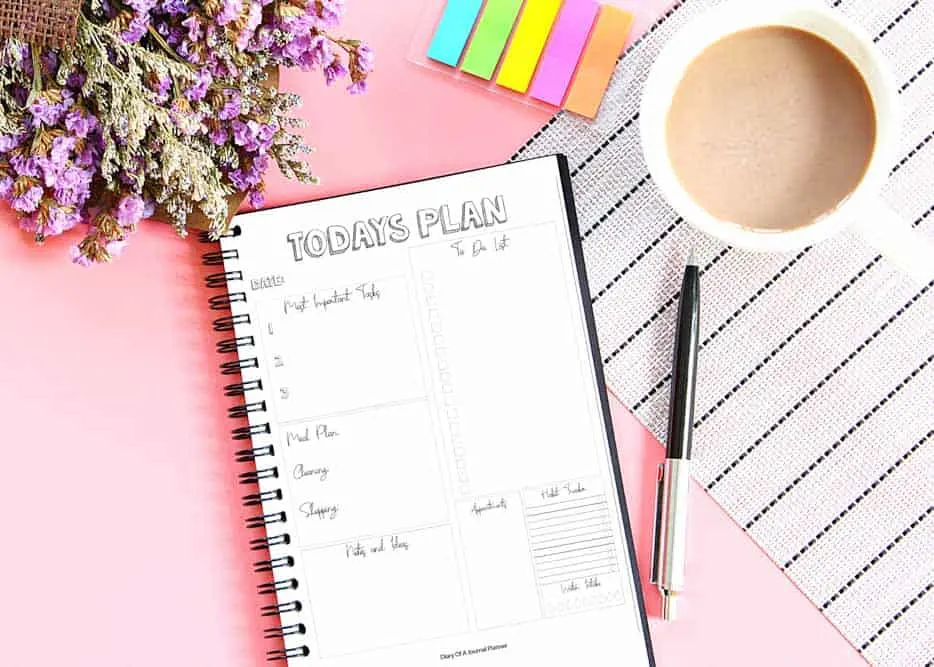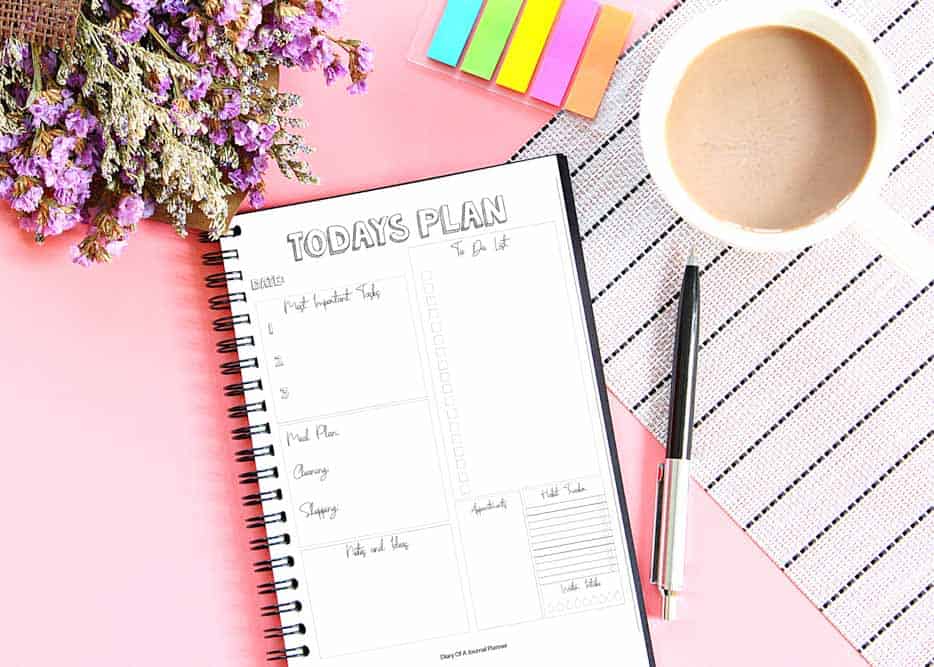 If you do not have the time to create your own spread or love printables then here is our FREE Bullet Journal to-do list printable.
We know you all have different needs so have tried to make it as customizable as we can.
Here are some ideas for how to use your to-do list pdf.
Get creative and color in the title for some downtime and stress relief.
Print and laminate for a reusable to list.
Add habits to the tracker you are trying to create like reaching your step goal, exercise, gratitude, and other beneficial habits.
Use the notes section as a mini-brain dump area if you are feeling like you have too much on your mind.
---
How has a bullet journal task list changed your life? We love hearing from our readers so be sure to tell us about your experience in the comments below.
More Ideas For Organization And Productivity.
PIN FOR LATER!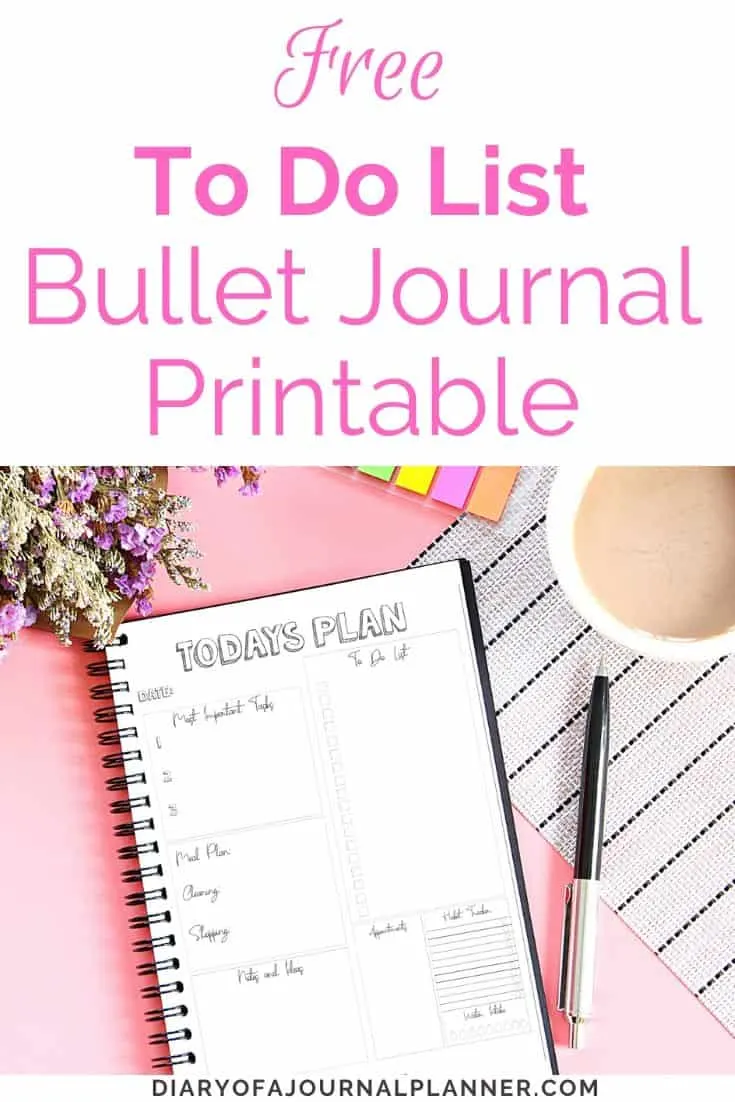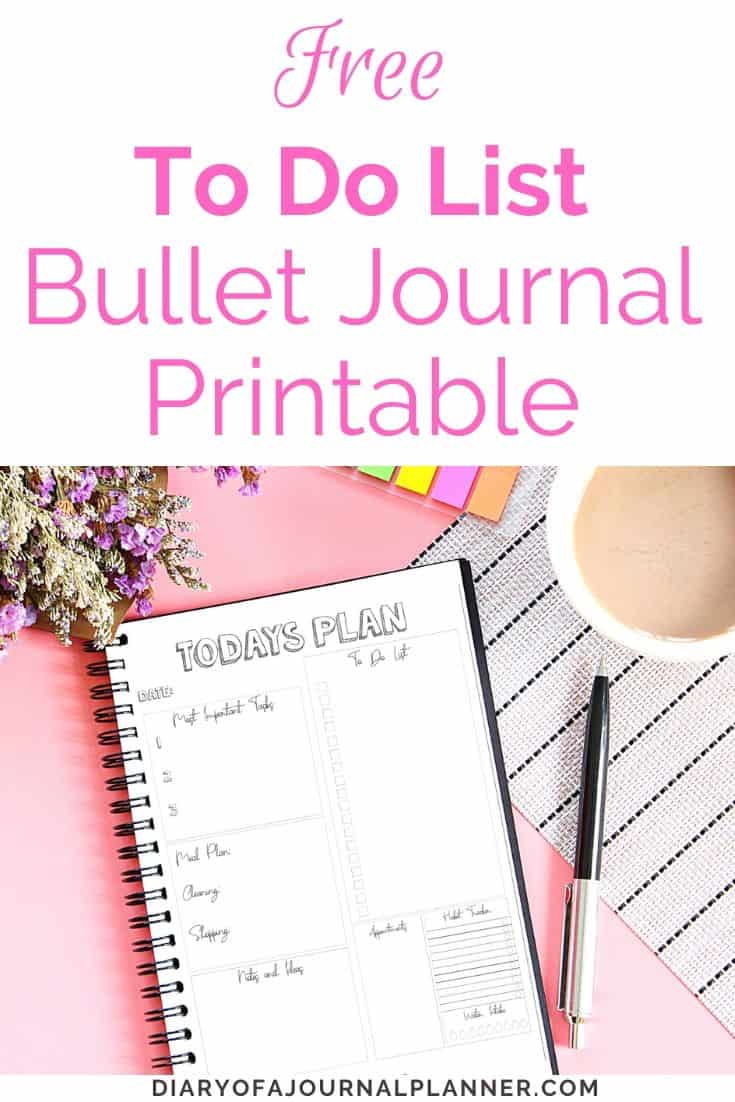 Free Printable To Do List