Easy bullet journal guide for beginners
Feeling overwhelmed about starting a bullet journal? This simple bullet journal guide will walk you through all the important steps to plan using a bujo so you can be more efficient and productive.
Have questions about the bullet journal system? Read our Bullet Journal Guide below to find all the information you need to get started!
To keep things organized I am going to discuss the following topics below that are super relevant if you are just starting out:
What is bullet journal?
Supplies to get started
Bullet journal key
Bullet journal index
Bullet journal future log
Bullet journal monthly spreads
Bullet journal weekly spreads
Bullet journal daily spreads
Custom bullet journal collections
The creative side of bullet journaling.
A beginner's bujo planner guide
What is a bullet journal?
A bullet journal is a productivity system created by Ryder Carroll. The system is based on rapid logging with symbol keys to help you organize important events, notes, and tasks.
The bullet journal keys allow you to classify your tasks without spending too much time writing, this makes for a quick analog system and ensures that you get more stuff done!
A Bullet Journal is a personalized and flexible analog planner & journal system where you can add any edits and collections to suit your life and personality.
Apart from scheduling tasks, you can also use it to monitor habits and activities to increase your productivity, health, or anything that you might be interested in.
With this system, your monthly, weekly, daily spreads, and other bullet journal collections can be as creative or minimalists as you like.
No more pre-set planners that don't make any sense to your schedule!
If you can't make much sense of what I wrote about yet, don't worry! I am going to explain everything to you in this post.
But first things first; what do you need to start bullet journaling. Then we will talk about a simple bullet journal setup.
The bullet journal method is one of the most affordable planning systems around. You only need 2 things; a notebook and a pen!
Do I only use a notebook and a pen now? Heck, no! LOL. Full disclosure: I love all things papery and stationery so I have many, many (maybe far too many) supplies…
But in all honesty, you don't need all the fancy stuff to get started!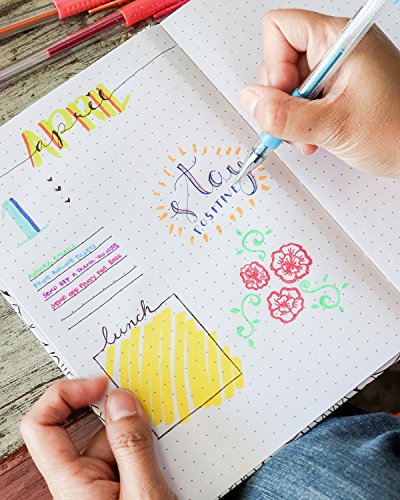 I prefer using a dot or grid journal but you could also go with lined or black page journals – whatever works for you!
Eventually, you will find stuff that you want to buy and try, like stencils, brush pens, and the like…
And as you progress in your bullet journal journey you might get more creative with your spreads and try all sorts of stationery items.
It is all good as far as bullet journal goes – You do you, that is what matters!
If you want to see the supplies I use and my favorite tools, you can check my Bullet Journal supply guide here!
The bullet journal keys are the core of the bujo rapid logging systems.
The key symbols will allow you to write, track and scan your tasks and events in a simple way as it does not only helps you visually scan your days' task easily but also allows you to get your listen written quickly without losing the meaning of the bullet journal tasks.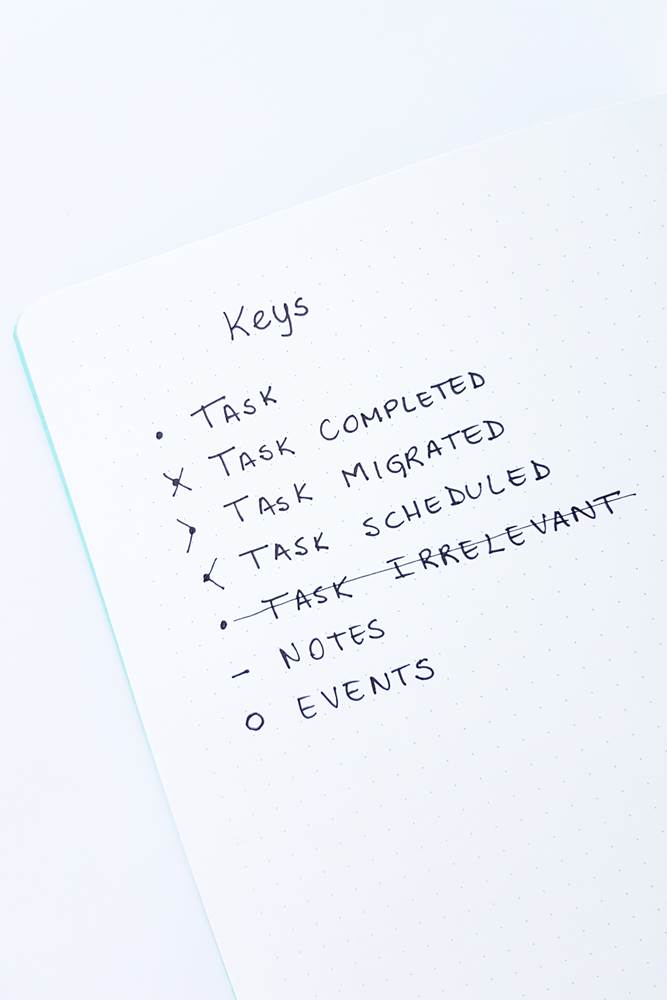 In the bullet journal system, every task is signed with a bullet point, every note with a dash, and every event with a circle. Apart from these original symbols, you can also create your own that makes sense to your schedule.
You can also add signifiers to add a little extra information about the entry, such as:
An asterisk = for inspiration and ideas.
A clock symbol = deadline and due dates for projects.
A question mark = for something you need to verify.
Everything is totally up to you! I keep my keys and signifiers simple because it works for me! Here is my bullet journal key page: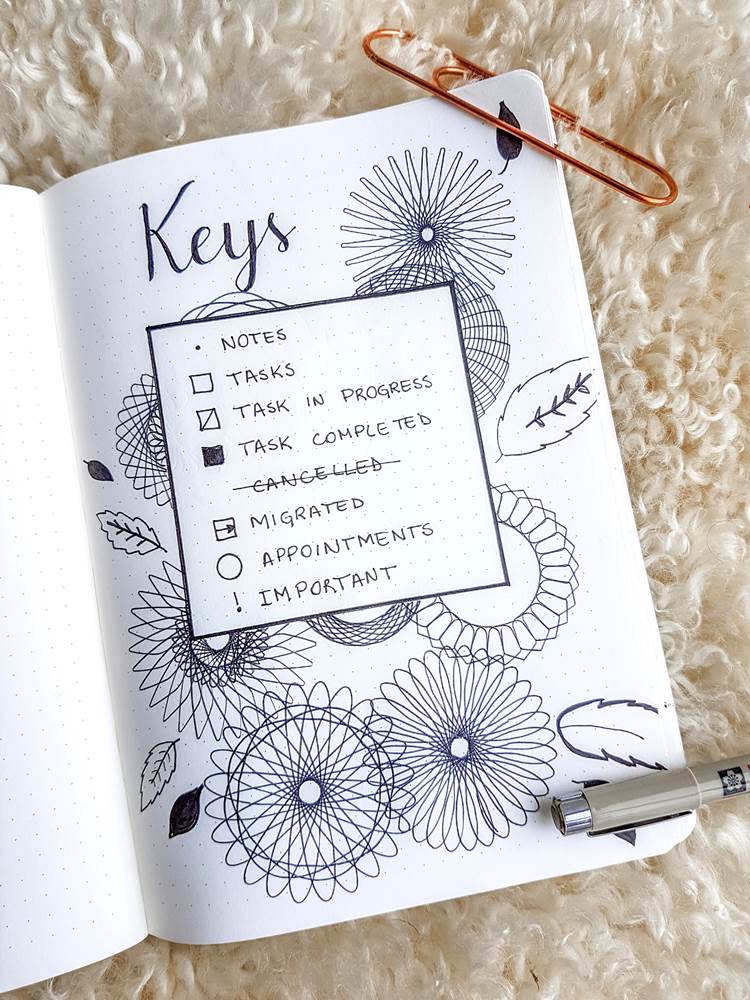 But you can do it the way you want. I suggest starting with the original keys and adapting to your own needs, eventually you will know which key and signifiers you need.
Find my comprehensive post about simple bullet journal key symbols here!
The index is basically your bullet journal table of contents. It is a place where you list your entries and their respective pages.
Why would you need an index on your journal you may ask.
Well, you will find that same are regularly revisited.
It is not so difficult to flip a book when you are in the first few pages but eventually, when you notebook is full and information from the past is not as fresh in your memory, finding a particular page without an index may become a very time consuming task!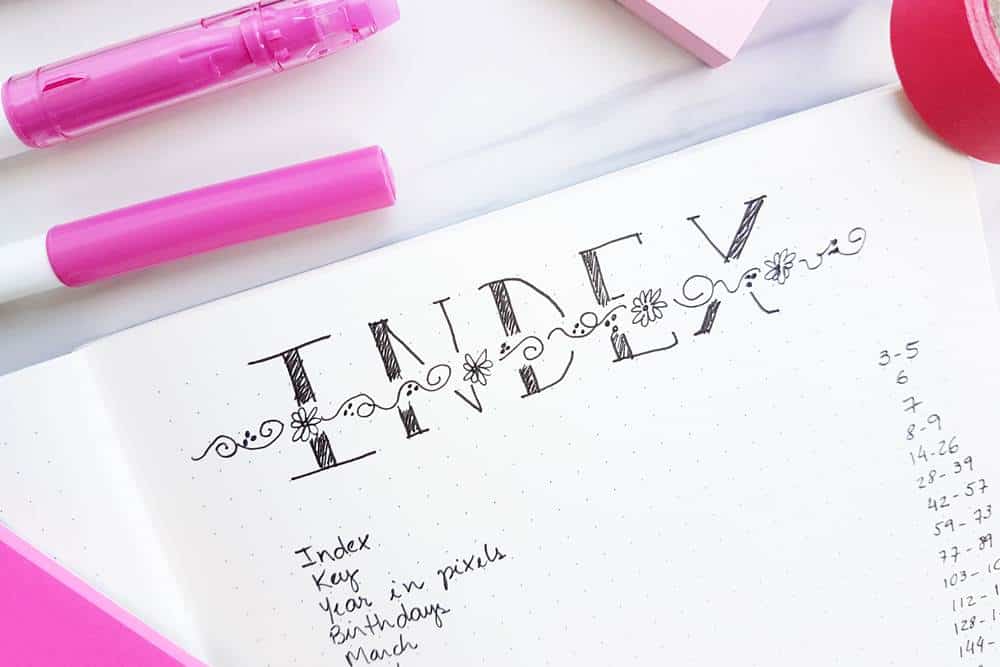 If being time effective is any important to you then making the habit to fill out your index is a good practice for you!
With that said, there are several people I know that go by without an index and maybe you don't need one but it doesn't hurt to learn about it and give it a go, right?
In your index you will reference your pages as you fill them, either by following a chronological order or by clustering related pages.
Your index could look like this:
April – 7 – 21

Habit tracker – 10, 27, 49

May – 23 – 40

Recipes – 43, 60, 121

June – 47 – 69

Cleaning – 51, 87 – 89

August – 71 – 97

September – 103 – 126
In this post here I answer all your questions related to the bujo index including a little discussion about whether or not you really need an index, the pros and cons of having one, how many blank pages to leave on your bullet journal for index when you are just starting out and many other remarks.
Bullet journal future log
The bullet journal future log is one of the first collection pages you set up.
This will give you an overview of the future months at a glance. In the future log, you can add your important long-term future planning, events, and tasks in one place.
My favorite things to add to the future planning log are birthdays, medium and long term appointments and events, vacations, and school breaks.
In this post here I talk in-depth about the bullet journal future log and how you can set up one. I also give several examples of layout spreads and more ideas of what to add to your future log.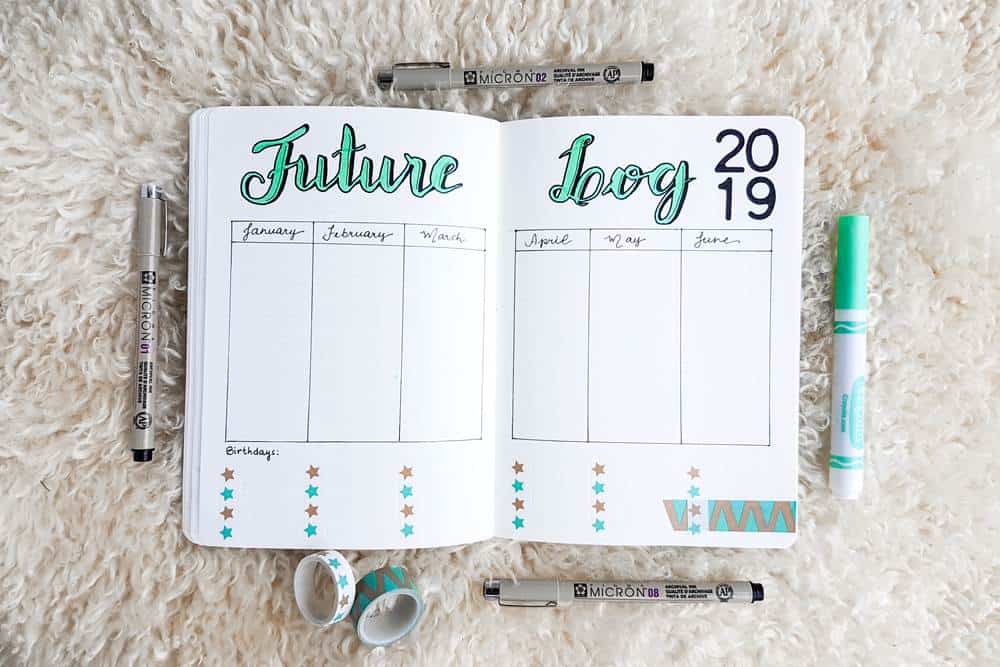 6. Bullet journal monthly spreads
Your monthly spread is an overview of your current month at a glance. It is simply a calendar where you add important monthly events/appointments and notes.
It is one of the first monthly pages you set up along with the optional monthly cover page.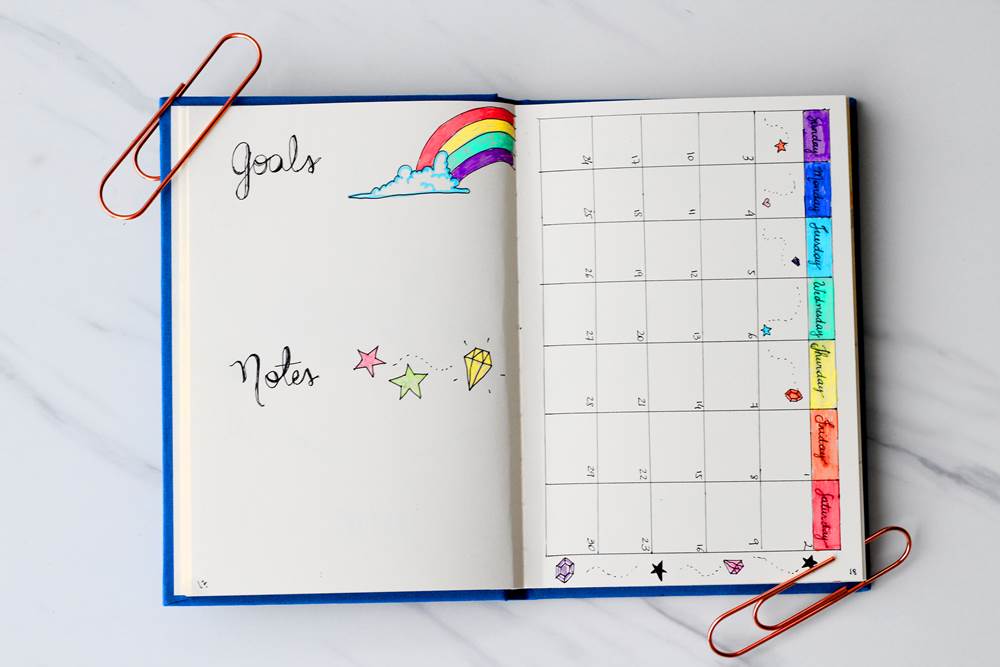 You can be as creative or as minimalist as you wish with this spread.
The bullet journal original spread is just a simple vertical list with dates.
I like to use block calendar like spread, because I am visual person but you, as always, can do the way your prefer.
This is the post where I explain more about simple bujo spreads and layouts, I also give you plenty of design ideas to get you inspired and started!
Bullet journal weekly spreads
The weekly log is where you have all the weekly events in one place. Here you can also add the weekly bullet entries that you can mark as complete or add notes as you go.
It is my favorite spread, sometimes I put a lot of time on them and make them super colorful and creative, while other times I go with a minimalist layout.
Although you can definitely go without many of the collections I mentioned above, the bullet journal weekly spreads are one of the most important pages and where you add your entries and migrate tasks.
You can set these pages up in so many ways! In this post here I give you so many amazing weekly spread layouts that you should definitely check out!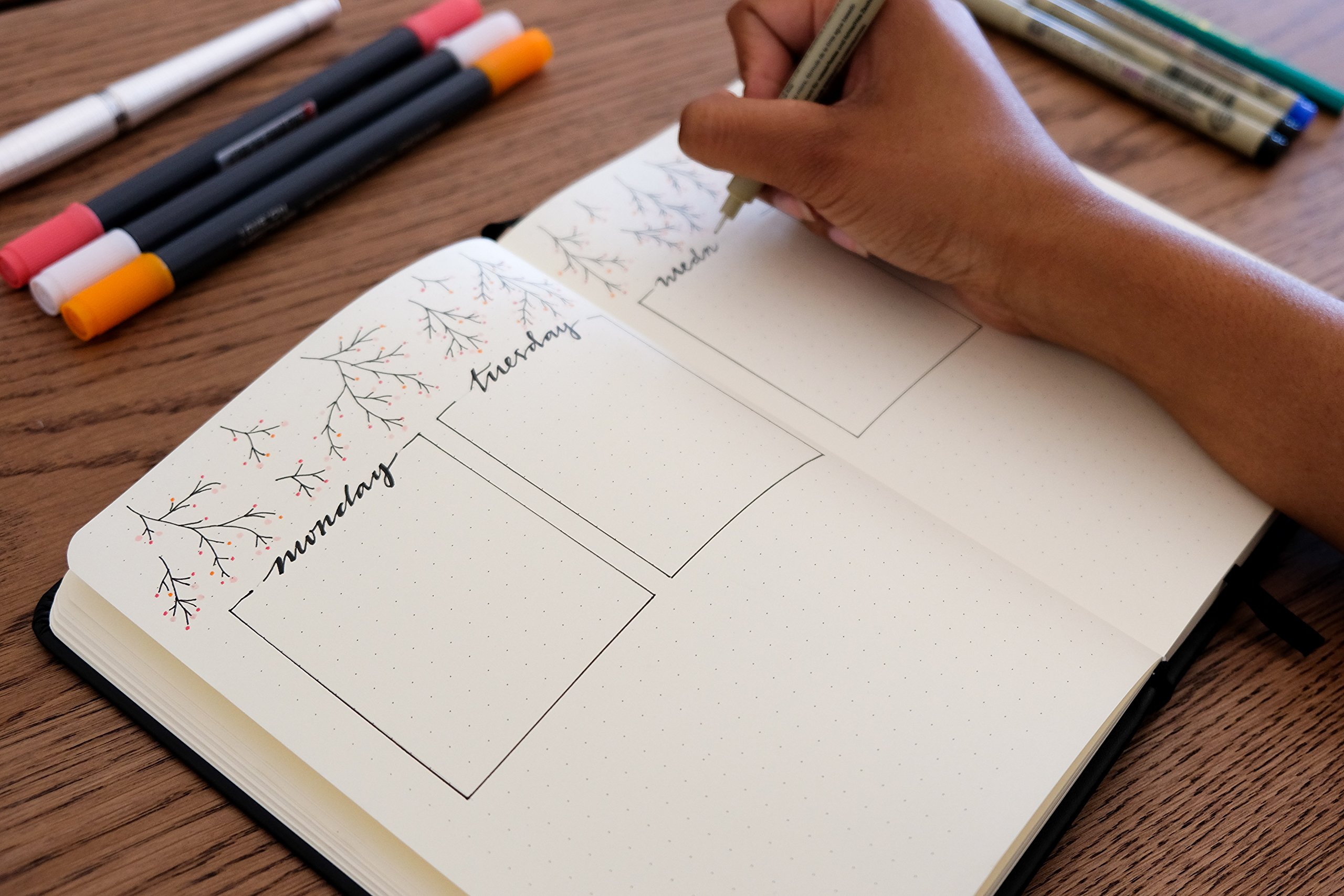 Bullet journal daily spreads
The daily log is where you will add all of your daily activities.
It is a spread designed for day-to-day use just like the weekly logs are for weekly use. Here you will rapid log your tasks, events, notes etc.
Some people only use daily logs and not weekly logs, others don't really make a difference between them as you don't necessary need to use a full page for a daily log and with many days close to each other in one page it does indeed look like a weekly.
In the bullet journal daily spreads you can track habits, add quotes and mantras, or simply journal. It is yours to do whatever you feel like!
In this post here I give you some beautiful examples of daily spreads that will blow your mind!
Custom bullet journal collections
Apart from the regular start-up pages and the monthly, weekly, and daily collections, there is an infinity of other collections that you can use in your bullet journal too.
Bullet Journal Collections are pages or logs where you organize related information.
The spreads we talked about above (the index, future log, monthly, weekly and daily logs) are also collections, on them, you can organize information about a particular subject, be that the tasks of a day or the pages that need to be index.
However, you can make custom collections about anything and everything that you need or want to organize and track.
Because the bullet journal method is designed to suit you and your lifestyle, it is only fitting that you can add any collection that you need!
Some very popular collections include:
The creative side of bullet journaling
This is where things get really fun!
Of course, we are all for being productive and efficient but many of us have found balance and fulfillment using our creativity in our bullet journals.
Since a bullet journal is designed to be whatever you need it to be then it is only fitting that you could use it as a creative outlet if you so want.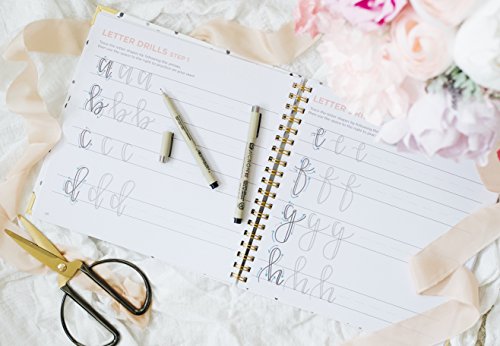 I myself am a big fan of all things drawing and doodling and slowly learning about brush lettering and calligraphy too, so my spreads are normally adorned with cute doodle art and pretty fonts plus loads and loads of washi tape!
I believe everyone can be creative using their bullet journal without being overwhelmed by it and we are here on this site to show you how to do it! You just have to find your balance.
So don't neglect the artistic side of bullet journaling. check here my art journaling pages here for more inspiration!
---
And that everything you need to know about bullet journals. So… Happy Journaling!
More bullet journal examples:
PIN FOR LATER!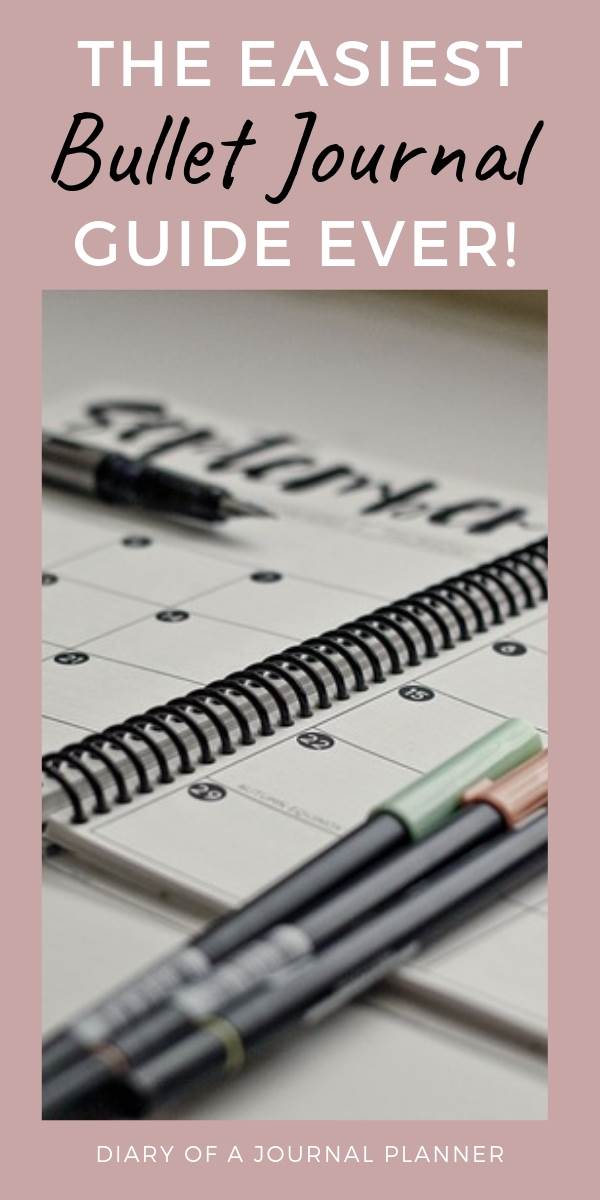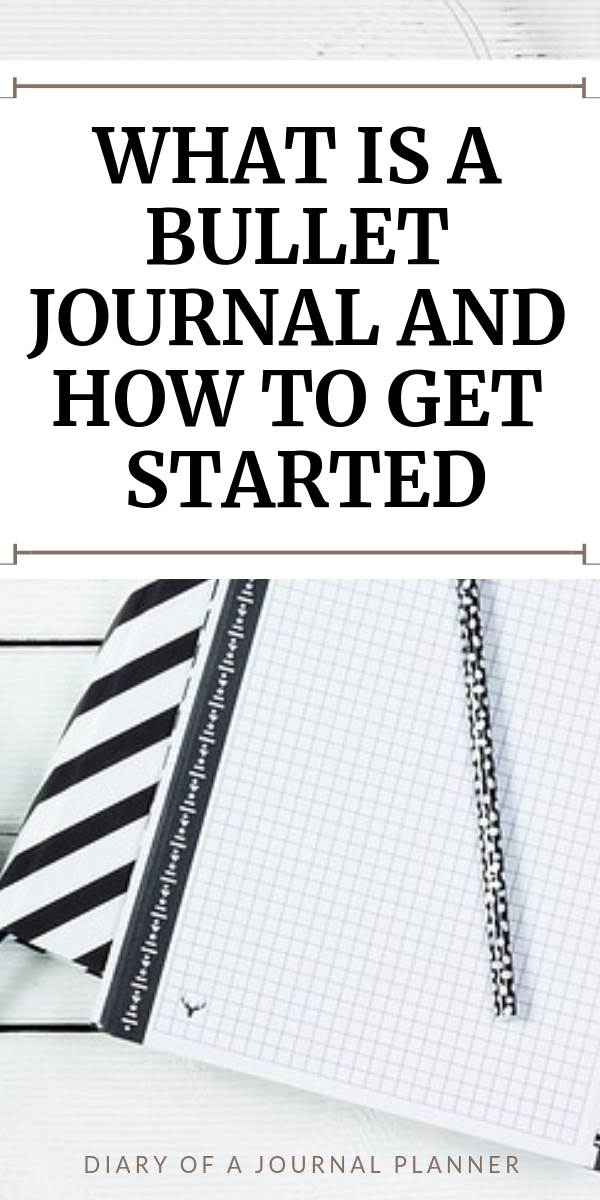 Bullet journal cheat sheet