Wondering where and what supplies to buy to start bullet journaling right now? Read on to find the ultimate guide to the best bullet journal supplies to buy!
Looking for new, fun, and useful supplies for bullet journals? Or you are just learning about the basics of bullet journaling and wondering what are the best bullet journaling supplies to use?
Today you will learn about the journal items you are going to need to get productive and reach goals plus my all-time favorite bullet journal for artists' supplies and accessories.
If you can't find your bullet journals items in a store near you I suggest you get them online from Amazon. They have a huge range of tools for bullet journals and fast delivery so you won't have to wait too long to start bujoing.
Find out below my list of best supplies for bullet journaling!
The article is comprehensive – Use the Table of Contents here below to easily toggle between categories if there is a particular bujo tool you are looking for:

The Best Bullet Journal Supplies For Beginners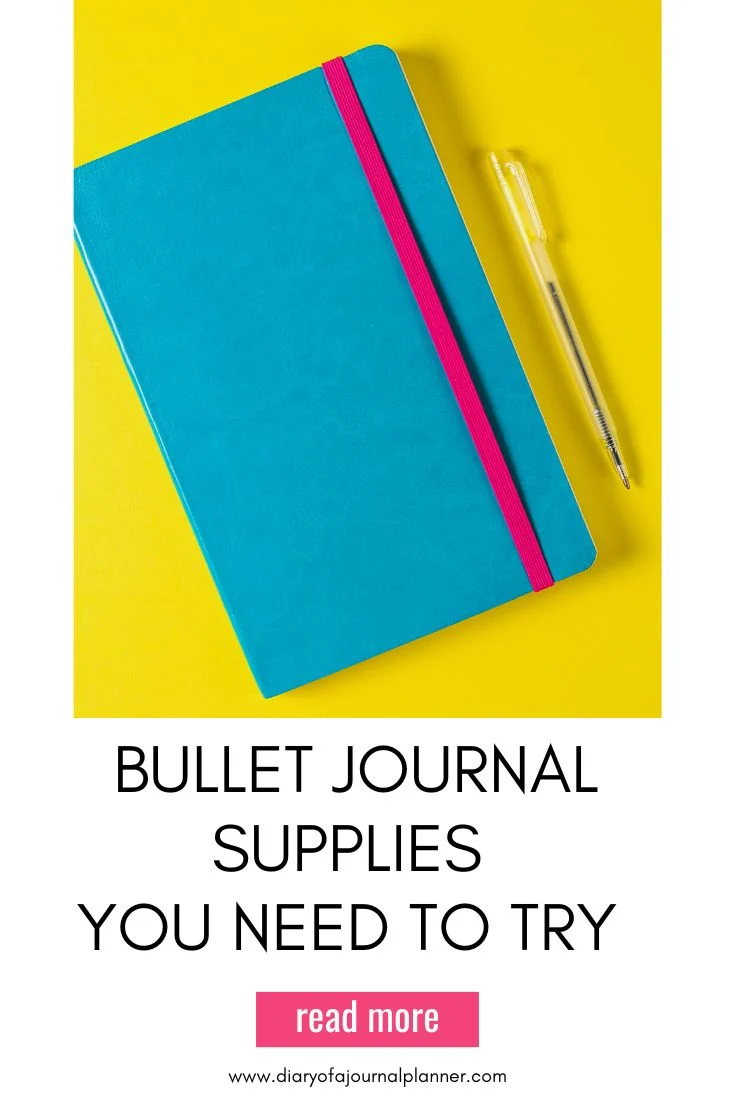 I have categorized the bullet journaling essentials into the following sections:
Notebooks
Pens
Colored Markers
Other accessories
Further, the list links to products that are best sellers too. So you can compare these if you are looking for cheap supplies for a bullet journal. Remember you don't need to buy all your bullet journal stationery at once. Use this post to create your own journaling supplies list and then tick off the items as you get them.
Enjoy!
Best Bullet Journal Notebook
The first thing you will need to start your bujo is a journal notebook itself!
But, what notebook to use for bullet journals?
There are several options for you to use and you will eventually find the best journal notebook for your needs. For beginners, you don't need to worry too much about the type of journal when you buy a bullet journal. Eventually, you might upgrade to a different notebook when you get a handle on bullet journaling and have more ideas on how best to make the system work for you.
For now, look around and find something that you like. You can use either dot grid paper, lined paper, or blank paper journals. Some of your options might include:
Spiral Notebook
Soft or hardcover journal
Journal specifically made for bullet journaling
Below I will show you some of the best journals for bullet journaling:
Rhodia Bullet Journal Dotted Notebook
Rhodia notebooks are one of my favorite journals to bujo in. The paper quality is just superior and if you like to play around with colors and use your bullet journal for art journaling, bullet journal hand lettering, or for any other creative purposes then this notebook is for you.
The book has durable quality bullet journal dotted paper that will stand the test of time and not bleed through with the use of several pens. You really can't go wrong here.
Unlikely other journals I mention below, they don't come with a pre-printed index and future log pages, etc, but I have come to learn that not everyone finds them useful (and of course you can always add these pages yourself).
For me, the hard cover notebook is the best dot journal you can have but they also have a soft cover one which is cheaper but with good quality paper too.
Buy your Rhodia notebook here!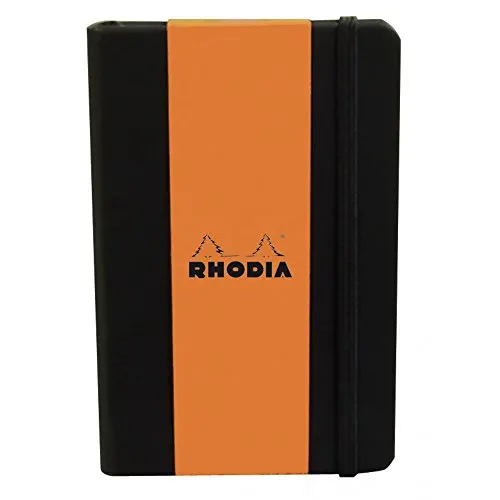 Leuchtturm1917 makes one of the most popular dotted paper journals available and is the company that actually prints the bullet journal notebook. Their journals come with a printed index notebook page, numbered pages, and an envelope pocket at the back.
These journals come in a huge variety of colors which is always a plus, right?
These are good bullet journal notebooks and they affordable, however, the paper quality is not as good as the one listed above from Rhodia. Still, a great option if you don't play with a lot of pen colors or don't mind a little ghosting.
Buy your Leuchtturm1917 notebook here!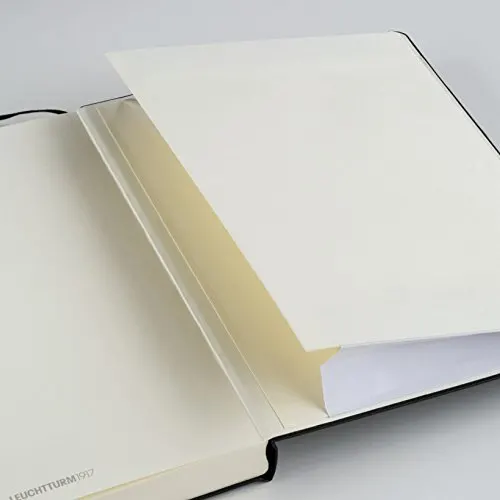 Another great journal with all the little extras like the Leuchtturm book above (notebook index page, key page, back envelop pocket, numbered pages) plus a pen test page.
The new version of this book doesn't have the Scribbles That Matter engraved features in the hardcover which I think is best.
The journal comes with a great binding but the paper might see some bleeding and ghosting depending on the pen used.
Buy your Scribbles That Matter notebook here!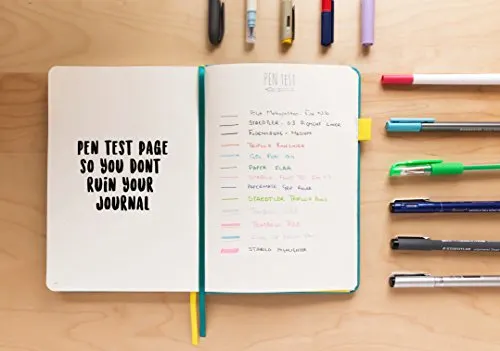 New To Bullet Journaling? Join our email list for FREE Bullet Journal printables and more.
Best Pens For Bullet Journal
Now, we are going to check out the best writing utensils for bujos.
As with many journaling materials, this category is very subjective because it depends again on what you like writing with and how creative you want to get with your planner.
To be able to follow the original bullet journal method you really don't need more than a single pen you enjoy writing with. However, you might find that with time you will want to try different varieties of pens.
It is always good to have colored pens when you are writing different collections or making trackers on dot paper. It helps you stay organized and easily look at the information.
My favorite brands of pen include, amongst others, Pilot, Sakura, Tombow, Staedtler, Faber Castell, and Crayola.
Below I am going to show you some writing, drawing, and colored pens that I personally like and think are good pens for bullet journaling!
Sakura Pigma Micron Fineliners
These are my everyday bullet journal writing and drawing pens. They are made with archival ink which is waterproof and doesn't bleed through any of the paper I have ever used.
I have a set with all the fineliner nib sizes and find it extremely handy to draw my doodles depending on the thickness of the line I need. And I can color afterward with watercolors and it won't blend together. They are my all-time favorite bullet journal pens.
They are designed as drawing pens but I find them easy to write with too.
Get your Sakura Pigma Pen Set here!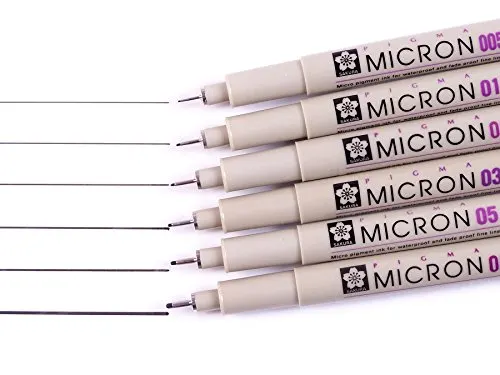 Pilot Metropolitan Fountain Pen
I recommend this amazing fountain pen for both women's and men bullet journaler. These pens also make a perfect all-occasion gift for bullet journal lovers.
This stainless steel fountain pen nib reflects the highest standards of Pilot craftsmanship but at super affordable prices. You just can't go wrong here! It is an affordable luxury that will take your journal writing experience to the next level.
Get your Pilot Metropolitan Fountain Pen here!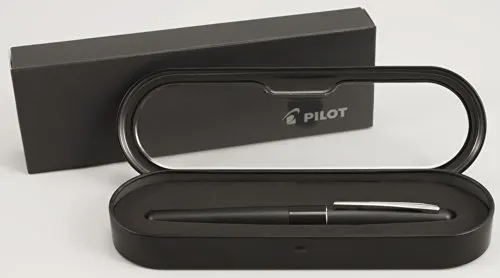 Paper Mate Inkjoy Gel Pens
These are great writing pens but come in so many colors that you can easily use them for drawing and coloring too.
The gel pens deliver very vivid lines and are super smooth to write with, however, the amount of ink that they produce means that you will see smudges of color if you accidentally touch it before it dries.
This is where the Paper Mate Inkjoy pens come in handy because they have a new technology that allows ink to dry 3 times faster, preventing smudges. Definitely one of the best-colored pens for bullet journaling.
They are very comfortable to write with due to the rubber body and deliver a great writing experience.
Buy your Paper Mate InkJoy Gel Pens here!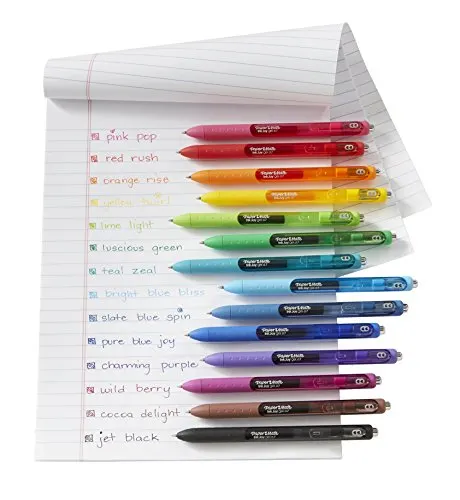 Staedtler Triplus Fineliner
The assorted color range of the Staedtler Fineliners is just amazing. They are perfect for drawing maps, charts, doodling or coloring, and any other bullet journal art project.
Amazing pro aspects of these pens include the non-toxic acid-free water-based ink (that is easily washed from clothes or surfaces and doesn't bleed through paper), dry safe feature (doesn't dry even if you forget to put the cap back on), and the triangular shape that is designed to sit very comfortably in hands for hours of fatigue-free writing.
Get your Staedtler Color Pen Set here!
Available in 20 pen, 36 pen, 42 pen and 60 pen-pack.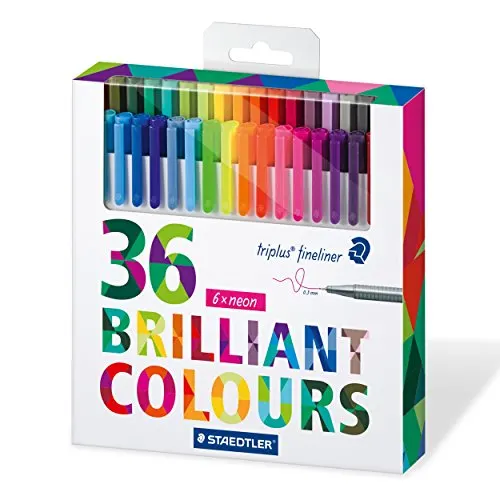 Best Markers For Bullet Journal
I separated this section from the previous one because I use most of the marker pens here for my bullet journal art.
The ones listed above are good pens for writing while these ones here I use for coloring, decorating, doodling, and hand lettering.
So, if you are not interested in using a bullet journal as a creative outlet and keeping things minimal on point with the rapid logging, then perhaps you can skip reading this section altogether.
I am going to show you some of my favorite bullet journal markers, highlighters, and brush pens that you can use in your sketchbook or art bullet journal.
I am a big fan of the erasable Pilot Frixion Colors – nothing beats the ability to erase your mistakes especially when you like to keep your bujo looking clean!
They have soft colors, almost as though they were highlighters, so I use them to underline and highlight places, for small coloring, doodling, and decoration around my pages, and to test new headers for my collections. Then if I don't like it, I can just erase it!
The caveat with the erasable pens is that in time they may fade and erase if exposed to heat, so I don't write essential things with them. But they are a lot of fun to work with and I use them quite a lot.
Click here to get you Frixion Colors!

Yes, the same Crayola markers that you used as kids and your kids use at school are perfect bullet journal tools.
These markers are washable and come with an edge wedge nib shape that allows you to create thick or thin lines and be super creative with your artwork, hand lettering, faux calligraphy, and craft in general.
They are super cheap bullet journal supplies to have, especially if you are just starting out and have a super limited budget. Right from the start, you will have an amazing range of colors to play with.
I love both the Crayola markers and the Supertips markers and have a set of each, they do change in color range and are available in different size packs.
Get your Crayola markers for bullet journal here!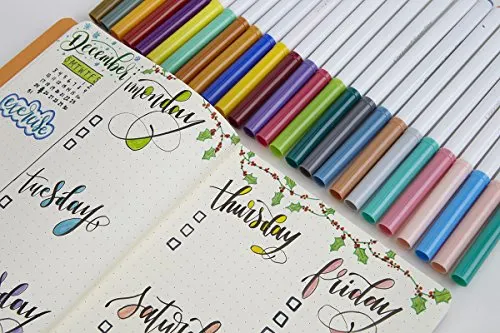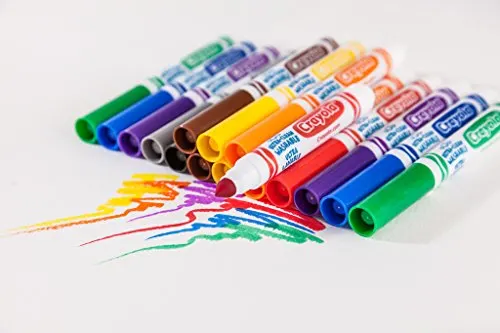 These are high-quality artists' brush pens but even if you are not an artist you will love these pens just as much!
They come in vibrant color sets of 10 pens or a full set that contains 96 colors. Proportionately, buying the full set is more advantageous if you have the budget because the price per pen is lower. Also, if you collect set by set, you will end up with repeated colors and many blending brushes.
The dual-tip design gives you a fine tip for detailed outlining and a brush pen for shading, coloring, and watercolor blending effect! They are everything you will need to draw lines and details, sketch, highlight, practice bullet journal lettering, illustration, doodle, and do watercolor painting.
I love them for practicing with my lettering bullet journal sheet and just coloring in general. It's impossible not to fall in love with these pens.
Get your Tombow Dual Brush Pens here!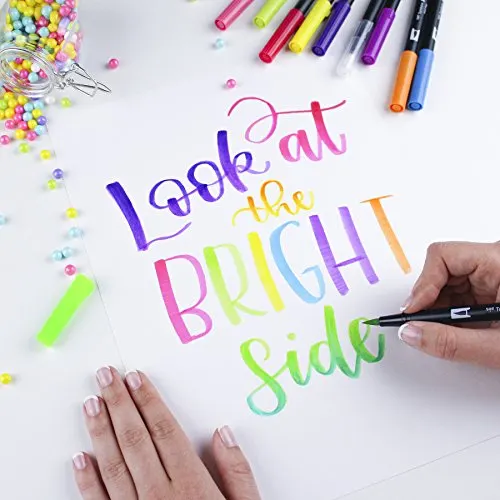 Best highlighters for bullet journal
The Zebra Mildliners offer amazing pastel colors to your collection of pens. They are mostly pastel and transparent so they definitely work as highlighters, the difference is there is only a couple of them that are actually neon, the majority are beautiful pastel tones.
In fact, I haven't found pastel color range highlighters anywhere else. The Stabilo boss has some but limited to 6 colors. The only caveat with the mildliners is that you really need to paper-test them because they will bleed through some paper.
They also come in dual-tip: a broad angled tip and a fine one for highlighting, underlining, drawing, or writing.
Get your Zebra Mildliner markers here!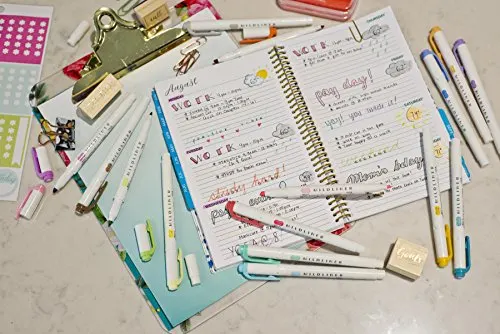 Stabilo BOSS Original Highlighter
Stabilo is another very popular brand of bullet journal highlighters. They have a great range of pastel colors that anyone who is a colorful bullet journalist will enjoy!
Made with water-based ink these highlighters are perfect to add to your bullet journal essentials list!
Get your pack of Stabilo BOSS Original Highlighters here!
Best Bullet Journal Accessories
When you start putting your bujo together, you will understand that quite a few other supplies and bullet journal embellishments come in handy during your day-to-day planning.
These bullet journaling accessories are all optional! But I decided to list them here because I often get asked how I create some spreads and I do it because I use lots of other bullet journal equipment.
So here are a few to consider:
Next, I wanted to share some of my favorite bullet journal accessories.
Perhaps not the first thing that comes to mind when considering bullet journal materials (especially if you use a dot or grid paper) but a ruler is one of the tools I use almost daily.
I find that the best ruler for a bullet journal lets me draw quick shapes on my spreads, makes checkboxes for my trackers, and create my weekly spreads so much faster.
This ruler here has everything to let you draw a quick square or round shape.
Get your ruler for bullet journal here!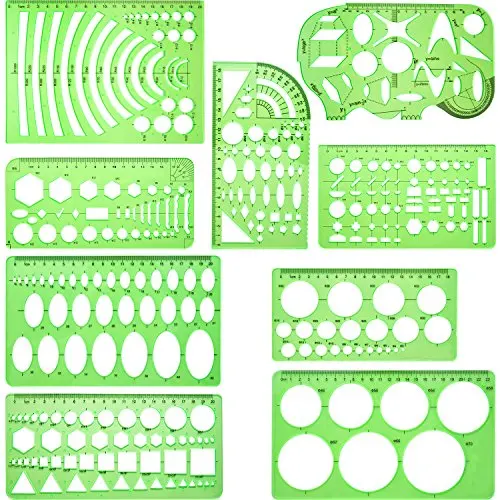 I also love using bullet journal stencil sets to decorate my page. I don't use stencils all the time but when I am running out of time to make my spreads or when I want to keep everything very uniform, stencils are super handy!
Here is my DIY bullet journal stencil tutorial!
These are one of the best bullet journal stencils to buy. They come with so many numbers, letters, shapes, symbols, and headers that will make any spread look amazing even if you are not artistic! They will also fit in the back pocket of your journal if you have one.
Get your best stencils for bullet journal here!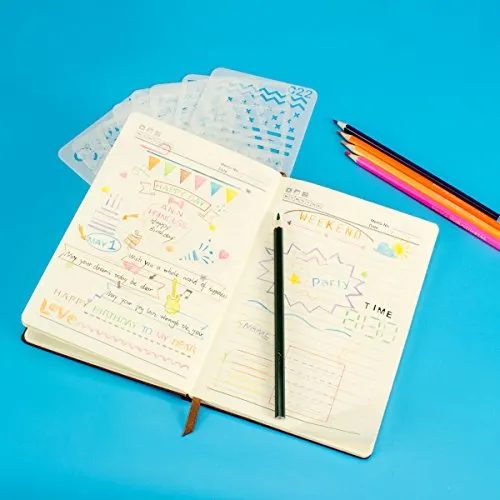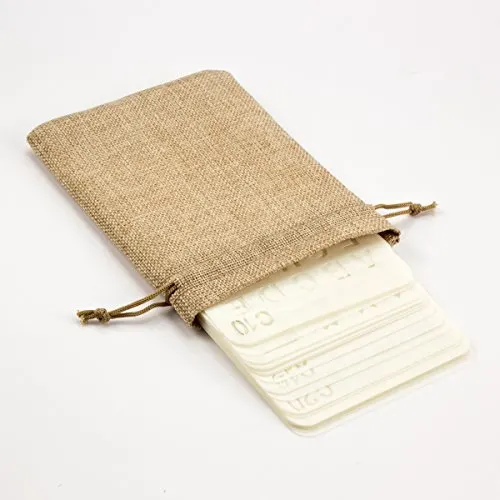 Rubber stamps are wonderful to add a little bit of detailed decoration to your pages and also help you with your planning. If you like to have a great monthly overview of your weekly spreads then this bullet journal calendar stamp below is perfect for you!
Totally customizable for any month, just stamp them away in your spreads and have an overview of your calendar on every page. So easy!
Get your calendar bullet journal stamp set here!
Click to find more about Bullet Journal stamps
Stickers For Bullet Journal
I love this sticker bullet journal set below with so many cool designs to embellish your pages.
Get these cool bullet journal stickers here!
These bullet journal calendar stickers are also amazing to help you index your month and keep you on top of your appointments!
Calendars Stickers for Bullet Journal
It is no surprise that I am a lover of all things washi tape! I have written a post here about my all-time favorite washi tape for planners and bullet journal addicts, check it out!
If I had to pick one washi tape set though it would be this one here!
Bullet Journal Supply Storage
Of course, now with all these beautiful bullet journaling tools, you need to keep organized and have a place to store and carry them with you to work, school, or on vacation. In this post here I have listed some of my favorite bullet journal and planner storage cases.
This case here is one of my all-time favorites!
Pencil and supplies organizer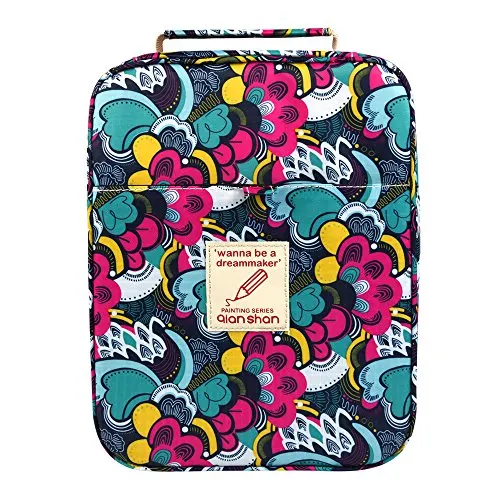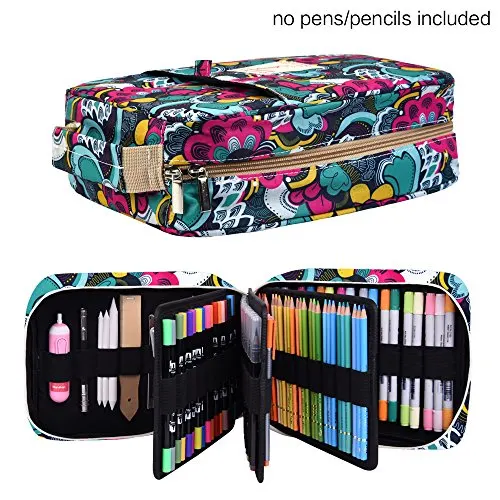 ---
And now you have discovered my best bujo supplies. Time to create your own bullet journal supply list and go shopping! Have fun gathering your different bullet journaling supplies.
Did I miss a bujo tool that you love? What are your favorite supplies? Be sure to tell me in the comments below.
PIN FOR LATER!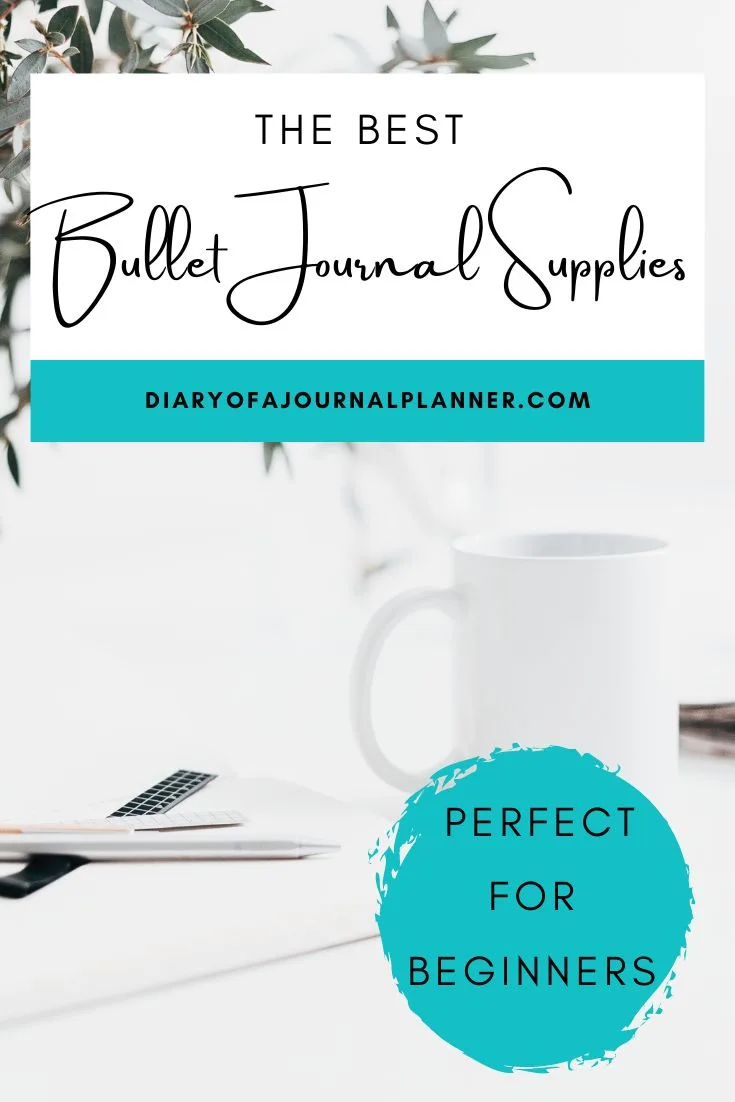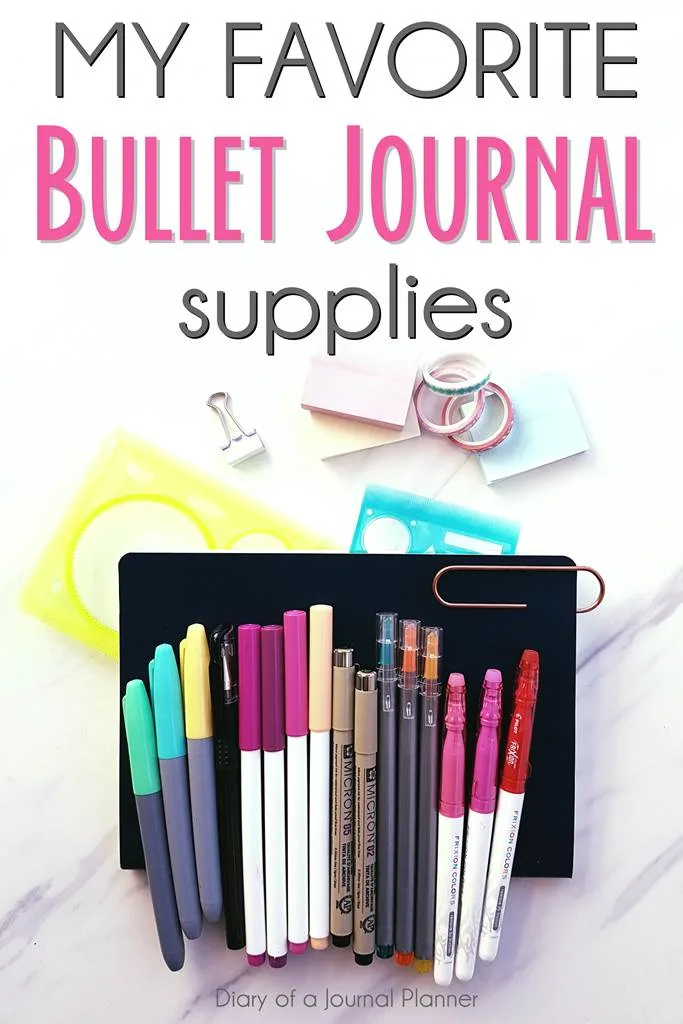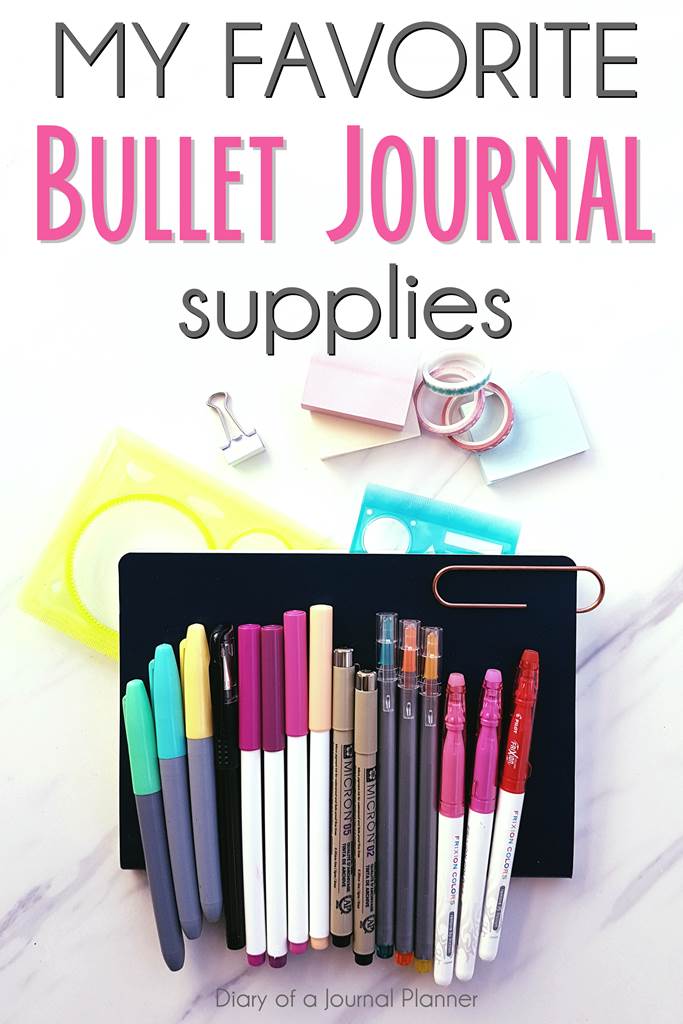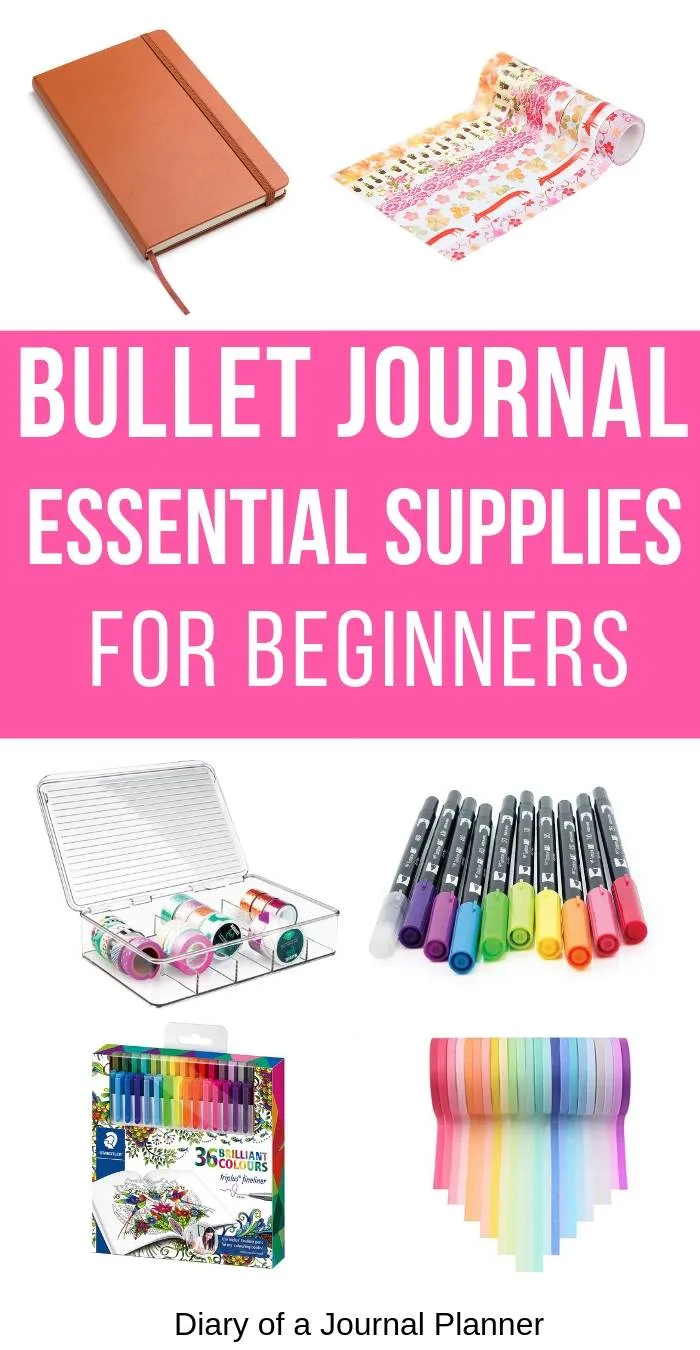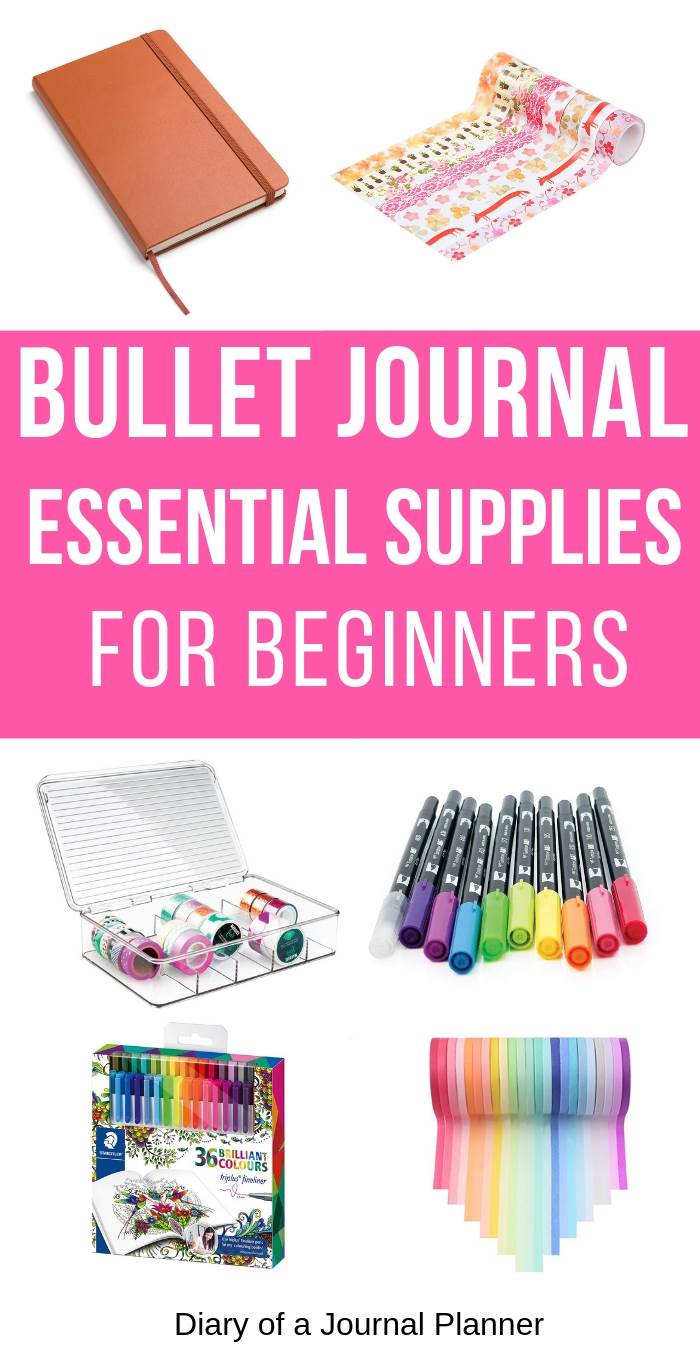 Best Bullet journal supplies list