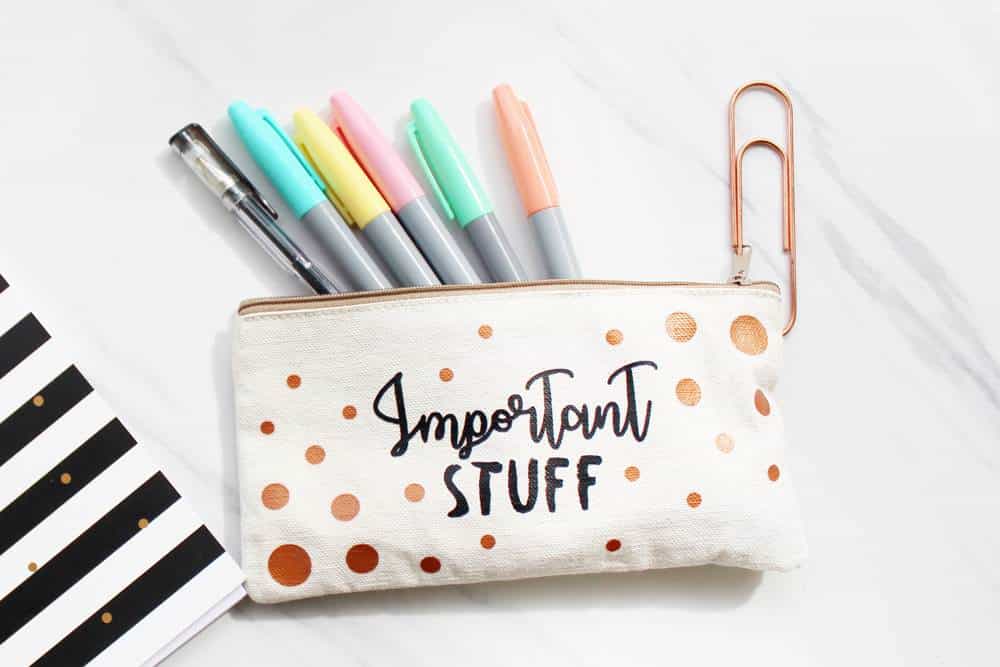 Planner Supplies Storage Cases you need in 2022
How do you carry your planner and bullet journal supplies on the go? Check out our planner storage case solutions below. We have a comprehensive list of products for all budgets that will help you keep all of your bullet journal supplies and planner tools organized.
For many of us, lovers of all things art bujo and planner supplies, it is hard to fit all of our journal gear inside a single bag for when we leave the house.
Deciding on what to take can be already a tough decision, let alone if you cannot find your pens or any other supply because they are loosely carried in your backpack.
A good system to take your journal and some supplies (even if only a pen!) is essential.
Also because we don't want to lose those things, right?
While I do most of my journal decorating at home where most of my supplies live, I still carry a few things around with me – like fave pens, washi tape, and stickers – when I am out of the house (read this post for some bujo supplies hacks) because I just simply need to check something in my journal or need to be able to add an appointment on the go.
If you also take your journal stuff with you for work, study, travel, or any other reason then you might need to find easy carry-on solutions to suit your style and tools you take, to take your planner supplies organization to the next level!
The good news is that there are nifty solutions for any style even if you just take a few pens and your notebook along with you.
Read this post to find out different ways that you can carry your favorite planning and journaling supplies safely and stylishly.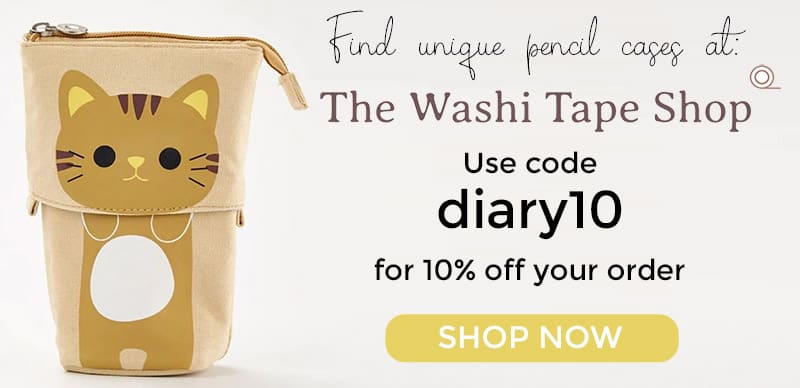 Cases for A5 notebooks + stationery
If you are looking for a case that will carry your A5-sized bullet journal or planner plus a few of your favorite supplies such as pens, washi tape, and other miscellaneous items, here are some of my favorite options.
Pencil and notebook holder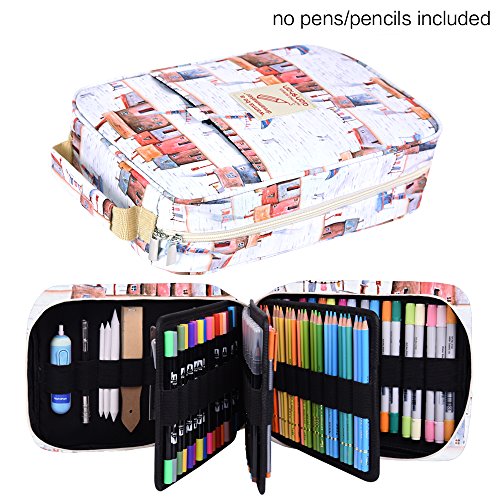 Fill it with your favorite pencils and other art supplies and you are ready to go!
The case offers so much space. It has 64 slots that can hold up to 202 colored pencils.
The front pocket can hold a normal A5 journal notebook while the others supply rest safely inside.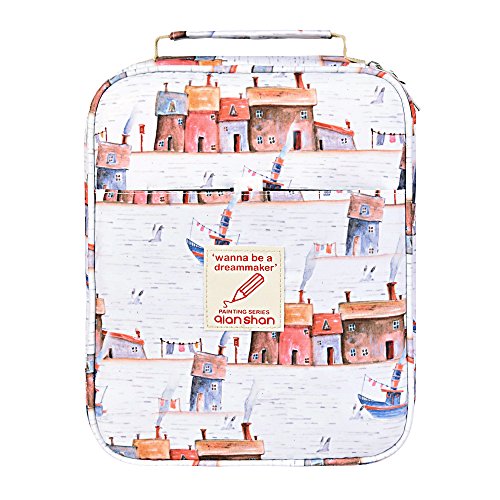 Get your pencil case holder here!
Leather planner & Bullet journal case
This handmade leather planner binder organizer and cover is perfect for A5 size notebooks and will allow you to take a couple of other supplies with you.
Get your Leather Leuchtturm1917 A5 Notebook Cover here!
BUBM bag as bullet journal pencil case
These bags were originally designed for iPads and cables but they will fit your pens and notebooks as well.
They are perfect for those looking for something not too big to carry everywhere, while still having some room to take your favorite decorative supplies.
There are 2 sizes available. The medium size fits a notebook and some pens but it can be a tight fit when your journal gets old and you fill it up with lots of things.
I recommend you to get the large-size BUBM as an A5 planner pouch if you use an A5 journal.
Another great advantage is that they are quite affordable and you could have a few with different supplies.
You can see a video of this bag being used as a planner organizer bag with supplies below and other recommendations for carrying the tools.
Get your BUBM Double Layer Organizer here!
Traveler Case as bullet journal organizer
This case is originally designed for traveler's toiletries but the size and colors are so cute that you can re-purpose it for other needs. It will work great as a bullet journal travel case.
It will fit loads of planning supplies and it is easy to carry around so it makes a perfect planner tote bag.
Get this bag to use as bullet journal suitcase here!
Large notebooks and planner storage case (B5, A4, Big Happy Planner)
The cases below are perfect for those who love the large notebooks and has space to take some stationery and journaling supplies along too.
Derwent Carry-all planner pouch case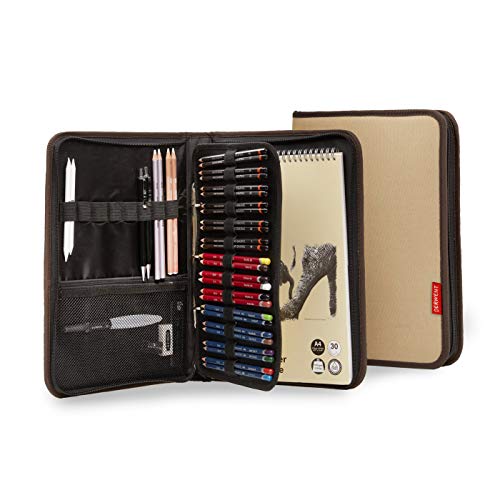 A Derwent case is perfect for large notebooks.
It has a binder with removable sleeves with elastic pen loops (you can buy extra sleeve inserts too), more elastic holders, and a zipped pouch for loose items.
Definitely great for smaller journals too but this one gives you space for larger notebooks and planners too.
Create 365 planner storage case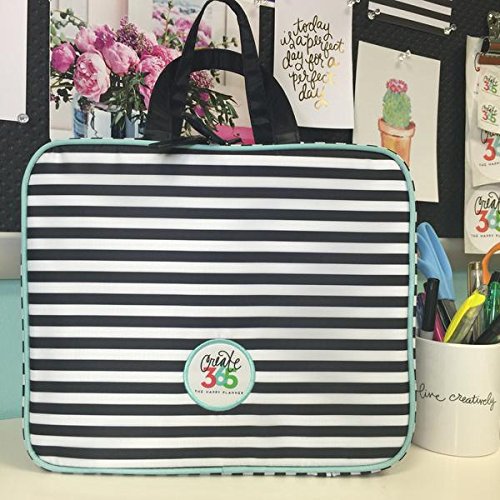 The ideal happy planner storage case. This Create 365 tote by Me and My Big Ideas is large and offers a lot of room for your happy planner supplies.
It is designed to fit a classic Happy Planner which is roughly a B5 notebook size. So any notebook smaller than a B5 is guaranteed to fit.
Get your 'My & My BIG ideas Striped Storage Case Planner' here!
Mygreen planner storage bag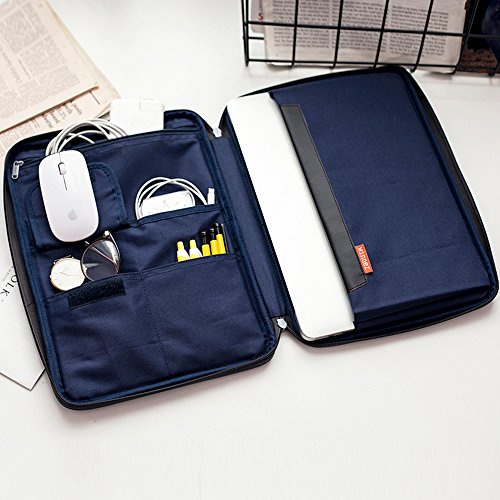 I like this bullet journal bag as another large option for anyone who likes the big-sized bujo or planners or anyone who needs to take their laptop along too.
This planner case organizer has pockets and features that everyone will like.
Get your 'Organizer Zippered Case' here!
Pouches for smaller notebooks (A6 & B6 sizes) + stationery
These products below fit smaller notebooks and some other planning supplies. Check out these small bullet journal carrying case:
Notebook and Pen Pencil Pouch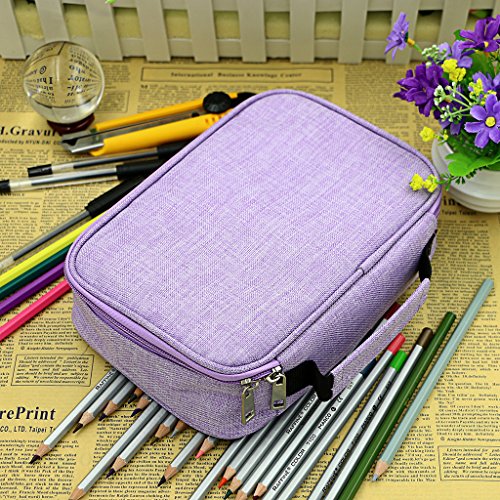 You might be able to carry all of your supplies here.
With a movable pen holder and sleeves inside, this is such a versatile design. Great price too!
Get your BTSKY High Capacity Zipper Pens Pencil Case here!
Notebook & Planner bag cover
Simple and clean design that will allow you to protect and carry your few favorite planning and bullet journaling supplies.
Get your Lilly Pulitzer Agenda Folio here!
Sunny Streak Journal Supplies Storage Case
This case comes with two removable zipped pouches which can be really handy when it comes to transporting your supplies around. It has an elastic to hold your journal in place and is made of water-resistant material.
Get your Sunny Streak Journal Supplies Storage Case here!
Stationery and Pen cases
Ready to find some of the best pencil cases? If you already carry the notebook in your backpack or larger bag you might not need a case for the journal but only for your essentials.
That is when a planner pencil pouch will be perfect.
Multi-layer Pen Holder and stationery carry case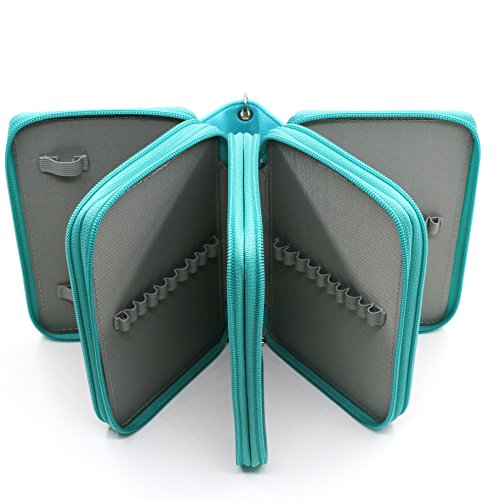 With 4 individually zipped compartments, this big pencil case offers plenty of room for your stationery, pens, markers, brushes, etc.
And all slots have individual elastic holders for your items. The removable snap hook strap also makes it super easy to carry. In our opinion this is one of the best pencil cases for bullet journal supplies – and our readers love it!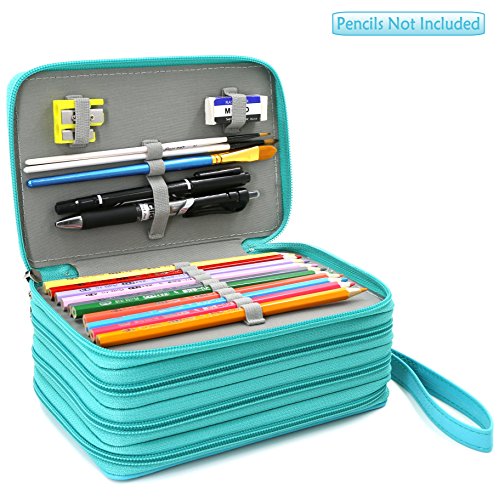 Get your 72 Slots Pencil Case here!
LIHIT LAB Bujo pencil Case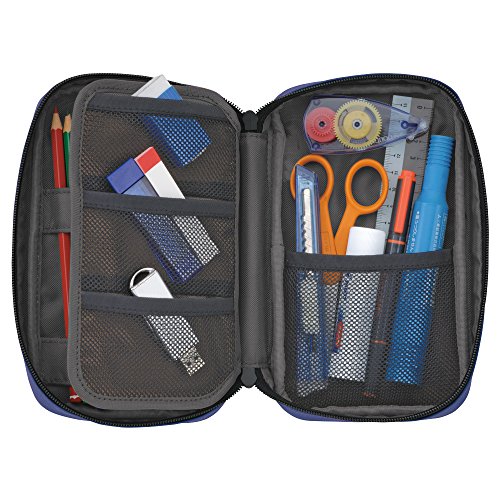 Smaller than the one above but also great for storage and carrying your items.
Get your LIHIT LAB Pen Case here!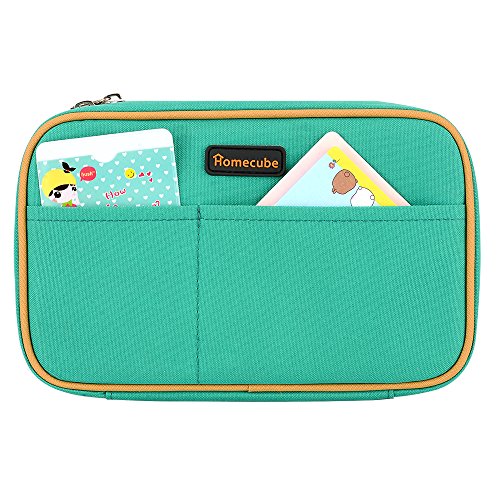 With a great shape and large storage space, this beautiful case will be perfect not only as a pencil holder but to store all kinds of stationery.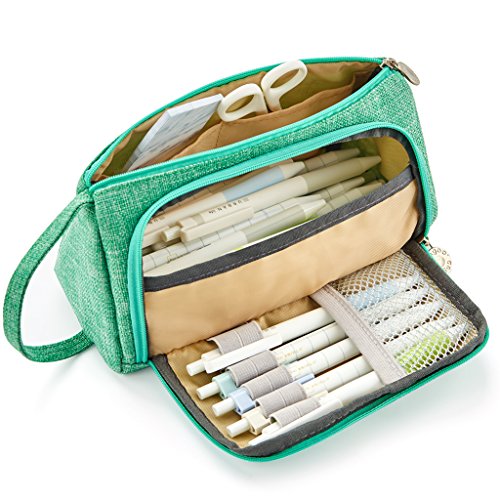 This shaped pen case, though smaller than other stationery holders we show can still store a lot of pens.
The modern design is definitely a plus and it is available in lots of cute colors.
Get your EASTHILL Big Capacity Pencil Pen Case Bag here!
---
So these are the few ways I know you can carry your planner and bullet journal supplies around. What do you use yourself to bujo on the go? What is your best purse planner? Let me know in the comments below.