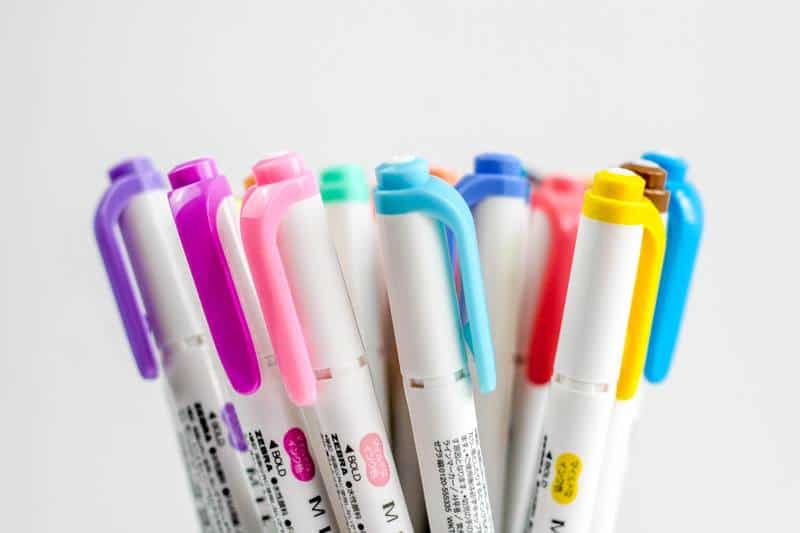 Zebra Mildliner Review
Wondering if you should get the Mildliners? Check out my independent Zebra Mildliner highlighters review below.
The Zebra Mildliner highlighters are super popular among bullet journal fans and pretty much any person who loves stationery.
The Mildliner pens come in a range of 25 colors that are pretty unique and they are often considered one of the best highlighter markers available.
But are they really?
That's what we are going to find out today.
I got myself all highlighter colors from Zebra and I am going to put them through a paper test and compare how they perform against other brands in the market.
Read below for my full review and some insights on the product.
I am in no way affiliate to Zebra mildliners, this is my honest review based on my experience with these products I purchased myself.
The mildliner highlighters from Zebra
What is a Midliner pen?
When I first came across this brand I had never heard of the word mildliner.
The Mildliner Japan brand innovated stationery with a range of highlighters that come in a variety of color tones to give you much more choice than the average bright and fluorescent highlighter colors that were available in the market.
The Midliners are also dual tip pens; they have a broad chisel tip on one end and a bullet fine tip on the other end of the pen. This allows you to not only highlight text but also underline and write notes with the fine tip.
Zebra has more recently also released the Mildliner brush pens. These are available in the same 15 original ink colors as the highlighters.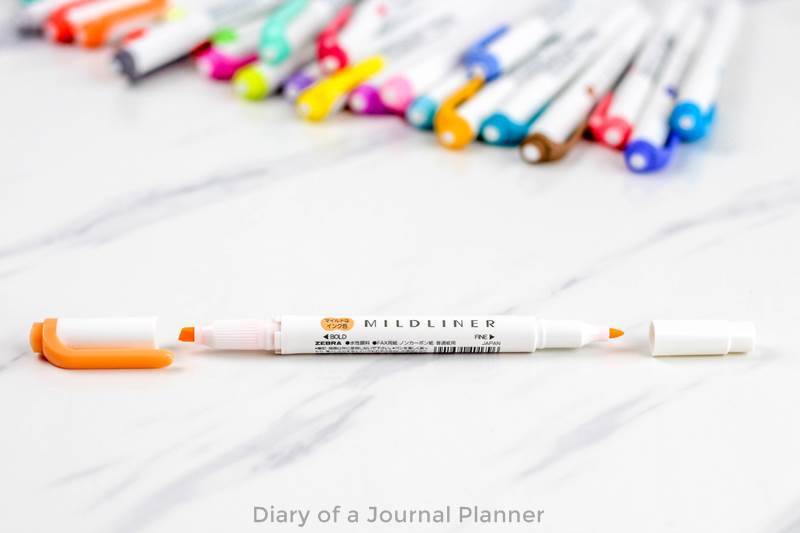 Where to buy zebra mildliners?
You can buy the Mildliner markers on Amazon like I did but they are also available in several retailers online and in-store, such as Target and Staples.
I got my 5 mildliner packs on Amazon for a very reasonable price. If you purchase the sets alone you will eventually pay more per set.
There are also packs with 15 colors (the original colors) if you don't need to have all 25 colors, and they come for about the same price per pen as the 25-pen set.
Click here to get the Zebra Mildliner 25 pack:
Zebra Mildliner highlighters review
Below I will go through some features that I think are relevant to the common uses of these pens which goes beyond highlighting. Let's check it out!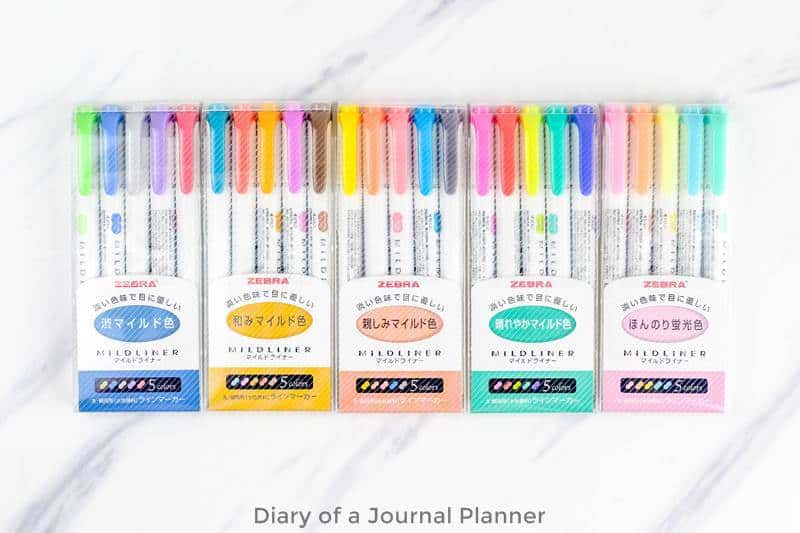 The color variety is one of the strongest points about these pens. The Zebra Mildliner full set comes with 25 mild colors in double-sided highlighter pens.
The good news though is that you don't have to acquire all the pens at once, you can purchase the smaller sets to try and slowly build the collection.
Here are the 5 available sets. The first 3 sets are the original colors, they then added 2 new Zebra mildliner rare packs to complete the collection.
1. Mildliner Highlighters Pastel
These are actually called fluorescent color sets but they are not the bright kind, in fact, they are very light pastel. This is possibly the most popular pack because pastel colors are all on trend!
2. Mildliner Highlighters Cool Colors
My Japanese friend Koko from Fun Kawaii helped me translate these Japanese names. She said that Shibu usually means 'bitter' so that is why this is generally called a cool color set.
3. Mildliners Warm Colors
Nagomi translates from Japanese as comforting.
4. Mildliners Bright Colors
Hareyaka translates as 'cheerful' from Japanese, and cheerful these colors certainly are!
5. Friendly Bright Colors
And this is the final, friendly color set.
If you think the bright highlighter colors are overrated then these pens will bring nicer fresher tones to your collection.
However, the mildliners are not the only pastel highlighters around: Stabilo has a very popular set, so does Bic, Faber-Castell, Pilot Frixion, Staedtler many less famous brands too.
However, none of these have as large a range of mild colors as Zebra. So as far as color variety goes, the mildliner zebra pens are on top of the list.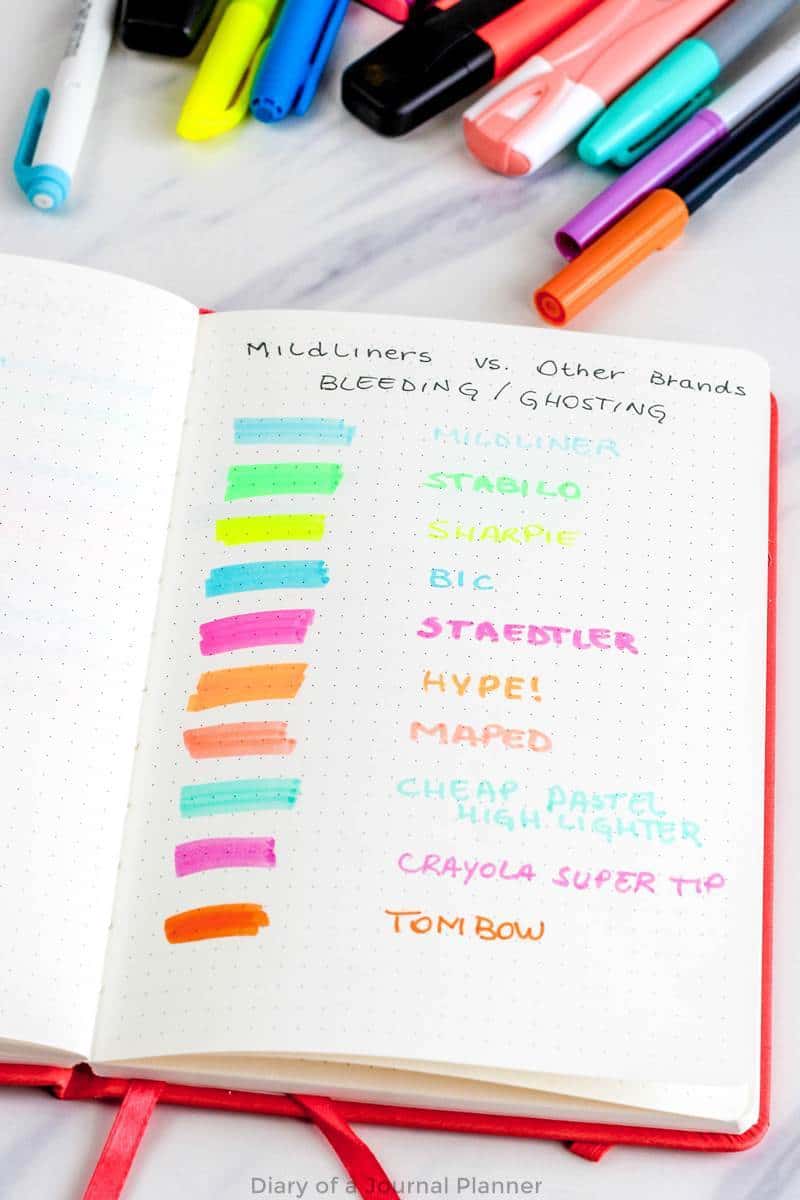 To test for ghosting and bleeding is super important because most of us use these pens to highlight text or decorate while bullet journaling.
While some brands suggest that for best results you should use the pens on tracing paper or premium printing paper, like the Tombow Dual Brush pens, it really doesn't make sense to test these pens on fancy paper as mostly we will use them in normal copy paper.
Normal copy paper rarely has a high paper and fiber density to avoid ghosting and bleeding completely. The good news, however, is that by being water based these pens hold a chance with most common papers.
Let's see how they perform on my notebook.
I have tested these pens on my Flying Tiger notebook, which is an inexpensive journal with rather thin pages.
To see how mildliner performs regarding bleeding and ghosting I compared them with variety of highlighters and pens. Here is the list:
Maped (a highlighter I got locally in my town)
A brand-less pastel highlighter
As you can see from the image there is slight ink ghosting on the other side of the paper, and a tiny little bit of bleeding from the beginning and end of the stroke where they saturate the paper a little more.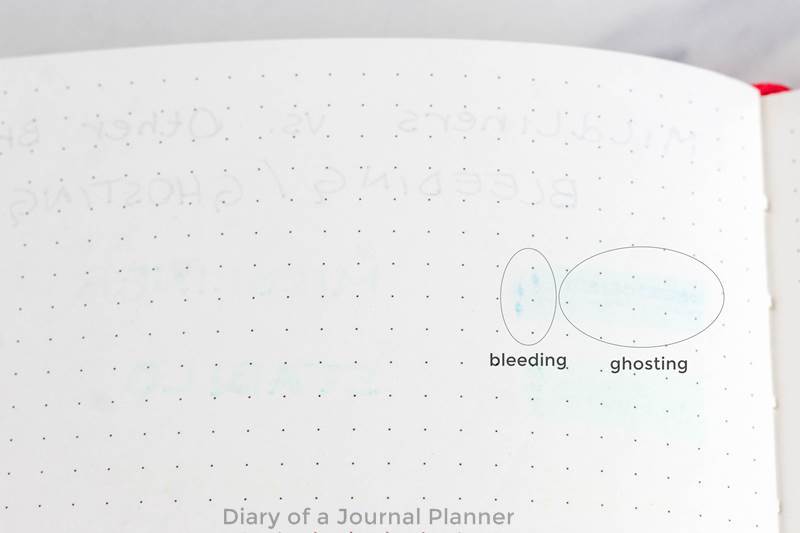 I also tested the pens on normal printing paper, in case you are highlighting text for school, and the results were the same; some ink colors, especially the darker mildliner shades, showed bleeding at the end and start of the stroke.
Note that none of the other highlighters had that problem, though!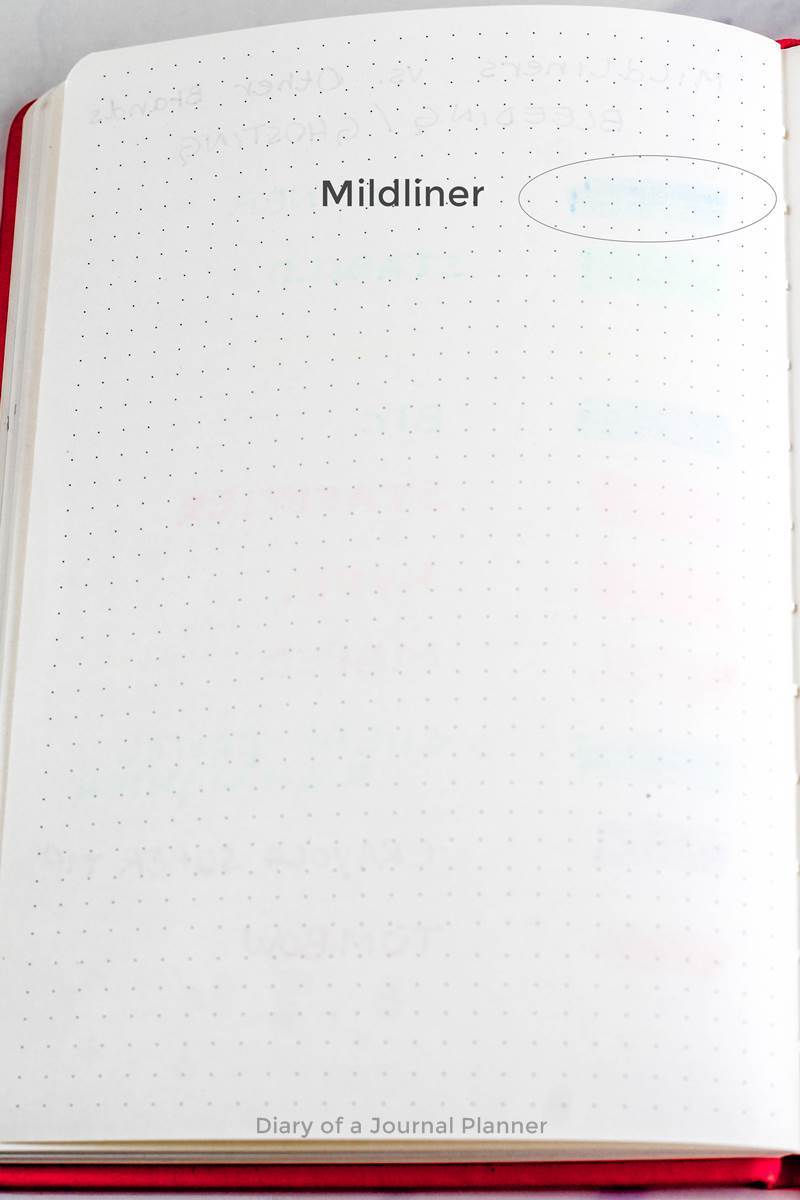 On my thicker notebooks I saw no signs of bleeding, even when I layered ink with a few strokes (which you are not supposed to do).
So, this only confirms the opinion that ink bleeding should always be analyzed as a combination of paper and pen. It is impossible to look only at the pen and decide that it is non-bleeding. My thought is that by using the mildliner zebra pen on normal paper you would see very minimum ghosting and bleeding in a worse case scenario.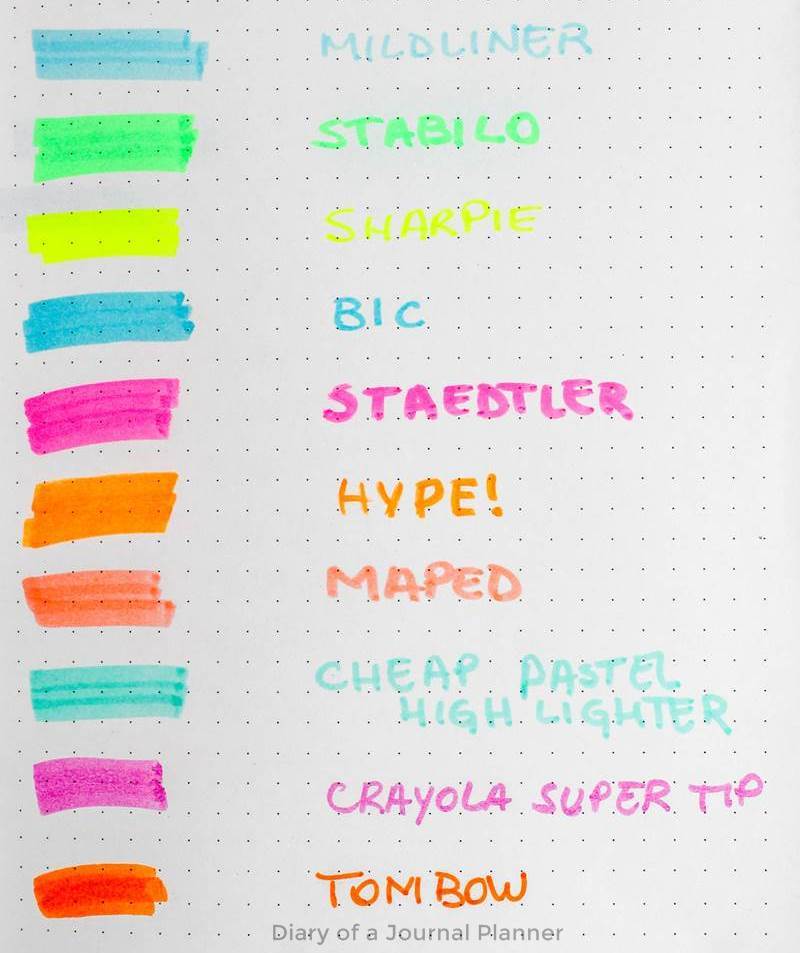 Saturation occurs when you add one (or more) stroke(s) on top of another stroke or when 2 strokes of ink overlap on the paper.
Because the chisel of the Mildliners are particularly small compared to other highlighter pens it is likely that you will experience some saturation when trying to highlight or decorate something.
The saturation of the mildliners leaves a trace where you can clearly see that two (or more) strokes have overlapped. While many people don't like the aesthetics of it, what worries me is the fact that mildliners could bleed on the other side of the paper.
I am not particularly impressed at how the mildliners perform here. Even totally inexpensive pens such as crayolas look so much better. The best ones here seem to be for me the Sharpie highlighter and the Staples Hype highlighter followed by Stabilo boss.
This is something that can happen depending on the color of the pen used.
I have performed 2 tests. The first one is related to how mildliners behave when highlighting a variety of writing pens that bullet journalists use often!
In theory this test should be easy as all these writing pens are supposed to be water-proof, light proof and what have you (apart from the brand-less black gel pen I found on my husband's desk). But the results were inconsistent with that. Have a look below. I tested how the Mildliners smudged the following pens:
Black gel pen
Black Uniball Signo TSI (erasable pen)
Inexpensive Staedtler Stick 430M ballpoint pen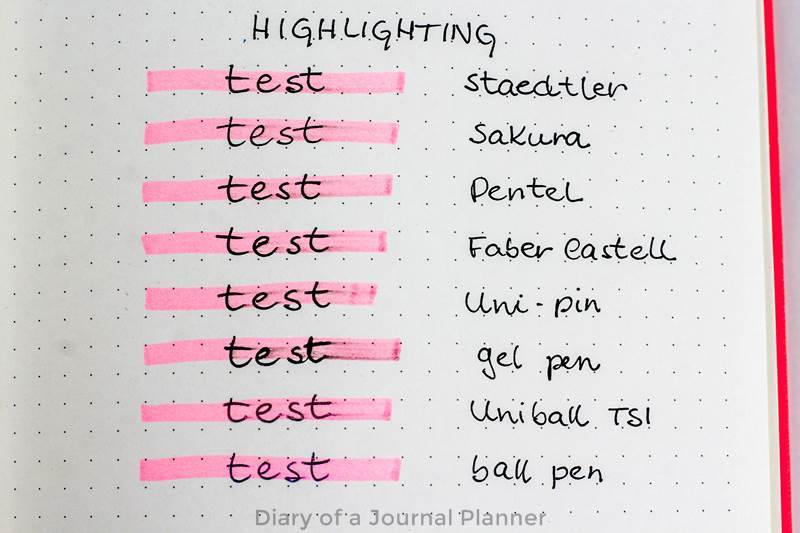 I highlighted each word after 10 seconds. The mildliners smudged ALL of these pens to some degree (even though it is hard to see on the image) except for the cheapest ballpoint Staedtler pen – here there was no smudge!
The worst smudged fineliners were the Pentel and the Faber castell ones. The gel pen was terrible but that was expected as a gel pen takes a lot longer to dry compared to fineliners.
In the second test I compared mildliners with other highlighters using the same writing pen (the Staedtler Pigment Liner) to see how much smudge they produced.
The results are here: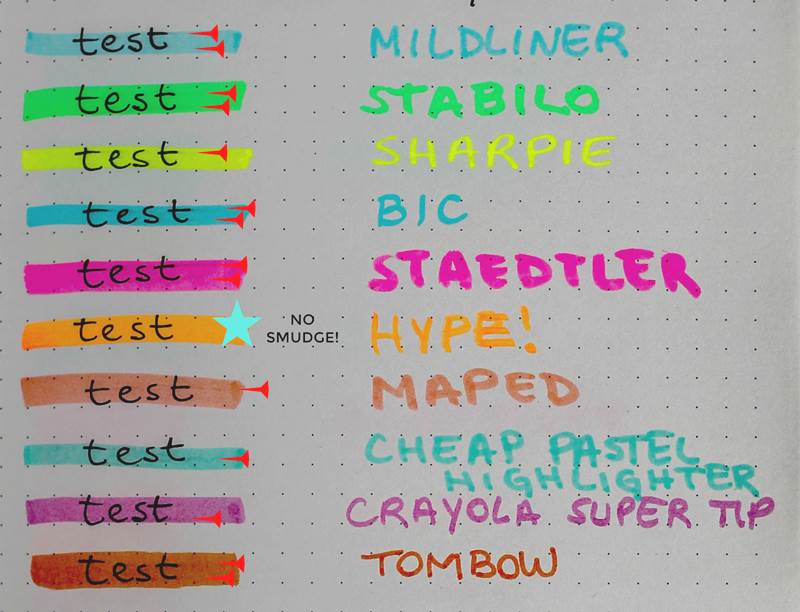 I tried to darken the image so that you could see the smudging but since we used the best performing pen not a lot of smudging was created. However ALL of these highlighters ended up smudging the Staedtler ink, ever so slightly. It is shown in red.
The only one that didn't smudge at all was the Staples hype highlighter. So I would say that here the mildliner was average compared to the other highlighters but most of them failed this test!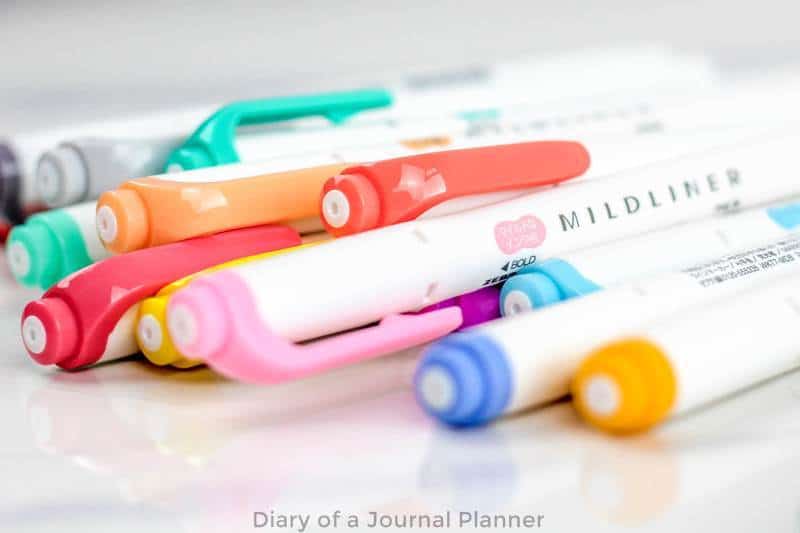 Mildliner price is lower or comparable to other high quality brands on the market. Check the pastel range price below:
As you can see their price is very reasonable compared to the competitors, therefore I think the pricing is a pro advantage.
Alternative for mildliners
If you want to use the mildliners just for highlighting bullet journals and littler decoration there are other brands that offer similar products such as Pilot Frixion, Bic, Stalilo, Propus, Muji, and a variety of cheap pastel highlighters that you can use.
Zebra Mildliners Rated
In my opinion, the mildliners come in a great color variety that can be an asset for bullet journalists and creatives who like to play with colors on the paper. I love the pastel color set especially and think that this one is pretty irreplaceable if I try to compare it with other inks I have here.
As a highlighter personally I don't think these are the best around. I much prefer the Bic grip highlighters or the Stabilo Boss.
The way the ink saturates at the end of every stroke can cause the ink to bleed through paper (so always test your pens first!) so for that reason, I also don't recommend these pens for coloring – you'd be better off with a set of 100 Crayola tips!
I personally do not regret this purchase. I have done and will continue to use them in my notebooks to highlight, underline and decorate small parts of my pages.
---
And you? Enjoying the Mildliner Zebra pens? Let me know in comments below.
More bullet journal pen reviews:
PIN FOR LATER!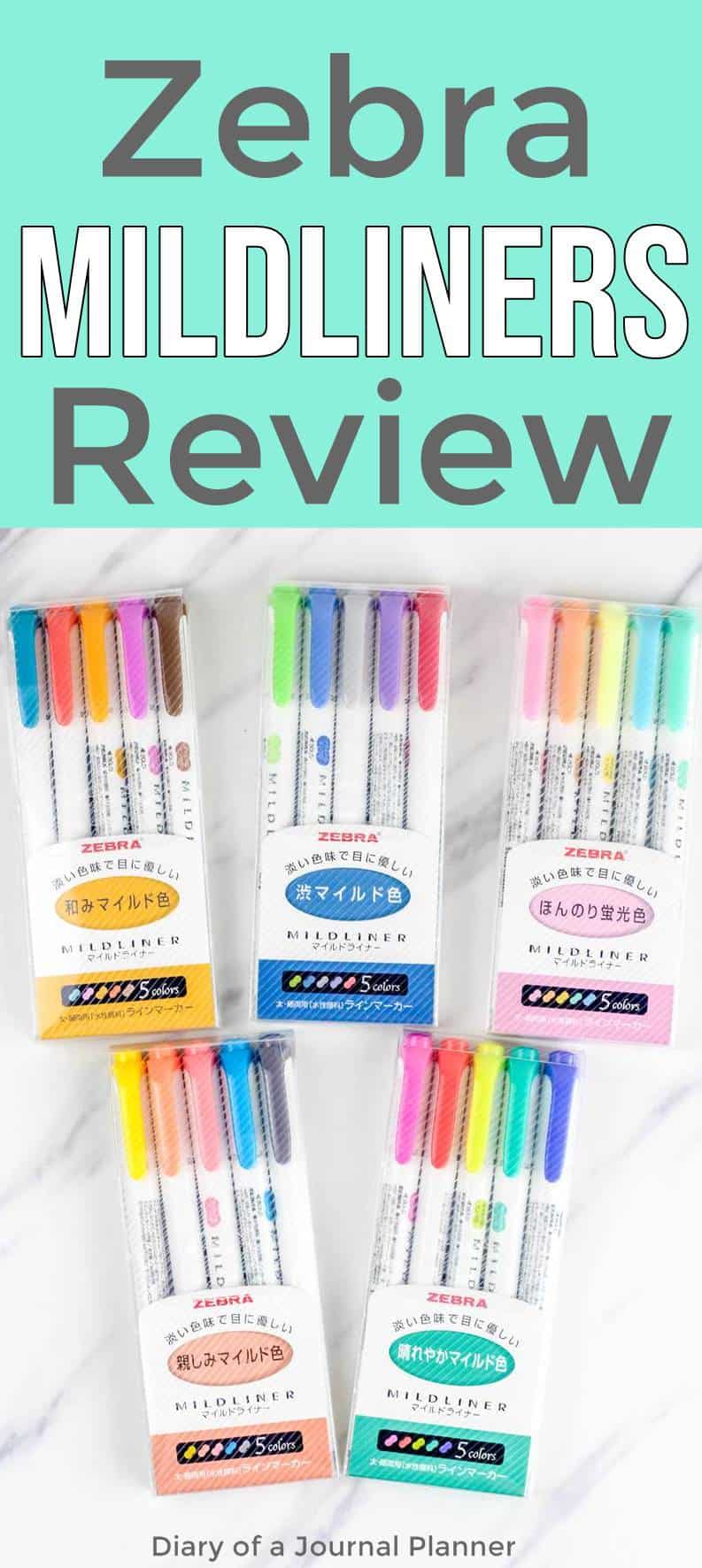 Review of the zebra mildliners