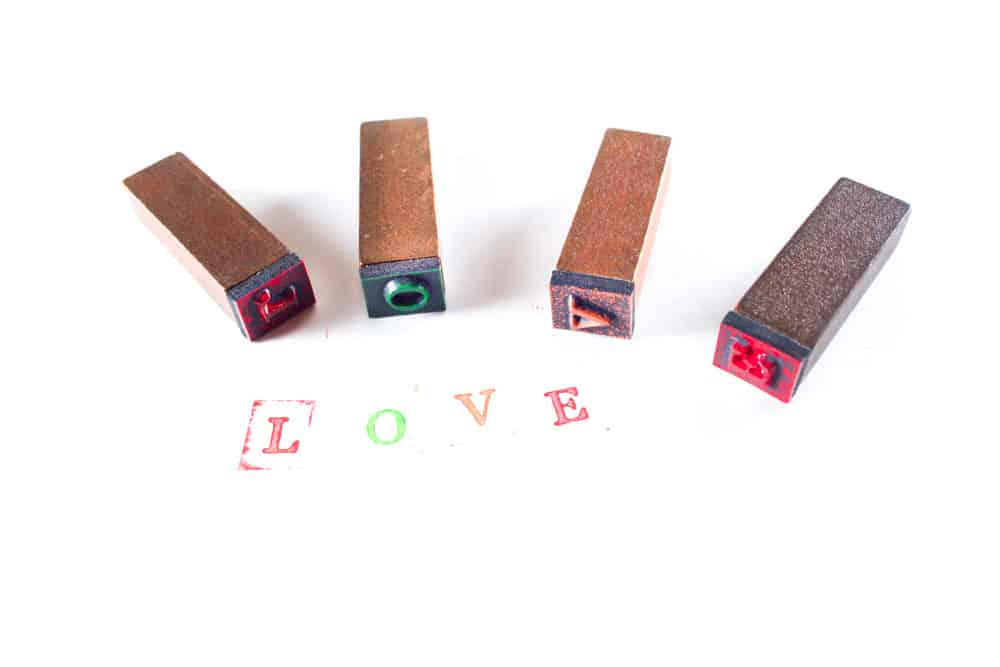 Bullet Journaling Stamps
Bullet Journal stamps are an easy way to take your journal pages from drab to fab. Perfect if you are short on time or creativity.
Although we love to spend time making creative Bullet journal pages, sometimes we need a simpler way to make our spreads. Either we just aren't feeling the artistic vibe that week, or life just gets in the way.
We know you are all as busy as us so we wanted to share one of our Bullet Journal secrets. Stamps!
Why do we love using stamps? Well there are so many reasons, but here are a few:
They are reusable ( and we are trying hard to be more sustainable in our lives)
You can customize them by using different stamps together as well as different colored inks.
They are cheap, quick and super easy
Want to give bullet journal stamps a try?
Keep reading to find how to use stamps for Bullet Journal pages and some of our personal favorite stamp designs.
How To Use Stamps For Bullet Journaling
Before you start stamping away on your pages there a few important things we want to tell you first. These stamping hacks will help you create really amazing bullet journal spreads using stamps.
Bullet Journal Stamp Supplies
Okay so you know that you will be needing stamps, but you also need a few more things before you start stamping.
The first thing you should know is that there are two main types of stamps. Bullet Journal rubber stamps and clear acrylic stamps.
Rubber stamps are the traditional stamps you have probably used at school or in crafting. They come mounted on a wooden block.
Acrylic stamps come as sheets and are clear. You will need a mounting block to use these stamps. You can swap the stamps over on the mounting blocks but you may need a few different sizes depending on the stamp sizes you use. It is best to use a mounting block that is slightly larger than the stamp you want to use.
Acrylic stamps will tend to take up less storage space than the traditional rubber stamps ( and if you are like us then that is a BIG plus as we need room for washi tape, pens, and all our other supplies, right?). You can easily store them in a pile, box or pencil case. We like to keep a piece of paper in between each stamp to prevent sticking and damage.
What Is The Best Stamp Ink For Bullet Journal?
This will depend on the journal that you use. We always like to use journals with thicker paper as we love to use pens and stamps in our journals.
Before you use a new ink in your journal just do a quick experiment in one of the back pages to check out if it bleeds through the page, and how much ink to use.
Pigment Ink
Pigment ink can work well in journals. Just note that this ink is super thick and will sit on your page. This means drying time is longer but that it won't bleed through ( as long as you don't use too much).
Bullet Journal Stamp Inks To Try
Best Bullet Journal Stamp Techniques
Plan how you want your page to look and stamp placement. Be sure you know where you want your stamp on the page before you add ink to the stamp.
Be sure that the entire stamp is covered in ink for a complete stamping effect. The secret here is to not put too much ink on your stamp. This will stop smudging and the design bleeding through the page. It can take a while to master so you may want to do a few practice runs on some scrap paper first. You need quite a light hand when pressing down on the ink pad, rather than a hard push down.
Place your stamp down with confidence and in one go. Be sure that you place your stamp down evenly rather than by rocking the stamp or at an angle. You also need to press down enough to make sure the whole stamp touches the paper but not too much to cause smudging ( again, this may take a little practice but you will be a stamping pro in no time!).
Lift your stamp up directly and evenly.
Admire your amazing new page!
After you have finished with your stamp be sure to rinse off all the ink straight away ( place it back on the storage sheet if it is an acrylic stamp) and seal up your ink pad so they are ready to reuse over and over again.
Stamping With Watercolors
If you are using stamps for things like cover pages or other artistic spreads then using watercolors is a fun way to experiment and get creative. Here's a tutorial we found to show you how to stamp using watercolors.
The Best Stamps For Bullet Journals
Here are lots of ideas for stamps you can use in your Bullet Journal. Remember to use your dots to line up your stamp designs for a neat and tidy look.
If you want to create your own dot grid then try this stamp. It's a fun way to experiment or try using a dot grid in various colors by using different inks.
Kelly Creates Journaling Stamps, Clear
Includes: 7 Journaling stamps
Acrylic block: use with an acrylic block to get beautiful...
Practice: stamp and trace for easy lettering practice
Product Dimension: 6.0"L x 5.13"W x 0.2"H
We also have a FREE dot grid printable here that you may love to try.
Bullet Journal Lettering Stamp
Lettering can be a tricky skill to master. If you are short on time or not quite at the level of mastery yet why not use stamps while you keep practicing.
You can use these stamps on any and every page in your journal. Simply create the word you want by sticking the letters on the mounting block.
Make creating or breaking a habit easier with these habit tracker stamps. Add them to your daily or weekly pages and become more aware of your habits.
Bullet Journal Calendar Stamp
A calendar stamp set is a great addition to your stamp collection. Use it on your Future log page or in your monthly spreads.
Day And Numbers Stamp Sets
These bujo stamps are great if you want to use your own customized grid sizes for daily, weekly or monthly pages but need a little help with lettering for the days and dates.
These fun stamp sets are perfect to mix and match on lots of your bullet journal collections. Remember to use different colored inks or even color in the stamps to create different themes and looks.
If you use a planner and are looking for smaller, cute stamps then these sets are perfect ( you can still use them for bullet journals too of course!)
---
Have you tried bujo stamps? We love seeing your spreads and pages so be sure to share them with us in the comments below.
More Ideas For Pretty Bullet Journal Pages
PIN FOR LATER!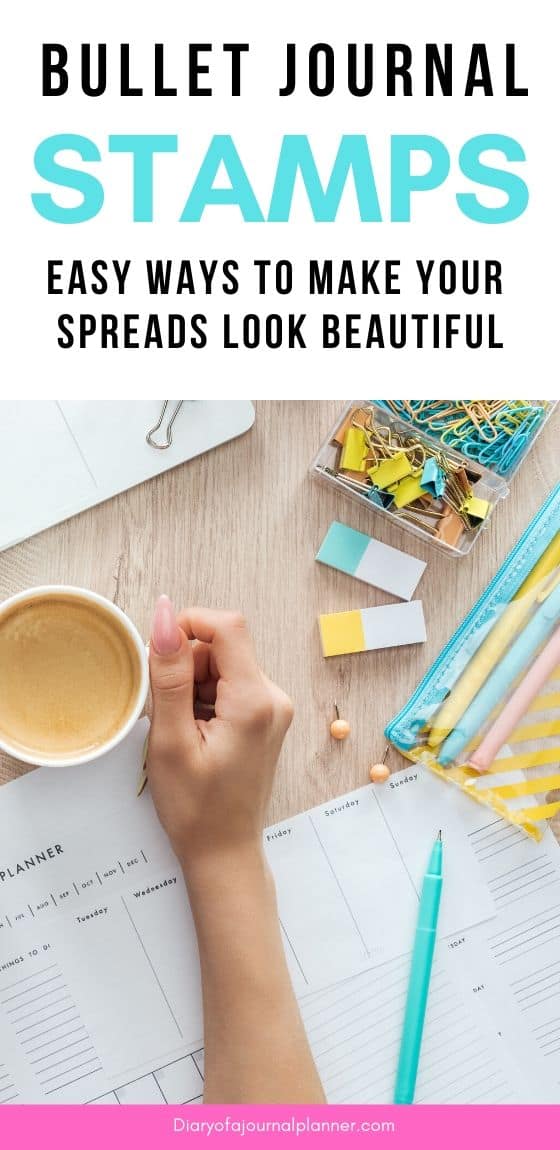 Stamps Bullet Journal