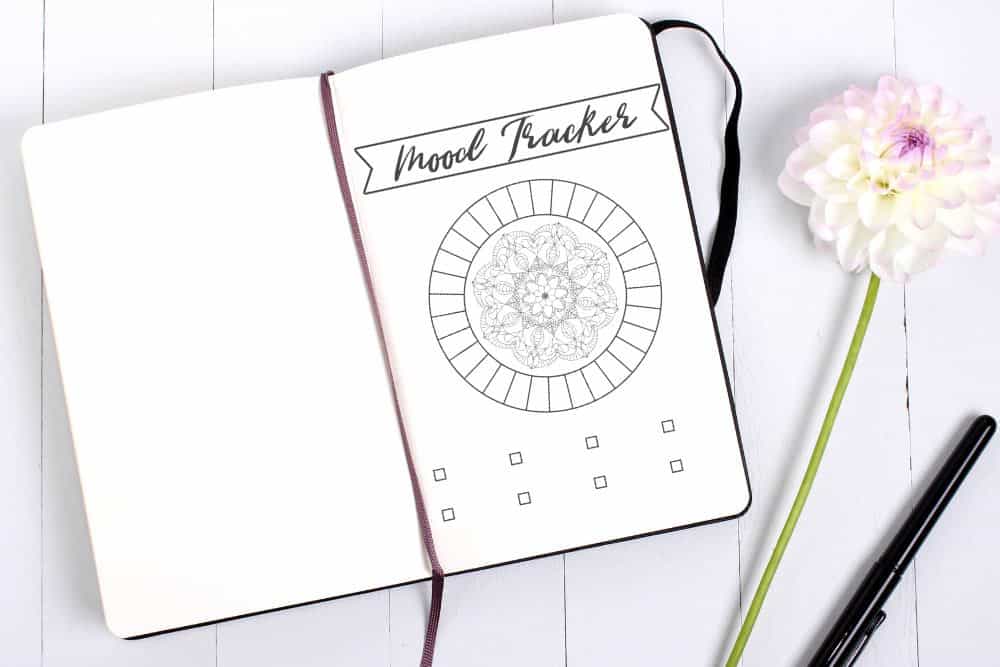 Bullet Journal Mood Tracker
Find out why you need a mood tracker Bullet Journal page and how to create one in your Bujo!
Mood trackers are a fun and easy way to keep track of how you are feeling over a month or year. They are a way to be more mindful of your own emotions as well as a great tool for self-discovery and growth.
Just like the rest of your journal, they can be as elaborate or as simple as your style and desires want.
Keep reading to discover if a Bujo mood tracker would be beneficial to you and how to create the perfect one for you.
What is a Bullet Journal mood tracker?
A mood tracker is a page in your Bullet Journal that tracks how you are feeling daily. You can have a dedicated spread for this such as a monthly mood tracker or yearly like a Year In Pixels. You can choose as many or as few emotions as you wish to track and create a key for each of those emotions.
What is the point of a mood tracker?
So, what are the benefits of mood tracking?
Mood trackers are a simple way to learn more about yourself, your moods, and your triggers.
By taking an overall look at how you feel across a time period like a month or year, you can start to see patterns emerge. You can often then see if things like hormones, physical aspects, or certain activities and events trigger particular emotions.
This information can then be used by you to better your life.
For example, if you see a pattern emerging about low moods during your period, you can plan to keep your calendar as empty as possible and make sure you do some self-care to help improve your mood. Or you may see that every time you meet up with a particular person you come away feeling anxious. By noticing this pattern you can prepare yourself better before you meet (such as mini a meditation), or even decide to eliminate those things that do not make you happy.
Mood Trackers For Health
A mood tracker is also a way to monitor your health and wellbeing. Your moods and emotions are strong indicators of your mental health as well as physical health and environment. By taking note of patterns you can see if you need to seek help or change parts of your life and health.
Also remember that if you are feeling overwhelmed, depressed, or have other symptoms to reach out to loved ones and professionals for help.
Find out more about Mood trackers for mental health here.
How To Create A Mood Tracker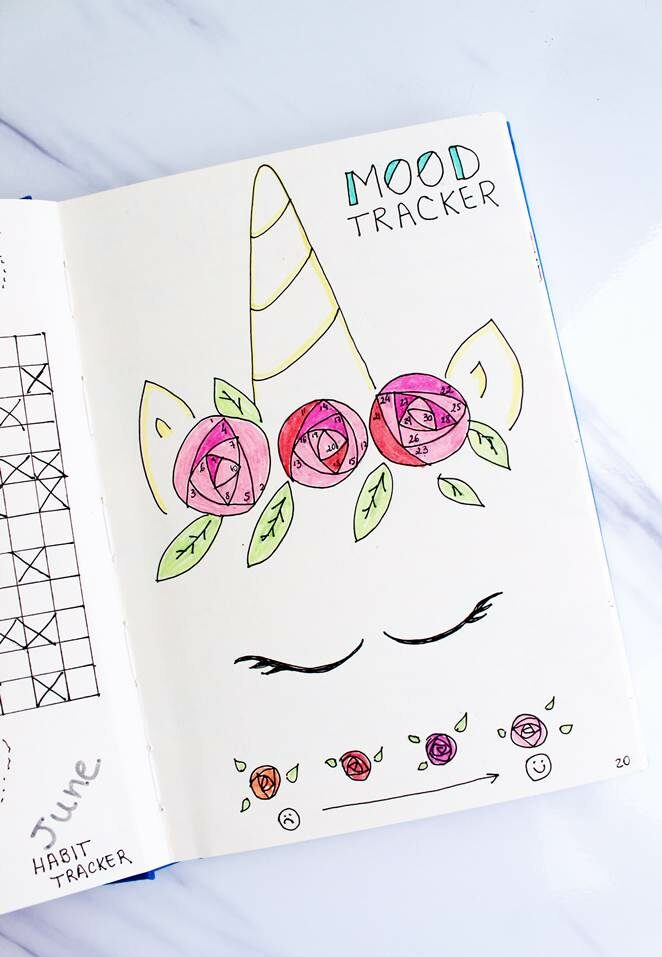 1. Supplies For Mood Trackers
Here are some of our personal favorites when we create our own mood tracker Bujo spreads.
Best Pens For Drawing And Writing
Colored Pens For Your Key and Mood Tracker
2. Mood Tracker Set Up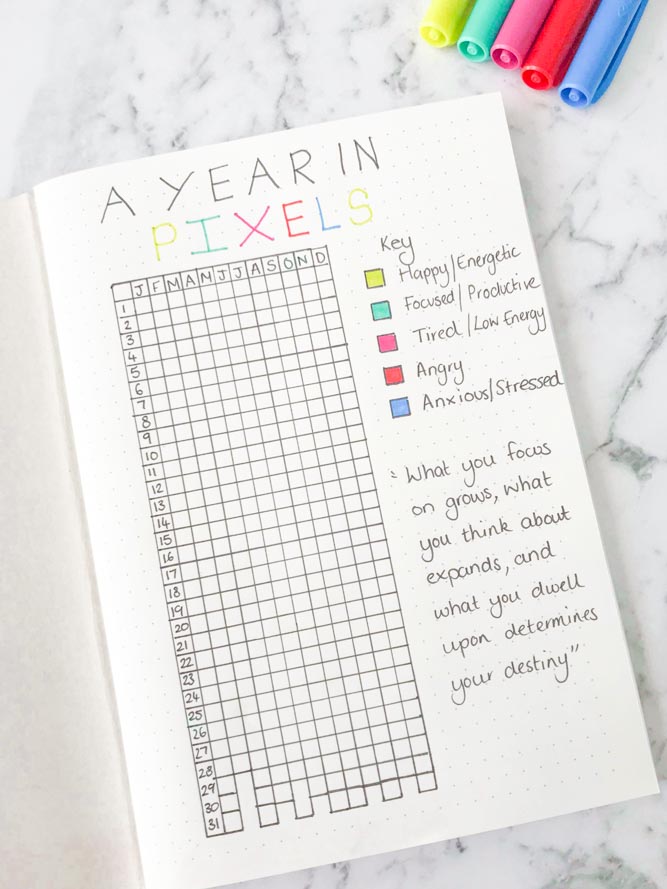 The first thing you will want to decide is if you wish to have a yearly mood tracker or prefer a monthly mood tracker page. There are benefits to both and the decision should come down to your needs and wants.
A yearly mood tracker is great if you want to keep the key simple and have a quick overlook for your emotions.
You can find out more about yearly mood trackers below.
A monthly mood tracker is ideal if you want to go into more depth and have a wider choice of emotions. You can also be more creative with themes and layout with monthly mood trackers.
3. Mood Tracker Key
Next, you need to decide on your key. This is usually a color code where each different emotion is a particular color for your tracker.
How Many Moods Does A Mood Tracker Need?
Did you know we have 27 different emotions?
You do not need to track all of these. In fact, it is often best to start simple and choose around 5 moods to track.
Remember a bullet journal is for you! While you can be inspired by others' mood trackers it is best to create one that is unique to you. Choosing what emotions to track is very personal.
You may want to pay close attention to anxiety, or depression. Or may you want to take note of when you feel energetic and creative? Take a moment to think about what is important to you, where you are in your life at the moment, and what you need to focus on.
Some ideas of moods to track:
Anxiety
Creative
Excitement
Energetic
Fear
Joy
Sadness
Tiredness
Depressed
The secret to tracking your moods is to think of your day as a whole. We all feel many emotions during the day but there is usually an overall feeling for the day or one mood that is strongest. That is the one to track.
If you want something much simpler you can just mark the days with face emojis ranging from happy to sad. Or use a graduated system on how you feel ranging from 1 to 5.
4. Mood Tracker Layout
You can create your mood tracker in any way you like! From simple graphs to fun pages that match your monthly theme.
In fact, the only two things you definitely need on your mood tracker are numbered markers/spaces for each day and your key. The rest can be totally up to you and your imagination!
Mood Tracker Ideas
If you need some inspiration here are some of mood tracker ideas we love.
Mood Tracker Bullet Journal January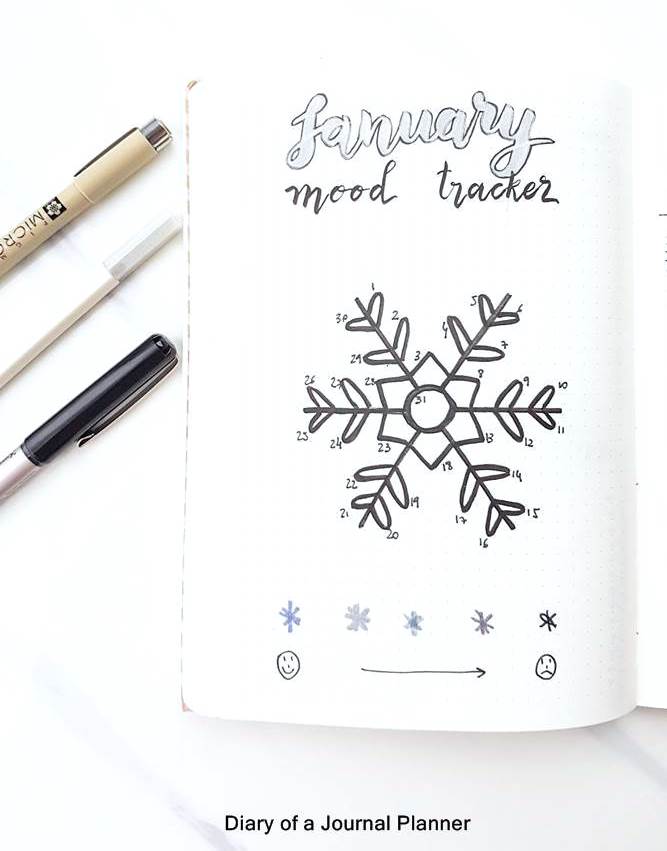 This is a super simple mood tracker that anyone can do. Find out how to create this January mood tracker here.
Bullet Journal Mood Tracker October
Here is a fun Halloween theme mood tracker that goes with our October spread.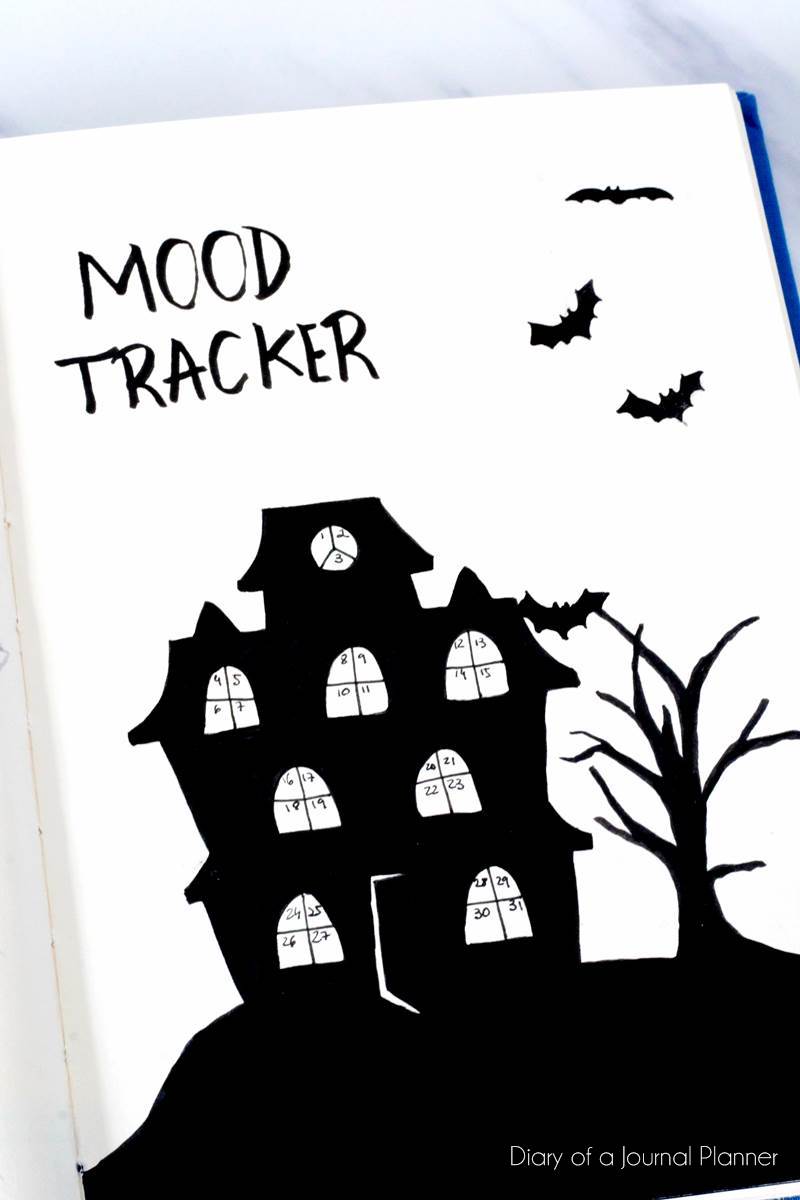 Get this mood tracker pdf as part of our October printable bundle here.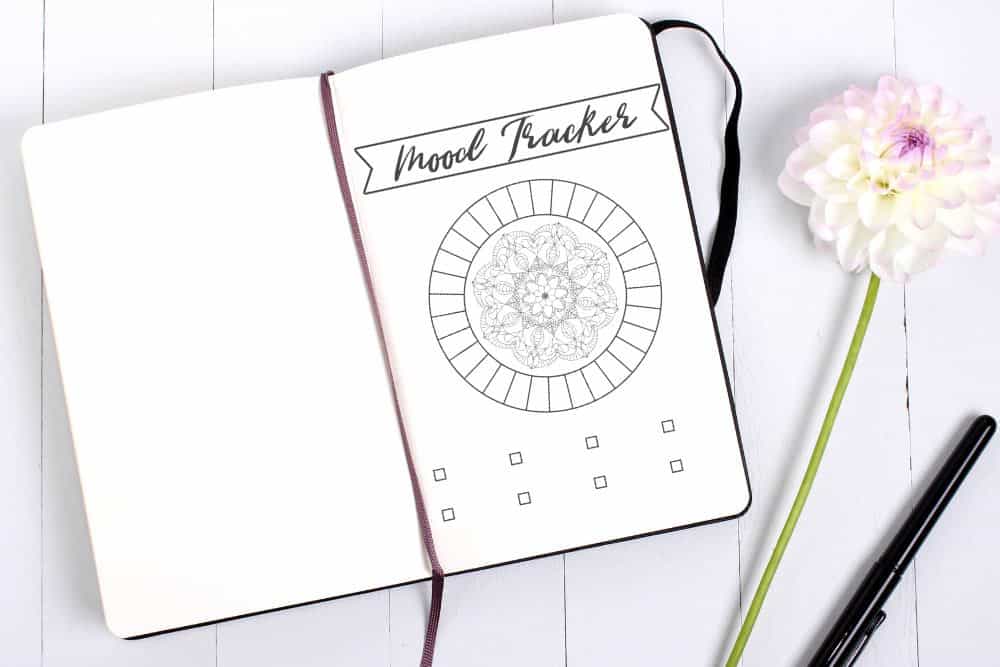 Get a whole year of Mandala designs with this mood tracker bullet journal printable bundle.
Love the idea of a circular Mood Tracker? A circle maker can make it super easy to create your own.
Unicorn Mood Tracker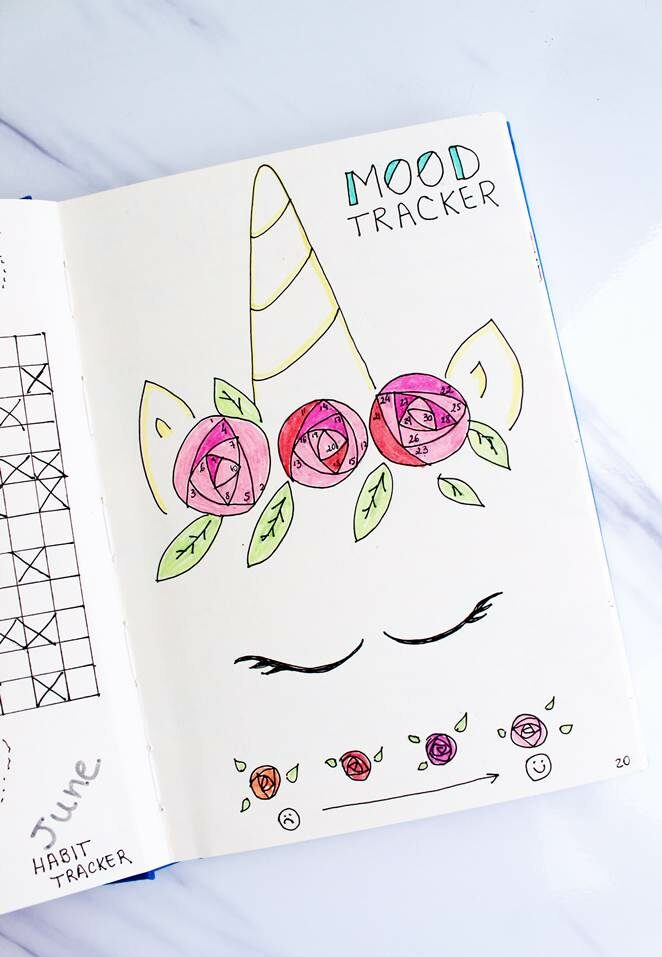 Find out how to create this gorgeous unicorn bullet Journal mood tracker here.
---
Have fun creating your own mood tracker and learn a lot about yourself. We love seeing our readers spreads so feel free to share yours in the comments below.
PIN FOR LATER!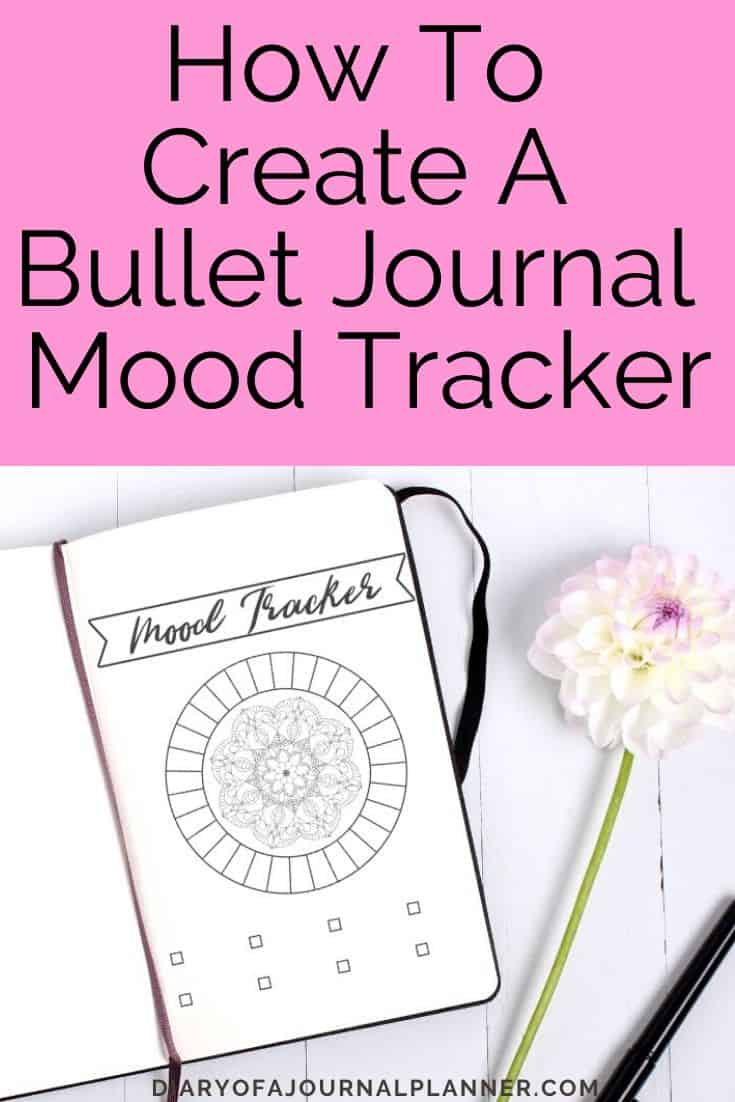 Mood Tracker Journal