Bullet Journal For Mental Health
Looking for a way to help keep track of your mental health and anxiety? Discover how a Mental Health Bullet Journal can help you.
If you have been using a Bullet Journal for a while then you already know how useful they are for getting your life organized ( If you are new to the idea, you can find out more about Bullet Journals for beginners here). This naturally helps reduce stress and anxiety.
But what about if you need something more to help with your mental health and wellness journey? Luckily a Bullet Journal is an easy and helpful tool to track, learn and grow.
Keep reading as we share some of our favorite mental health journal ideas.
Before you read further I'd like to write a small disclaimer. I am not a medical professional. You should always seek professional advice if you are suffering symptoms as everyone has different needs and experiences. Some of these ideas may work and unfortunately, some may not. They are only tools that can be used by individuals, they are in no way replacements for professional help and advice.
Mental Health And Bullet Journals
Mental health is something that will probably touch everyone at some time. Either as someone suffering symptoms themselves or by seeing a family member or friend battle mental health issues. It can be seen in forms such as anxiety, depressive disorders, PTSD, Postnatal depression and so many other ways.
WHO statistics show that one in four people around the world is affected by mental health disorders at some time in their lives. That's over 450 million people suffering in the world right now.
We are starting to learn that looking after our mental health is just as important as our physical health. So, how can our Bullet Journals help with mental health?
Does bullet journaling help with anxiety?
Studies show that being more organized in your life can help reduce stress and anxiety. This goes for your physical environment and your mind.
It makes sense that when you have lots of to-do lists, appointments to remember, and a huge mental workload that you feel stressed, anxious, and overwhelmed. The simple act of writing down all those thoughts and lists free up your mental space. This reduces stress and anxiety.
There are other ways your journal can help reduce anxiety. For example, when you have everything written down you learn to prioritize your tasks. This means you are more productive and feel less overwhelmed. By having all your appointments written down you will also find you will stop forgetting important events and meetings, which is enough to make anyone feel less stressed, right?
How can bullet journaling help with mental health?
Of course, there is a lot more to mental health than anxiety and stress. This is where special spreads and pages specifically to help you with your mental health come in.
Mood Trackers can help you learn about your triggers.
Bullet Journal Trackers for things like health, sleep and food can help show you what your patterns are and how they affect your mental health.
Habit Trackers are great for helping you stay on track to do simple, daily tasks.
Brain Dumps can help you write all your thoughts, worries, and mental load on paper. This simple task can feel very freeing.
Vision Boards, Quotes Pages and Inspirational Pages help give you a boost when needed.
Of course, there are lots more and these are just a few suggestions.
Keep reading to find out more about each page and how they may help you.
Mental Health Bullet Journal Spreads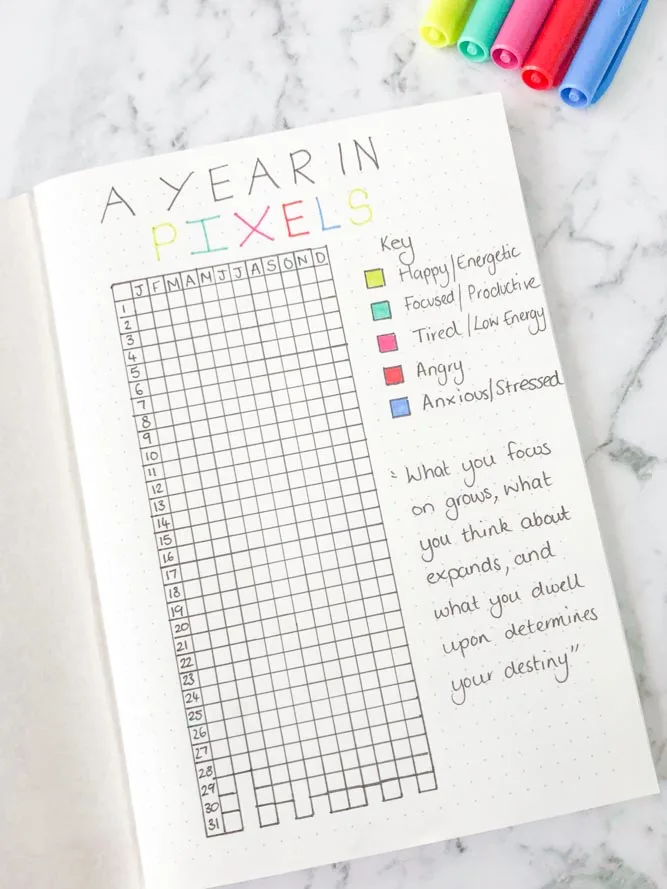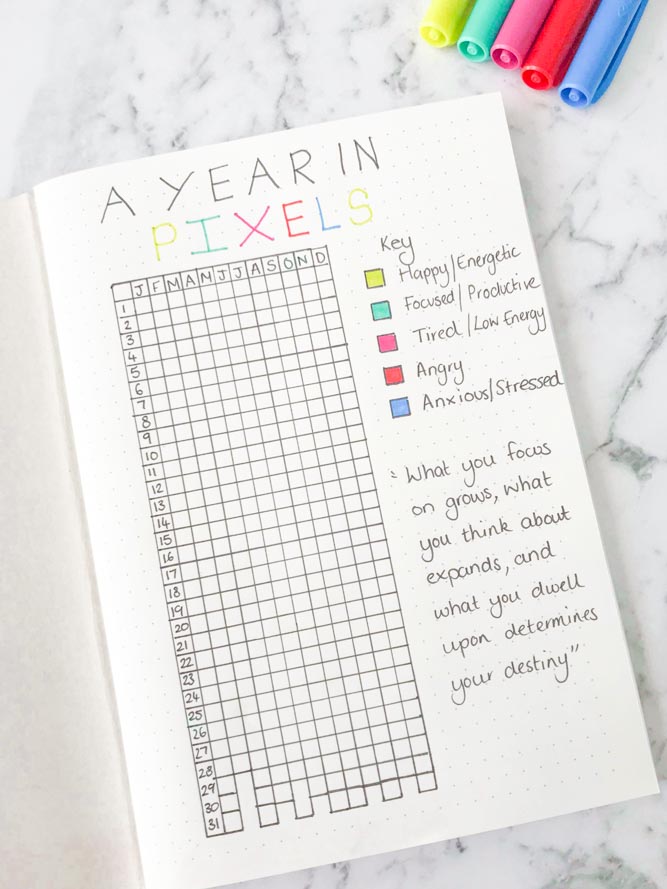 1. Mental Health Trackers
There are so many different kinds of trackers you can try!
Think about how you would like to track your patterns, learn what triggers you, and help create healthy habits. They can also help you work towards goals.
Trackers can be used so you learn more about yourself and your well-being. Use them to watch how physical, mental, and environmental aspects affect how you feel, react and behave.
Here are some ideas about trackers you could use.
Keeping track of your mood is a simple way to not only see if there are any patterns to your emotions and feelings but to also acknowledge how you are feeling.
In our busy and judgemental world, it can be very easy to push aside how you are really feeling. Bottling up those emotions and not exploring them can be harmful to your wellness and health.
Find out more about Bullet Journal Mood Trackers here.
If you are on medication you can create a tracker to help you create a habit of taking them and not missing days. It can also be a great idea to allow for notes about how you are feeling, side- effects, and other related things.
Mental health affects everyone differently. Keeping a track of how you feel is a great idea. Things like headaches, upset tummy, nausea, etc can all be noted down. When you use a tracker like this together with other trackers you may start to see patterns on why you get these symptoms and the causes behind them.
Sleep patterns can play an important part in mental health. By tracking how you sleep and what affects your sleep you can work towards creating the ideal sleep habits.
Find out more about Sleep trackers below:
Although exercising and having healthy habits may be the last thing you want to do, creating good habits can be beneficial to mental health. Creating a tracker that allows you to feel accomplished when you do exercise as well as seeing how it affects your mood, emotions, and symptoms can be a wonderful way to motivate you to have healthy habits.
Find out more about health trackers in the post below:
Hormones can be a big thing when it comes to how you are feeling. Keeping track of your period not only shows you your patterns and health but can help you be prepared. For example, you may discover that just before your period tends to be a low time for you. This means you can plan ahead and know to take things easy on that day and plan some self-care activities.
Discover more about period trackers here:
Plan a tracker for health rather than calories. You can have a daily goal for water intake, see how caffeine affects your mental health and see if there are food triggers too. Studies are now suggesting there are strong connections between mental and gut health.
A tracker is an easy way to see how your food and drinks can change how you are feeling.
Our habits are what make us who we are. Sometimes we are not even aware of the habits we have!
Creating habit trackers is a positive way to reinforce good habits and help change those ones that do not serve us. They can be customized to suit you and your needs.
Find out more about habit trackers here:
Tips For Using Bullet Journal Trackers For Mental Health
Before you start to feel overwhelmed about all the things you can track I would suggest a few things.
Firstly, keep it simple. This could mean only tracking a few things to start with and slowly expanding on that.
Secondly, these don't have to be all separate trackers. You could create one monthly tracker that you use to watch for patterns. Include just the important things to you first.
Lastly, do what suits you. Some people can feel stressed at having to fill out a whole month of tracking. If they miss one day then they feel as though the whole month is ruined and stop. As much as I would love to say keep going as it's okay to miss a day, I know some of you will still feel this way (which is perfectly okay of course).
If this does sound like you then try daily or weekly tracking so it does not feel like such a huge task. It will be just as effective. You may just need to do a review at the end of the month where you look over each individual tracker and discover those patterns and triggers.
And most importantly. It's okay to miss a day or make a mistake.
1. Daily Routines
Writing down your daily routines can be a great way to motivate yourself and keep on track.
Be sure to keep them simple and realistic.
You could start with small daily tasks like showering, brushing hair and moving your body. Although somedays you will not feel like doing certain tasks, ticking off simple tasks can make you feel accomplished and more capable of attempting more challenging activities.
2. Journaling Prompts For Mental Health
Journaling how you are feeling, what caused you to feel a certain way and how it is affecting you can be very therapeutic. They can also help you learn more about what your wants are, what makes you happy, as well as help you look to the future.
Some simple mental health journal prompts are:
Write down 3 things that make you happy. Describe how they make you feel and why.
Jot down something that you wish others knew about you?
What is your biggest mistake? What did you learn from it?
Describes something that inspires you and makes you smile?
What makes you feel full of energy?
Write about your biggest accomplishment. Why was it so important and how did you overcome obstacles.
3. Gratitude Log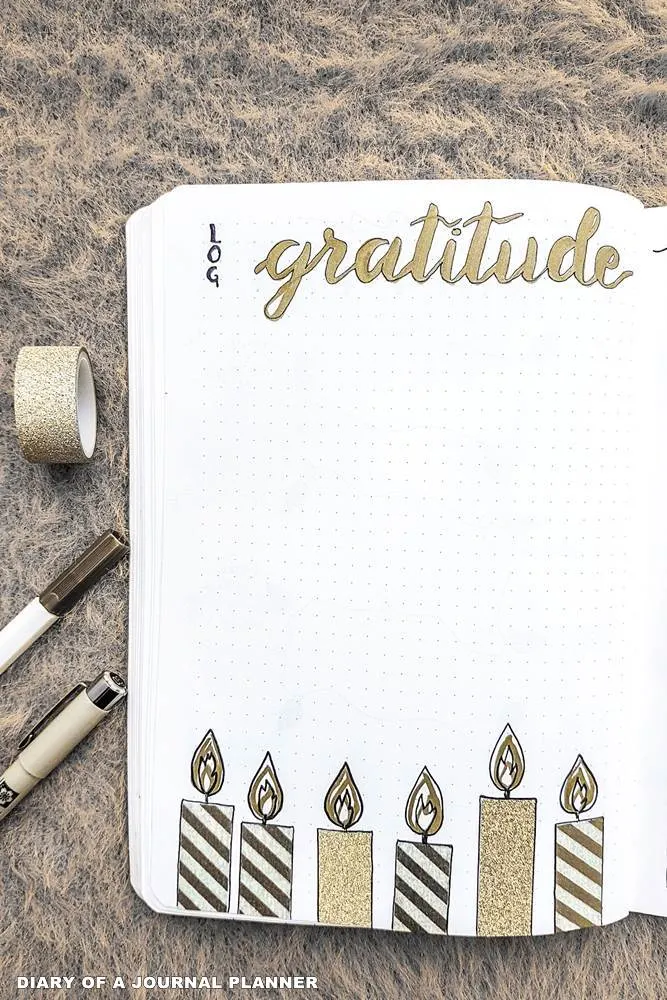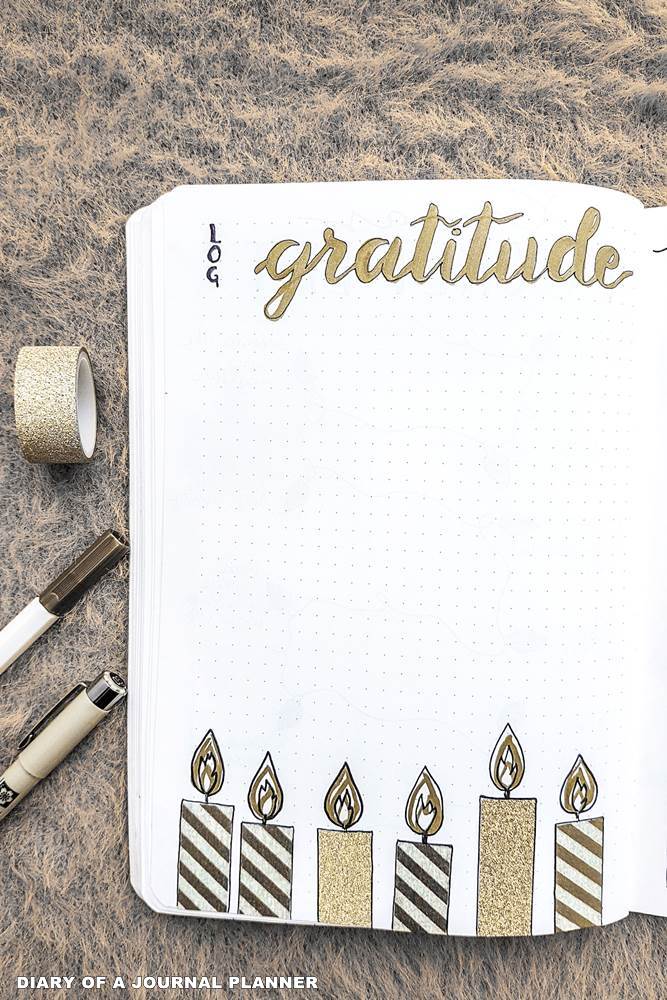 Being more aware of the good things in your life is a tool you can use to bring positivity to your life. It can be very hard to see the good when you are suffering but working hard to find one thing every day you are grateful for can really help you through dark moments.
You can read this list whenever you are feeling particularly low as a reminder that there is always some brightness and happiness in your life.
If you need some help, here are some Gratitude prompts to inspire you.
4. Rant Pages
Sometimes you just need to get it all off your chest! A safe and productive way to do that is to use your journal. Create a special area where you can write everything you are feeling without censorship. You will immediately feel better!
It is also a good idea to add some ideas on actions you could take to prevent the incident from happening again. This makes your rant page productive.
Once you have written your rant try to reread or dwell on it. Think of this as a way to release all that anger and let it leave your body.
5. Therapy Pages
If you go to therapy then creating a spread to help you process each session can help your therapy be more effective.
You can jot down ideas about things you want to bring up in the next session as they come to you in between sessions. Lessons you learned, things you need to explore further, what you found hard, what you need to release as well as actions you need to take.
6. Self Care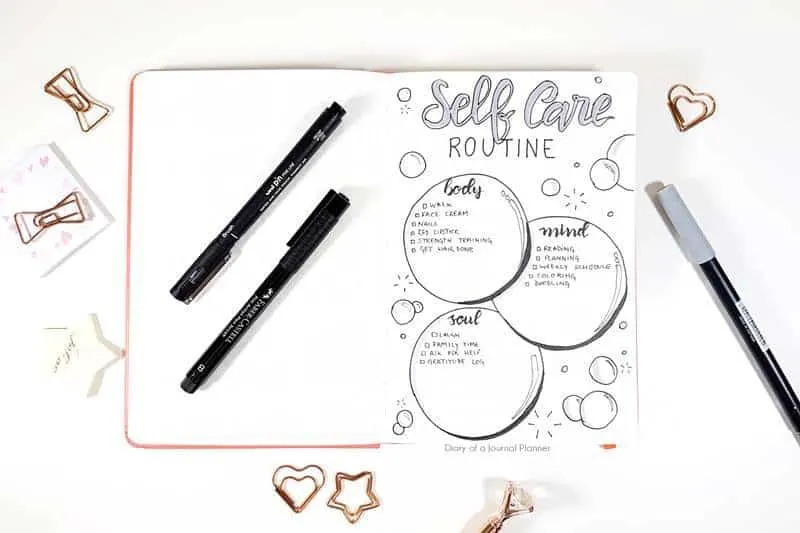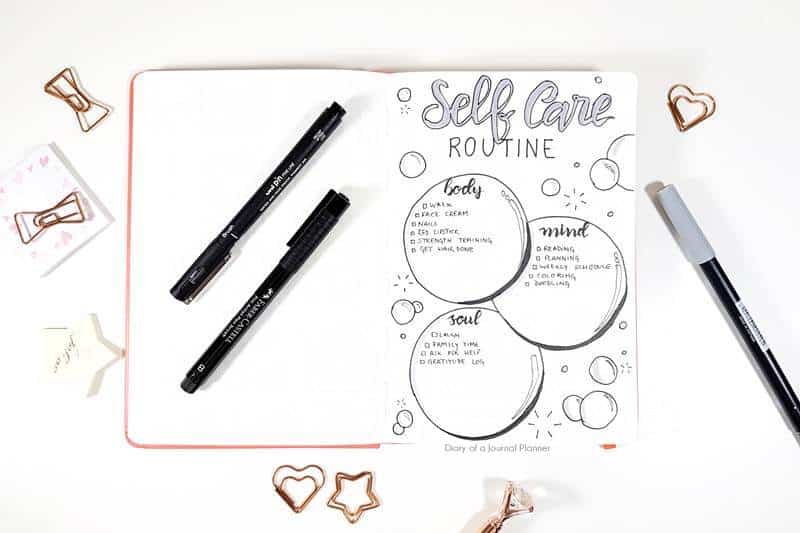 The sad truth is that most people tend to put themselves last when it comes to caring. It can be so easy to care for everyone else and not take the time to look after ourselves.
Making sure you create and keep to a self-care routine is essential to mental health. How can you do anything if you are running on empty? You are worth the time and effort of self-care.
Find out more here.
7. Vision Board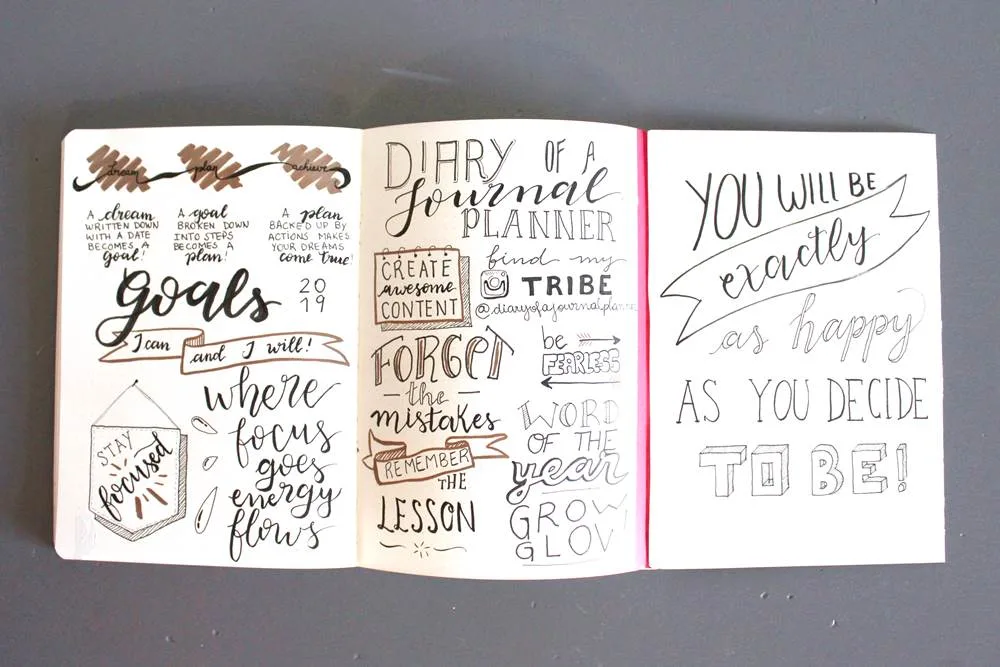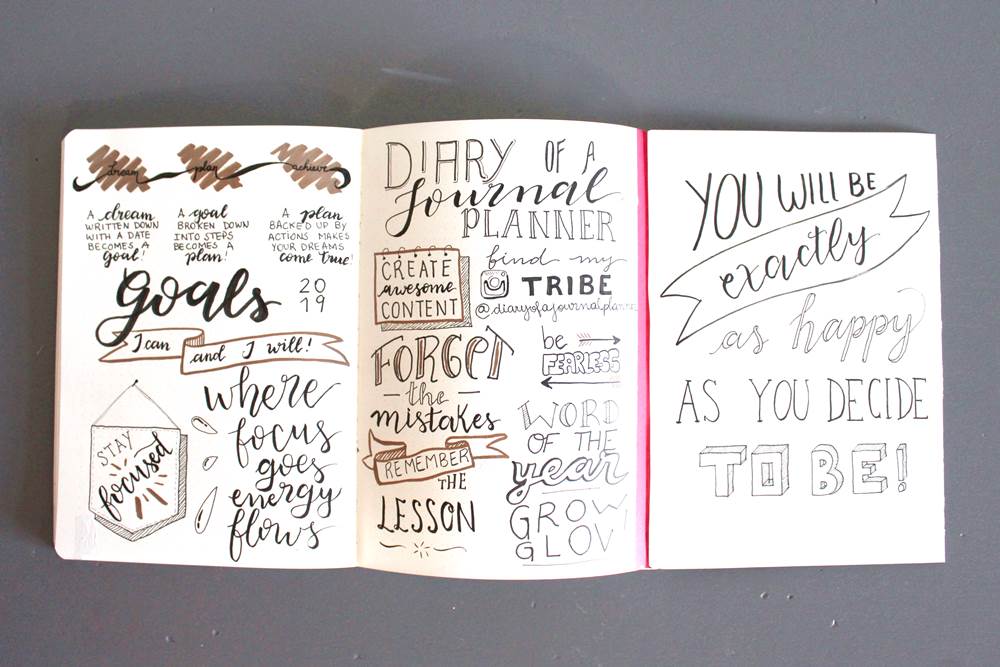 Your journal can be a great tool for boosting your mood and motivation. Take the time to make a spread that inspires you. You can use images, words, goals, things you love about yourself, and anything that will give you a lift when you need it.
Learn how to make your own vision board here.
8. Positivity Page
This spread is similar to the vision board in that it is used as a tool to boost your mood. Create a simple list of things you can do when you are feeling low. For example having a cup of your favorite tea in the best china, walking in your favorite location, watching a funny clip..it can be anything that makes you feel at peace and happy.
Be sure to add at least 5 simple and realistic actions you can take.
You can also put in quotes that make you smile, photographs, or anything else that brings you joy.
9. Brain Dump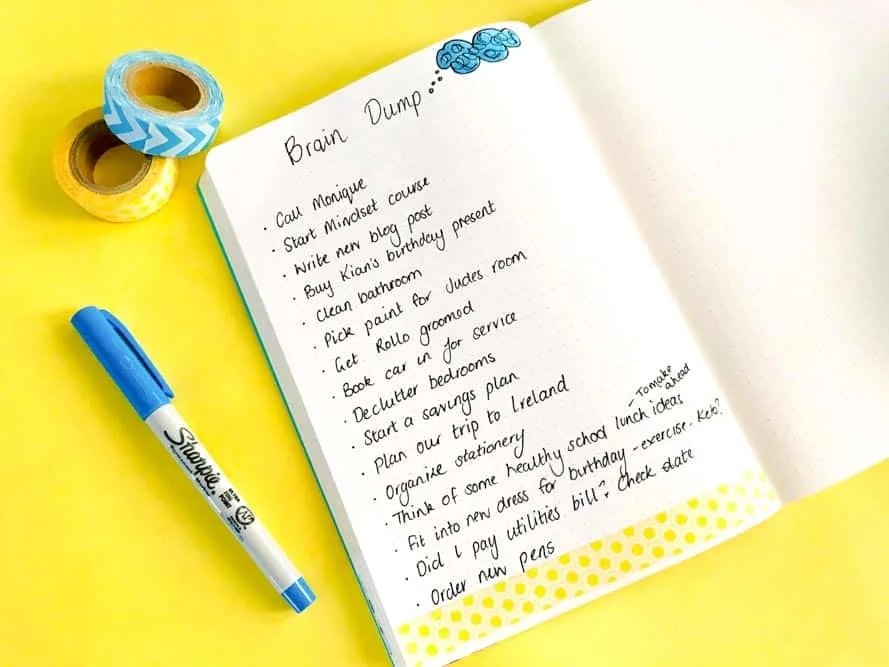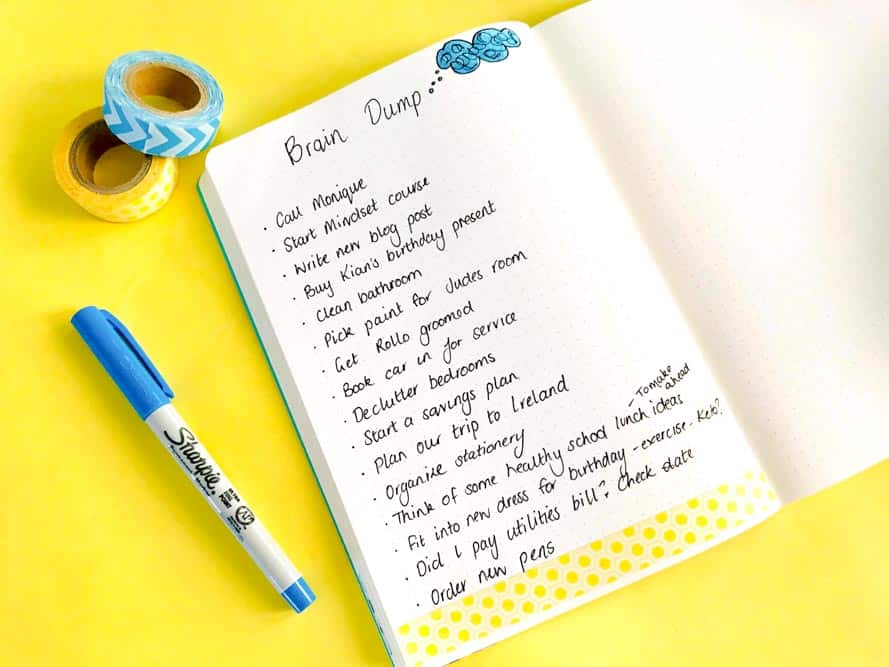 A brain dump is an easy way to unload all those things whizzing around your brain. You can do them as often as you need and they will help you prioritize tasks and destress.
Find out the most effective way to do a brain dump below.
Don't feel creative enough to make these spreads? Come back soon as I am currently creating Mental Health Bullet Journal Printables that I know you will find useful.
Tips For Using Your Bullet Journal For Mental Health and Wellness
I know this can seem like so much information to take in so here are some key points to remember before you start using these spreads and pages.
Yes, there are pictures of amazing Bullet Journals all over the internet. Yours does not need to be photo-worthy.
It doesn't matter if you have decorations or not. It does not matter if your handwriting is neat or not. And it definitely does not matter if you make mistakes.
Your journal is for YOU. Set out your ages in a way that works for you. Create pages so that you will use them.
Do not try and create all these pages at once. Try one, see if it works. Add more as they do and you see results. Stop and try other ones if they don't work for you.
The same goes for decorating your journal. If you are artistic and find doodling or using washi tape relaxing then great. If it takes away from you using your pages then it is not beneficial. Your journal is more about you and your journal than aesthetics.
It is okay to write simple lists. It's okay to use dot notes, messy handwriting, and cross things out.
It is a natural human habit to dream big goals. For these pages to work through it is much better to be realistic. Start small and add more as you go. Don't put hard and unrealistic expectations on yourself.
Big to-do lists and huge actions can make you want to quit before you start. Why not add things to your list as you complete them? Make those big goals into small manageable steps.
Also, allow for those days that you are not feeling the best. A great way to do this is to make an action plan for the week, rather than the day. Then you can choose steps to take depending on how you feel each day.
If you don't make it some days..revaluate your expectations for the next day and try again. It is okay to do that. You did not fail, you are just learning about yourself.
Here are some tips on goal setting
My biggest piece of advice is to be kind to yourself. Everyone makes mistakes, everyone has bad days, it is all okay.
Try to treat yourself how you would treat a loved one. It is amazing how much harsher on ourselves we can be. I know personally that my self-talk can be things I would never dream of saying to others.
Take a step back and think about what you would say to someone else if they were going through this same situation. Try and say those things to yourself. Write them down if that works for you.
I know this may seem a contradiction to what was said previously and you may think of yourself as not creative but humans are creative beings.
Being creative can be very soothing. With your journal you can be creative about what pages you use, how you make them to suit you. It's not all about using decorations. It's more about the process of creating. Plan how your lists and trackers can be individualized just for you, what things you can add, or not use so they work best for you.
Take The Time To Do Reviews
It is no good using all these pages if you never take the time to sit and see what they are telling you about yourself. Try to sit at least once a month ( even weekly may work for you) and look for patterns, triggers, and other interesting things. It can be amazing what you learn.
Then use what you learn to help you. For example, if you see that there is a situation that triggers you, try to find a way to either avoid or help you cope with that situation. If you see moving your body helps you feel amazing all day, try to create a habit of exercise.
---
Just like all things with Bullet Journaling, these pages will be very personal. It can take some experimenting to find the right pages that help you. Don't give up if the first few don't work. Keep trying and tweaking until you discover the spreads that give you what you need in your life.
Remember that there is no wrong or right way to these pages. You can personalize, change or mix and match any of these pages to suit you and your needs.
It doesn't matter if they look amazing…or like a dog's breakfast ( trust me, some of my pages I would never let anyone see…but it doesn't matter as they are important to me and my personal journey).
Remember this is a journey. Don't judge yourself too harshly. Be kind to yourself and most of all keep telling yourself you are worth the time and effort to keep these pages.
Will you be trying some of these pages? Feel free to comment below or email us at [email protected]. We love hearing from our readers and make every effort to reply as soon as we can.
More Ideas For Health and Wellness
PIN FOR LATER!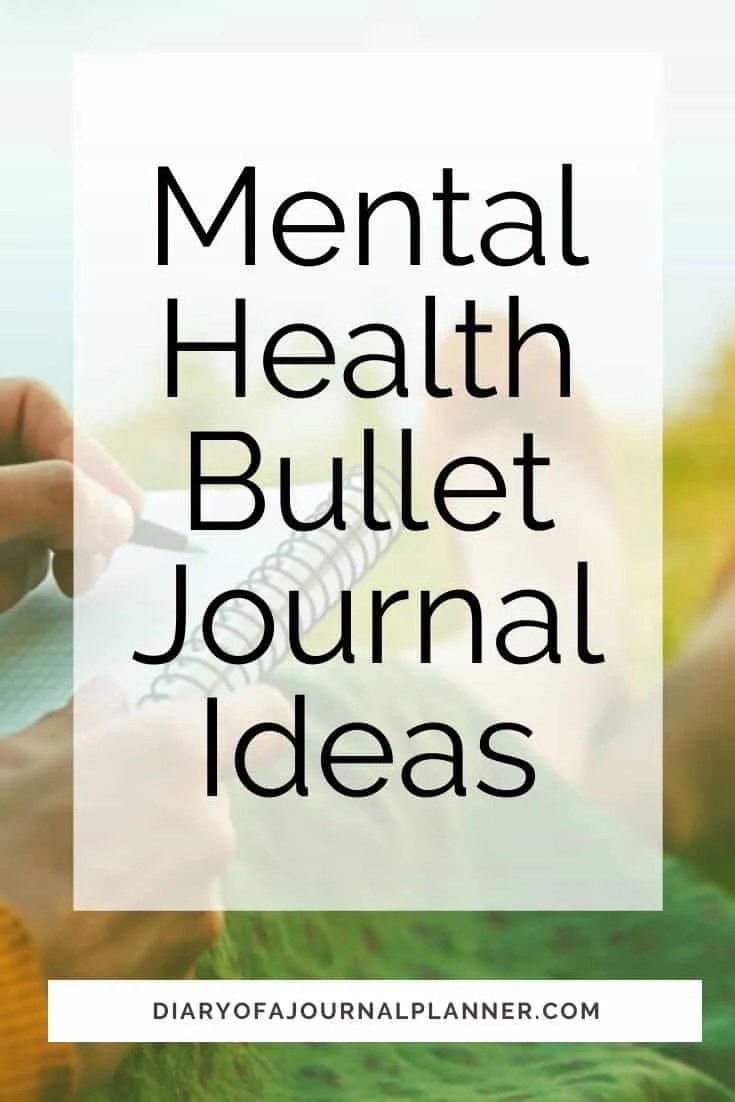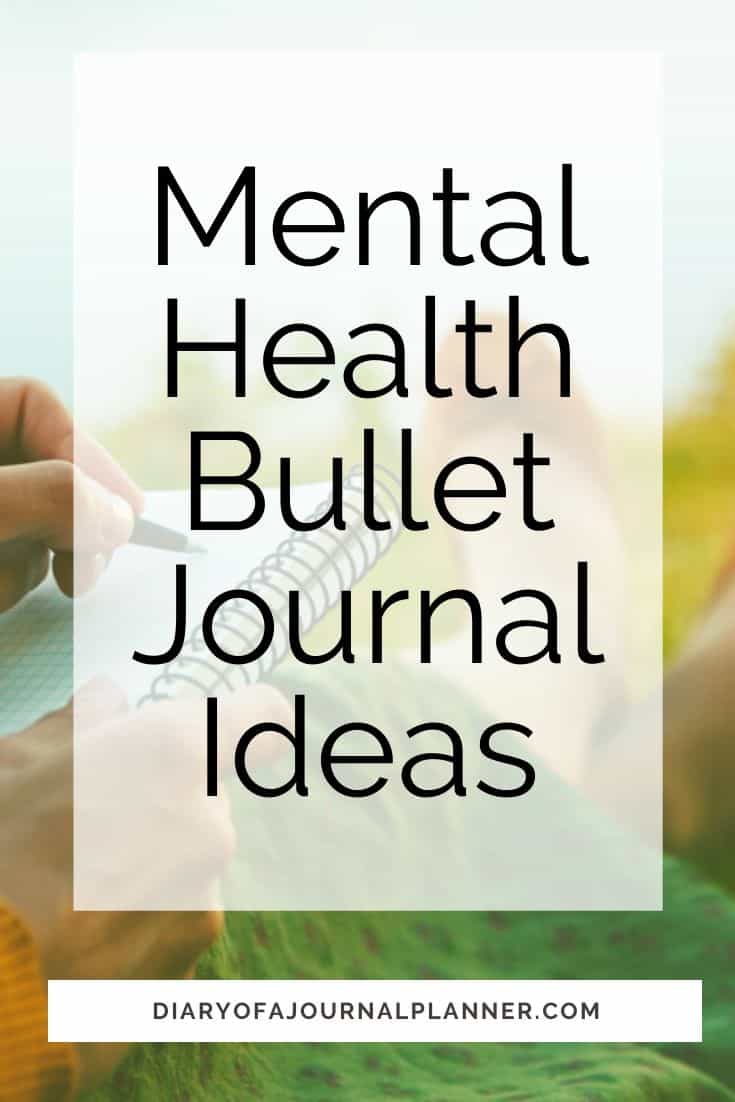 Bullet Journal Mental Health