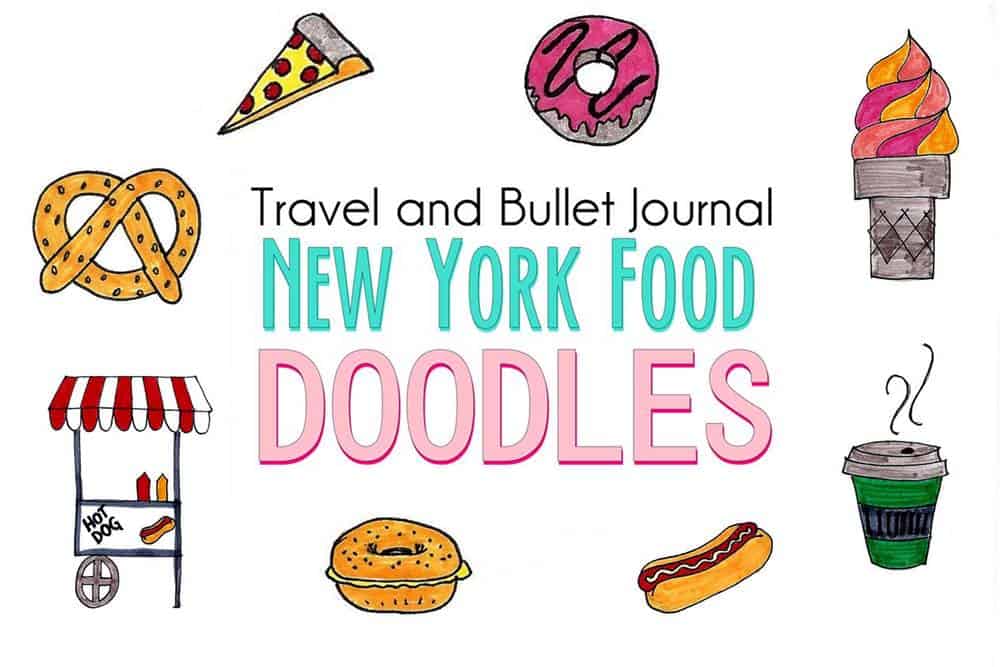 New York City Doodles
Heading to NYC? Or just love food? Try this easy new york food doodles. Perfect for your Bujo or travel journal.
In a month or so I am going to meet my friends in NYC for a girls-only (child-free) New York trip and I just cannot wait!
I have been there before with my daughter when she was 3 years old but the visit was very child-centered and planned with a toddler (and stroller) in mind!
This time around things will be very different!
Everyone in our little group has their own NYC bucket list of activities and places to see – and we will sure try to make most of it happen of course.
But one thing everyone's bucket list has in common is that we want to taste NYC and try all the food, restaurants, cafes, and eateries that the city is famous for.
So when I started organizing my new york travel journal for this trip I could not forget to add the foodie guide to NYC page!
Because my travel journal is more of a memory keeper and a creative outlet than a planning system for me, I could not leave my doodles out.
Many of you have enjoyed my doodles on Pinterest so I have listed below step-by-step instructions on how to create these new york doodles of yummy snacks.
So, if you are planning a trip to New York soon or just love pretzels, bagels, donuts, and hot dogs you can draw them yourself in your planner or sketchbook with the instructions below.
As always, please share your doodles with me by "trying" the pin on Pinterest here. I always see your work and love knowing you liked to give it a go!
In my journal, I have my Foodie guide page with the eateries and places I tried the snacks I doodled.
It makes a wonderful keepsake from your travels and also helps my bad memory – I just cannot remember the name of anything!
I hope you enjoy them, keep reading for the step-by-step NYC food doodles!
Check out now: Ultimate Guide of Bullet Journal Doodles!
New York City Food Doodles For Travel Journal
Before we start doodling, I have a few tips for you if you are new to this.
You can doodle on any paper or loose book page. It's therapeutic and you don't need fancy tools at all.
I use blank page notebooks or sketchbooks for my travel journals and it is where I doodle mostly too. You can, however, doodle and color on lined or dotted paper, no problem!
I do doodle sometimes directly with a black ballpoint pen or fine felt tip pen – but I don't mind if I make little mistakes (stickers and washi tapes are my best friends!) or if my lines are not so straight.
If you do mind mistakes, if you are just starting out, or if you don't know for sure if your doodle will have a place in your spread – just use pencil and trace afterward! I love H2 pencils because they are so soft to doodle with.
Remember to erase your lines before you start coloring.
For this project, I colored everything pretty much with Crayola Supertips (I love them!) and one color from my Frixion set (I love them too!). But do use whatever you have at home or your favorite materials.
The step by step below are pretty much self-explanatory but whenever needed I have added a few tips for you.
How to draw a pizza slice
I am looking forward to eating a pizza like a New Yorker! Follow the steps below to draw a piece of pizza.

How to draw a pretzel
I don't think you can have a New York City doodle without a pretzel!
The pretzel was one of the most challenging step-by-step's to make because it would actually be easier to doodle with a pencil, overlapping the drawing to make all elements, then trace it afterward where needed and erase the pencil overlap.
This way is harder to make a self-explanatory step-by-step doodle as it is not so easy to explain the drawing when something is erased without adding any words, arrows, or different colors to the tutorial.
So I tried a few ways before I came up with this sequence which I think is easy enough for any beginner to follow.

How to draw an ice cream
Here are the steps to doodle an ice cream. You could use these as travel doodles for so many different countries.

How to doodle a hot dog
This is a very simple representation but I love the result and think it makes a pretty iconic NYC doodle.

How to doodle a hot dog cart
I did a 3 step tutorial for the hot dog stall cart doodle because it was a larger doodle and I couldn't fit 4 steps into my paper width.
It's still pretty straightforward and has lots of straight lines.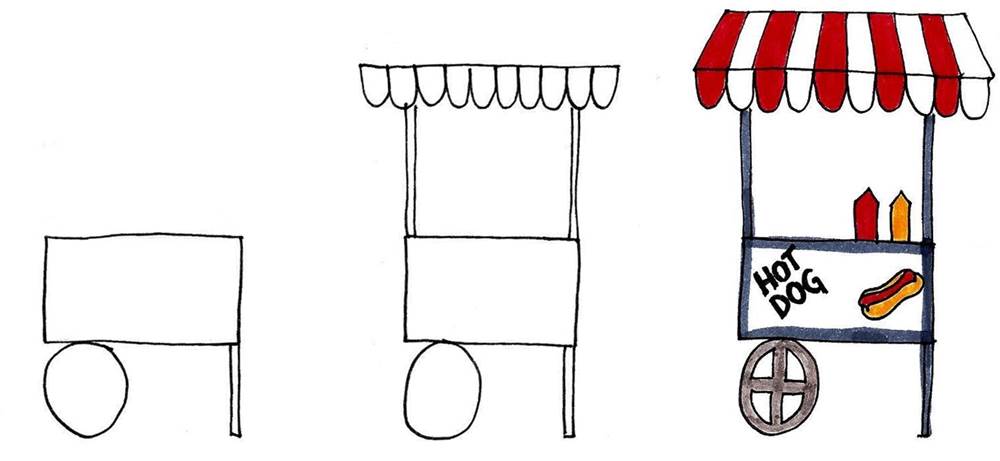 How to draw a donut
This is my favorite way to doodle donuts, I just change the toppings; add confetti, and color it differently to make more donuts!

How to doodle a bagel
It is a simple representation of a bagel, you could add a more colorful filling.

How to doodle a coffee cup
Yes for coffee! Follow the step-by-step tutorial to draw your own cup of coffee.

If you love to doodle and want more then be sure to try our 10-day doodle challenge.
---
I hope you enjoyed these NYC doodles. Do you have any easy food doodles you would like to try? I love creating step-by-step doodles so let me know in the comments below and I can create some new posts on doodles of food.
Looking For More Easy Doodles To Try
PIN FOR LATER!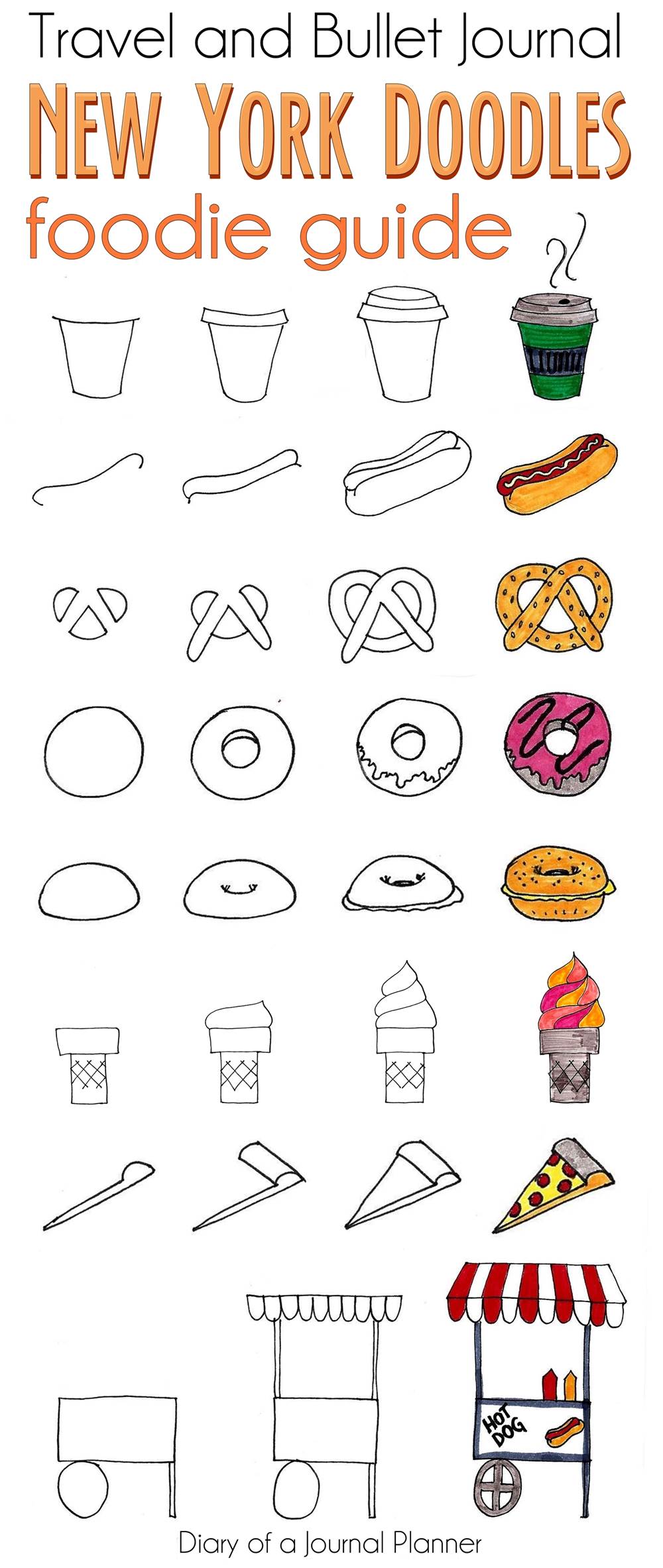 Bullet Journal Food Doodles