Fall Bullet Journal Ideas
Fall has to be one of our all-time favorite seasons.
The weather is cooling down, meaning time for cozy clothes, hot cocoa, and the magic of fall leaves. It is also the season of pumpkin picking, Halloween, and Hygge! With so much happening there are so many autumn bullet journal themes you can try out.
It can also be the season when life starts to get super busy!
We know that there is back-to-school crazy, Thanksgiving planning, and if you are super prepared even some pre-Christmas planning. But don't worry there are so many easy-to-use Bullet Journal spreads for fall that can help you stay organized and prepared.
Keep reading as we share with you some of our favorite autumn bujo ideas from covers to layouts, doodles, and more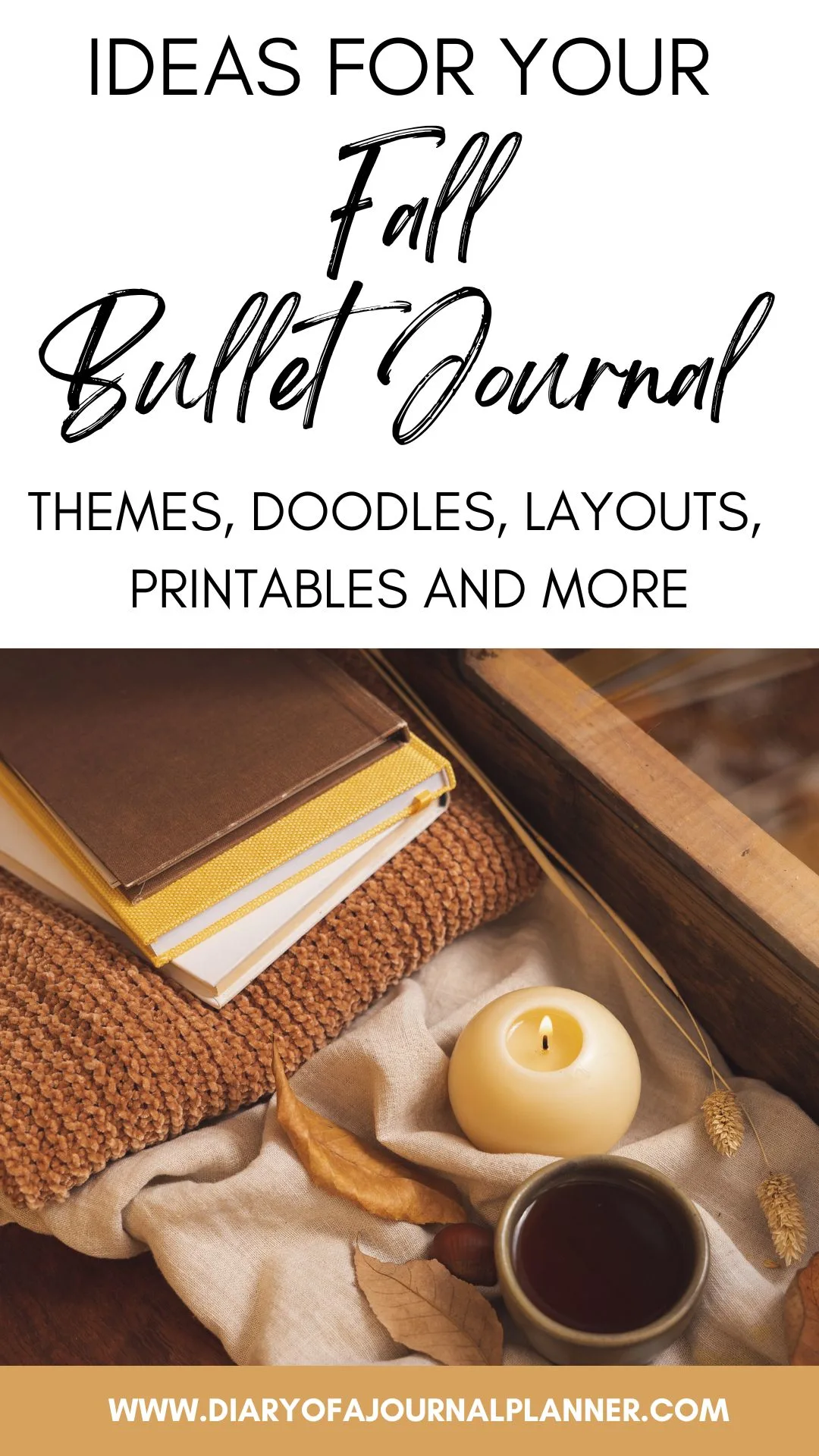 Bullet Journal Fall Ideas
Before we show you some gorgeous fall-themed spreads you can try, here are some ideas to make your autumn bujo really amazing.
Fall Bullet Journal Supplies
Some basic Bullet Journal Supplies you will need to create your own winter bullet journal pages are:
Fall Bujo Ideas
You can have all your usual collections in your fall bullet journal but you can add some fun pages too. Here are some of the pages we like to add to our fall bujo to help us get organized for the season (and some just to make us smile too)
Fall Bucket List
Fall Movies To See
Fall Activities to Try
Habit Trackers For a New Hobby ( lots of indoor time is the perfect excuse for taking up a new hobby or craft.)
Budget Tracker (It can be easy to spend too much at this time of year.)
Random Acts of Kindness
Hot Drinks To Have
Fall Baking Wishlist
Holiday Season Prep ( It's never too early to start Holiday season planning such as a Gift list )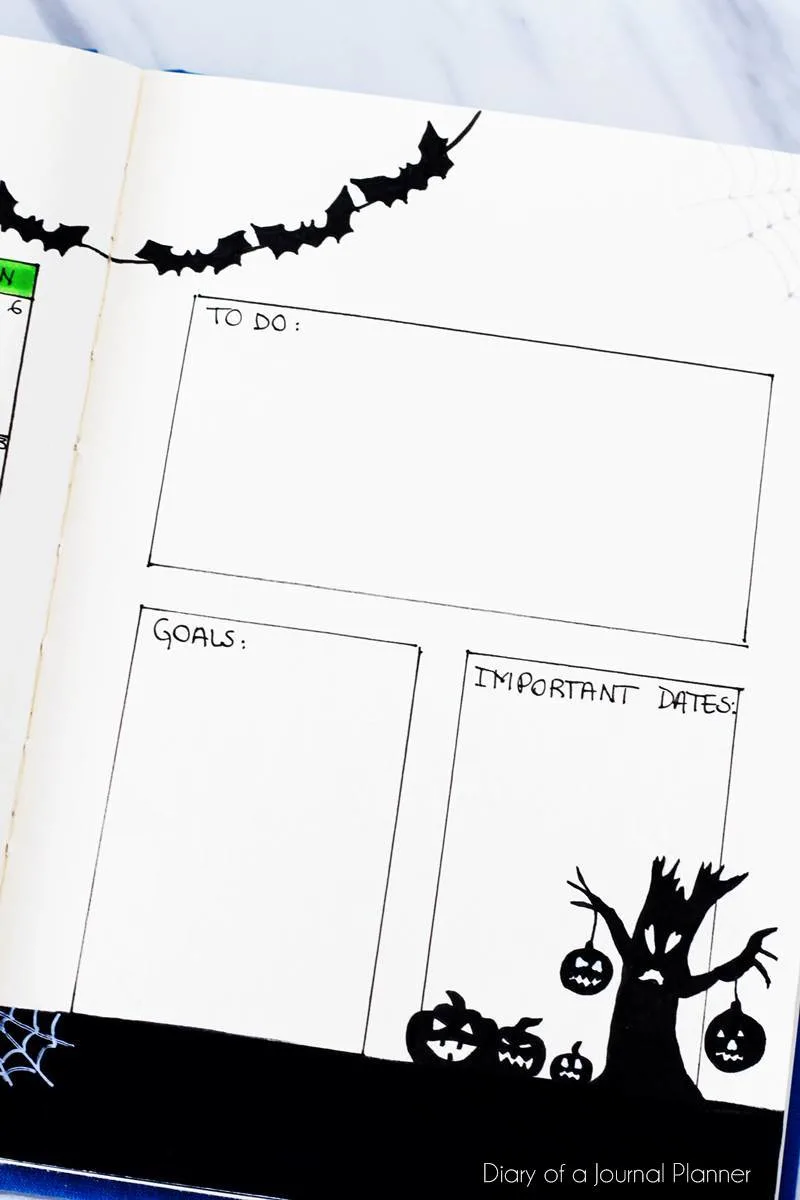 Keep reading to see some of our fall bullet journal theme spreads. We love to mix and match ideas we find from the amazing, creative Bullet Journal community to create a Bullet Journal spread that suits our own lifestyles and needs. We suggest that this is something everyone should do.
Although someone else's spread may look amazing ( and work great for them), there will always be elements that don't suit your particular needs and wants so be sure to add those important personal elements to your spreads.
If you need more ideas on what will work for YOU in YOUR journal then check out our bujo collection ideas by clicking below.
Autumn Themed Bullet Journal
Let's start with some ideas for Fall Bujo themes!
You can use these to create your whole Fall season layouts, just for a month, or even for your whole Bujo!
Creating a Bullet Journal theme is simple. Here are some ideas on how you can create a fall-themed bullet journal:
Use the same colors to create your bujo spreads
Decorate your Bujo layouts with fall stickers, stencils, or doodles
Add theme touches in headings, special bujo pages, and the bujo fonts you use.
Here are some supplies we love to create our Fall Bullet Journal
Bullet Journal Ideas Autumn
Fall Leaves
Pumpkins
Toadstools, mushrooms
Camping
Acorns
Hot cocoa
Apples and Apple Pie
Woodland creatures – think foxes, owls, squirrels, and deers
Hygge
Spooky, ghosts, witches, spiders, and more for Halloween
Sweater weather – colorful sweaters, mittens, scarfs and all things cozy
Coffee
Candy Corn
Bonfires
Pinecones
Forest
Fall Bujo Ideas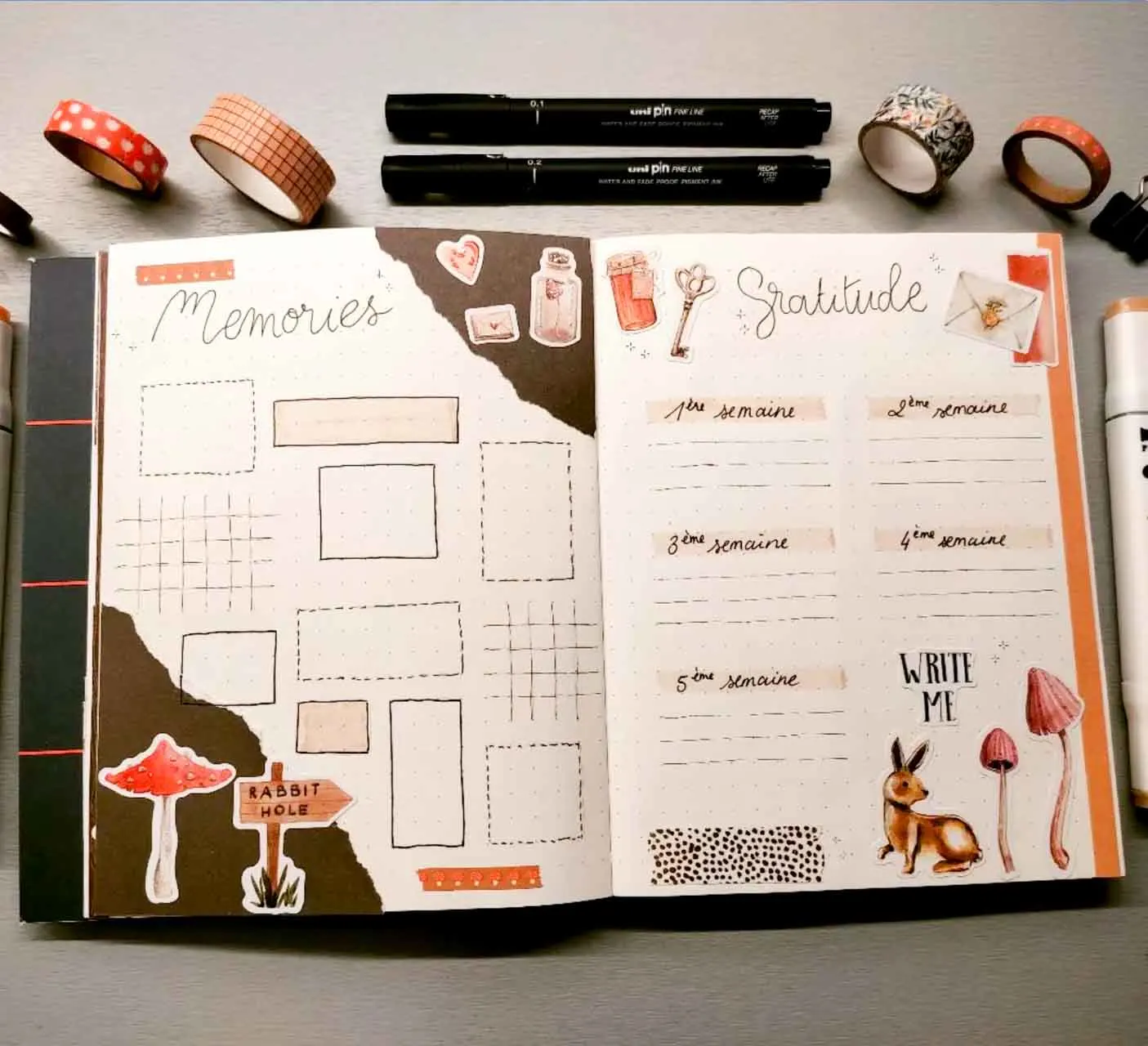 Remember you don't need to be an artist to create gorgeous Fall spreads. This beautiful Fall Bujo layout by @july.bullet has been created using cute fall stickers and washi tape. Not only does it still look amazing but it saves you lots of time too. Leaving more time to do all those things on your Fall bucket list!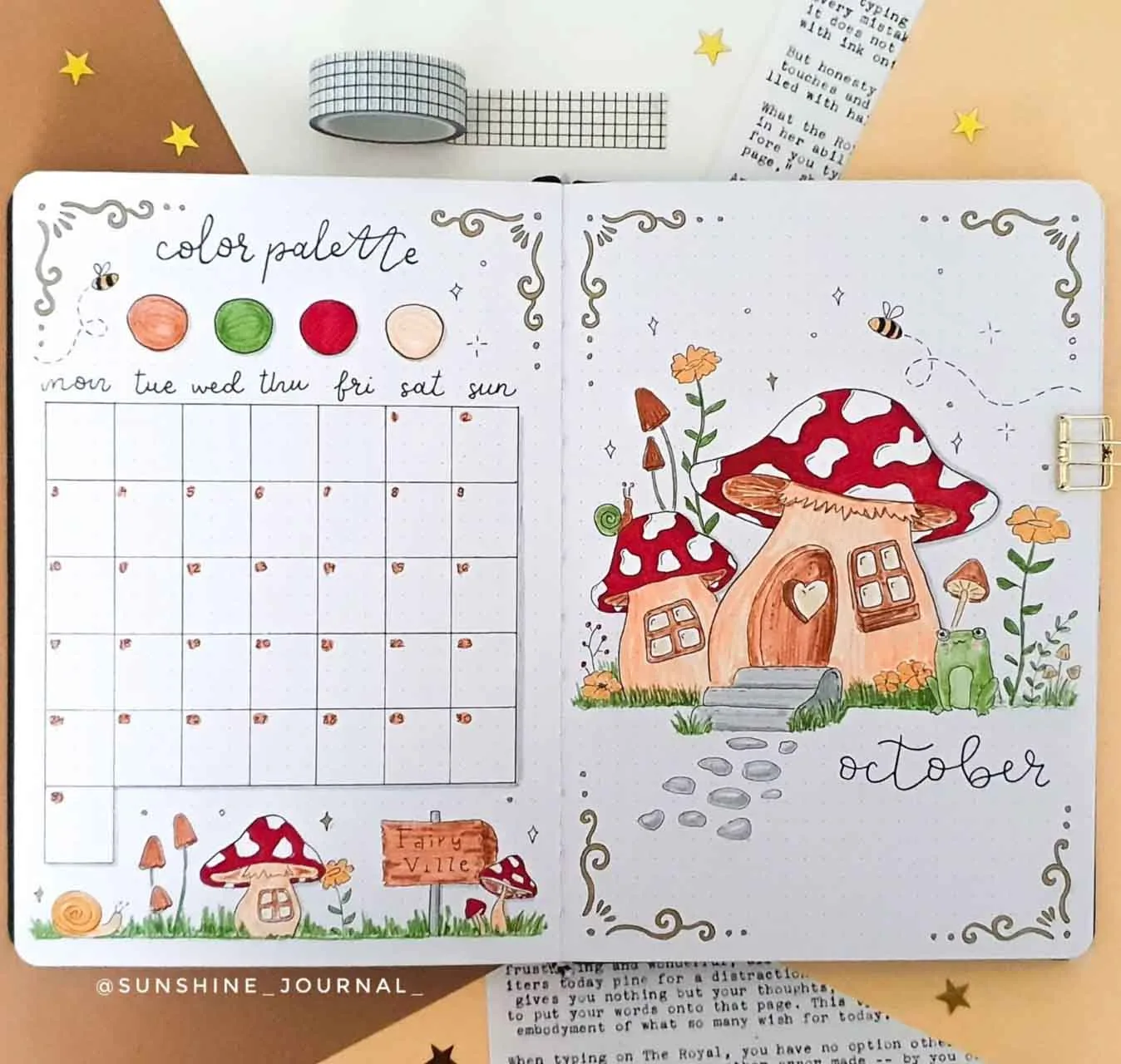 How cute is this Fall toadstool Bujo by @sunshine_journal_. We love the little frog sitting next to the toadstool.

This autumn leaves Bujo theme by @1kindness2day is great for beginners and pros alike. The magic of using a fall leaves theme for bullet journal layouts is that you can go as simple or as fancy as you like. Just let your creativity guide you. It is also easy to get a similar effect using Fall leave stickers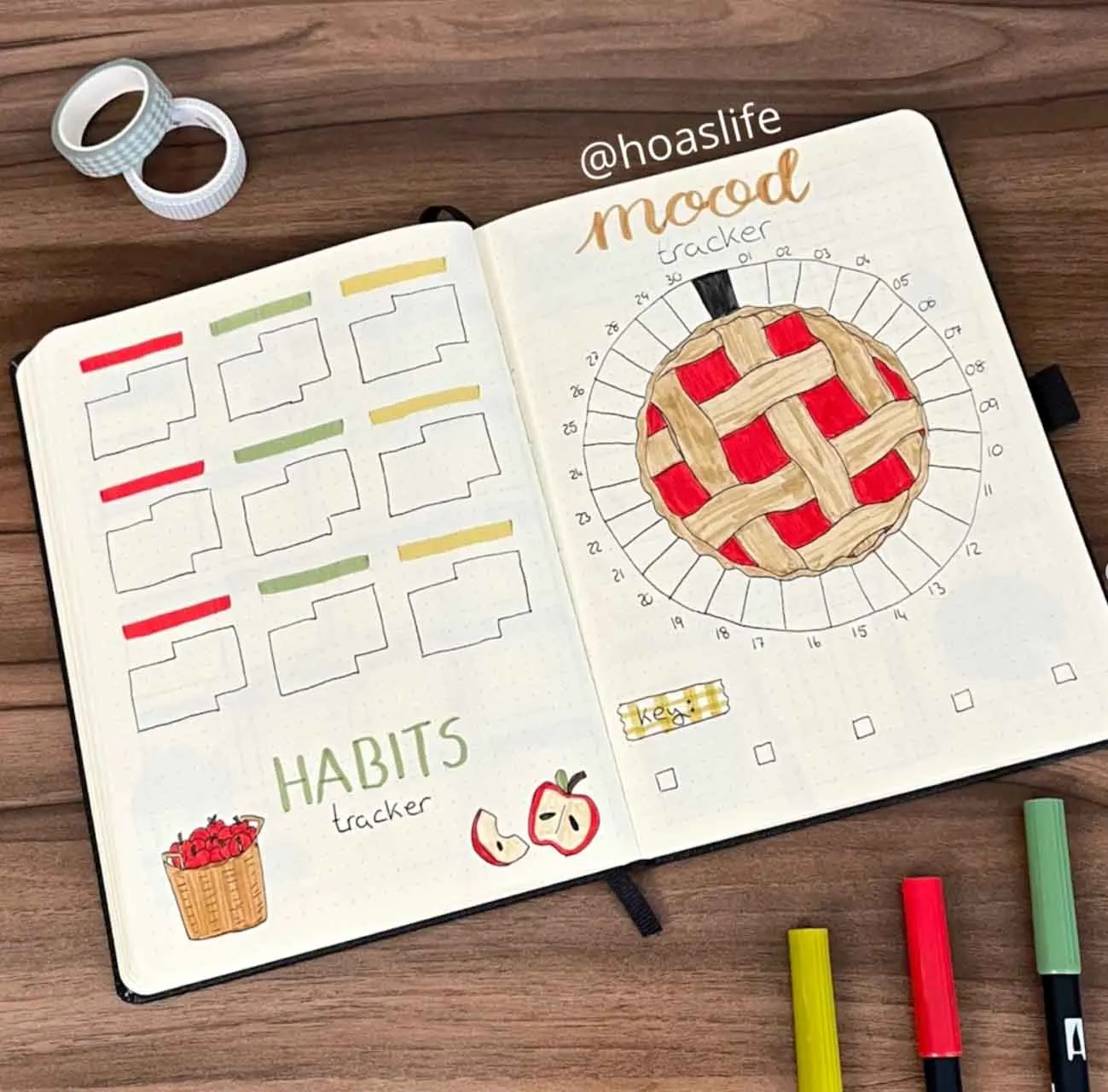 It's always fun to make sure your usual Bujo pages follow your chosen theme for the month. This Apple Pie mood tracker by @hoaslife is perfect for a cozy fall bujo spread.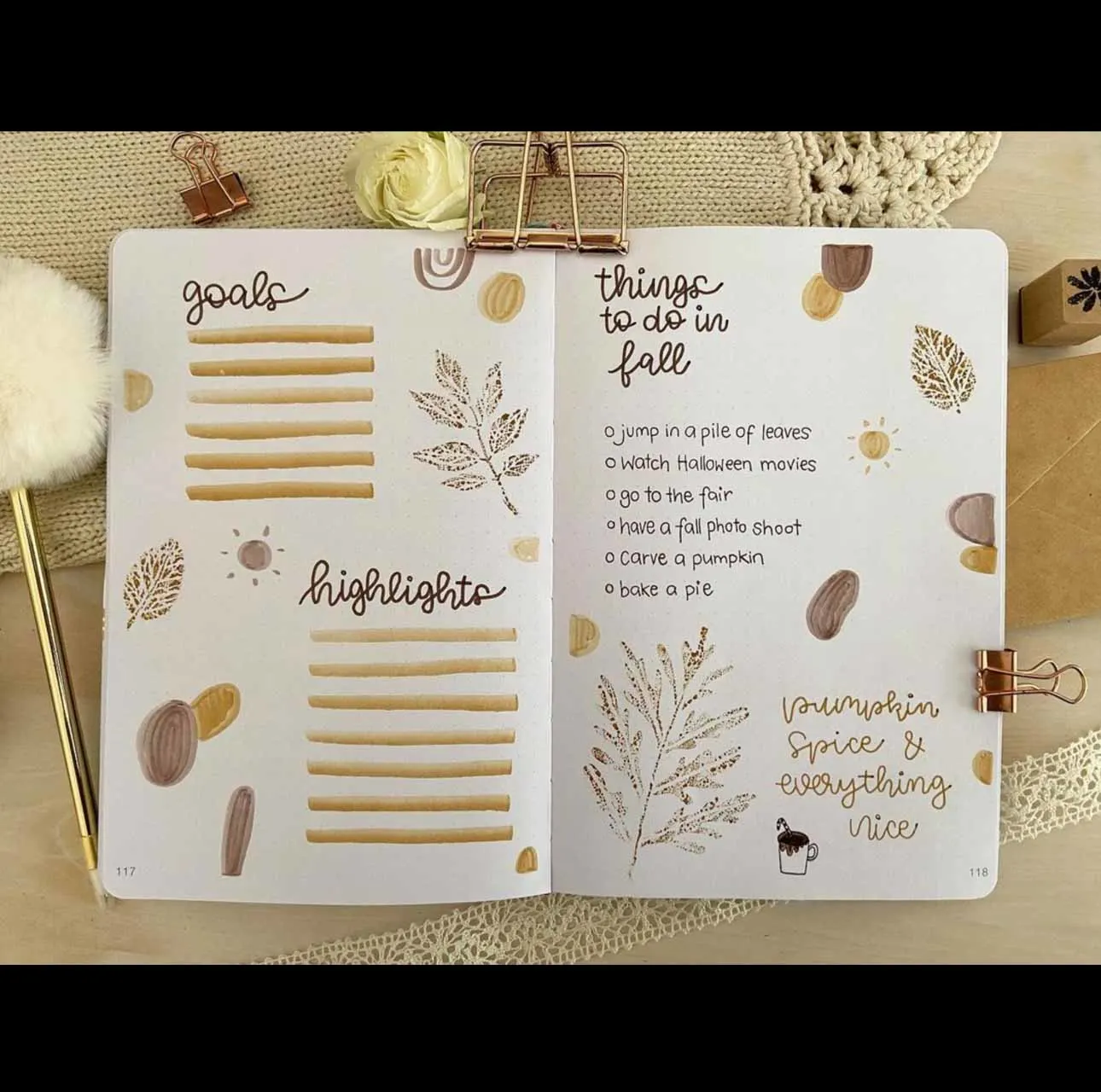 Although you can go all out with your Bullet Journal Fall Bucket list it can be nice to keep it simple just like @romillu_ has in this gorgeous Fall page. It is often the simple things that bring the most joy in life, and it can also help to stop you from feeling overwhelmed with your autumn bucket list!
September Bullet Journal Themes
September is the turn of the season and the first month to start creating your amazing fall bujo spreads.
Here are some fun September Bullet Journal themes to get you inspired.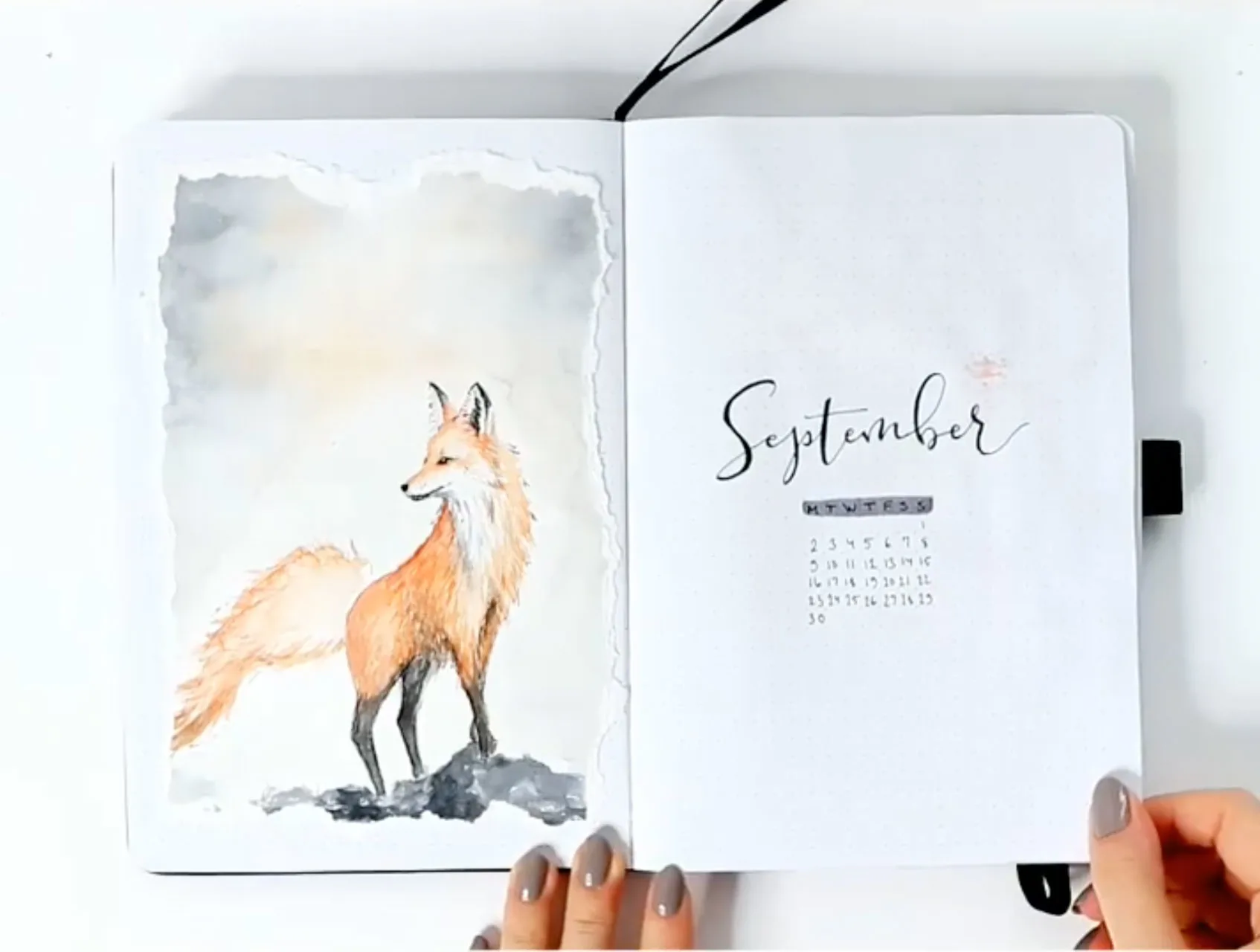 This gorgeous September bujo cover is by @journal.away. We love the subtle fall colors she has used to create her stunning autumn bullet journal spread.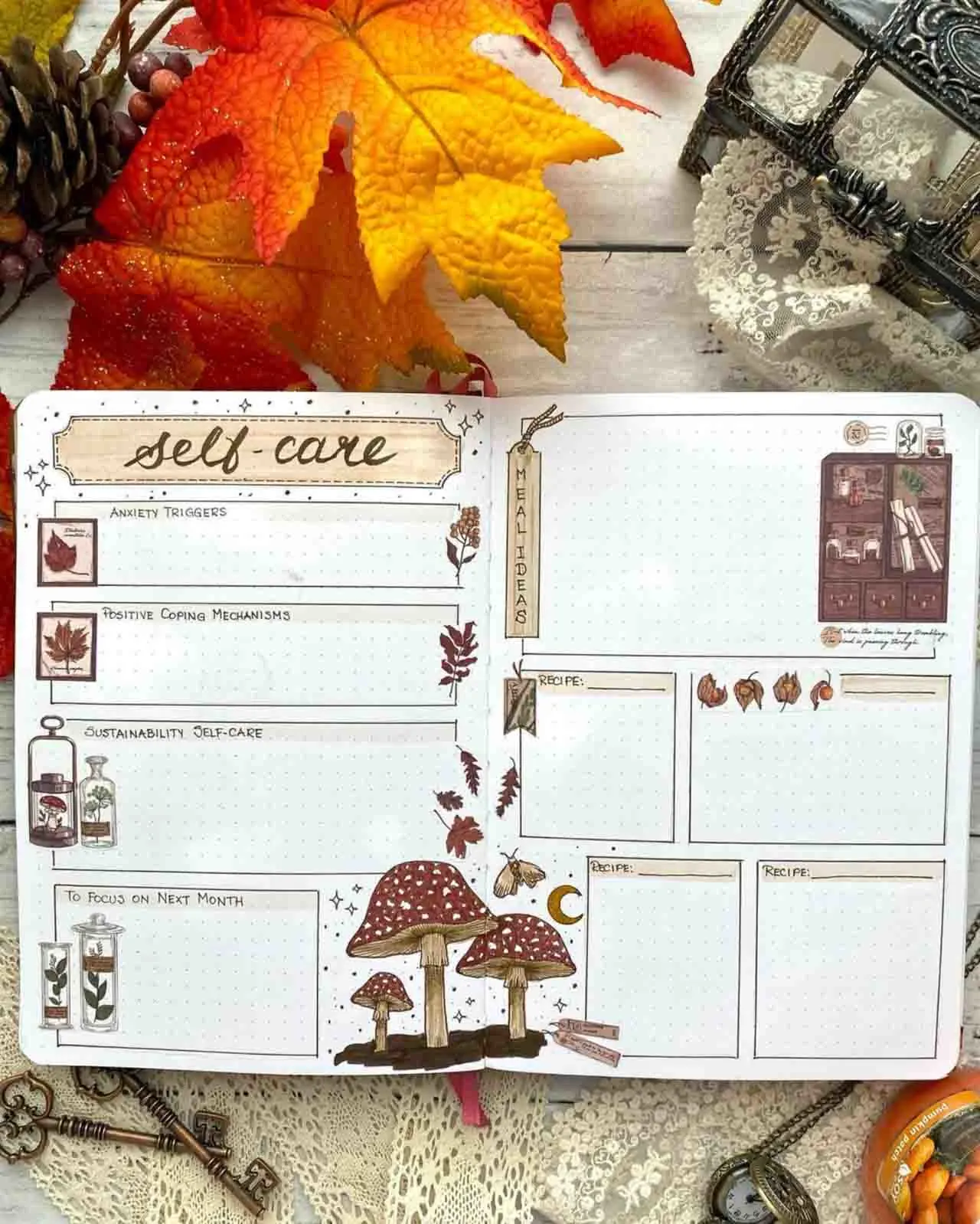 This whimsical bujo spread by @am.paper.and.art.co is perfect for September. Maybe you are feeling a little overwhelmed with back-to-school routines or want to get organized and give yourself some important self-care before the crazy holiday season arrives.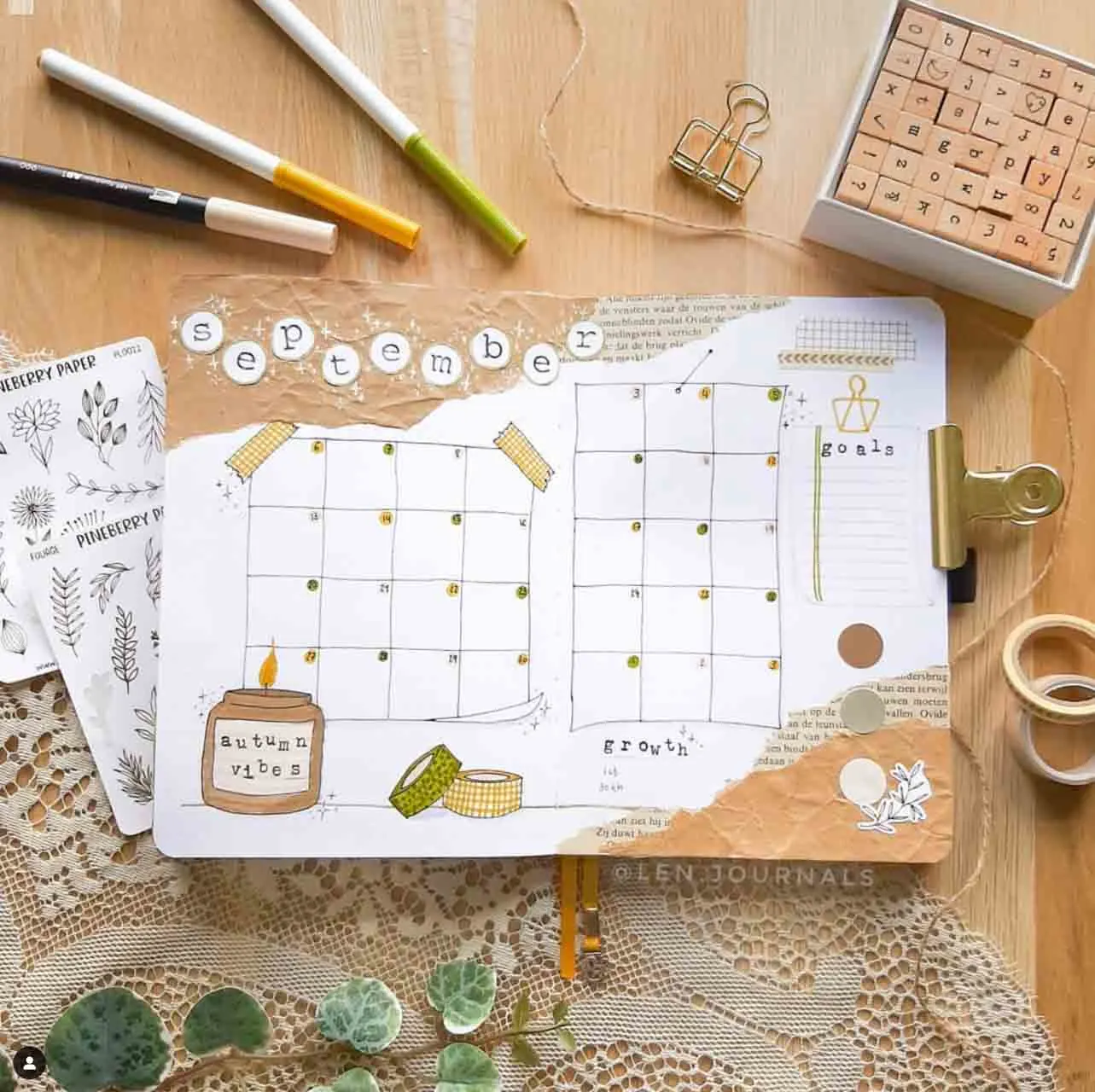 This autumn calendar spread by @len.journals is perfect if you want to create a cozy fall theme. Using colors and texture in your spreads is a simple way to make your theme look and feel amazing.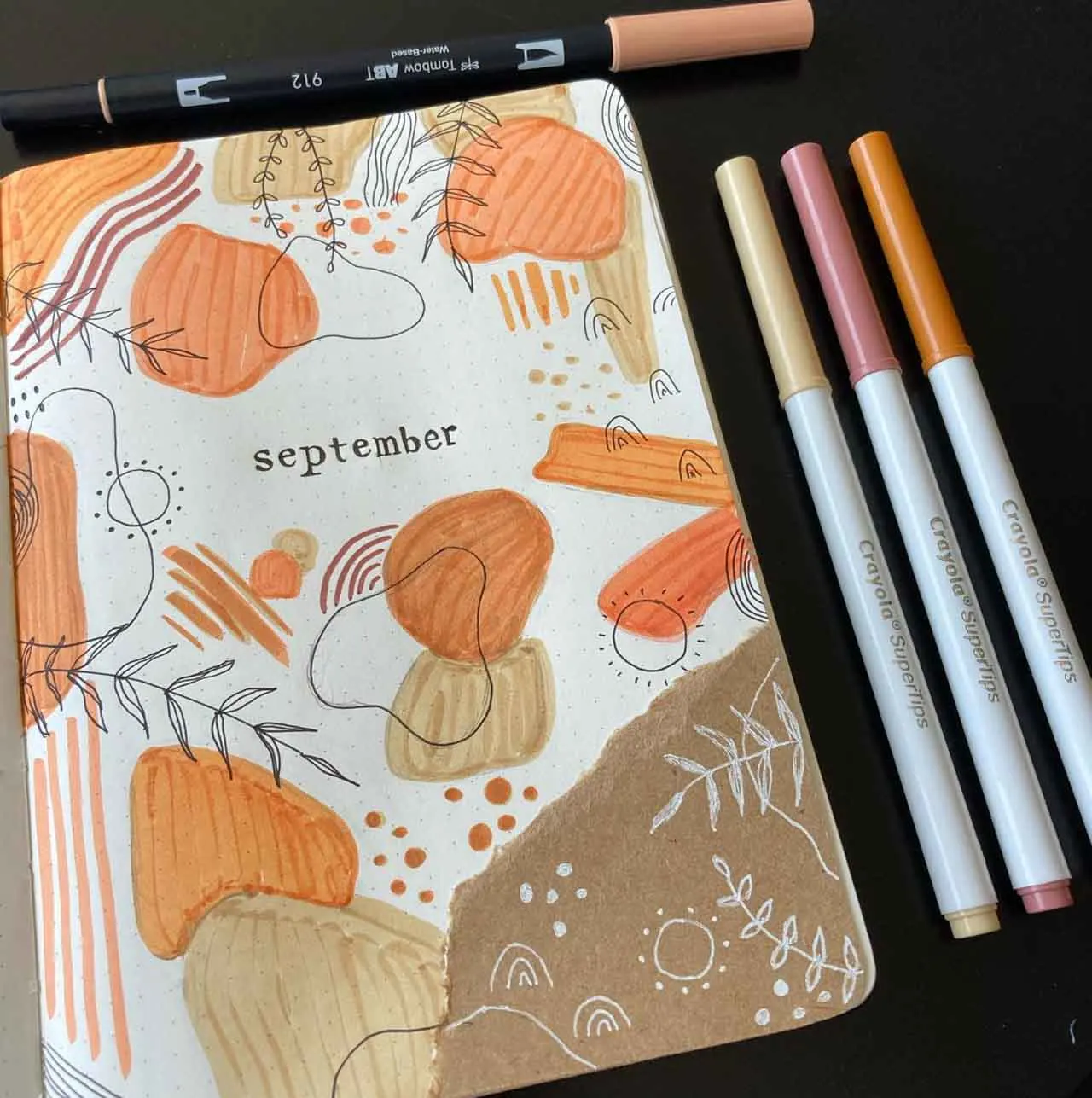 You can create a stunning fall cover page by simply using autumn colors like this page by @arzene.arts. It looks so effective but can be created quickly. You could carry on this theme by using the same colors and doodles throughout the rest of the spread.
Looking for Back To School ideas for September? We have a whole post on Student Bullet Journal pages here that you are going to love.
October Bullet Journal Themes
For lots of us, October is all about Halloween!
It's a great month to have fun with all things spooky.
There are no limits to Halloween bujo theme ideas but here are some to help you get started! You can make these creepy and scary or fun and cute. It's all up to you!
Candy Corn Theme
Bram Stokers Dracula
Your fav horror movie can make a fun theme
Ghost theme
Pumpkin Bujo theme
Witches. You could create your October spread like a witch spell book!
Spiders and webs
Haunted House
Skulls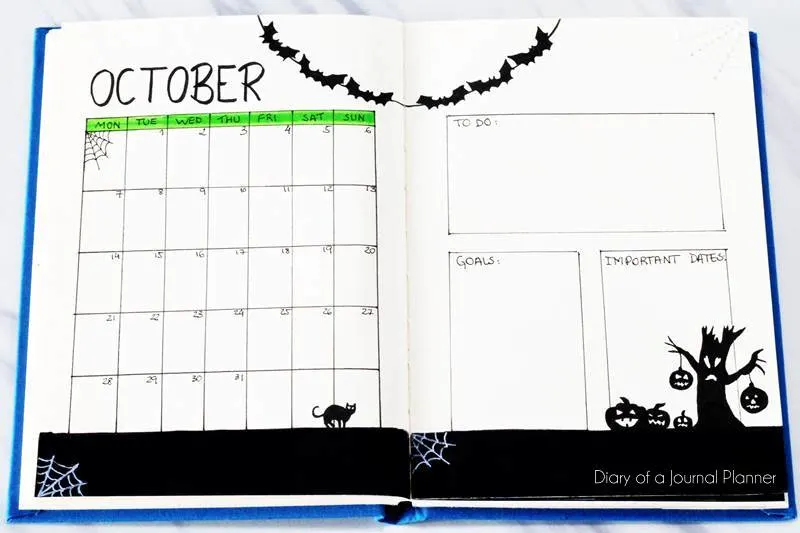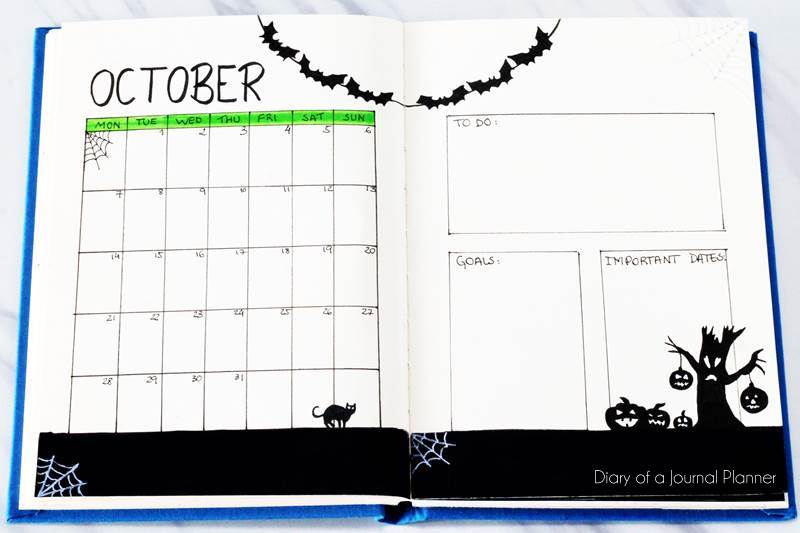 Thass has created a really fun October spread with lots of the elements you love such as a haunted house, pumpkins, bats, and more. You can find out how to recreate it below.
Or if you are short on time this month check out our October Bullet Journal Printables HERE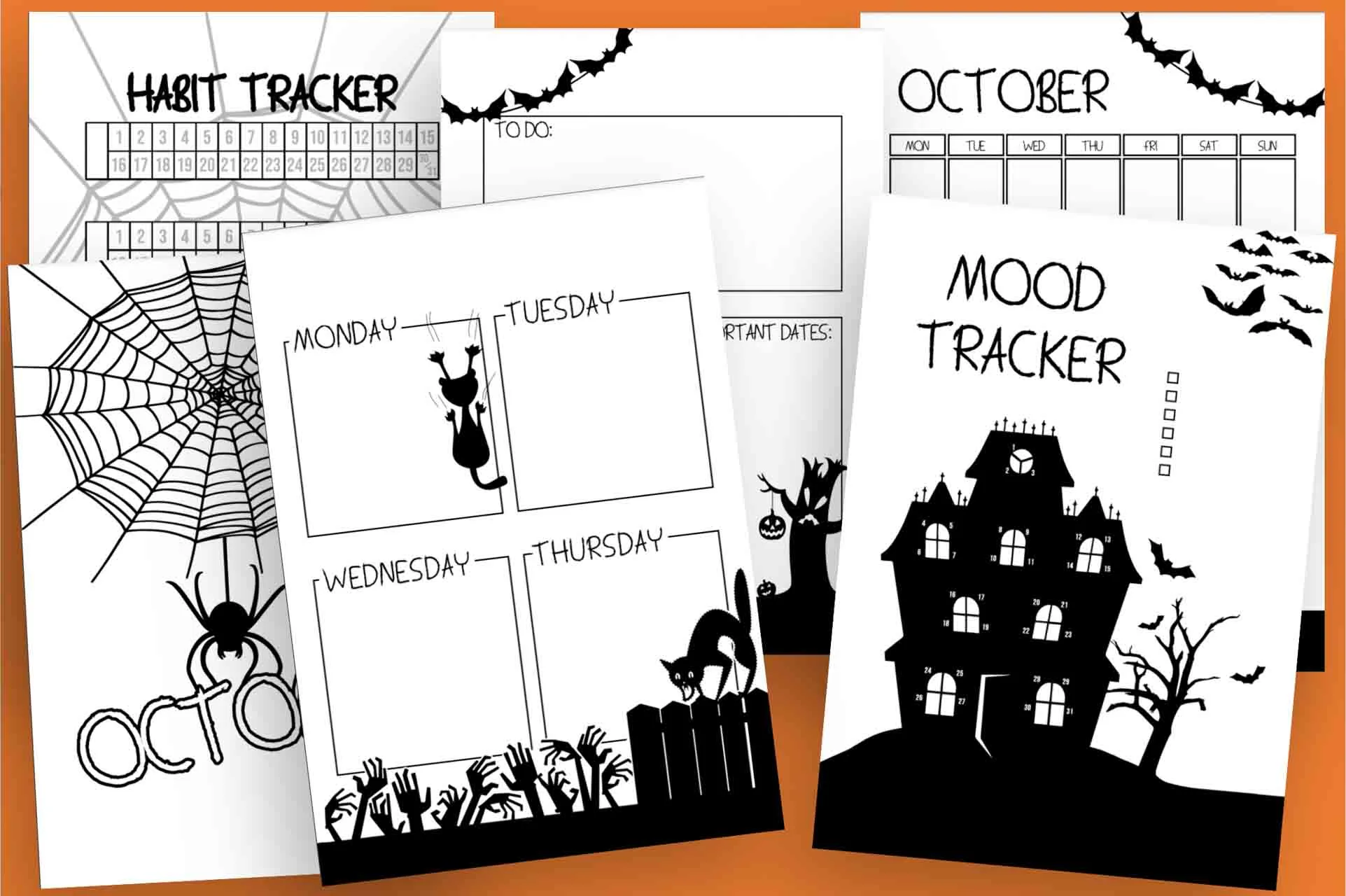 Halloween washi tape or stickers are a fun and easy way to create a fall theme in October. You can also use Halloween stencils if you are a little nervous about doodling, or short on time.
Here are a few of our favorites.
As well as your usual monthly pages, you can add a few really fun and seasonal pages to your October Bullet Journal spread.
Halloween Bucket List
Fall Bucket List
Horror Movie Tracker
Halloween doodle-a-day
Spooky soundtrack playlist
Halloween party planner page
Halloween decoration planner
Trick or Treat Planner
November Bullet Journal Themes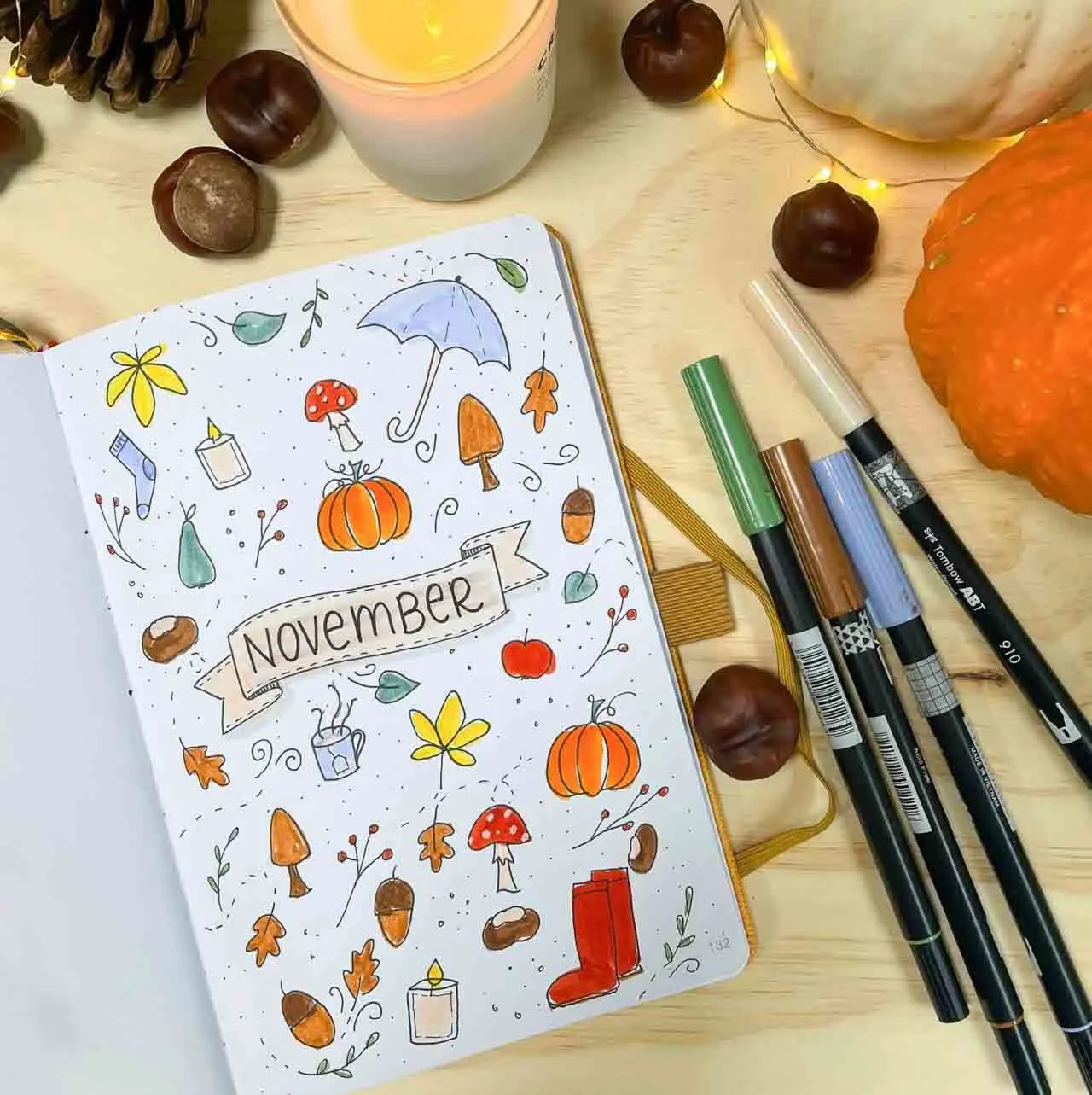 This Fall cover page idea by @birgit_screibt is a fun way to doodle all the things you love about the season.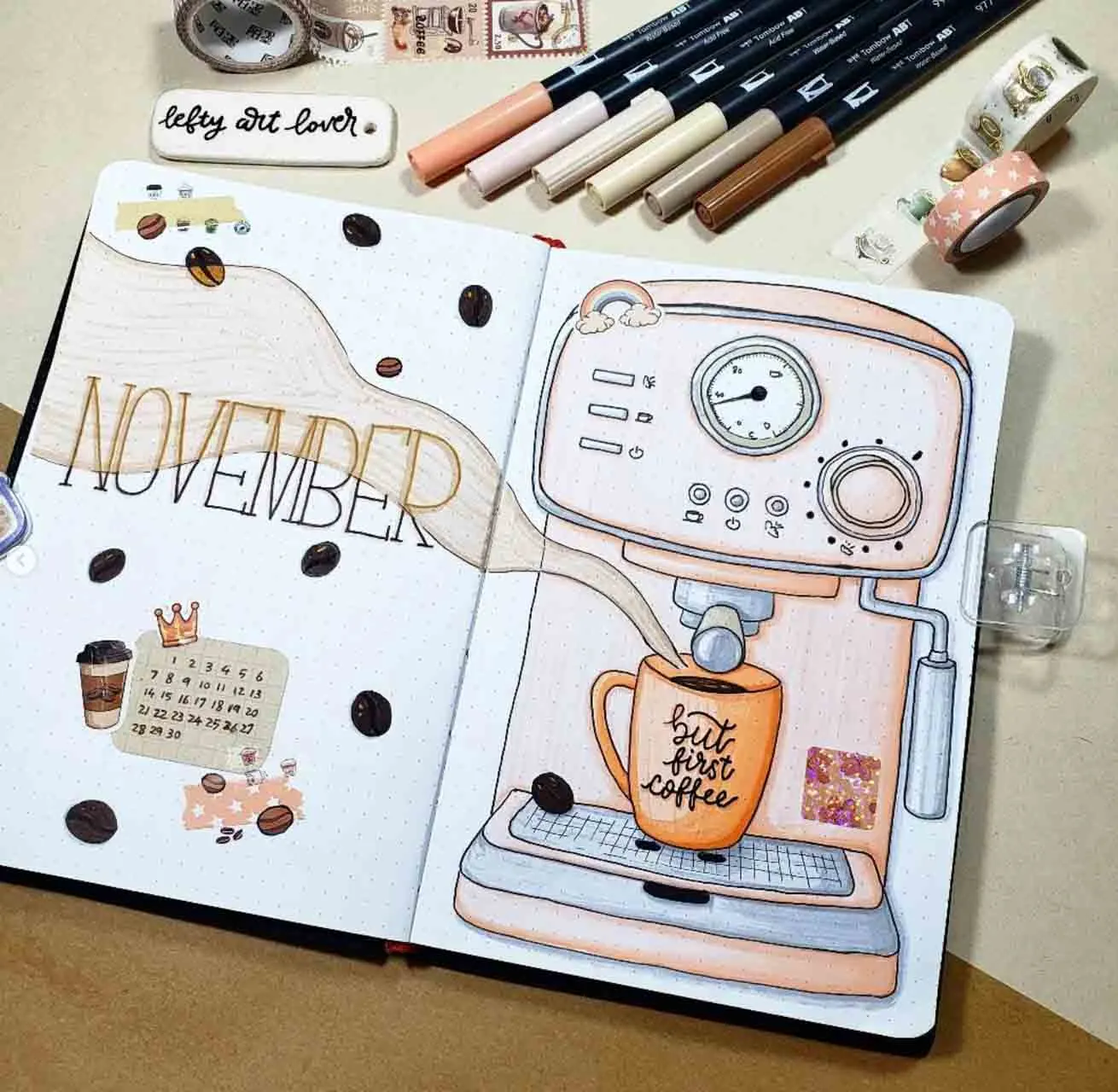 Who doesn't love coffee? and what a fun way to incorporate you love into your Bujo like this cute coffee cover page for fall by @leftartlover.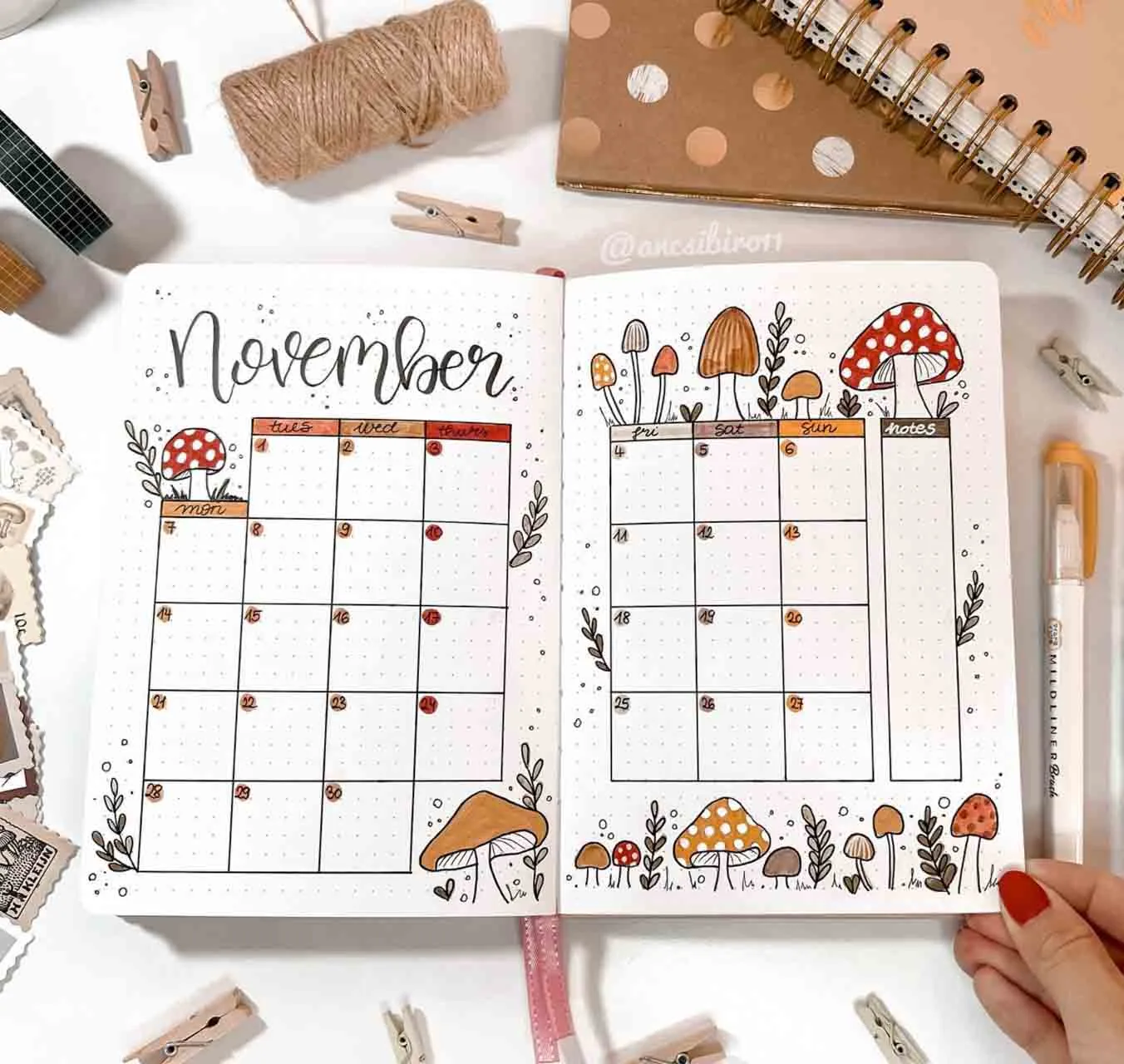 Life can start to get busy in November with Thanksgiving and the Holiday season starting. Make sure you are organized by creating a gorgeous fall monthly calendar page like this cute mushroom theme by @ancsibiro11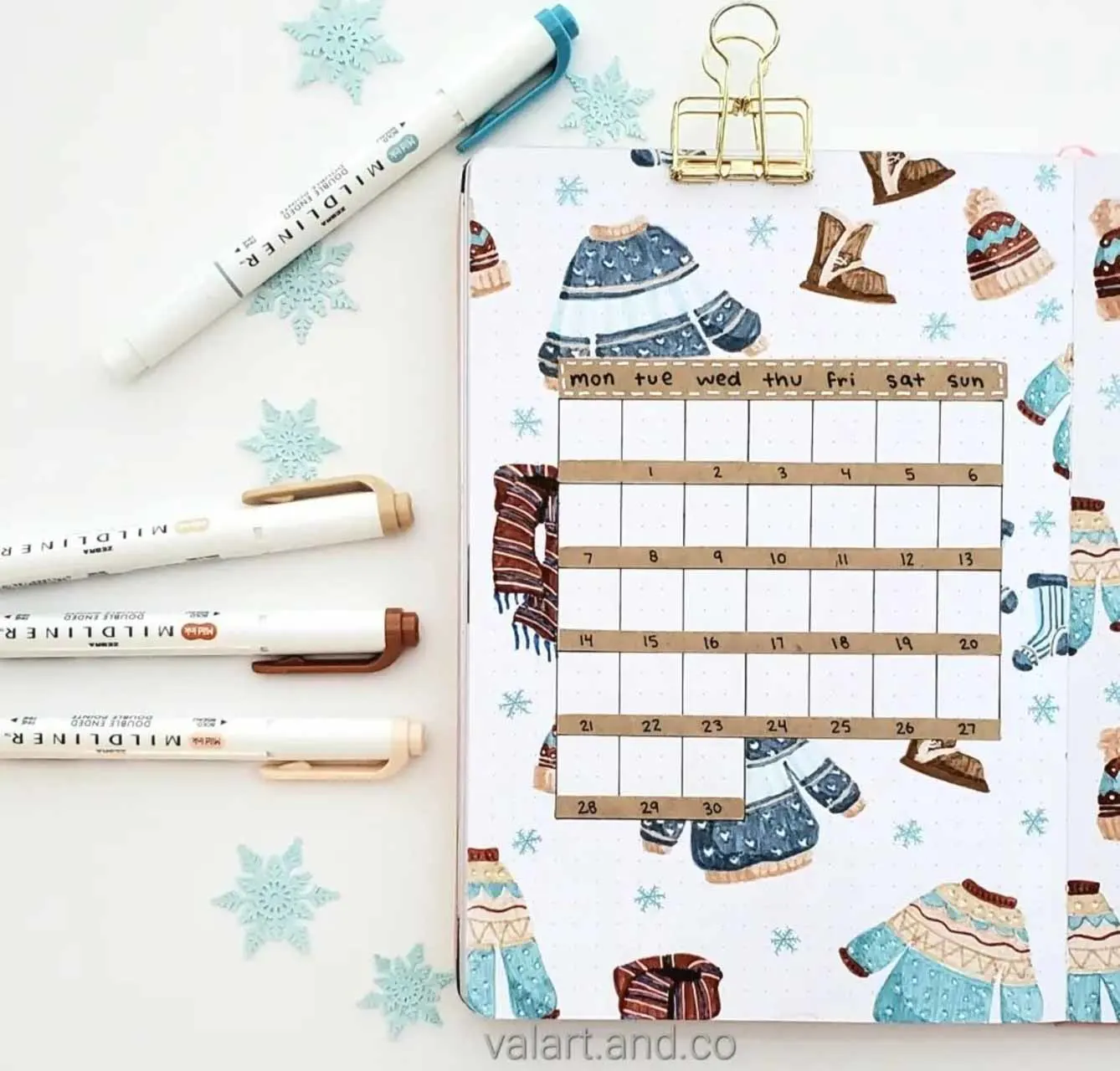 Creating a cozy sweater bullet journal theme is a fun way to add some color and pattern to your autumn bujo pages. We love the colors @valart.and.co has used in this gorgeous fall bullet journal spread.
Bullet Journal Fall Doodles
Fall doodles are a fun and easy way to get creative, make your Bujo pages look amazing as well as an easy way to take a moment to relax and have fun. If you want to try doodling more then check out our huge list of Bullet Journal Doodles.
But here are some easy-to-follow fall doodle tutorials that anyone can do!
Want to fill your pages with cozy and cute fall items then check out these super easy-to-follow Hygge tutorials. The hot chocolate doodle and mittens doodle are some of our favorites.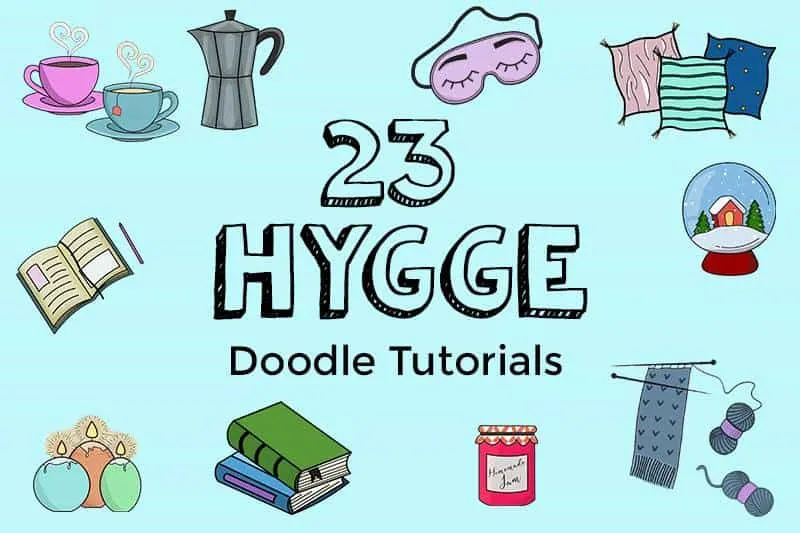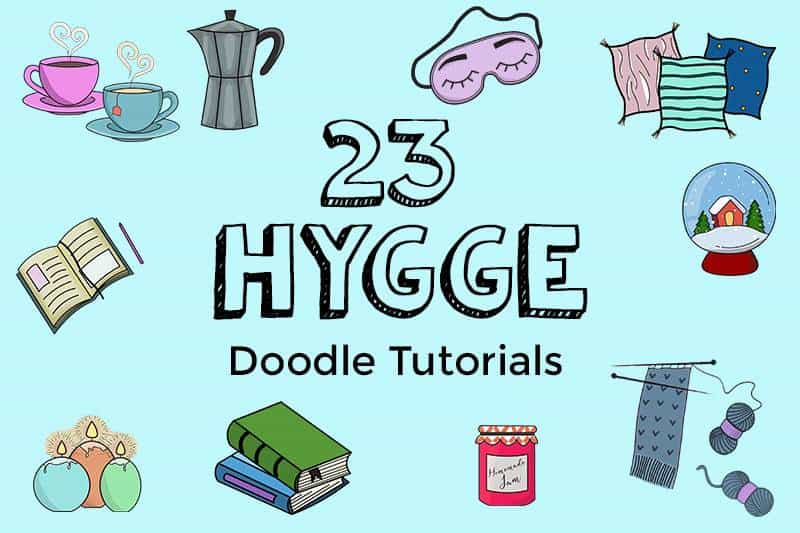 Click here for our Hygge doodle tutorials.
Or try out the whole set of Hygge doodle tutorials with printable sheets HERE.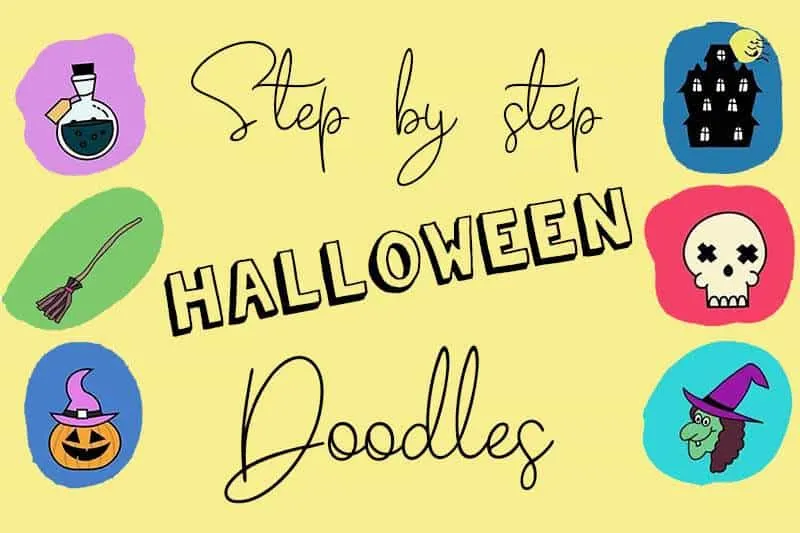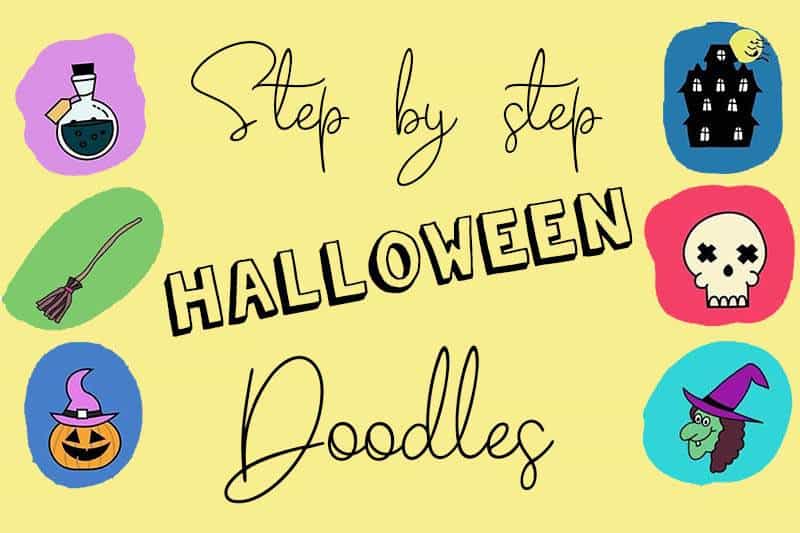 Click to find out how to draw these gorgeous Halloween Doodles.
---
We hope that you have got some amazing new ideas for your own Fall bullet Journal spreads from these ideas. Have fun creating!
PIN FOR LATER!
Bullet Journal Autumn