The Best Bullet Journal Spreads To Get Organized And Productive
It can be a little overwhelming when you start to think about the Bullet Journal spreads you can add to your Bujo.
There are just so many bullet journal ideas out there to choose from.
We have collected a comprehensive list of bullet journal spread ideas that are not only useful but will help you get organized and get stuff done!
Remember you won't need every one of these spreads, and your needs may change even from month to month. Take the time to experiment and also to review every so often what spreads are working for you and your lifestyle.
What is a BUJO spread?
A bullet journal spread is a group of pages that are all about a related topic. They tend to be two pages, where you can get an overview of the whole subject quickly.
Just like with all things bujo, you can make your spreads how you like them and in a way that works best for you. It's all up to you as there is no right or wrong way to bullet journal.
New to Bullet Journaling and need an easy-to-follow bullet journal how-to guide? Click for our step-by-step tutorial for setting up a Bullet Journal.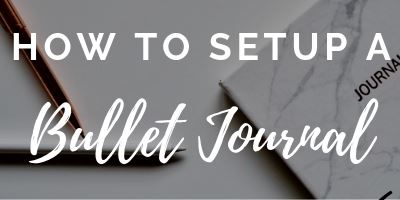 How to select the best bullet journal page ideas
So, how do you pick the right bujo spreads for you?
I honestly think the hardest part of a bullet journal can be starting to create on those blank pages! Don't get overwhelmed trying to figure out what bullet journal layouts. Follow your instincts and ask yourself a few simple questions:
What do I need help with most to make my life better?
Where am I most disorganized?
What are my future goals and dreams?
What do I often forget?
What do I love to spend time doing?
Are there any habits I want to create…or break?
Answering these questions will give you more insight into spreads you may need or want to try.
A few key notes to keep in mind with the bullet journal examples below.
Not every spread is going to work for everyone. The spread that changes your life and you can't live without may be a total failure for me. That's okay. It's why we love the whole concept of bullet journaling, it's so individual.
Experimentation leads to the biggest self-discovery and growth. Try new spreads with an open mind. You may be surprised at what layouts really make a difference even if you were unsure about trying them.
It's okay to take parts of a spread that work and change bits that don't. Create a bujo spread that is perfect for you.
You don't need to be artistic or fancy. If you love getting creative then go nuts with the doodles, themes and washi tape. If you don't that's great too. Try a more simple journal style.
Bullet Journal Spreads
Bullet Journal Future Log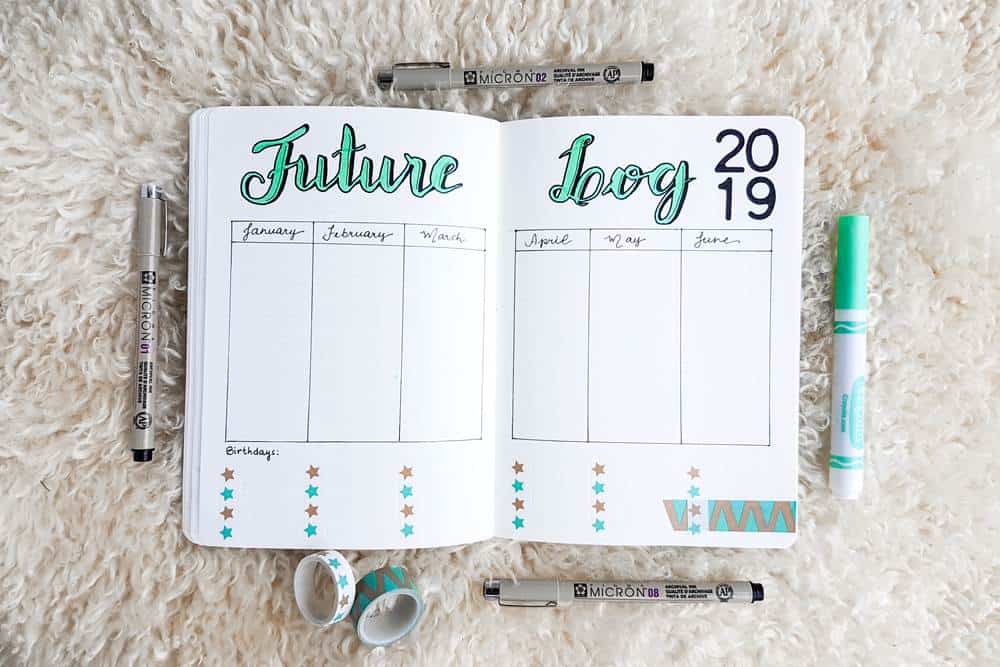 A future log is a great addition to any bullet journal. It is the perfect spread for looking at the year and months in one quick glance. We suggest having this as one of the first spreads to include when you start a new journal. You can think of this as a Bullet journal yearly spread if it helps you think of items you will want to include.
Bullet Journal future log ideas:
Birthdays & anniversaries
School vacations
Public holidays
School Appointments
Work meetings
Other appointments like health checks
Travels
Get ideas for your Future Log here.
Bullet Journal Goals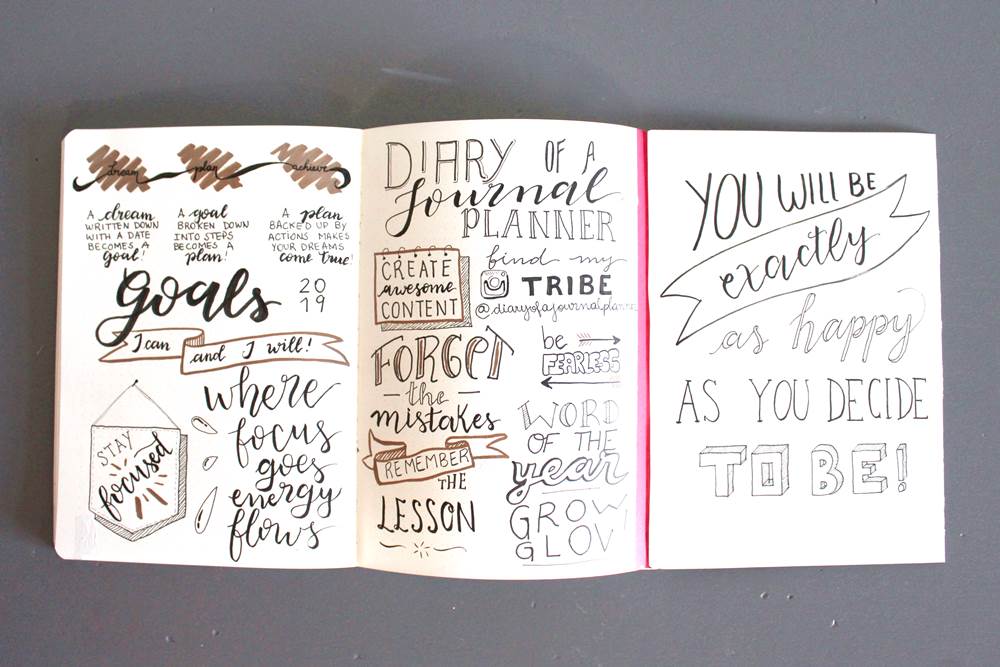 Setting goals is such an important way to grow and better ourselves. They can be hard to follow through with though. Luckily the Bullet Journal system is one of the best ways to keep track of those goals and work towards them.
Bullet Journal Spread Ideas:
Create a vision board spread
Create spreads for each important goal you have and have a tracker to keep accountability. We share more tracker ideas later in the post
Learn how to set goals with a Bullet Journal here.
Bullet Journal Monthly Spread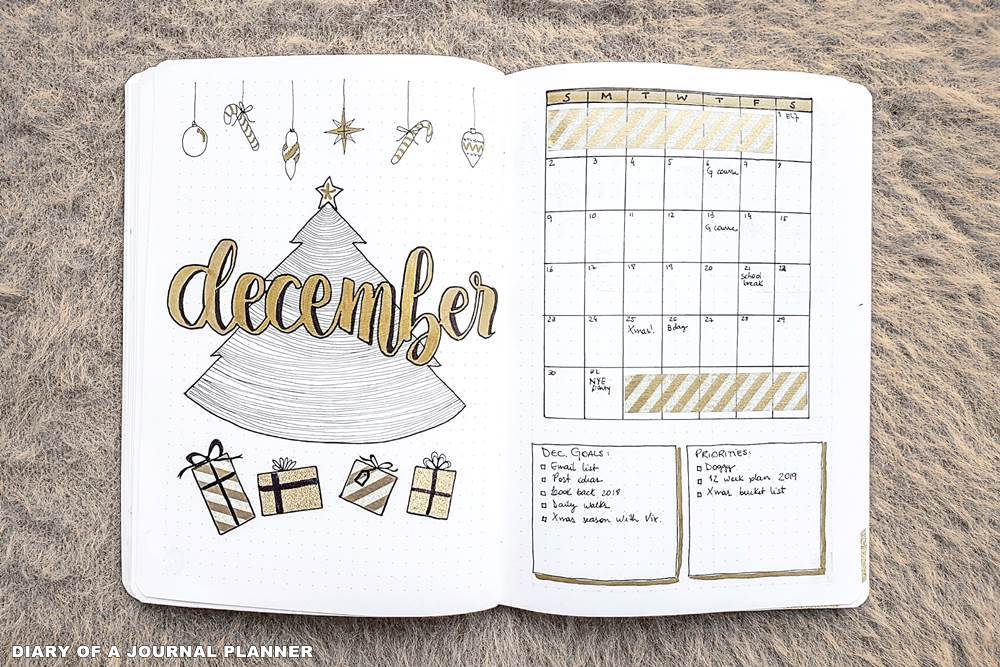 A monthly spread is a kind of like a bullet journal calendar. Here you can put all the important monthly details in a simple to browse layout.
Bullet Journal monthly spread ideas:
A monthly cover page if you love following themes or like to separate your months clearly in your journal.
Goals you have for the month
Appointments
Habit Trackers
Bill or direct debit payments due
Tasks list
Inspirational quote or focus for the month
Month calendar
Birthdays and other special dates
Try these monthly spreads for inspiration.
Bullet Journal Weekly Spread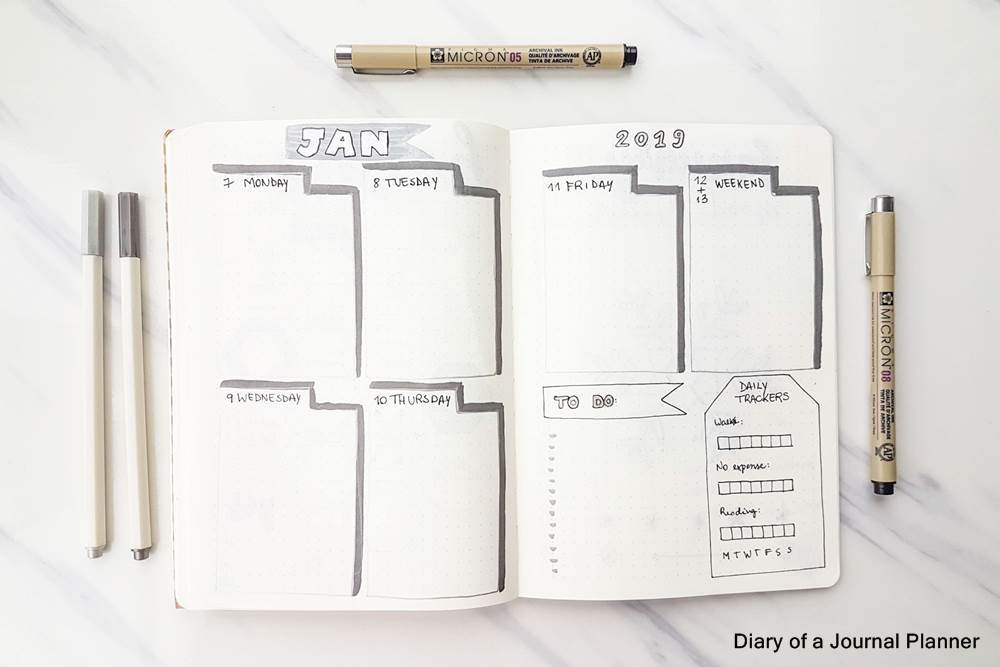 A weekly is more detailed than your monthly spread. It lets you organize your whole week in one simple-to-read layout.
Bullet Journal weekly spread ideas:
Space for detailed daily notes
Weekly goals
Weekly chores or tasks
Appointments
Habit trackers
Remember to transfer all those important dates from your future log and monthly into your weekly spread
Leave space for notes and thoughts
You can even track the weather or other things that are important to you
Weekly spread ideas to try.
Bullet Journal Daily Log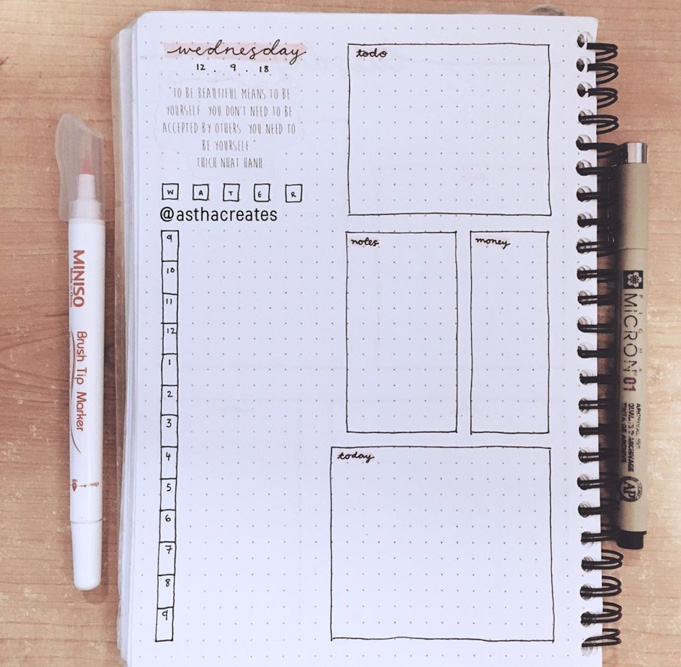 A Bullet Journal daily like this example from @asthacreates is ideal if you need to record or keep track of lots of things daily. This could be for work or in your personal life, or even to keep track of all those activities your kids do.
Ideas for a Bullet Journal daily spread:
Appointments
Hourly breakdown of the day
A place to record your ideal day ( then try to see how you can make your day just that!)
Daily goals, or steps you need to take towards your goal
Need help? Check out more on daily spreads for Bullet Journal here.
Bullet Journal Tracker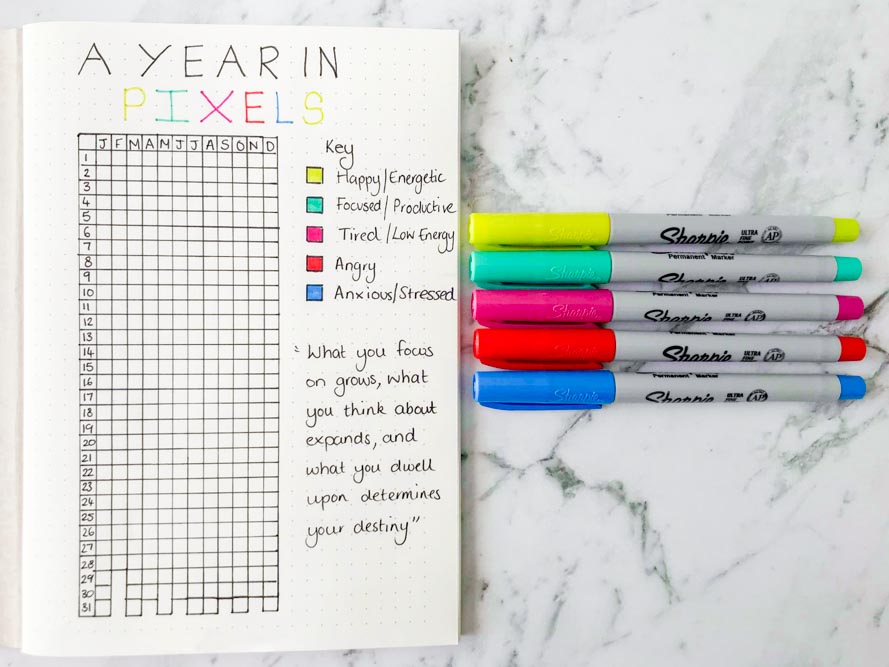 As you have seen from the previous bujo spread examples you can add habit trackers easily to daily, weekly and monthly spreads but you can also create tracker spreads in individual layouts. I think this is a great way to really keep track of your habits and progress. You can track anything you want but here are some ideas, just click on each item to find out more.
Bullet Journal tracker ideas:
We show you how to use a habit tracker here.
Bullet Journal Budget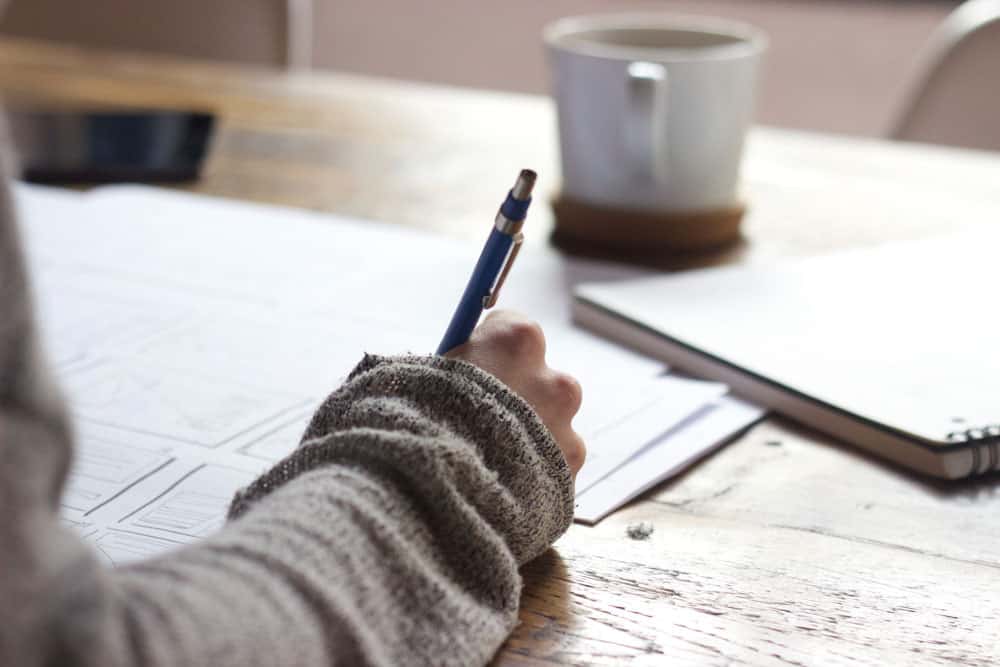 Creating some kind of financial spread is a great idea. Money can be a big block for some of us. We may not have any idea of our actual outcomings and incomings which means we have no control of spendings or savings. Get on top of your finances and financial health with some simple bujo spreads.
Some ideas for finance spreads are:
Bullet journal spending tracker
Budget
Bullet journal expense tracker
Dream board with images of what you want to achieve
There are more Bullet Journal budget and finance layout ideas here.
Bullet Journal Spreads For Mental Health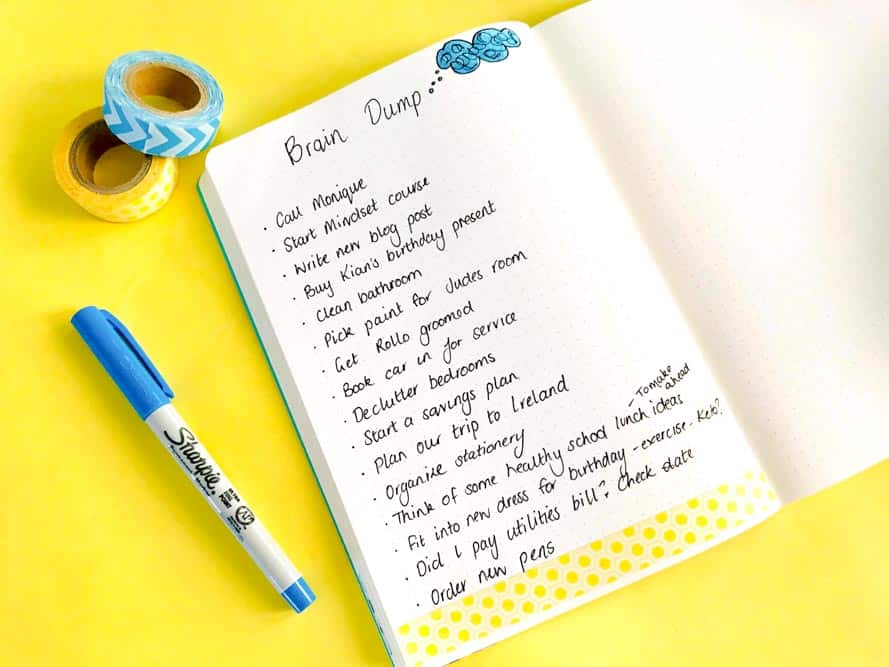 A bullet journal is a fantastic tool for mental health wellness. There are lots of spreads you can create to keep track of your mental health as well as bujo habits you can practice to help mindfulness as well as relaxation.
Bullet Journal Organization Spread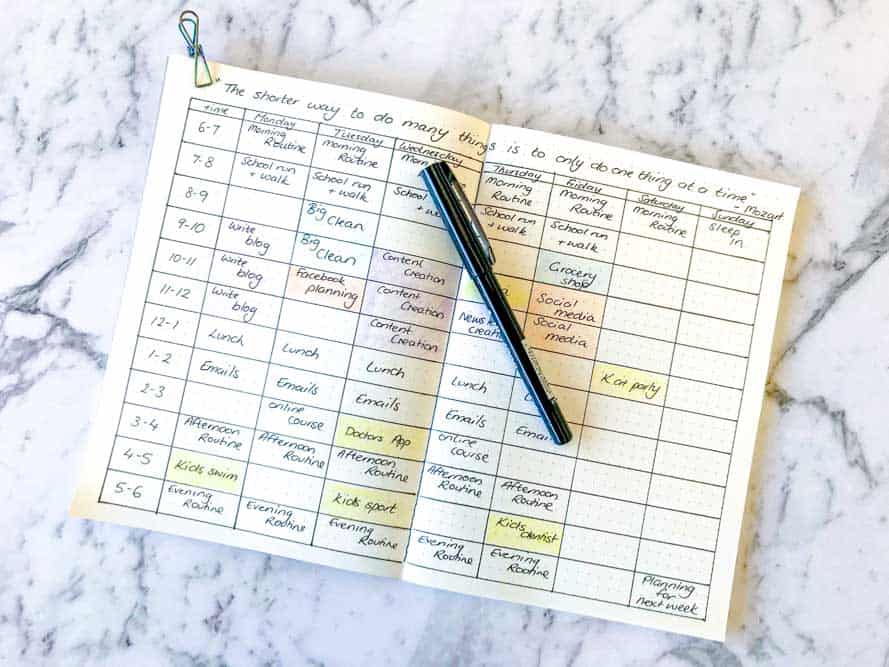 At their core most bullet journal spreads get you organized but if you want to step up your productivity a notch further why not try a time-blocking spread?
Discover how to create the perfect productivity spread here.
Bullet Journal Health Spreads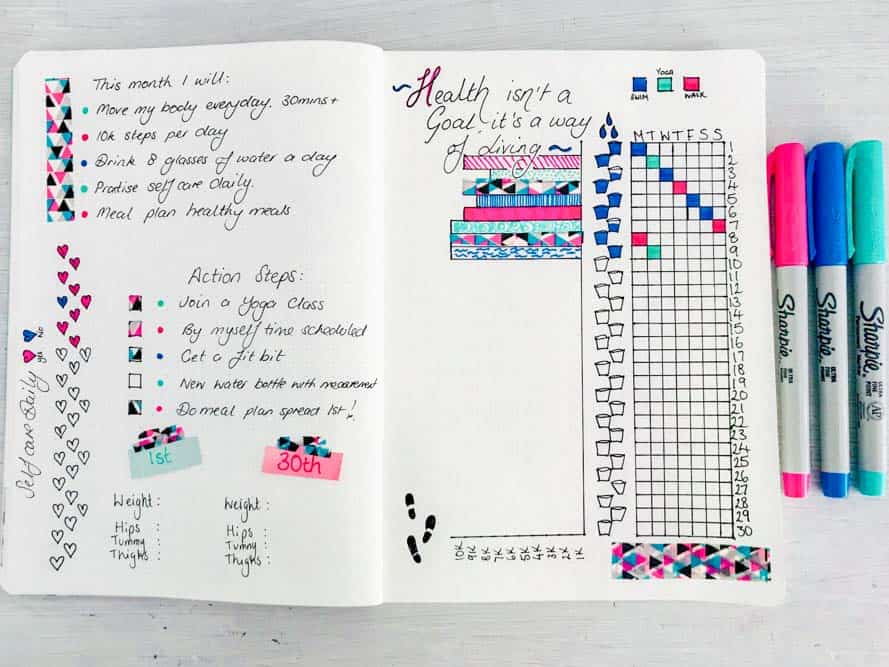 Everyone wants to be happy and healthy. No matter what your personal health goals are you can create health spreads that will help you work towards them. Click on each spread in the below list to find out more.
Health spread ideas:
Bullet Journal Meal Plan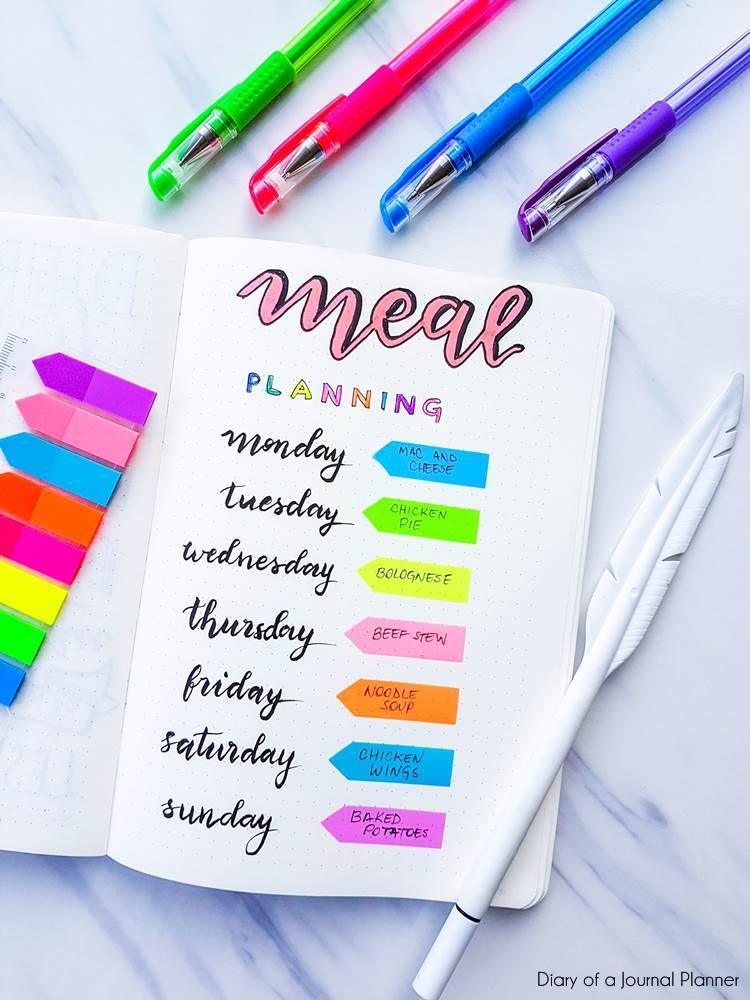 A meal plan spread is brilliant if you want to stay healthy and save money! You may be surprised at just how much time and effort this simple spread can save you. You can include meals, shopping lists, and more.
How to use a meal planning spread.
Bullet Journal Birthdays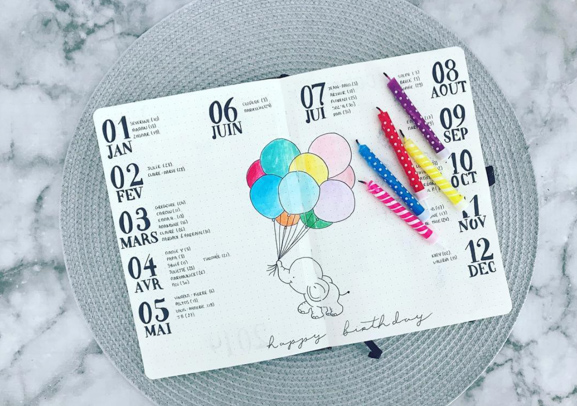 A birthday spread is a great idea to make sure you never forget all those important dates. Find this gorgeous layout from @lfs_bujo and more in the post below.
Bullet Journal Cleaning Spreads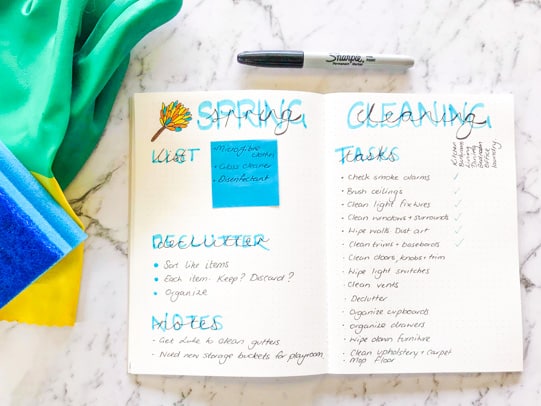 Don't let the housework get on top of you. With a simple cleaning spread, it is easy to get all those household chores done and have a comfortable and welcoming home.
Find out how to create the best cleaning spread here.
Bullet Journal Supplies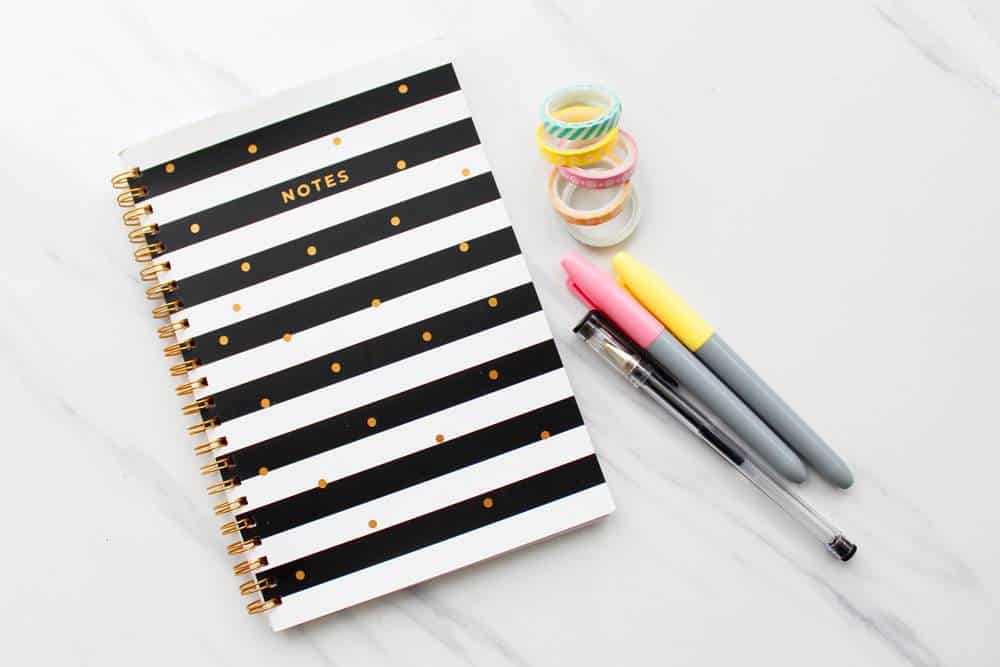 The best thing about all these spreads is that you don't need a whole lot of special bullet journal stationery. The most basic supplies you will need is a good quality journaland a great pen.
Find out our favorite supplies here:
---
Are you ready to try these Bullet Journal spreads?
I really recommend giving each one at least one attempt to see if it helps you.
Be sure to create a habit of using your spreads as this is the best way to make them work for you. I love to sit down after a busy day with a hot drink and go through my day and plan for the next, but you need to find a routine that works for you.
Happy journaling!
Bullet Journal Decoration To Make Your Spreads Look Amazing
PIN FOR LATER!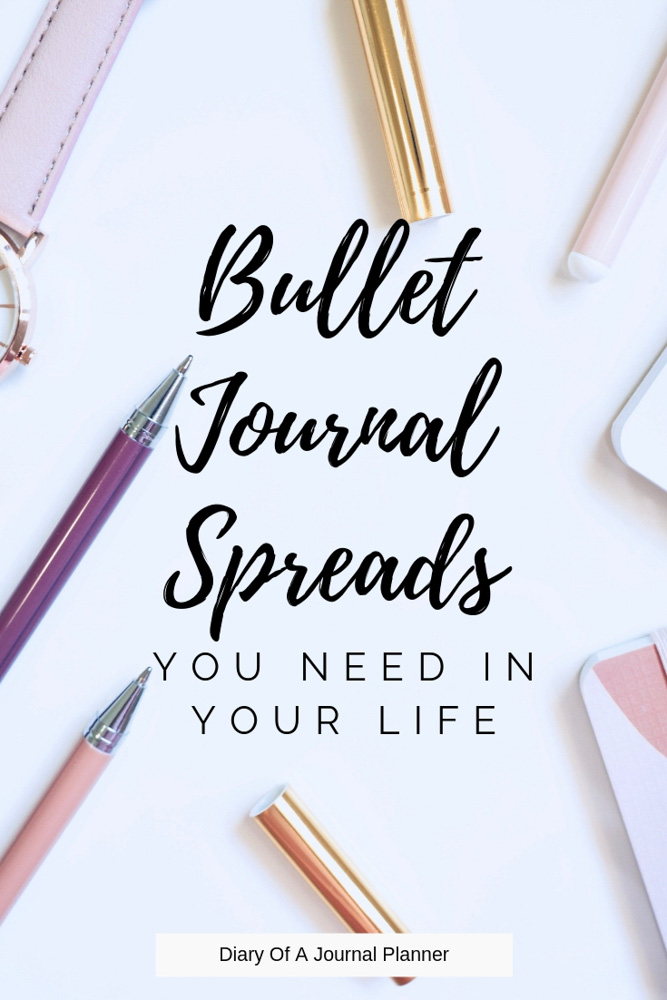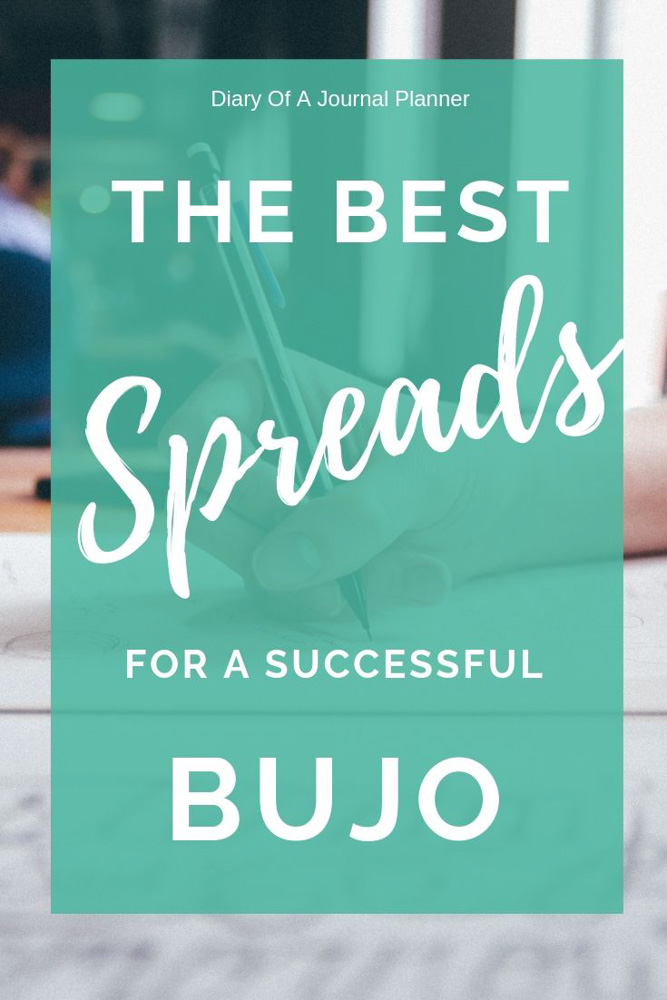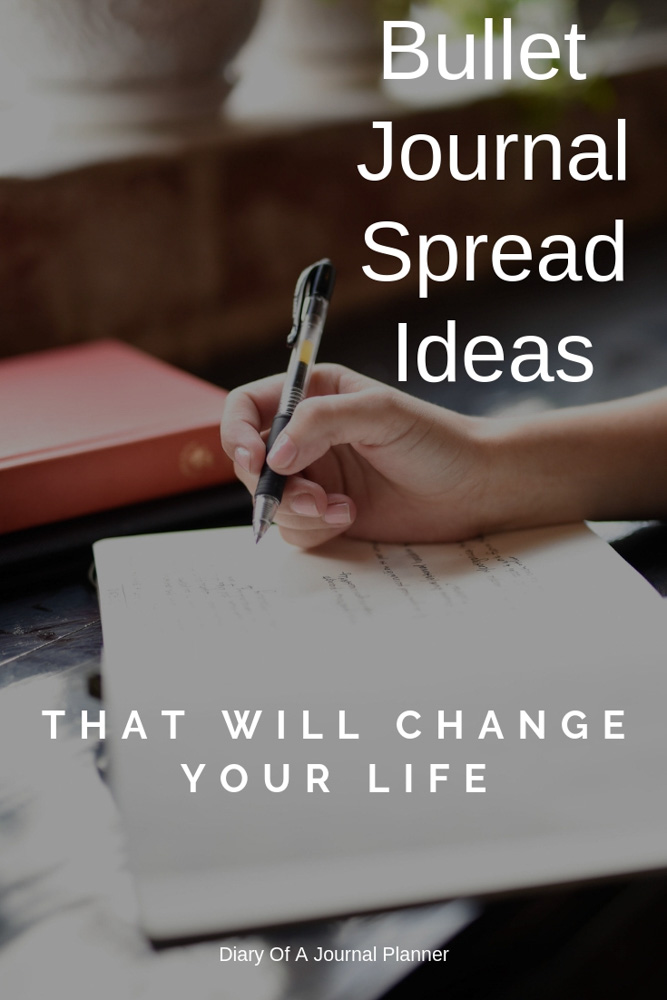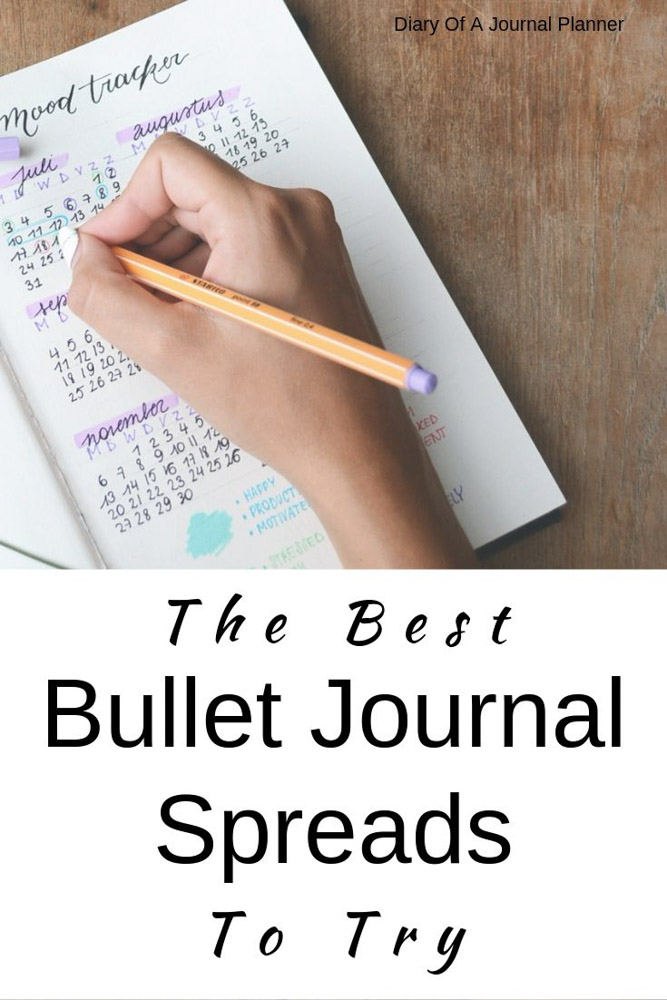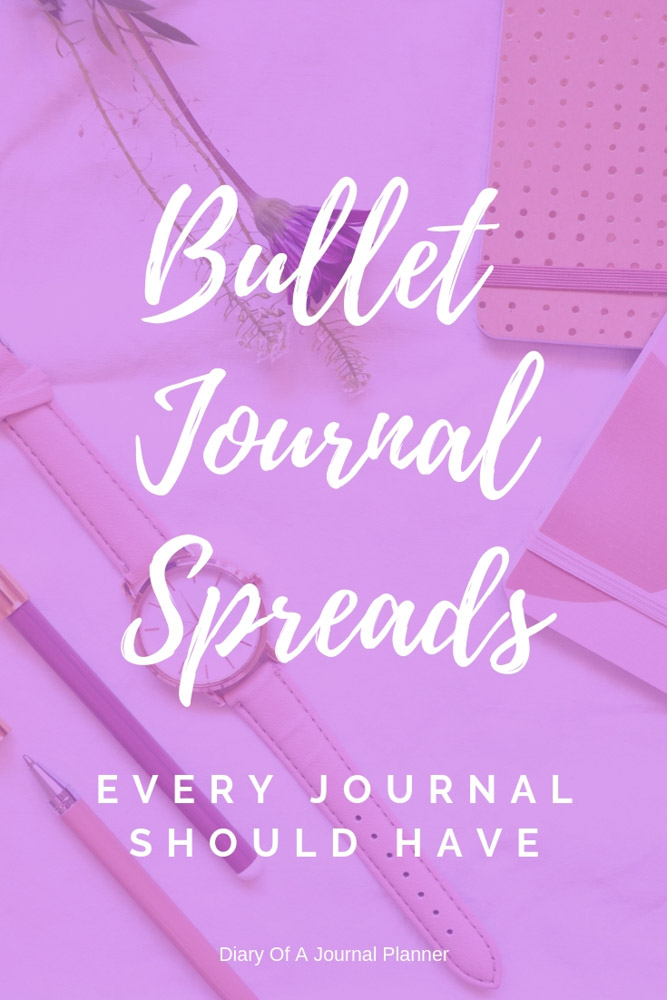 The Bullet Journal spreads everyone should have in their Bullet Journal Setup