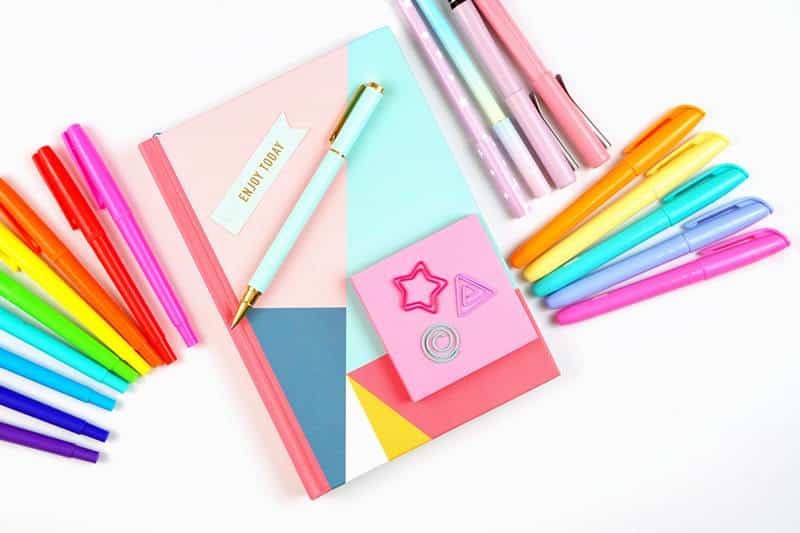 Bullet Journal FAQ
This bullet journal 101 post is here to answer all your questions about the bullet journal system, the supplies, and how to use it effectively! Each bullet journal Q&A below addresses a specific question that our readers (particularly beginners) may have about the bujo system.
The Bullet Journal trend has been a while for a little while now but because it is so effective it is here to stay. However, if you are totally new to the concept you may have hundreds of questions about how it all works.
Bullet Journal is not that complicate to understand but it is so very different from everything else you might have known about planning. I know that can lead to massive overwhelm and which may stops you from using and finding the benefits of the system.
While I do have all the information you need to successfully start a bullet journal in our guide post, this post is designed to answer specific questions that we get all the time about the bullet journal system from our readers. These are easy to scan to help you find the question may have.
We will try to give you the most summarize answer but in some cases that particular question may need more information so we will link to other resources where you can find the complete answer!
If we haven't addressed a question below please feel free to comment in the bottom of the post and we will update this post as soon as we can!
So let's get started with our Bullet Journal Q&A.
Bullet Journal Q&A
Here are the most frequently asked questions about bullet journal that we see our readers asking often.
I have tried to combine similar questions in groups so we have questions related to the bujo system, supplies and inspiration.
Use the table of contents here to get to your specific question (click to expand the table of content):
Questions about the Bullet Journal System
What is a Bullet Journal?
A Bullet Journal is a planning system created by Ryder Carroll that uses a specific set of pages, bullets and symbols to help you "track the past, organize the present, and plan for the future." The bullets and symbols (called 'bullet journal keys') allow for rapid logging which means you can track your planning entries much faster than if you had to write it.
Why is a bullet Journal called a bullet Journal?
The system use a set of keys (symbols) that give significance to a particular journal entry. This system is called Bullet Journal because you use the 'bullet point' symbol to add task entries on your journal.
So every time you add a task on one of your planning pages you put a bullet point in front of it. When the task is done you change that bullet to another symbol that signifies that the task has been completed.
What do you put in a Bullet Journal?
The system has a set of specific pages to add on your journal, these pages are called collections. Here are what sections to include in your Bullet Journal:
The customizable collections can be anything you currently need to track in your journal, here are a few ideas on what type of pages you can add to your bullet journal:
And many, many others, you can see our full list of ideas here!
How do I start bullet journaling?
You start a bullet journal by adding the first planning pages to your notebook, following the system to add the tasks. These are the general spreads you start with:
On my bullet journal setup post I walk you through what you should write in a bullet journal for beginners.
Can I start a Bullet Journal in the middle of the year?
Yes. There is no specific date for when to start a bullet journal. You can start at any time of the year. It doesn't even have to be in the beginning of any month. Any day is fine!
When setting your future log on your notebook just start from the day you start bullet journaling.
What should be on the first page of a journal?
It can be anything. I like to start with a quote or word of the year, something to remind me of my long term plans. Here are more ideas though:
Word of the year
Affirmation words
A photograph
A sketch of your future self (things you want to achieve this this year)
Contact details in case you lose your notebook
Which is more effective the bullet journal system or a planner?
The bullet journal system is beyond a planning system. Not only you can plan using your bullet journal but you can track tasks and eliminate un-necessary time wasting activities that decrease your productivity. A planner has less flexibility for that. For this reason I believe that a bullet journal is more effective than a planner.
Does bullet journaling help with anxiety?
The bullet journal can assist you with mental health and anxiety. You can use it as a creative outlet which may help reduce anxiety and stress levels. You can also use it to track your mood. The system is designed in a way that it can become whatever you need it to become due to the flexibility of adding customizable pages.
For more ideas on how to use a bullet journal to help your with mental health check this post here.
Question about bullet journal supplies
What are the must have bullet journal supplies?
You only need a notebook and a pen to start a bullet journal, I use a smooth writing fineliner with an ink that dries fast. The more artistic bullet journal enthusiasts might have several type of pens and tools but these are not needed and I do not recommend you to start with too many tools.
Eventually, if you feel the need, you can add more pens and accessories.
What is the best bullet Journal? What journal should I buy for a bullet journal?
Here is the best seller journal notebook that is fairly priced and offers good quality paper. Other good quality journals are Leuchtturm1917, Scribbles That Matter, Archer & Olive, Dingbats and Lemome.
How many pages should a Bullet Journal have?
There is specific amount of pages for bullet journal notebook. It can be done with a 80-page journal or a 240-page one. Beginners setting their first bullet journal will be able to eventually access what notebook works better for them. I always recommend you to start with an affordable notebook and change as needed in time.
Does a bullet journal have to have dots?
No. A dotted notebook is one of the most popular notebooks for bullet journal but you don't necessarily need to use one. The word 'bullet' in bullet journal refers to the bullet journal keys and not the journal type.
Can you use a regular notebook for bullet journaling?
Yes, any notebook is fine for bullet journaling. You can use either dotted, lined, blank or graph paper notebook.
What size should a bullet journal be?
Although the most popular notebook size for bullet journaling is the A5 size you can use whatever size of notebook you are most comfortable with. There are dot grid options available for A4 and B6 sizes too.
What is the best notebook to use for bullet journaling?
It makes a lot of sense to use a dot grid notebook for bullet journal as it simply helps you add the keys to the page and follow the general guidelines of the system. However you can adapt the system to any notebook (ruled, blank, graph paper etc).
Can you use a sketchbook as a bullet Journal?
Yes, a sketch book is perfect specially if you like to water color or decorate with colored markers because those pages are thicker than the average notebook.
What stores have bullet journals?
You can buy an inexpensive bullet journal notebook on Amazon, Walmart, Michaels, target and several other stores.
Which bullet journal has the thickest paper?
Bullet journals with paper thickness over 120gsm are considered thick paper journals.
Scrivwell and Lemome have journals with 120gsm paper, Vivid Scribbles has a journal with 140gsm and Archer and Olive offers notebooks with 160gsm.
Which pen for bullet journal?
Any pen works for bullet journaling but the most popular kind are the dry fast ink fine-liners such as Sakura Pigma Micron, Staedtler Pigment Liner and Faber-Castell Pitt Black.
You can see all my fave pens here.
What is dot grid journaling?
Dot grid journaling is just basically journaling on a dotted notebook. It can be similar or different from bullet journaling system.
Bullet Journal inspiration questions
Where can I find bullet journal inspiration?
You can find plenty of inspiration on bullet journal blogs, YouTube channels, Pinterest and Instagram.
How do you keep and finish a successful bullet journal?
My top tips to stick to bullet journaling is:
Create a habit of logging every day (set an alarm if needed)
Start small and minimalist to avoid beginner's overwhelm
Let go of perfection and embrace mistakes (don't try to compare yourself with instagram influencers)
Don't be afraid of changing things up and make it your own. For instance, if you don't see value in indexing, skip that!
Can I bullet Journal if I am not creative?
Yes. It is wrong to assume that you need to be creative to start a bullet journal. In fact, the original system itself is fairly clean and minimalist. You don't need fancy headers, doodles or anything like that if that isn't you!
How do I setup a minimalist bullet journal?
It is easier than you may think as a minimal journal follows the bullet journal system closer to its original format. If you don't add any decoration to your pages they are by default minimalist but if you like the pretty aesthetic but not over the top spreads you can check here for some bullet journal ideas that are basic and minimal.
How can I learn handlettering for bullet journaling?
Anyone can learn handlettering and it is no different whether you use it for bullet journal or something else. Hand lettering requires practice but it is not so complicate as you may think. You can check here for many easy ideas of hand-lettering fonts for your bullet journal.
---
More bullet journaling posts:
PIN FOR LATER!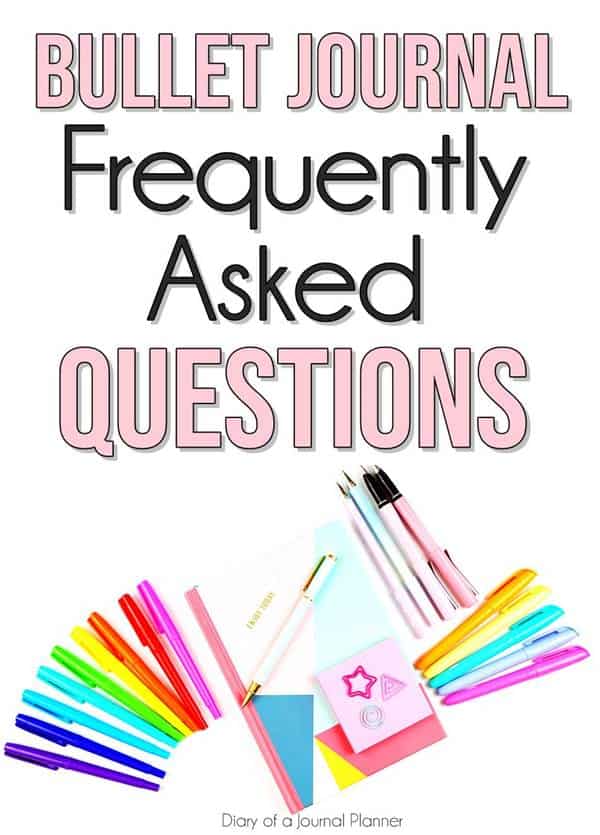 Bullet Journal 101