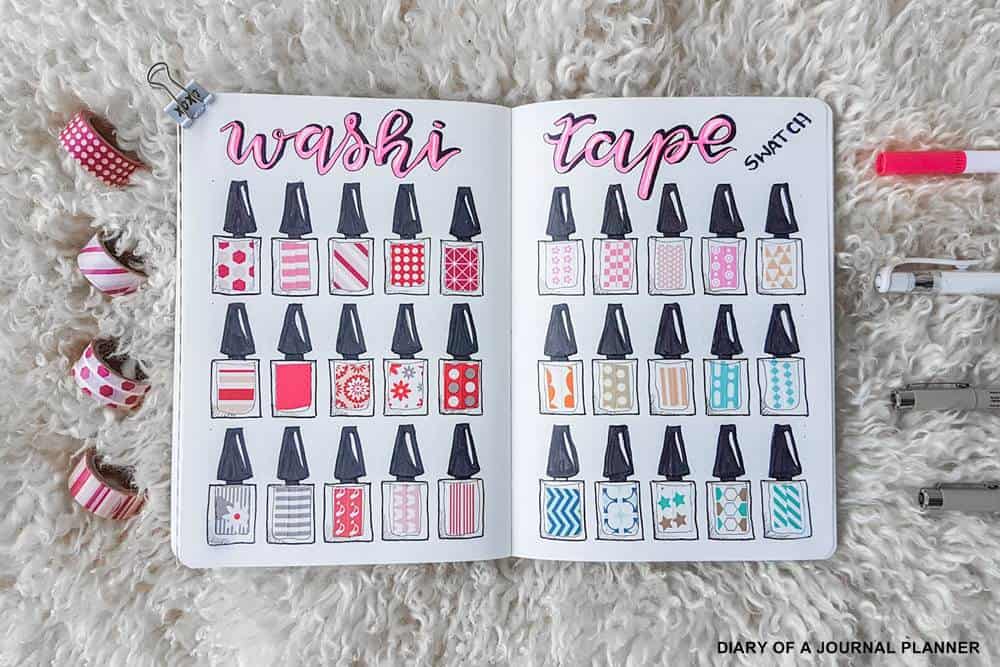 Bullet Journal Swatches
Find out how to make your own cute washi tape swatch and keep track of your washi tape collection.
If you have a large washi tape collection like me, you will find that a bullet journal washi tape swatch or sample page is a must!
A washi swatch is a small piece of washi tape that is taken to represent the larger washi tape roll. A small sample taken from your existing rolls can assist you in designing your bullet journal and putting together matching designs.
This spread becomes very important when you have a larger collection of tapes that are stored away.
A washi tape swatch is also a very fun bullet journal washi project to make. Who doesn't love playing with washi?
I am a huge fan of stationery (surprise!) and nail polishes. So I decided to make a washi tape sample page using nail polish bottles.
Keep reading for the step-by-step washi tape tutorial to make these washi tapes swatches in your bujo too.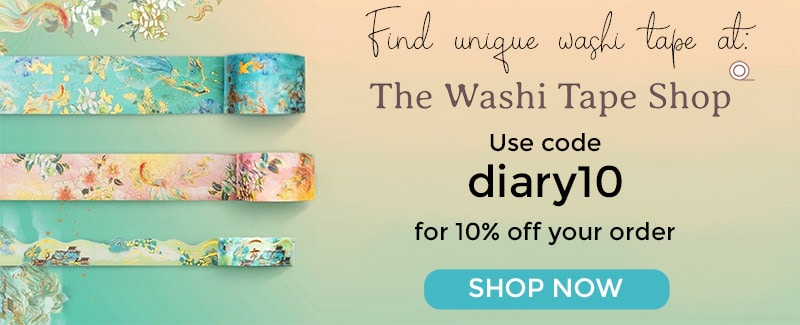 How to Make a Bullet Journal Washi Tape Swatch
You can make a tape swatch in any form you like, just strips of tape will do. But, if you enjoy the artistic side of bullet journaling you can follow my tutorial to make a nail polish swatch for washies.
What do you need for this project:
I started by doodling one nail polish bottle to check how it would fit on my bullet journal page.
Here is the step by step nail polish bottle doodle tutorial: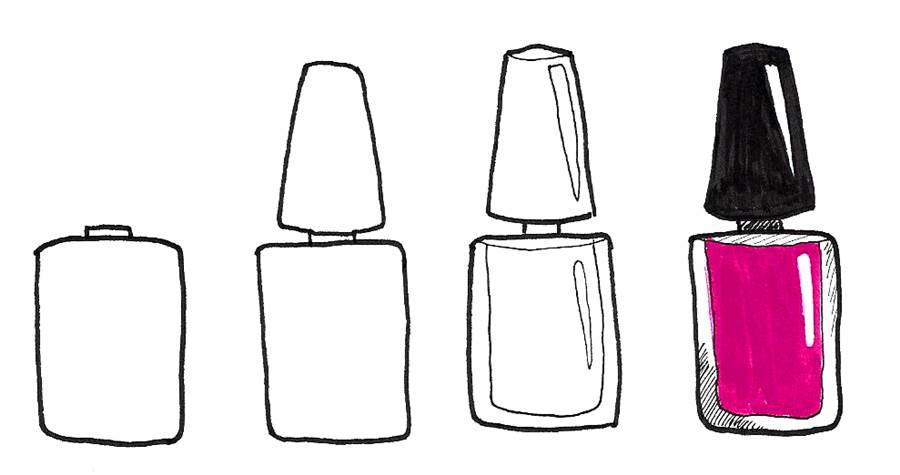 Love doodling? Check out all my doodle posts here!
I measured roughly how they would fit in my journal and I was able to add 30 nail polish bottles to my open A5 notebook using 2 pages. Each bottle doodle took about 4 square grids in width and 9 square grids in height, producing 3 rows of 5 bottles per page.
So I counted from the bottom of the page the space that my 3 rows of washi tapes would need before I started doodling. This was necessary for symmetry and also to make sure I had the header space where later I was going to add my swatch header.
The first step for how to draw a nail polish bottle was to draw one bottle and see how it looked complete. I tested one washi tape in the middle too.
Once I was satisfied with how it would look I went ahead and doodled all 30 bottles using my Sakura Pigma Micron #08.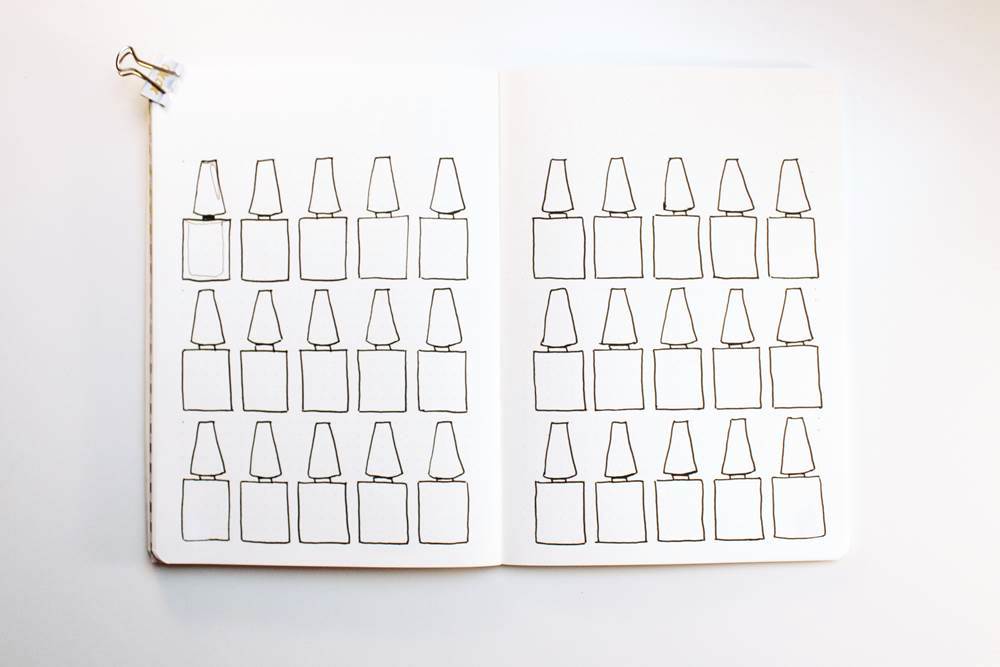 Next, I added the washi tape in the middle.
Note that, just as I did in the nail polish bottle doodles, I didn't fill the bottle entirely with the washi swatch. I left the edges of the bottle free so I can doodle around it and make the same glass effect that real nail polish bottles have.
It was roughly the exact size for my 10mm washi tapes. However, when adding my skinny tapes I had to add 2 strips side by side to fill in the bottle space.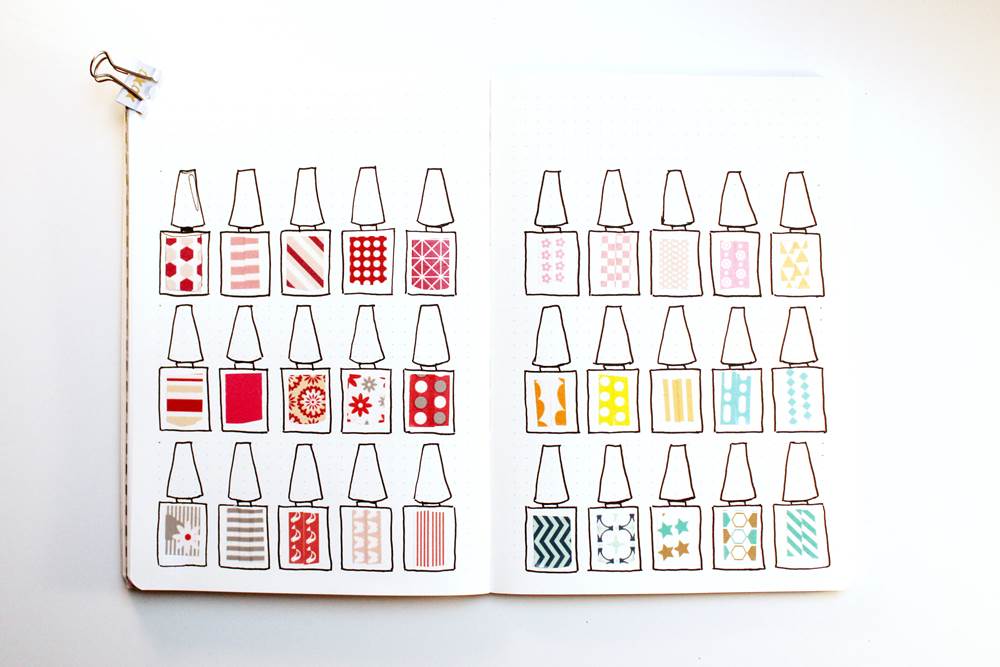 Now it was time to finish the doodle and color the bottle cap. The little doodle details and shades were made with my Sakura Pigma Micron #005 and the cap was painted with the Sakura Pigma Micron Brush pen.
I love these pens, they have archival ink and don't bleed or ghost in your journal. For more information about my favorite pens check out the post below.
The next step was adding the header, I have been practicing my brush lettering and I am super happy with how it turned out. I added some shades to the header and used the white gel pen to decorate.
This is how my bullet journal page for washi tape swatches turned out at the end!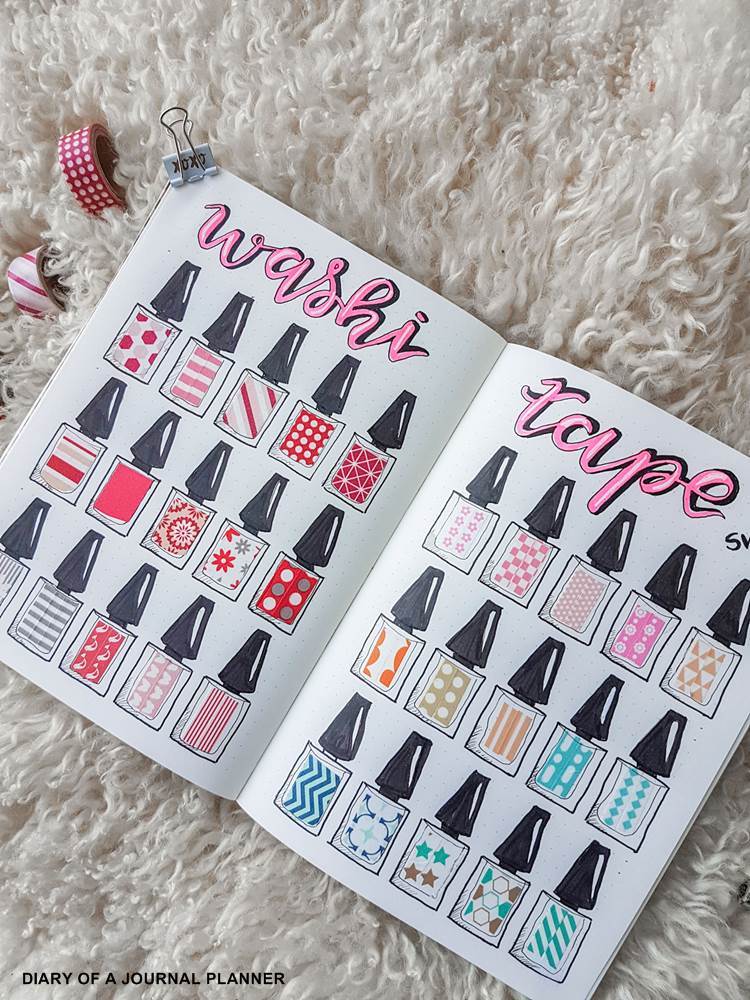 If you have a lot more washi tape than 30 you can have more pages. You could change the design for every page and try different washi swatch doodles ideas, such as gift tags, banners, gift boxes etc.
Or you could also add thematic washi tape collections for every month using the latest washi you are into at the moment.
There are so many washi tape swatch ideas, just let your creativity flow.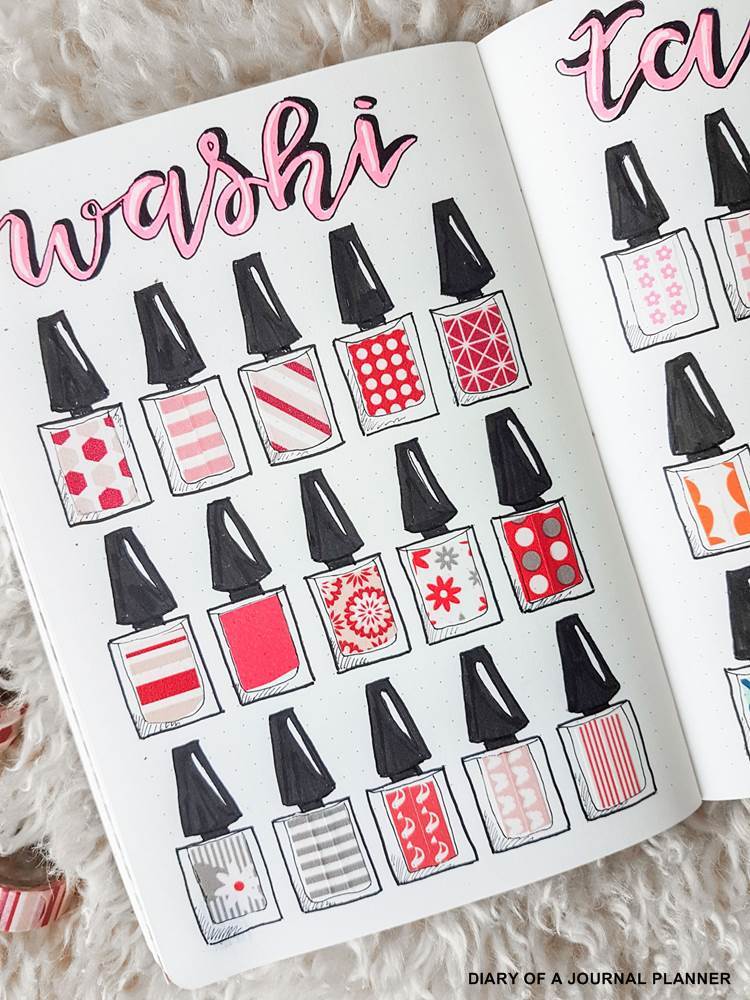 ---
What do you think about this page? Do you also have a washi tape swatch in your bullet journal?
More Bujo Doodles To Try
PIN FOR LATER!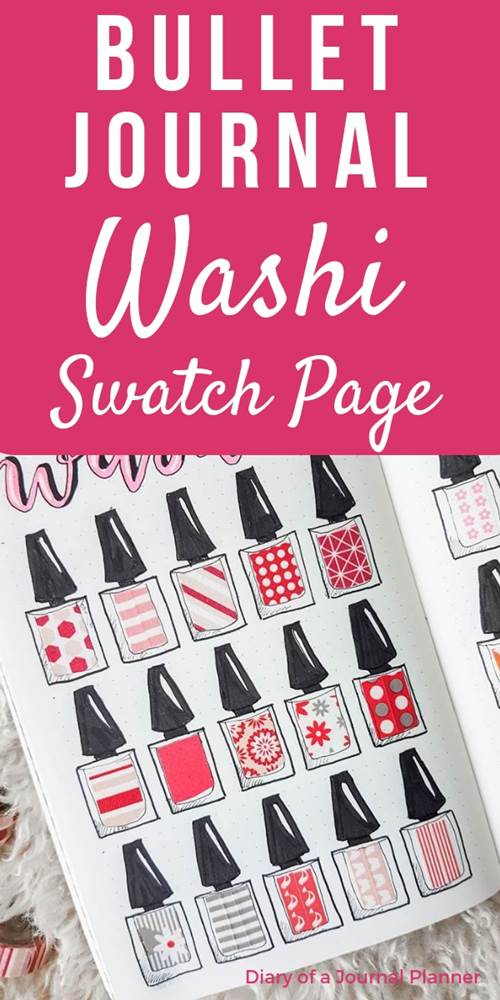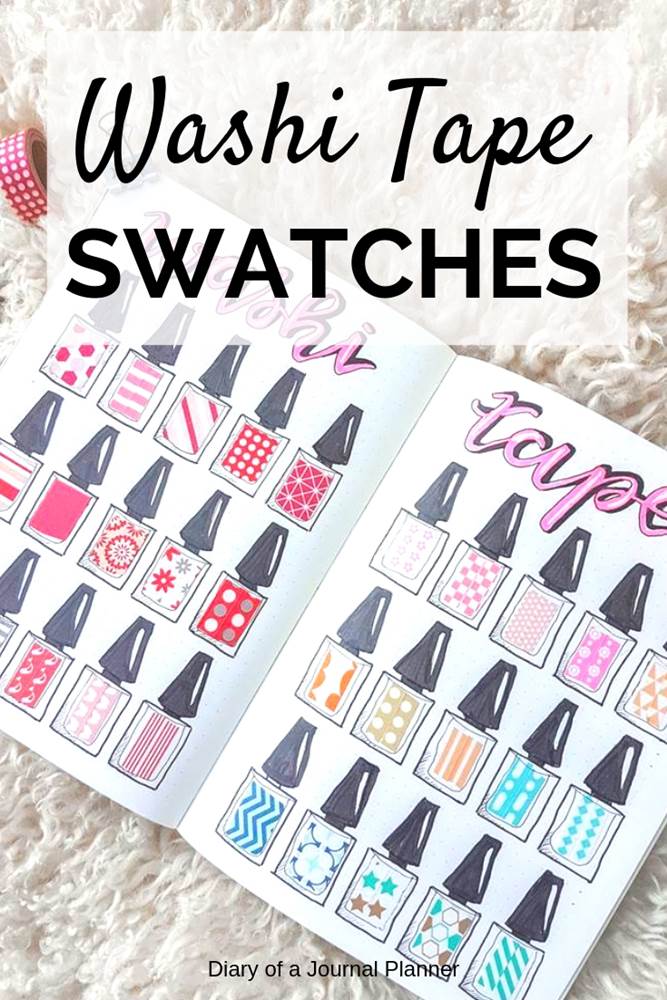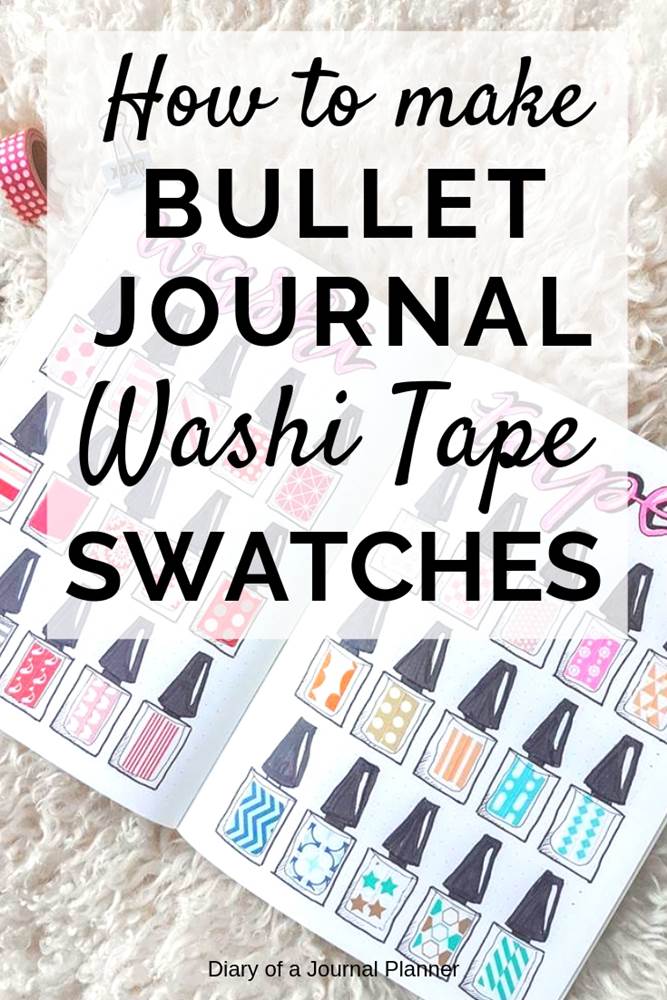 Swatch Page