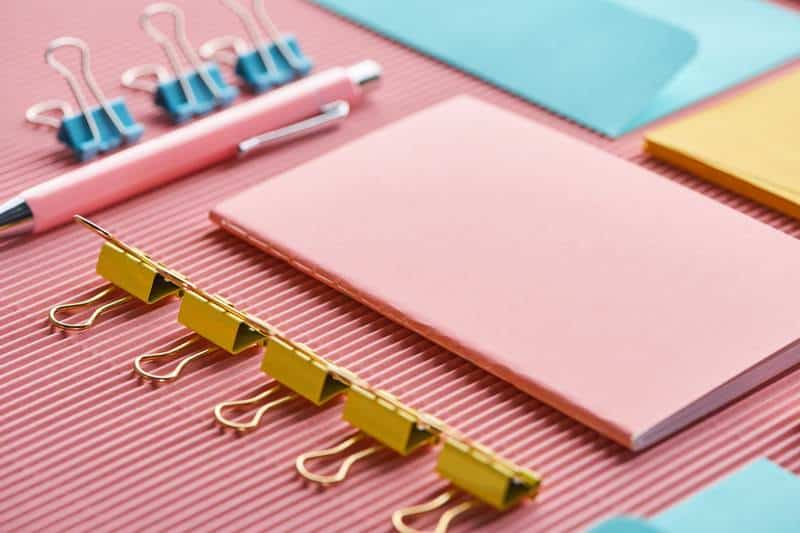 Planner Subscription Box Ideas
Are you a planner-perfect addict looking for monthly planner subscription box ideas? You are in the right place! Below we rounded up a list of the best planner subscriptions boxes with bullet journal products such as stickers, pens, and notebooks that every planning person will enjoy!
What is one of the most popular phenomena of the 21st-century? It's subscription boxes. Let's look at subscription boxes that planners and stationery lovers can get at Etsy or Cratejoy.
For some of them, you are required to get on a monthly subscription plan, but don't worry if you don't want to have that commitment!
Some have no monthly subscription list requirement and you can still always cancel your subscriptions.
Why get a monthly planner subscription box?
But first things first, what's the point of subscription boxes?
Women (and men) love them because they are curated boxes that contain products that you not only enjoy but may have never considered buying before.
They also often provide high-quality products that perhaps you hadn't planned on spending your money on but by getting subscription boxes, you get the chance to try these high-quality products monthly, at a bundle price.
Many of the subscription boxes also offer free shipping from the second subscription box, this guarantees that you save by having a monthly commitment instead of buying separate boxes each month or quarter.
And let's not forget that many subscription boxes are provided by niche and independent businesses and therefore you could be helping a small business on top of scoring a great deal.
What can you expect to get inside some of these boxes?
Themed paper box
Planner kits
Paper goods
Journals
Sticker sets
Writing pens
Decorative tapes
And many more cure stationery items that you can use not only for planning and bullet journaling but also for making greeting cards, scrapbooks, and more!
Most of these boxes offer international shipping so you can get all the goodies via snail mail anywhere in the world.
So, what is the best planner subscription box? Check below to find out! And if you love stationery items like we do you can also check our post about the Best Stationery Subscription Boxes here.
Fun Subscription Boxes For Planners
Check below some of the best bullet journal boxes that any planner addict will enjoy receiving. Click on the links to get further information from each individual box.
Please note that the subscription boxes may change themes, descriptions, and value, which are all out of my control, so make sure to click through to get the current information from the box planner sellers.
Work.Space.Spark office supply subscription box

Do you work from home and like to keep all your work organized in your planner or bullet journal?
What better way to add joyful items to your work-from-home life than with a subscription box?
Here is another one of the fun subscription boxes for planners. What a fun way to celebrate each month!
Work • Space • Spark: Your Career Growth & Office Decor Subscription Box is a dream for anyone that loves office supplies and strives to stay organized during work hours and days (from home!).
The products are designed to help you improve productivity but add the cute factor because these are well-designed products.
Click here to subscribe to this box!
Monthly Planning and Stationery Box
This box by Avant Agenda is the perfect mix of planner products and stationery that will arrive on your doorstep each month.
With planner inserts and gorgeous accessories, this is a great choice if you want to build your planner products up to get organized and productive.
Click here to subscribe to this box today!
Journal Junk Sak subscription planner
Want to try a fun journal subscription box but not get overwhelmed? Why not try this fun and cute bite-sized subscription box.
With three goodies for journaling and a free gift too! Perfect if you are new to journaling and want to try it out.
Click here for more information about this subscription box!
Best Planner Subscription Boxes
The Planning + Stationery Box by Cloth & Paper


With between 8-12 beautifully curated products monthly this subscription box is for all the planner addicts.
Be prepared to get serious about planners with items including Planner Inserts, Page flags, Sticky Notes, stickers, and more.
If you have a bit of a pen addiction then be sure to check out their Penspiration subscription box too.
Click to check out and subscribe to this box!
Erin Condren Monthly Planner Kit Surprise Box
Are you an Erin Condren user? This one is for you!
You seriously won't regret the high-quality planning supplies and stationery that you get from this box.
This Erin Condren Surprise Box comes with exclusive and season-themed items for your ECLP, you can expect a luxurious assortment of stationery items, stickers, writing tools, and much more!
This is a box for those obsessed with lettering!
Full of calligraphy tools and supplies that will help you up your lettering game in your journal. As well as lettering products you will also receive lettering and calligraphy practice sheets.
There is also a mini version available at a lower cost if you want to start smaller.
Planner sticker subscription box
How about a subscription box trial that you don't have to commit every month?
This is perfect for those who want to have a taste of the planner box subscription lifestyle but without commitment.
The Planner Envy Subscription Box is expertly packaged to include products many planners use all the time and love, such as 10+ total sheets a month, planner accessories like paper clips, planner bands, pen loop clips, binder clips, washi tape, and exclusive stickers.
If you use an Erin Condren Life Planner, Happy Planner, and Recollections Planner, this will work for you!
Planner monthly subscription boxes
Sparkle Hustle Grow Subscription Box
Wow, isn't this box incredible?
We know it is something a little different from just a planner subscription box but we know so many of our readers are amazing Boss Babes and knew you would love it as much as we do.
Not only does it include stationery, office supplies, and other fun gadgets but there is access to business training, an online community, and more!
The Fabulous Planner Bullet Journal Subscription Box
This is another fantastic box that will make your planning so much more fun.
What does a box include? You can expect a great exclusive collection of items including a themed box, pencil cases, and writing tools, stickers, and many other things the planner will love.
When you order, you have a choice of a Fabulous Planner Classic or Luxurious box. There's a new theme every month, and the box is shipped to you every month, and you can cancel at any time.
Bible Verse subscription kits
Subscription boxes of today come in a wide variety. This Bibble Verse Monthly Subscription Box is perfect for bible journaling lovers.
It is focused on faith and includes prints and stickers to decorate your bible pages or to be used on your faith journal, gift tags, or as notes of encouragement.
This is a hassle-free way to get beautiful prints with bible verses to find intention, fulfillment, and joy.
Click here to check the latest Bible Verse boxes!
---
These ten fun subscription boxes for planners will bring joy to your life and are also perfect gifts for others. Check them out!
More planner posts you will enjoy:
PIN FOR LATER!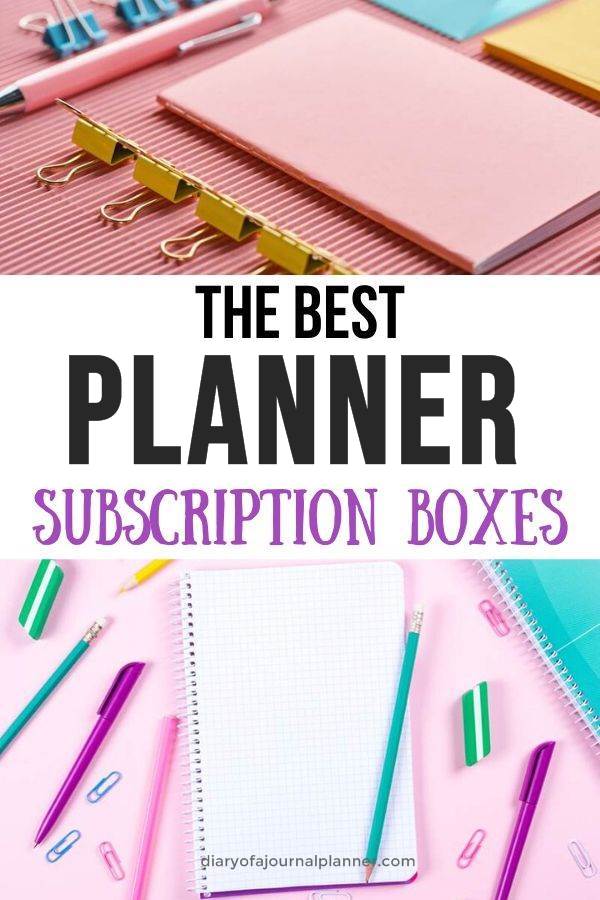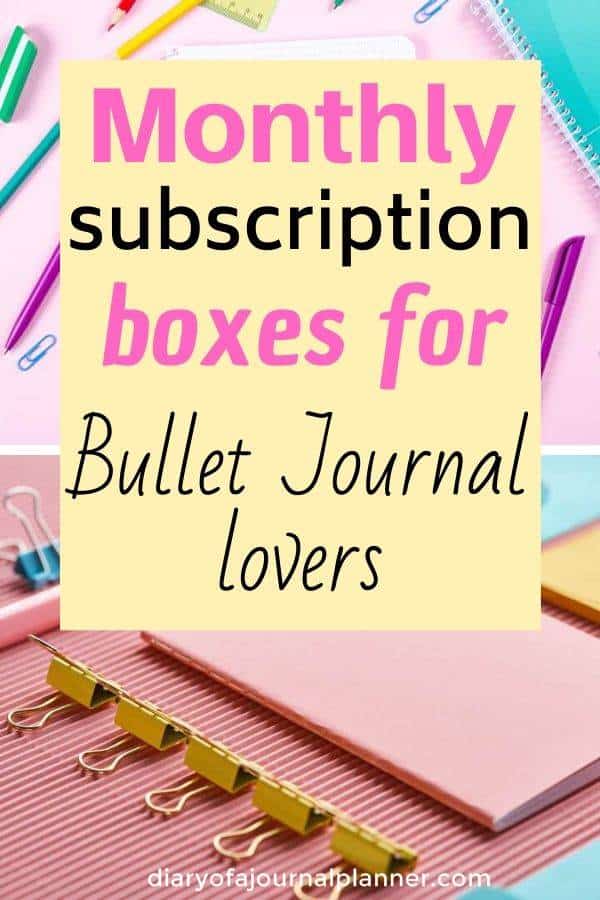 Best bullet journal subscription box