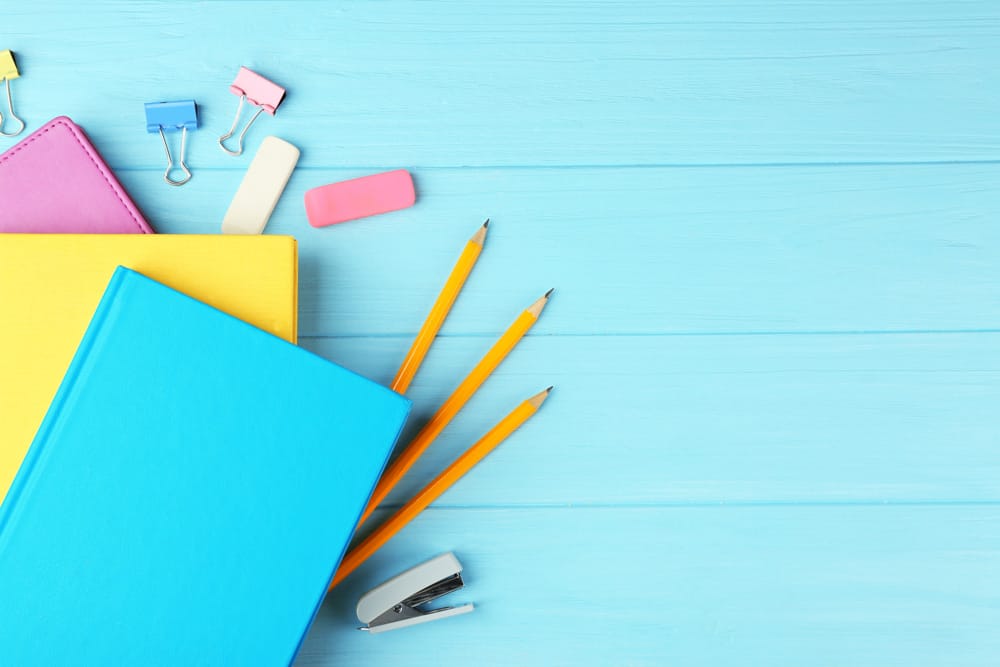 11 Stationery Subscription Boxes
For a stationery addict, there's nothing more exciting than getting a gorgeous box of stationery delivered right to your doorstep! Keep reading to find the best stationery subscription box ideas.
Whether you're a student or a scrapbooker, a budding author or just someone who likes to have a great looking desk, stationery subscription boxes are a great way to keep your stationery selection fresh. Here's a quick look at some of the best stationery boxes on the market today.
Some of these boxes are monthly or bi-monthly subscription boxes, while others can be ordered individually, with the sellers letting you choose a theme when you order.
It doesn't matter if you're wanting to offer a long term subscription or you're on a tighter budget and want a one-off box, we are sure you will find something to love in this list!
What is the benefit of getting stationery or office supply subscriptions?
You should know that subscription boxes are all the trend these days among both women and men.
But why do people love it so much?
Well, first of all, everyone loves to be surprised every month with a set of new products for their hobby, home decor or lifestyle.
Secondly, having a monthly subscription box service means that you can plan ahead your budget to spend only a certain amount per month with hobby products or things that you tend to buy too much. I am a washi tape addict and things can get real bad if I don't try to budget for supplies.
On top of that you will save money by acquiring high quality products in bundle prices. You see, subscription box sellers are able to put together cheaper boxes by buying many products in bulk and this normally brings price down. Plus, they generally have more organized shipping services and this will also be an advantage for you!
The other, very obvious benefit, is pleasure! Unboxing the stationery filled package is sure to bring you a lot of joy if you love small stationery supplies.
And let's not forget that these make excellent gifts for planners and bullet journal addicts and stationery lovers!
So, what is the best stationery subscription box? Let's find out together below!
The Best Monthly Stationery Box
Get a gorgeous monthly box full of stationery every month with these monthly stationery subscription boxes.
Japanese Stationery Subscription Box
Get kawaii and other cute stationery direct from Japan with this ZenPop Stationery Box. Click here to check our ZenPop stationery box review!
Each month fits the season and is themed.
The best part? Free International Shipping!
Click HERE To Subscribe To This Box!
Teakberry Box Subscriptions – The Art of Paper
This bright and cheery box includes stickers, embellishments, scrapbook paper and washi tapes.
It's perfect for anyone who likes to send letters and cards and wants to add a personal touch to them.
This monthly stationery subscription has a different theme each month, and the box is a mix of papercraft goodies, handmade items, and top quality brands.
Cloth and Paper Subscription Box
This Penspiration box includes pens and pencils, planners and cards.
The Cloth and Paper box is a luxury box that boasts brands that are hard to find in the United States.
Every month you will be sent a selection of 4-6 pens and pencils, including mechanical, gel, ballpoint pens and rollers. This box makes a wonderful gift for a person who loves the art of writing.
See What's Included In this Box HERE!
Cute Monthly Stationery Subscription Boxes
Looking for something a little different? Try these cute stationery ideas.
Rad and Happy Greeting Card Box
The Rad and Happy greeting cards and stationery subscription box includes a set of cards for all occasions, notepads, stickers, banners, cupcake toppers and more.
The selection of cards is varied, featuring the basics such as birthday cards and "Get Well Soon" cards, as well as ridiculous, humorous and sublime cards too.
Subscribe to this stationery box and you will never have to worry about being 'lost for words' when you want to give a card again. There really is something for every occasion.
If You Love Gifting Beautiful and Meaningful Cards Check Out More HERE
The Busy Bee Stationery Box is a beautiful handmade gift box of themed stationery, including cards, stickers, bookmarks and more.
This box is ideal for busy bees as well as those who want to have pretty stationery while being productive. It's perfect for journal lovers, writers and note-takers.
Find More About This Cute Subscription Box HERE!
Custom Stationery Boxes
Perfect for brightening up your home office or making your workspace your happy place!
This Premier Delightful Desk subscription box is full of office supplies, tech gadgets and goodies to make your desk look amazing while helping you get organized and productive.
Find Out What Is Included HERE!
The My Paper Box includes personalized stationery, pens, paper, cards notebooks, journals, monthly calendars and more.
Every item is made from high-quality paper goods, with stunning designs and a new theme for each box. Whether you're looking for some luxurious stationery for yourself or as a special treat for a loved one, this is a creative choice that can suit any budget.
My Paper Box is a stationery subscription box that is available in two sizes, Grand and Mini, and also on two delivery schedules – monthly, or bi-monthly.
Choose the size of box you would like and set your own delivery schedule. The boxes are sent out before the month they are intended for, to ensure that they are delivered in time.
Find Out What Size Box Is Best For You HERE!
Do you have a pen friend? Do you love sending letters, invites, and cards?
This deluxe Pretty Paper Club custom stationery set is packed full of personalized stationery and cute desk accessories including gel pens, washi tape, confetti, paper clips, sticky notes and stickers.
Get a huge selection of high-quality stationery delivered to your door each month.
Never run out of beautiful paper products and accessories to use to send out invitations and letters. Be the envy of your office or college with the best paper and accessories on your desk at all times!
Create Snail Mail With Wow Factor HERE!
Stationery Subscription Services
Stationery Desk Decor Subscription Box
Want a little art with your stationery subscription box? This PHOTO JOY Stationery Subscription Box always comes with a matted photograph as well as stationery.
On your first delivery you also get a easel so you can display your photograph each month.
Do you have a child that loves to write and draw? My Paper Box for Kids is a great way to make going back to school after the holiday season more exciting. The box includes personalized kid-themed stationery such as notepads and stickers.
There is a new theme to the box every month, and it's suitable for all ages.
Young kids can learn their names and build their vocabulary, and older kids can enjoy playing with high quality, brightly decorated stationery.
What's more, the box is affordably priced and shipping to the mainland US is free!
Click HERE To Subscribe To This Box!
In Your Case Stationery Box
If you are looking for a stationery box set with a little pizazz then this subscription is for you!
Full of high-end stationery that is hard to source in stores, you can also expect cute themes to brighten up your month too.
This In Your Case Stationery Box box includes everything from notebooks and pens to stationery accessories as well as desk trinkets like mugs and trays.
Discover More About In Your Case HERE!
This high-quality gift subscription features a new set of rubber stamps every month or each quarter.
You will receive in season stamps along with other stationery and craft goodies. This Rubber Stamp Box makes a great subscription gift for someone who collects stamps or who enjoys arts and crafts, or perhaps even making their own personalized gifts.
Click To See What You Get In This Set!
---
We hope you enjoyed the best subscription boxes of stationery we could find!
Are you a stationery addict who would love these? Maybe you could drop a subtle hint to a loved one about how this would be an amazing gift for you!
More Stationery Ideas
PIN FOR LATER!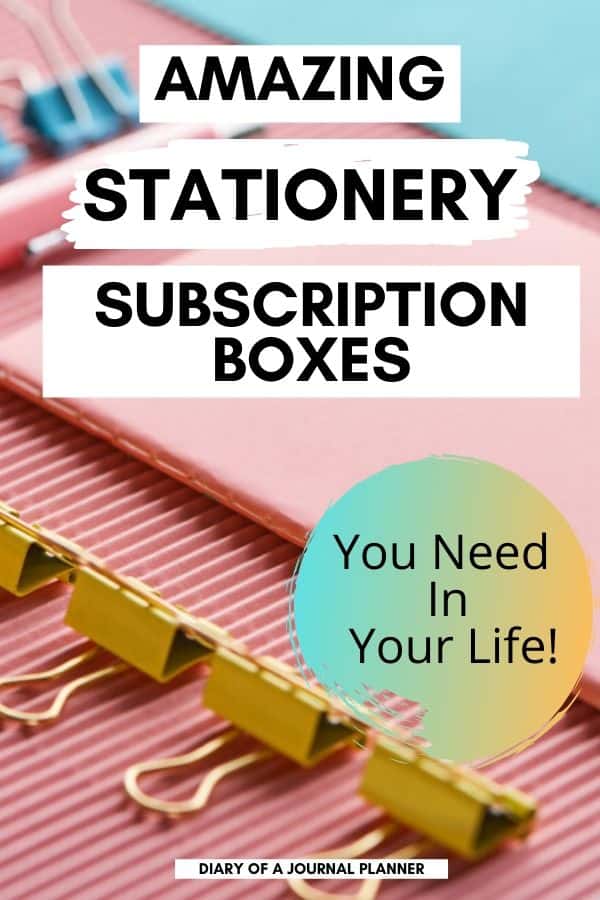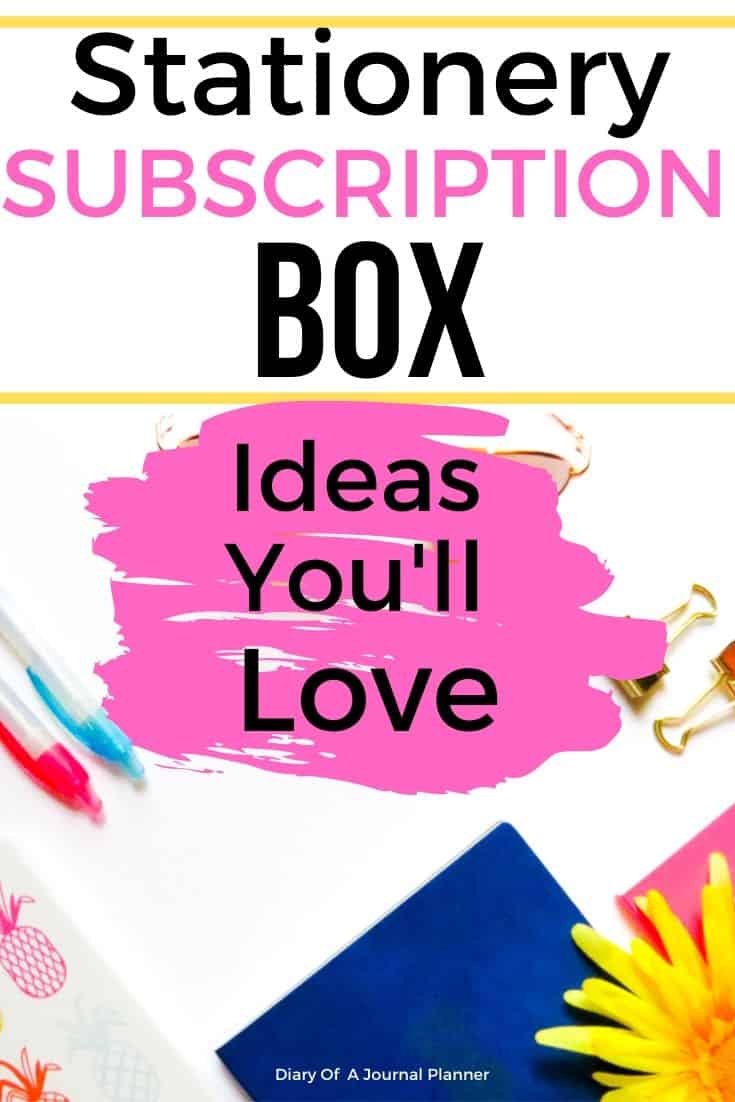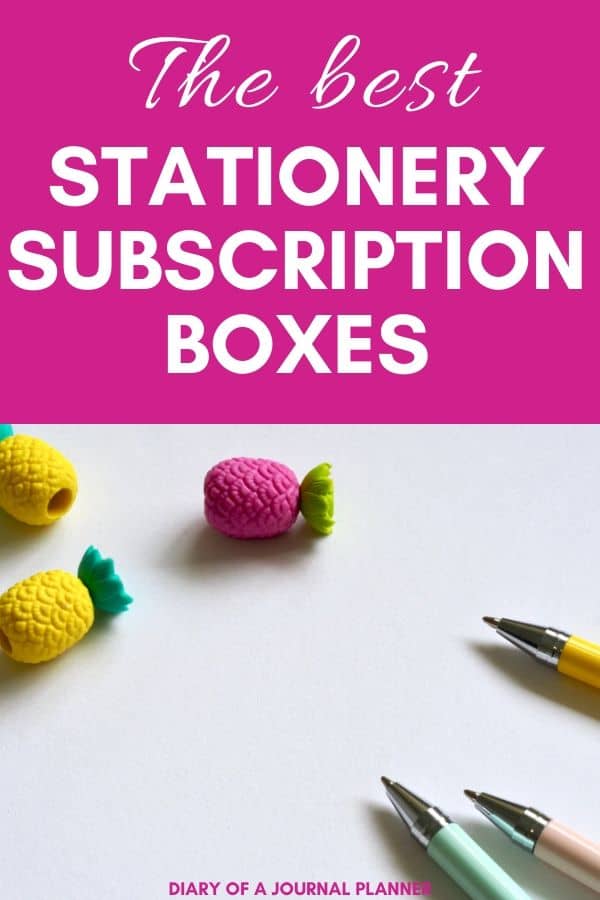 Stationery Sticker Subscriptions