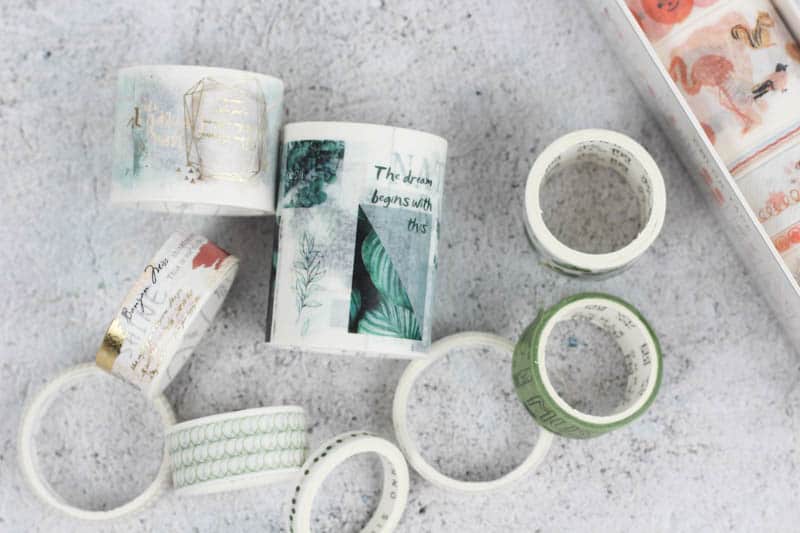 Where to find unique washi tape
If you are looking for a unique washi tape you're going to love this post today.
This post is brought to you in partnership with The Washi Tape Shop; a shop full of amazing designs of washi tape that you won't be able to resist. The hardest part about shopping here is deciding on what to buy. All of the tapes are out-of-this-world amazing!
But, to make that easy on you, I have several new designs to show you below.
One thing I love most about washi tapes is how easy is to decorate your journal with them. It's such a time saver because I don't have to spend hours and hours working on my artistic skills or getting inspiration from everywhere to have a pretty journal. I can just add a bit of color with some beautiful washi tape or stickers then I'm done and happy.
Below you'll find beautiful washi tape designs that you can use for several projects, not only in your notebook but projects around the house. If you are looking for creative ways to decorate with washi tape you can check this comprehensive post here!
So, let's get started and check out some of the most unique washi tape designs around!
Why get your washi tape at the Washi Tape Shop?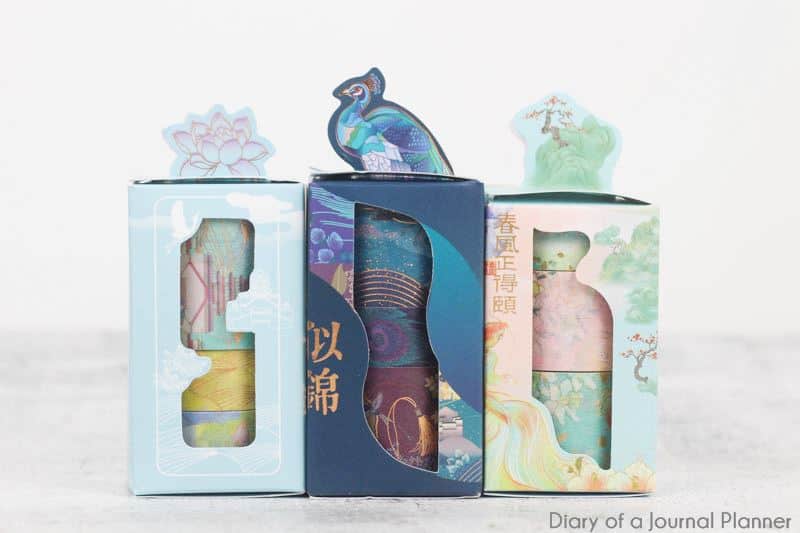 Before we proceed, I would like to tell you a few things about the wash tape shop and why this is a place for you to get cute washi tape and other gorgeous items.
First of all, they offer free standard shipping worldwide. It doesn't matter if you buy a 2.99 washi or if you buy several sets, there is no additional shipping cost to you.
They also offer free UPS premium Express shipping to the USA, Canada, and Mexico on orders over $40.
They have seven days a week custom service via email, and all inquiries are responded to within 24 to 48 hours.
And last but not least they offer a refund, return and insurance and with every order so you know you can trust this shop!
But the thing I LOVE the most about the Washi Tape Shop is their range of designs. Here you are truly going to find washi tape that you just don't see anywhere else.
And you'll find them as single washies or in packs of 3, 5, 8, 10, or 12 washi tapes designed around a specific theme.
The collection is incredible! You can find minimalist styles, flowers, gilded vintage and so much more! If you love the gradient of colors, you'll not be disappointed either! They have something for everyone.
Though The Washi Tape Shop, as the name suggested, is renowned for its amazing collection of washi tape, there you'll also find stickers, post-it notes, and some pretty pencil cases as well.
All in all this shop has become my go-to place for some of the best washi tapes online and I am happy to recommend it to everyone! Since we've partnered with this amazing washi tape company, you also get to enjoy a discount if you use our code diary10.
Enjoy 10% off your order by using the discount code diary10
Most unique Washi Tapes
When you visit The Washi Tape Shop you really have the feeling that you can access all the wash tape in the world.
So let's go ahead and check some of the most unique washi tapes you'll ever find. And when I say unique, it truly is. I'm a washi tape lover with a rather extensive collection. I've purchased my washi tape from so many shops around the world, from Amazon to independent designers, and I've never ever seen a shop offering such a range of designs.
I love it, and I think you'll too. Let's check it out: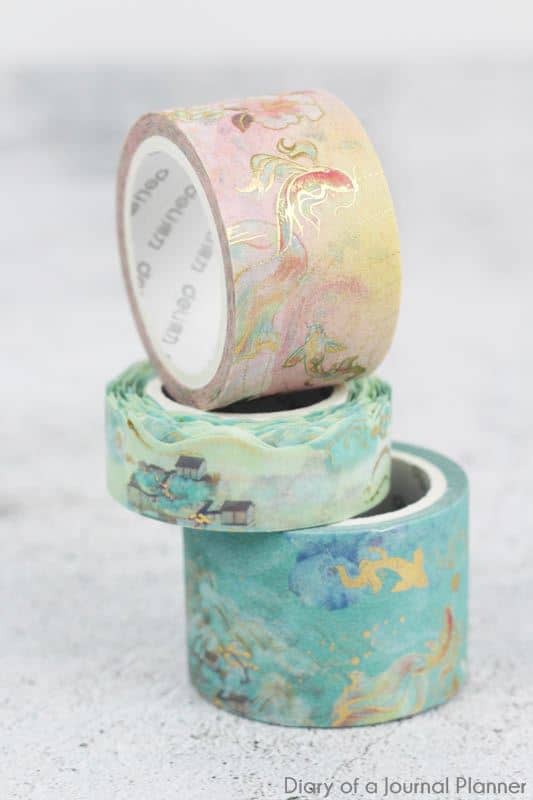 The first set I want to show you is the phoenix reborn designed to show you a bit of the majesty of the Phoenix bird.
This is such an exciting design. It's not only pretty but one of the tapes in the set comes with a wavy edge that's absolutely fabulous.
All 3 tapes from this set are gold foil designs with pretty gilded details all around. The colored graphics and the wavy design make this washi tape set one of the most unique I have ever seen.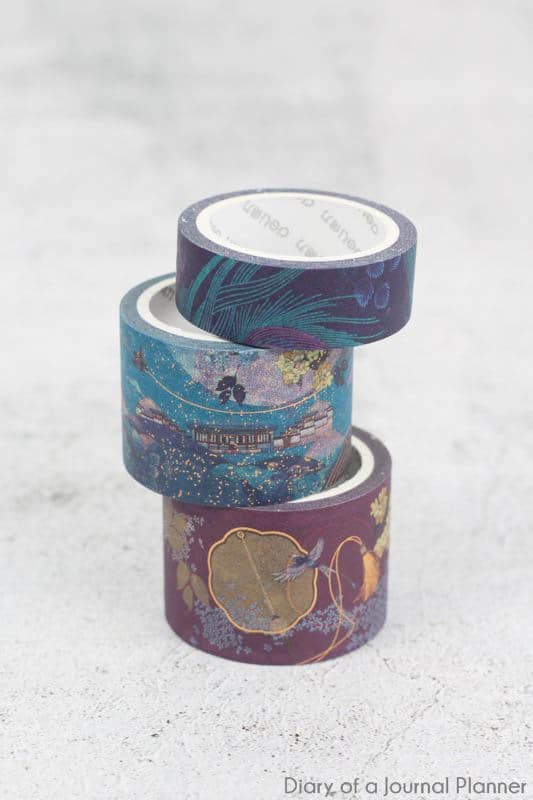 Another fantastic gilded washi tape set. but in this case, the foil is less yellow gold but looks more like a bronze foil.
The design theme follows the colors of the peacock and with some added details in foil. The colors are vibrant and unique, nothing that you can easily find in other shops.
The packaging is extraordinary too, with wavy display gaps and original 3d closing it's nothing short of extraordinaire!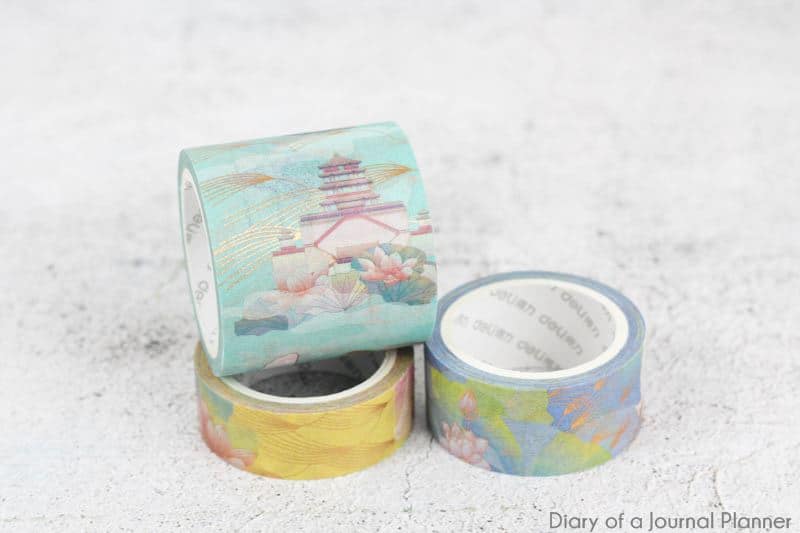 Here's another beautiful set from the same washi tape collection; 3 gilded pieces Lotus Crane set. This set is all about the river Crane and the lotus flower.
What's different about this set is the width of the tapes compared to the previous sets I showed you. The largest washi tape has its design in a way that you can place this washi tape vertically and it looks like it's a rolling piece of art!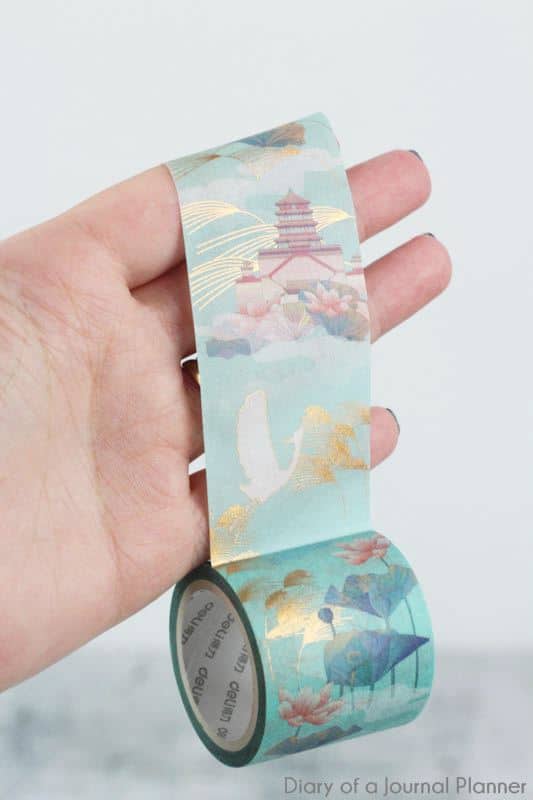 This design also goes well together with the Phoenix reborn set because the colors are a bit similar but complementary with a different tone to the gold foil.
The Kyoto waves washi tape set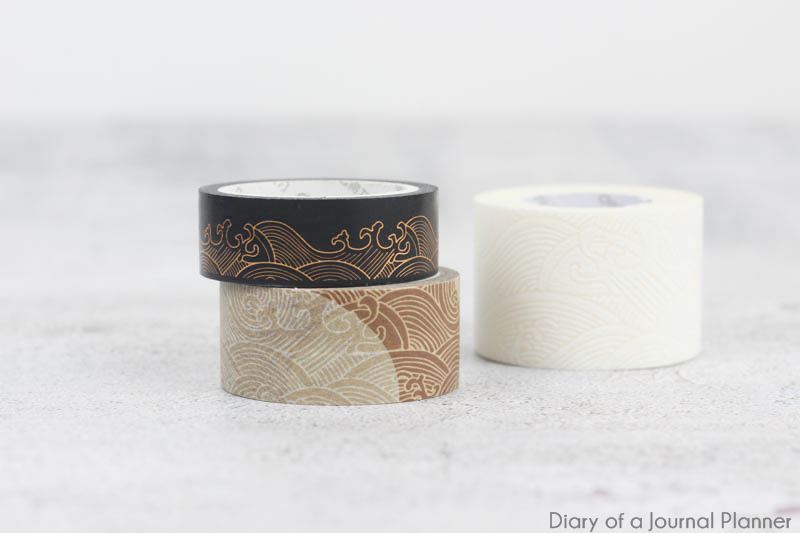 This set is something else. I love that the design is simple and relaxing but the gold foil makes it so impactful at the same time.
All 3 tapes are pretty but what really stood out to me was the largest texture tape roll. It feels just like a mini roll of textures wallpaper roll. I have never seen anything like that!
There are so many possible uses for this to bring some truly unique details to your home; decorating desk objects, frames, or for scrapbooking projects… endless possibilities.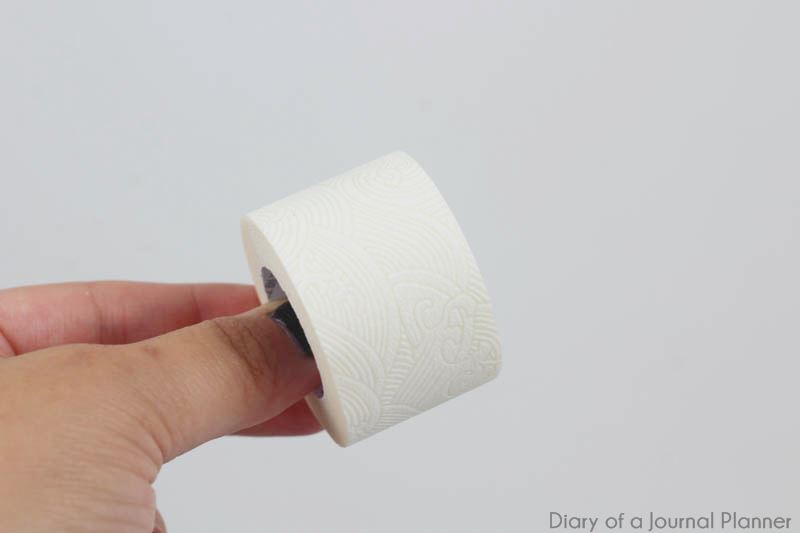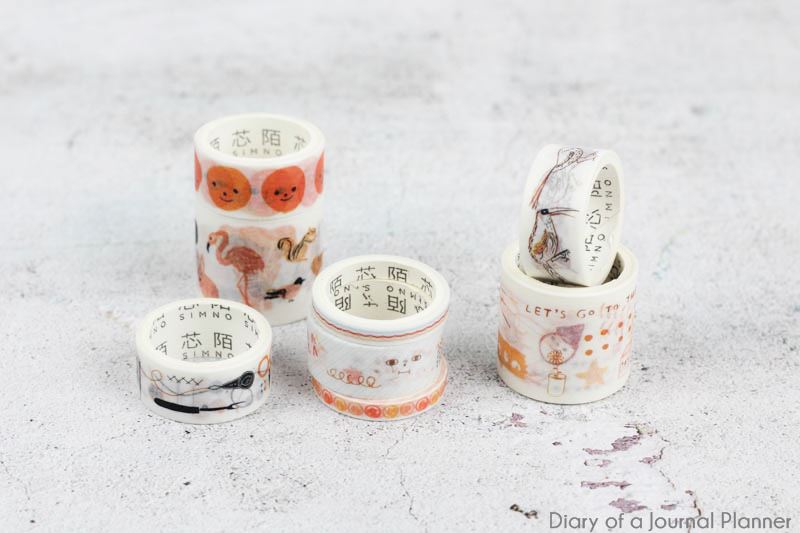 Now let's talk about some of the washi tape sets around a particular team theme that you can find in the wash tape shop.
The next 2 sets come with 8 total tapes, which is great if you want to make your journal in a particular theme but don't want to repeat the same tape over and over again.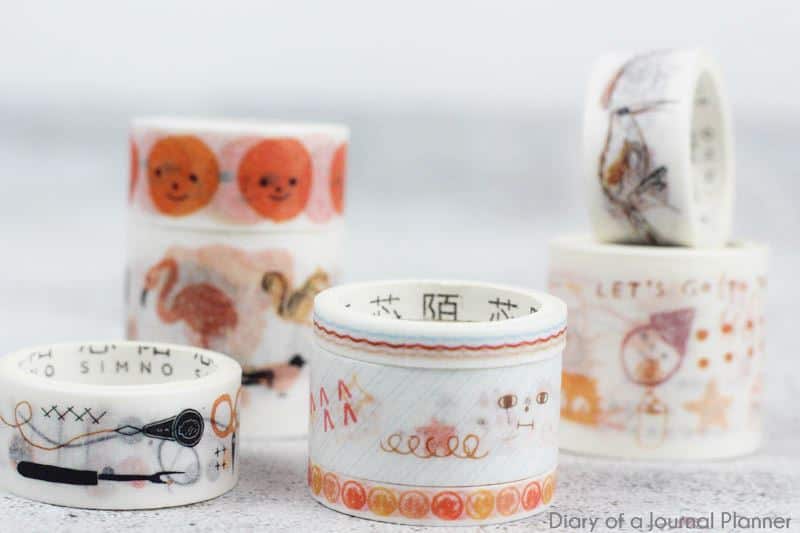 For instance, in the harvest carnival set, all tapes are complementary to each other so that you can use them together or apart but they are fairly easy to match because of the theme and color set.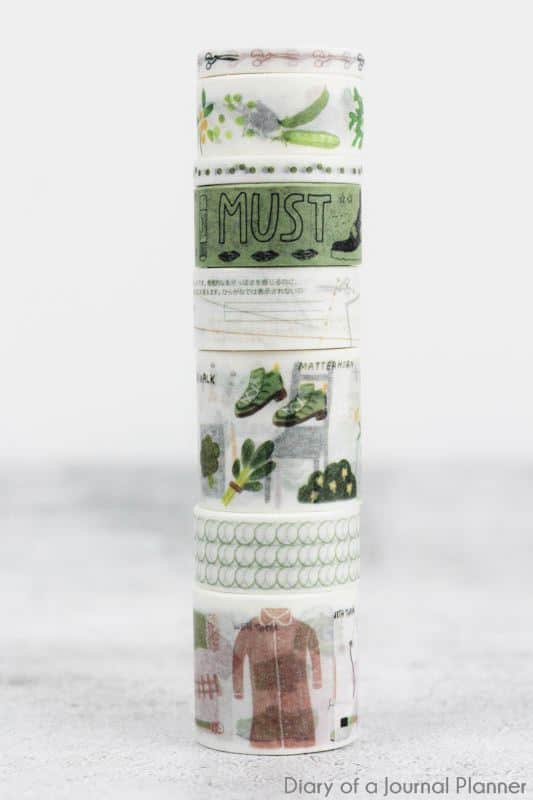 Here's another example of matching tape sets around a theme, this particular one here is all about Spring. Lots of green graphics with an outdoor theme but also abstract patterns.
However you should check theirs sets to find other themes, The Washi tape Shop offers a large variety of sets ranging from seasons, styles, flowers, etc. I'm sure you'll find something to suit your mood and personality.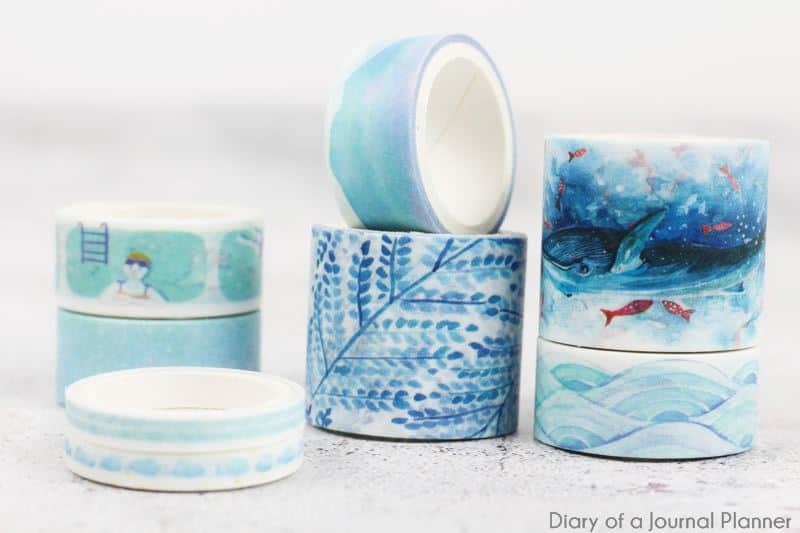 Another unique set design I found at The Washi Tape Shop was the sea and sky set.
This one also comes with eight pieces of tape, all in matching color, but with totally different designs that you can just mix and match.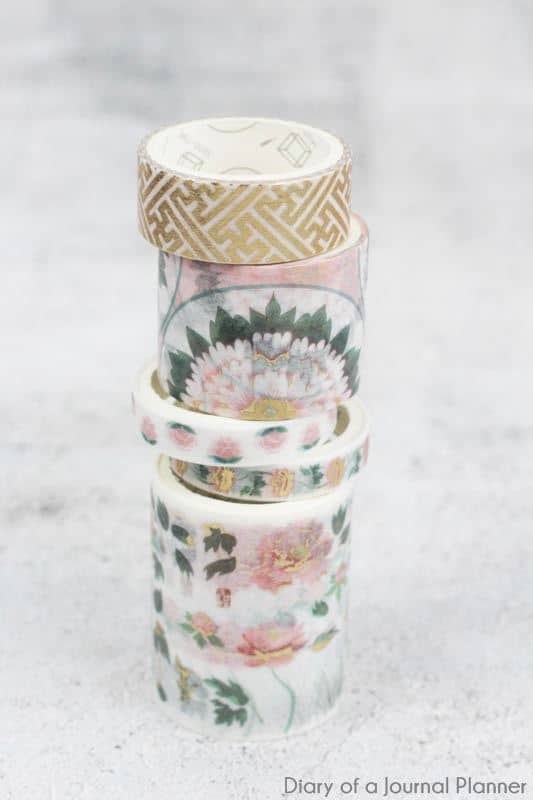 The Washi Tape Shop is filled with flower-themed sets because flowers are super popular. So what's unique about this, you may be asking?
One of the reasons I had to add this set to this post is because this set features an oversized roll that is absolutely gorgeous. You may be used to flower tape but you don't find a statement of a tape like this one everywhere.
All 5 designs are eye-catching!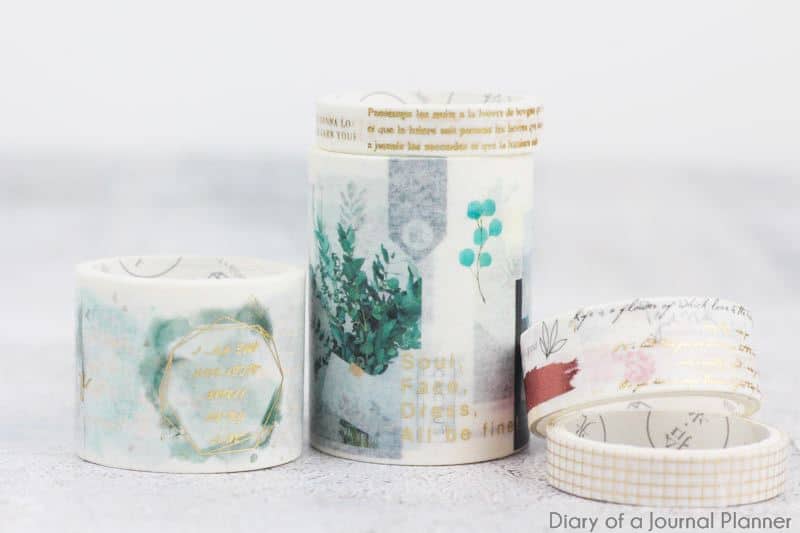 This is the last set we are showcasing today, the Vintage They come with a range of widths in tapes that allows you to decorate ins o many by mixing and matching the tapes.
Inspired by beautiful greeneries this set features lovely gold foil details with stunning calligraphy. This is a fantastic set to decorate any journal!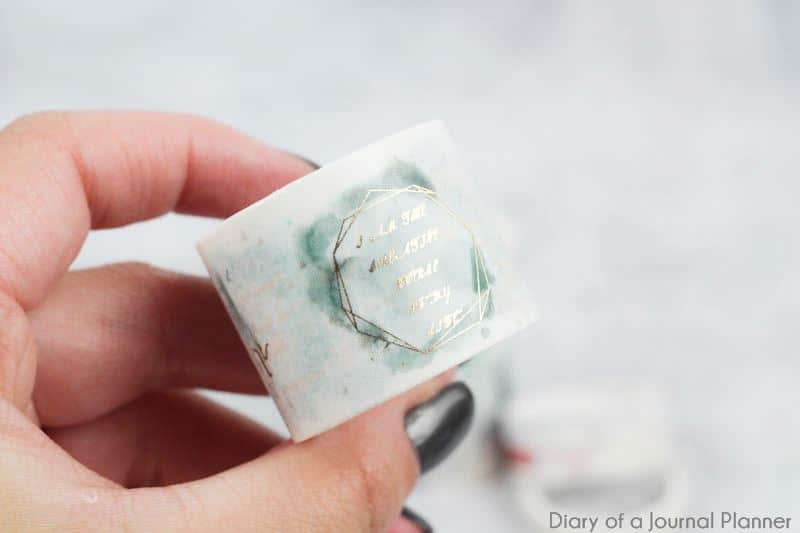 As you can see you will find a bit of everything in The Washi Tape Shop.
To get a 10% off your next order head to The Washi Tape Shop and use discount code diary10 at checkout!
---
More washi tape inspiration:
PIN FOR LATER!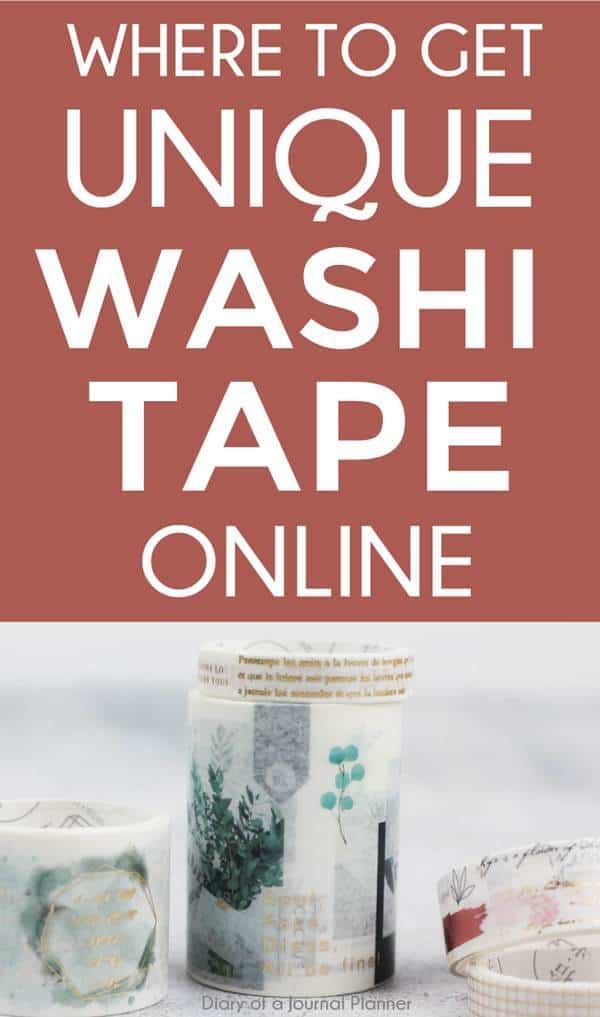 Best place to buy unique washi tape online