Bullet Journal Mandala
Looking for a Bullet Journal Theme that is beautiful and helps with relaxation and stress? We show you why you need a Mandala Bullet Journal!
We adore Mandalas!
They not only look amazing but have health benefits too. It's so easy to get lost in coloring a beautiful mandala design. Do you find them soothing too?
The good news is that they are an easy theme to add to any Bullet Journal. They add an amazing pop of color to any bujo page and are the perfect go-to when you need to destress for a while.
We find them especially effective in our Bullet Journals as they tend to be smaller designs that we can use as a mini-meditation for quick periods of time rather than whole coloring pages of designs that can be a little overwhelming.
Keep reading to find out why Mandalas are so good for us and how anyone can add a mandala theme to their Bullet Journal ( even if you can't draw!)
What Is A Mandala?
Mandala is Sanskrit for "circle". Originally they were created as a map of the universe by religions such as Hinduism, Buddhism and Jainism. These had the different layers of the universe and often included deities too.
In a more modern sense, they are geometrical and often symmetrical designs. They are used for decorative purposes as well as relaxation tools.
What Does A Mandala Mean?
In Buddhist and Hindu symbolism it represents the universe. Showing all is connected and neverending.
They are used for both healing and teaching in these traditions.
As your attention is focused solely on either creating or coloring a mandala it helps you enter into a meditational state where you are completely mindful. This promotes relaxation and reduces stress levels.
Ways To Add Mandalas To Your Bullet Journals
We know many of our readers are put off adding mandalas to their Bullet Journal as they feel they are too difficult to draw. Drawing your own Mandala can be a little overwhelming but there are some other ways you can easily add mandalas to your Bullet Journal pages.
Mandala Bullet Journal Printables
If you want to add some gorgeous mandala's to your Bujo but don't have the time or creativity to create them yourself then the easiest way to create a Mandala theme is Bullet Journal printables. We have been busy creating some designs we know you will love.
Each month comes with a unique mandala design.
Color them in to create different monthly themes as well as reduce stress levels.
Every month has it's own cover page, habit tracker, mood tracker, weekly pages ( we have added two different designs so you can select which works best for you) and monthly pages that are easy to personalize for your needs and wants.
Once you have downloaded the file you can print out as often as you want or need. You can use these bujo printables every year if you want to!
If you don't need the whole year and just want to try a monthly mandala theme then click below to find the monthly bundles.
Bullet Journal Mandala Stamps
We love using stamps in our Bujo as it is such an easy and effective way to create designs…even if you don't think you are artistic!
If you have been reading our site for a while then you know we have some serious washi tape addiction!
Stencils are such an easy way to add designs to your journal. You can use the whole design or just small sections for decoration and corner details.
Mandala Theme Bullet Journal Ideas
Want to create your own Bujo theme with Mandalas? Here are some ideas on how you can add mandalas in your Bullet journal.
This Mandala Mood tracker from @megansstudies is a gorgeous way to relax and track how you are feeling daily.
Use smaller designs to create beautiful Mandala border throughout your Bujo like this calendar from @plannerpeach
@tolahatbui has added a gorgeous corner detail and made their weekly spread unique and stunning.
Mandala Monthly Cover Page
We love this intricate cover page design from @mijn_bullet_journal. You can easily recreate this with stamps and stencils if you don't feel confident enough to draw one.
See more cover page ideas here.
@mashaplans shows that small can be beautiful! These designs are easy to do and look amazing colored in or left black and white.
---
We hope you love this Mandala theme for your Bullet Journal. Share some of your designs or how you colored our printables in the comments below as we love seeing our reader's journals!
More Bullet Journal Themes
PIN FOR LATER!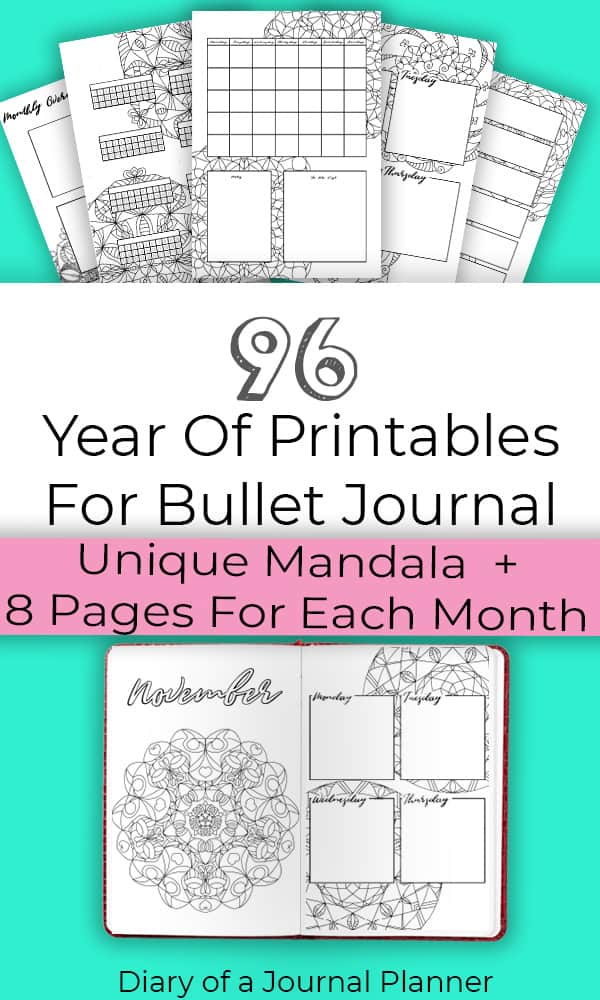 Mandala Bullet Journal Ideas