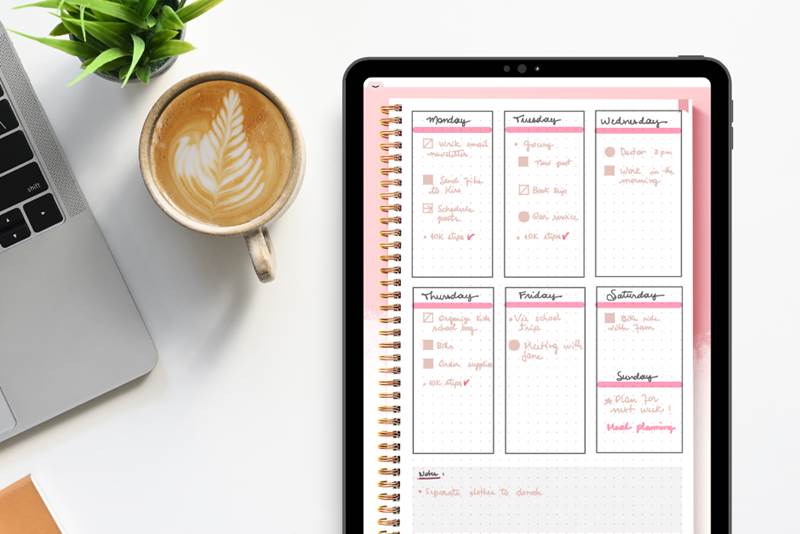 How To Start Digital Bullet Journaling
Heard how life-changing digital planners are but are a total newbie who doesn't know where to start? Find out everything you need to know in our easy how to start a Digital Bullet Journal guide.
If you have been one of our readers for a while then you will know that we love everything about Bullet Journals and Planners. When we discover a new way to Bullet Journal we love to experiment and give it a try.
So when we kept hearing about Digital Planners we knew we had to see what all the fuss was about and we have to admit that we LOVE them!
When we first tried Digital Bullet Journaling we thought it would mean that we could not be as creative or make our planners as personalized as physical planners…but we were very wrong.
Everything you love about Bullet Journals can be done with a digital planner…. and some of the things you may not like about your physical Bullet Journals (hello, making major mistakes that spoil a whole page), are never an issue with Digital Bullet Journaling.
Keep reading to find out more about Digital Bullet Journaling, how you can start your digital planner today, and all the tools you need to be successful.
Please note that we use the terms Digital Planner, Digital Bullet Journal, Digital Diary, and Digital Journal throughout this post as they are very similar and it is a personal preference to how you may name yours.
What Is A Digital Bullet Journal?
If you have loved your physical planner and bullet journals then we have great news. A Digital Bullet Journal or a Digital Planner are nearly identical to your usual paper version except that all your pages, collections, weekly spread and calendars are on your iPad.
All the things you love about your journal are set up as PDFs on your device. This allows you, with a digital bullet journal app and a couple of tools, to use a digital planner exactly like your traditional journal. From stickers to doodles, bullet journal template setups, and more.
It can all be done on your device! Cool, hey?
Why Start A Digital Bullet Journal?
If you have used a physical Bullet Journal you may be wondering why you should swap over. Here are some great reasons.
Benefits of A Digital Bullet Journal:
You can copy and pasted repeated tasks with ease and speed.
Great for the environment with less paper waste.
It is easy to alter things like text, and positioning of information.
You can't make a mistake! Just delete and start again.
You don't need all the traditional stationery that comes from Bullet Journalling ( a great way to save on money and clutter)
It is much easier to have your Digital Bullet Journal with you than a bulky physical planner.
If you are totally new to planning then a Digital Planner is the perfect tool to help you get organized, be more productive and make your goals happen.
What You Need To Start A Digital Bullet Journal
Love the idea of starting a Digital Planner?
The great news is that you don't need much to get started with a digital journal.
1. Tablet/iPad
So, this may be an obvious one but you need a device… and one that allows you to write using the screen.
Digital Planners can be used on tablets (and some phones) but not all devices are equal. What device you use can affect the usability and experience of your digital journal.
We recommend using an iPad for digital bullet journaling because the range of apps available for iOS is much better, it isn't so much about the device specs (though a current device is much better) as it is about the apps you can use for digital planning.
The cheapest version of iPad with the apple pencil will give you an amazing experience. For Android users I recommend the Samsung Galaxy S7.
2. Stylus
The stylus is what will make the digital experience almost identical to the paper journaling experience.
It is not a 100% must-have but if you want to create a beautiful and easy-to-use digital journal then a stylus is going to make this so much easier than trying to use your finger. You will be able to write neatly and precisely as well as being much more accurate for clicks, hyperlinks, stickers, and other digital accessories.
Remember to check that the stylus you choose is compatible with your device.
The Apple pencil 1st generation, the Apple Pencil 2nd generation and the S Pen are great styluses to use.
3. Note-Taking App
This is where the magic happens from taking a regular PDF to an usable digital bullet journal.
No matter whether you are a tech pro or a total beginner, a note-taking app is super easy to download and use.
Our top recommendations for iOS users are:
Our top recommendations for Android users are:
4. Digital Bullet Journal Template
Firstly, it is totally possible to create your own digital planner from scratch, there are many programs available to create digital planners (free and paid). But it can take a lot of time and effort.
Luckily there is a much easier way and that is by using templates. The best part is that it is extremely easy to personalize templates and really make your digital planner suit you and your style.
What is a digital planner template?
Basically, it is a pre-designed digital notebook PDF file that you can use to setup your pages on your iPad or tablet. It's like having a brand new notebook inside your device.
With a digital template you can make your pages suit your needs and styles by making the bullet journal pages using the tools available inside the apps or by inserting stickers, washi tape and pre-made pages if you feel like putting something together real fast!
Want a free digital bullet journal template? Grab ours below!
5. Digital Planner Accessories
Accessories are a personal preference but can be a fun and easy way to make your Digital Planner suit your personality and style.
To personalize your Digital Planner you can purchase Digital Planner Stickers, Digital Sticky Notes, even Digital Washi Tape! You can also purchase clip art that you can add to your planner templates.
How To Choose A Digital Planner
If you don't take the time to really think about which Digital Planner you are going to use it can make using a planner unproductive, time-consuming and hard work.
There are so many options now available that it can get very overwhelming.
Here are a few tips we think may help you choose the right iPad bullet journal for you:
Why Do You Want A Digital Journal
Maybe you want to be more organized? or really want to make those big dreams you have happen?
By knowing what you want to achieve with your planner you can look for the right pages, spreads, and content in the templates to help you.
How Are You Going To Use The Digital Planner
Do you want to be able to be super creative with digital stickers, colors, and more? Do you want just a simple to-do list style template? Will you plan daily or weekly?
Taking the time to think about how you want to use your digital Bullet Journal will really help you know what templates you want.
If you have used a physical Bullet Journal then reviewing what pages you use the most, and find spreads that make you the most productive can be a big help.
Does The Template Include The Important Must-Haves
To have a functional and successful digital planner you will want to make sure the template includes the things that are important to you.
Some things you may want to look for are:
Hyperlinked Tabs – These allow you to move around your digital planner with ease. Think of them as an automatic page flicker! For example, if you are on your daily calendar page but then want to look at the monthly overview, a great digital planner will have an easily clickable link that will take you straight to that page, rather than you having to scroll through the whole planner PDF to reach it.
Realistic Features – This is a personal preference. But you may want your Digital Planner to look like a physical planner. This can be done through covers with textured images, binder rings, and stickers.
Dated Or Undated – If your template has months and weeks pre-done then you will usually find helpful hyperlinks throughout the template. If you want more freedom then you can look for updated templates so you can create them as need but you will find these will not be hyperlinked.
Page Layout – Digital Planners usually come in a one or two-page layout. Think about which will be most useful. One page will give you more space for your entries and will have the binder to one side while two-page will look like an open physical planner with the binder in the center.
How To Start A Digital Bullet Journal
So now you know everything you need let's get to the really exciting part and get started.
You are going to be amazed at how quickly you can start your Digital Planner!
IMPORTANT: If you are using an older device it is important you check the compatibility of your device with both the note-taking app and the Digital Planner template. This information is available on the App information at the App Store and should be available on your template purchase page.
1. Get Your App
Head over to your App Store on your device and search for GoodNotes. It's a premium, one-time payment purchase. Click on download and it will automatically be added to your device.
Android users can download Noteshelf from Google Play.
2. Download Your Planner
Once you have chosen the best Digital Bullet Journal for you, then purchase and download it to your device.
It is also a really great idea to make sure this download is saved somewhere safe in case you need it again in the future. This could be on Google Drive or any other file-saving program like DropBox.
3. Open Your Planner On Your Note-Taking App
Next is to open your download on the note-taking app you downloaded.
Need help with this step? Just head over to our easy guide to import a planner to GoodNotes.
Once your planner is in your note-taking app you are ready to start! It's that simple!
Need help with how to use your planner? Check out more helpful digital planner posts below.
---
We would love to hear all about your digital Bullet Journal journey. Tell us what you love about Digital journaling in the comments below or let us know how we can help you more.
More Digital Bullet Journal Help
PIN FOR LATER!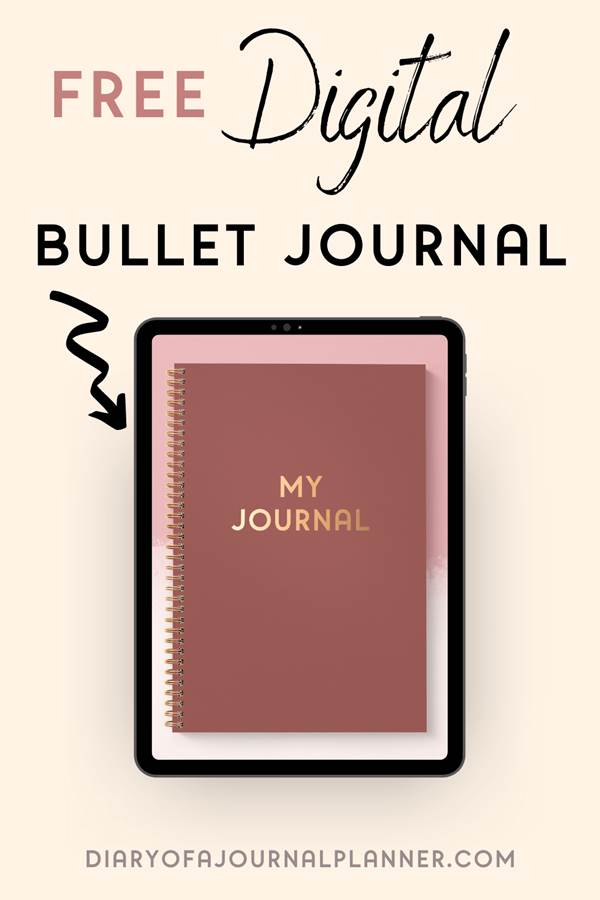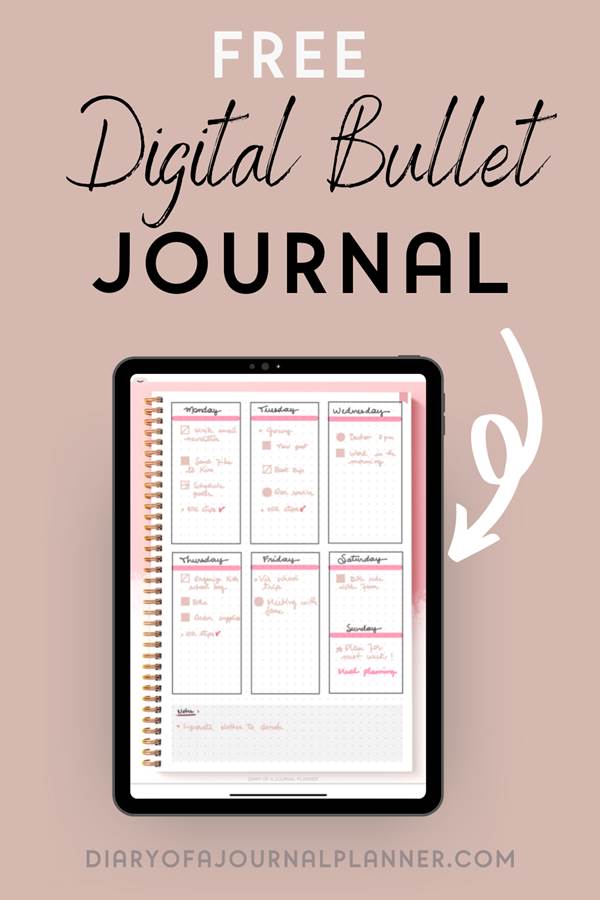 How To Start A Digital Journal