How to Create a Vision Board Journal
Achieve your goals and visualize your dreams easily. This post will teach you how to create a vision journal (a bullet journal vision board).
The mind is the reality. You are what you think.
You know, your mind always believes what you tell it, that is why is important that we are always feeding our mind with positive thoughts and that we always believe in ourselves.
As the end of the year approaches, so does that feeling of renewal, of a restart, that fuels our hopes and changes our mindset.
Exactly at this time, I like to review my year, to see what I accomplished and what I didn't. Failure to achieve something is not always a bad thing unless I didn't try it at all.
It is also the time I make a vision board with all the good intentions I want to carry to the new year and with the things I want to focus on and achieve in my life.
A vision board is a tool to manifest your life's desire because visualization is a very powerful mind exercise to utilize the "Law of Attraction".
The Law of attraction is based on the assumption that when you desire something you send a powerful frequency to the universe and it acts as a magnet to attract events, circumstances, and opportunities to live out those attitudes and beliefs.
You might not believe in the Law of Attraction and may be wondering whether vision boards do work. And they do!
When you visualize yourself living a dream, your brain prepares you for that reality. The mind is the reality – so think what you want to be to ignite the law of attraction.
Let's learn how to make a vision board that really works, shall we?
What is a vision board?
What's a vision board?
A dream board or a vision board is a collage of images, quotes, pictures, and affirmations of one's dreams and desires.
It is designed to be a source of inspiration, motivation, and manifestation to help you attain your goals with the law of attraction.
Obviously just wishing and dreaming isn't going to get anyone anywhere, but the visualization process will help you remember why you started, what you want, and set your plan on track.
That's the power of vision boards. If luck favors the prepared, we will be helping the law of attraction, right?.
You can make a board with any resources you have: magazine pictures, printables, colored paper, or just drawings.
The important aspect is that you visualize your goals and dreams and that you represent them with words and pictures.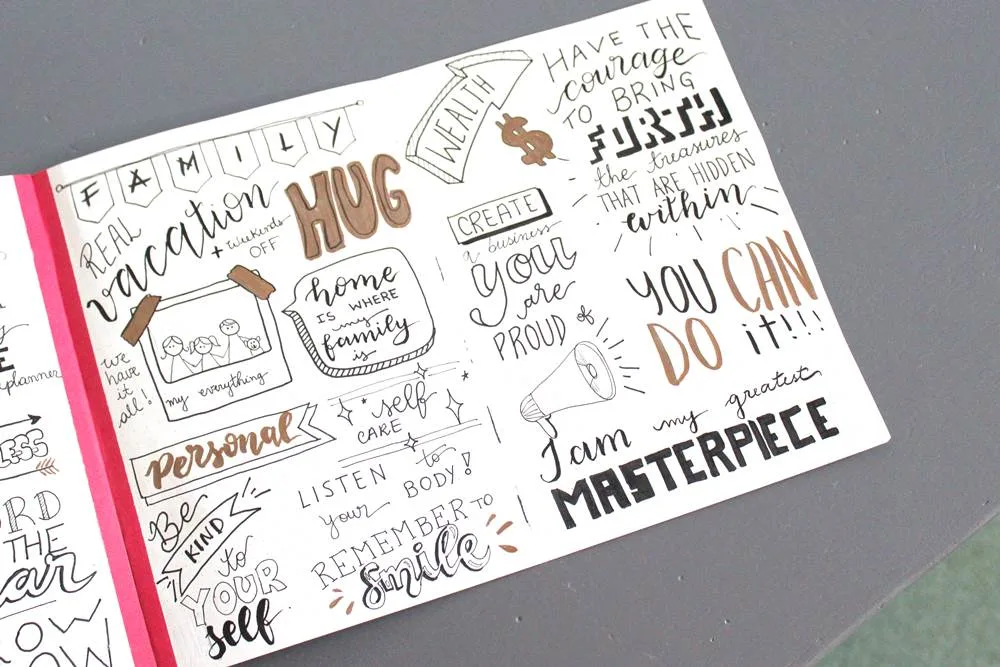 Purpose of a vision board
Learn how to use a vision board and enjoy some of the following benefits:
1. Visualization
As we mentioned before, visualization is a powerful tool to help our brain prepare our body for the reality in our mind.
2. Goal setting
To create a visual board you need to think about what you want to achieve and that will help clarify your goals and the path to achieve them.
3. Decision making
Your board will help you make decisions that are more aligned with your goals.
When faced with a decision-making situation take the time to visualize your end goal. This will help guide your decisions towards your goals.
4. Inspiration & Motivation
The visual board will be a source of motivation and inspiration when things don't exactly go to plan.
It will help you remember why you started and encourage you to take action.
5. Focus
It is easy to lose focus of the important things after some time has passed since you set your goals and actions.
The board will help clarify your goals and focus your energy on achieving them.
6. Develop good habits
The exercise of visualizing your board and the following actions you take to reach them, make you establish good new habits that in time will help shift your mindset to constantly work towards goals.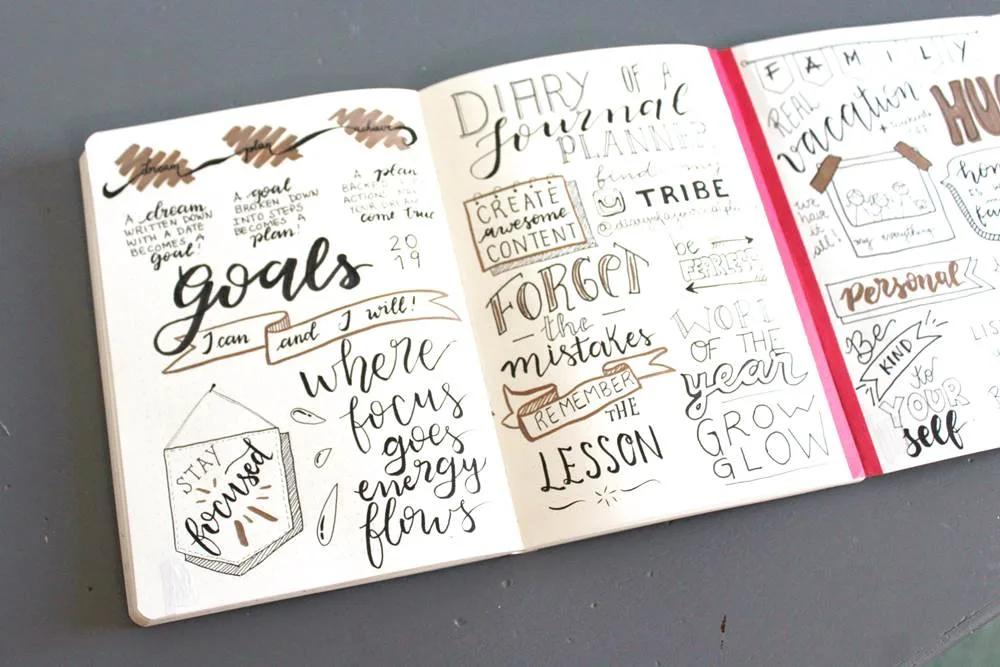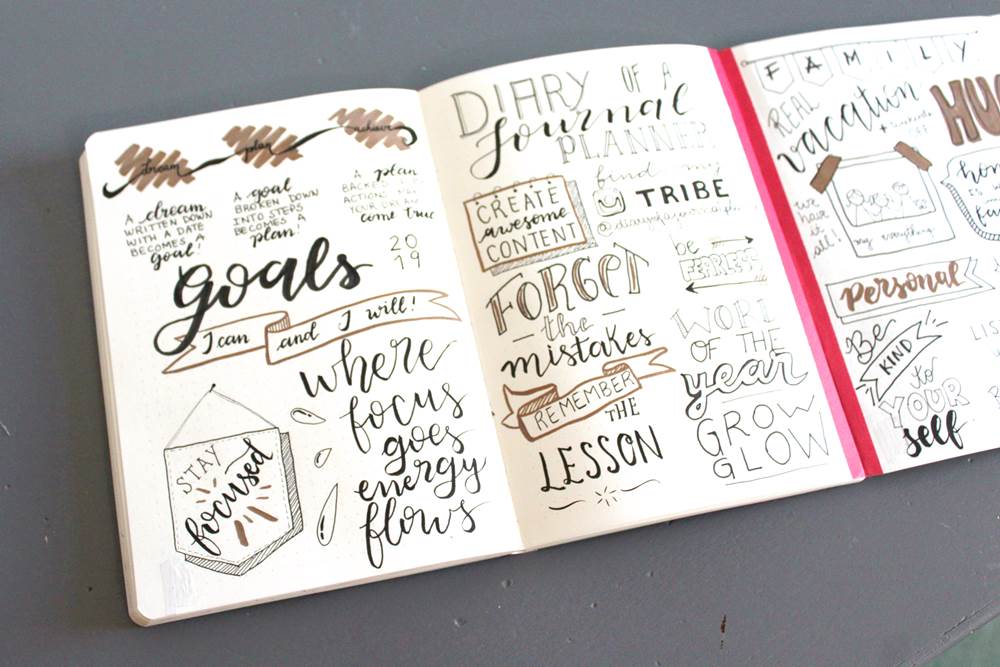 How to Make a Vision Board
I think creating a vision board in your bullet journal makes total sense because I have my notebook constantly with me.
With that said, a vision board needs to be seen – we will get to it later.
For now, let's prepare for what we want to put on our visual board.
Here are a few steps on how to do a vision board, we will be adapting them for bullet journaling.
Imagine if money and resources weren't limited, how do you see yourself in the future?
What would you be like? Where would you be? How is your professional and personal life? What would you have plenty in life?
Imagine the perfect you and write down your greatest desires, aspiration, and life goals.
The goals can be related to one or many aspects of your life (professional, personal, relationships, wealth, health, etc).
2 ┃ Find the content that resonates with your intentions
Now think of ideas, pictures, quotes, affirmation words that represent that person and that lifestyle.
Feel free to search in magazines, sites or doodle your own elements. There is no right or wrong way of doing it, every board is unique.
If you want to make a collage you will need some supplies such as glue, paper, pen, scissors, etc.
I grabbed my pens and sticky notes because I wanted to be creative and draw/write everything myself – it is also a mindful exercise.
Now that you have all the quotes, pictures, and elements to add to your dream board, it is time to organize all the thoughts.
You should gather all the content before you begin adding them to your board. Sketch roughly what you want to place and where.
Arrange the pictures around the space you have got for your board and make sure everything will fit! Then glue your graphics or quotes and write down anything else you want to write.
It is important to display your board somewhere prominent where you can always see it.
Since I am making this one on my bullet journal I have to make sure I always revisit it.
I added a little tab to the page of my board so I can easily find it plus I am adding a note to my weekly logs to make sure I take the time and make a habit to visualize my dream board every morning to focus my energy and actions in the right place.
How to create a vision board in your Bullet Journal
In this section, I am going to show you how to build a vision board from scratch inside your bullet journal!
To make this vision board in my notebook I decided to have a flip-out extension to fit everything I wanted to have on my dream page.
To make the flip-out page I had to remove one other page set from my notebook.
This is not something you want to do a lot since you will weaken the binding but to do it once is not a problem at all!
I found the middle page of one of the page sections of my notebook and slowly ripped the page out. See the picture below.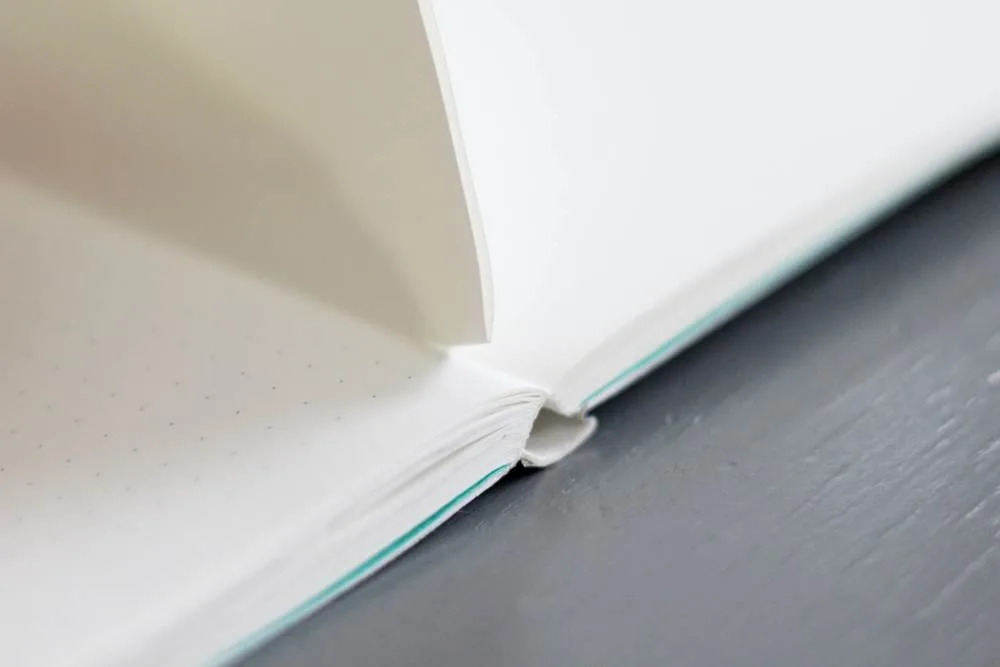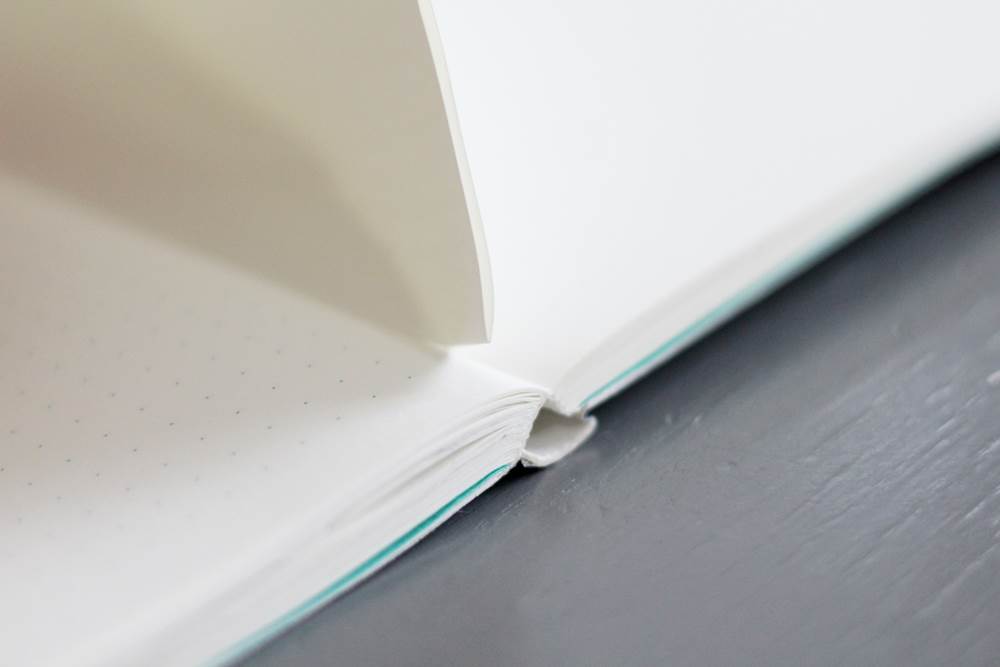 I then cut the edge of the page so that it fits inside my notebook pages when it is folded and doesn't stick out.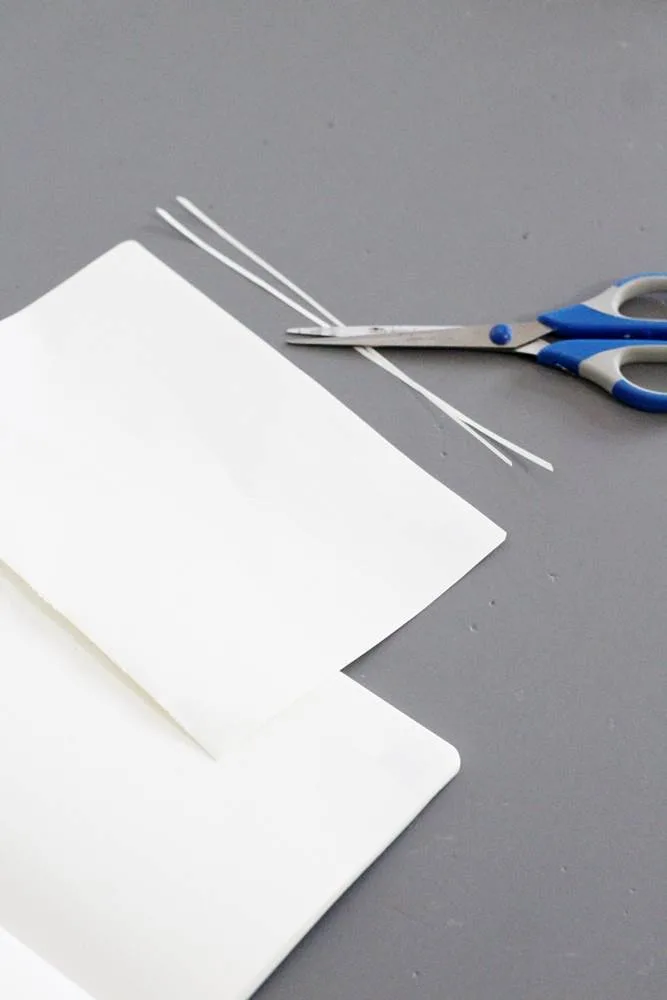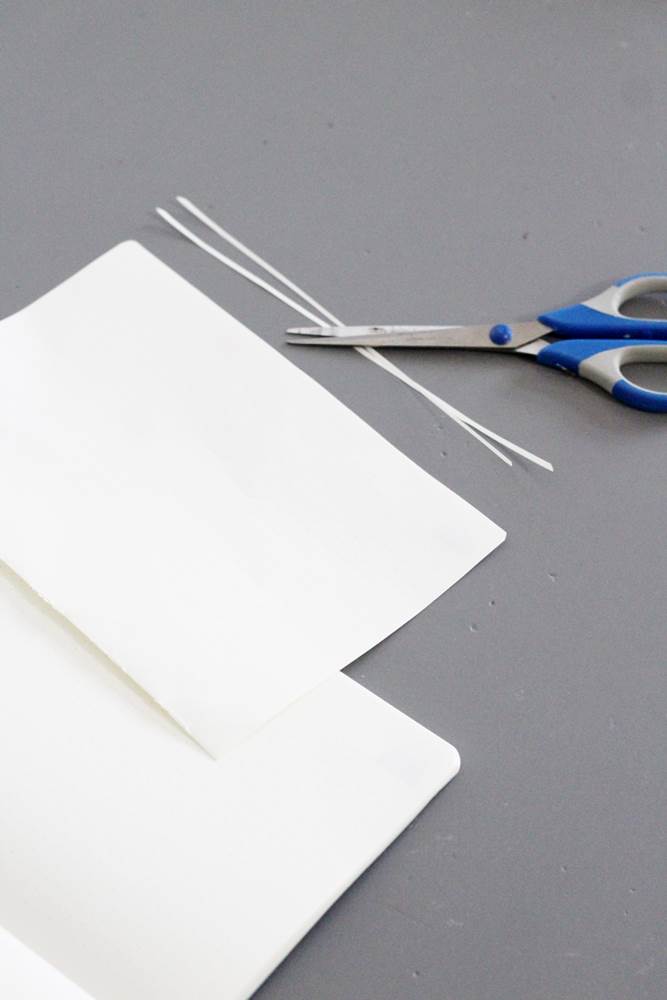 To attach the pages together I have used washi tape on both sides. First, line the edge of the ripped page next to one in the notebook and tape both sides on the paper.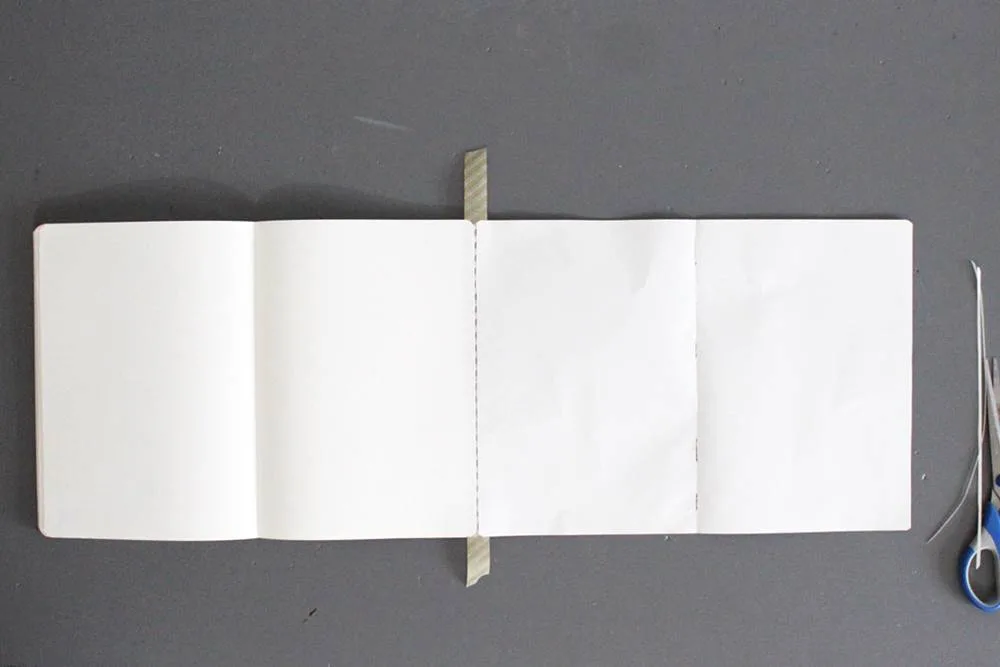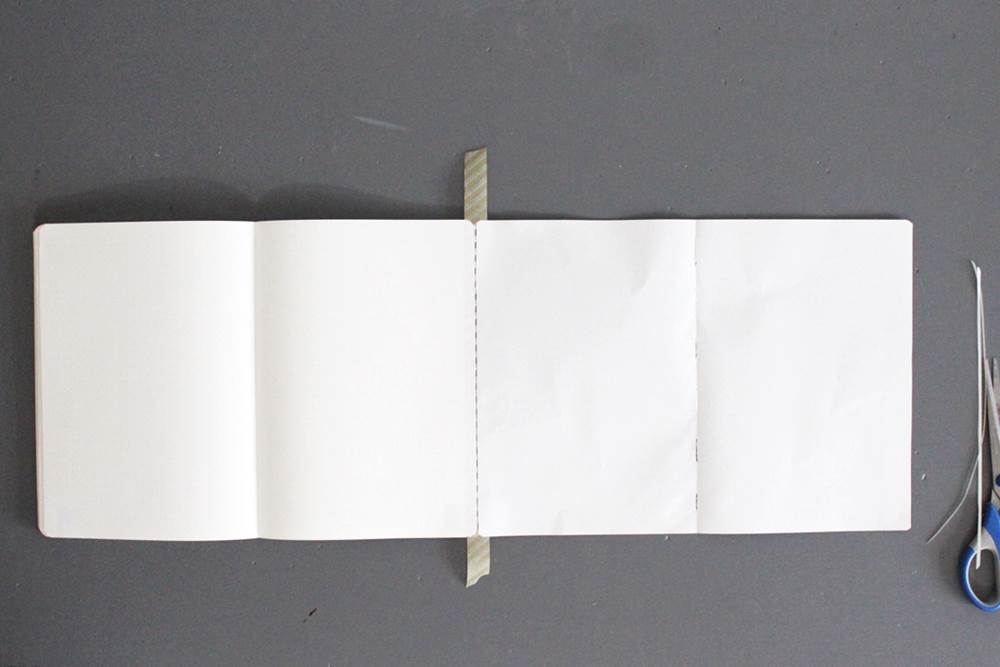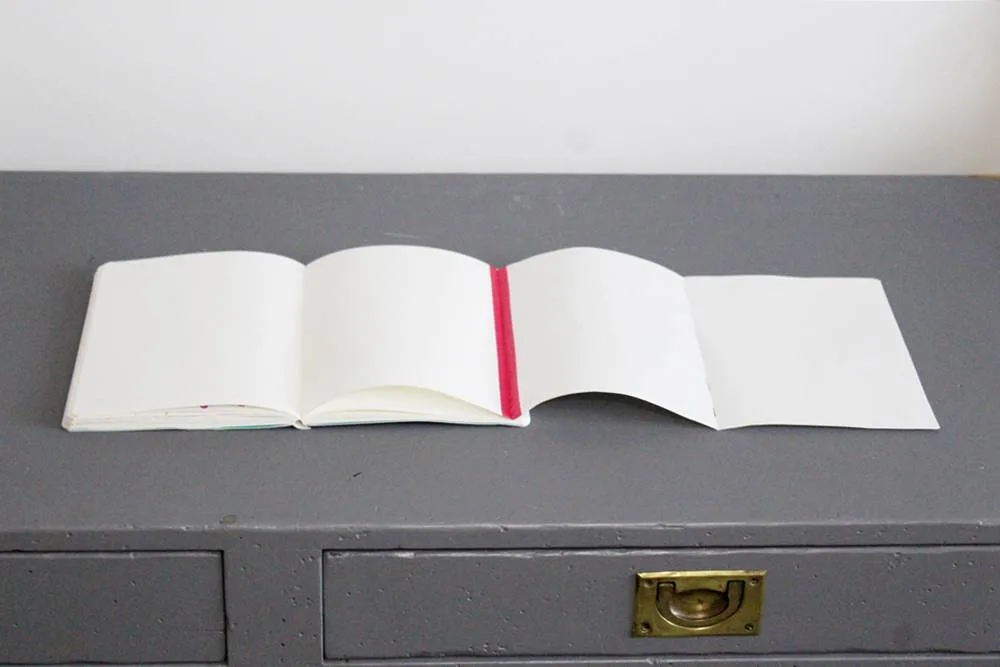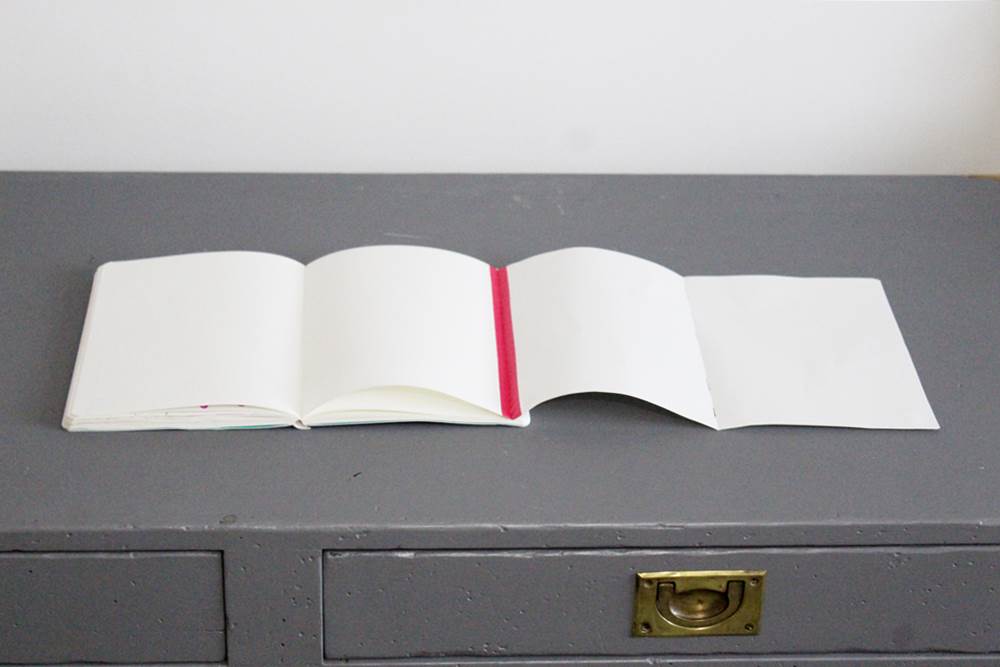 Get rid of the excess washi and you are ready to start!
But, what to put on a vision board?
Don't worry, it is very simple. This vision board in your bujo follows the same step as a traditional vision board!
I had already made my intentions and thought about what kind of content would resonate with that.
I knew I want to make doodles and quote some of my favorite affirmation quotes. I wrote it all down in notes and now it was the fun part: putting it all together!
To organize the structure of my vision board I had to sketch roughly how I wanted it to look. This part is important in any kind of board you make!
Here is a picture of my notebook after I spent some time sketching with a pencil.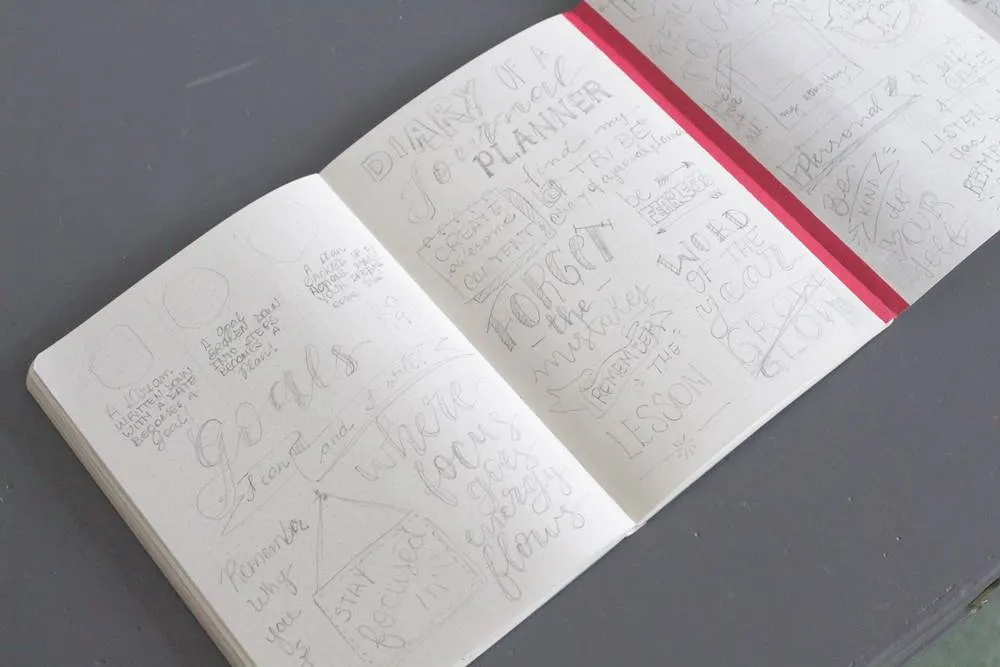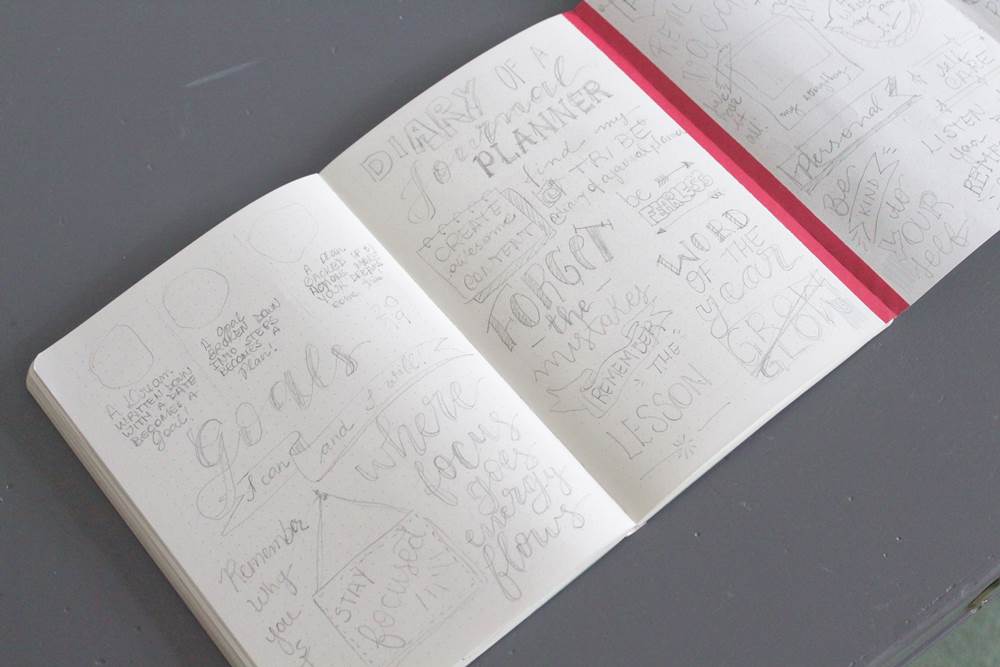 After I was happy with the result – A lot of erasing happened here! – I was ready to color!
Vision board bullet journal
Here is my vision board supply list:

Most of the writing and doodling was done using one of the Sakura Pigma Micron pens.
The large brush lettering words were written with the Sakura brush pen and the smaller ones with the Kureate Fudegocochi. For the other details, I used the metallic and white pens.
Here is how it turned out!
When the flip-out pages are folded in I have 2 inspirational quotes that are my vision board power words.
They are there to remind me that I hold my future in my hands and that I can achieve anything that I believe in!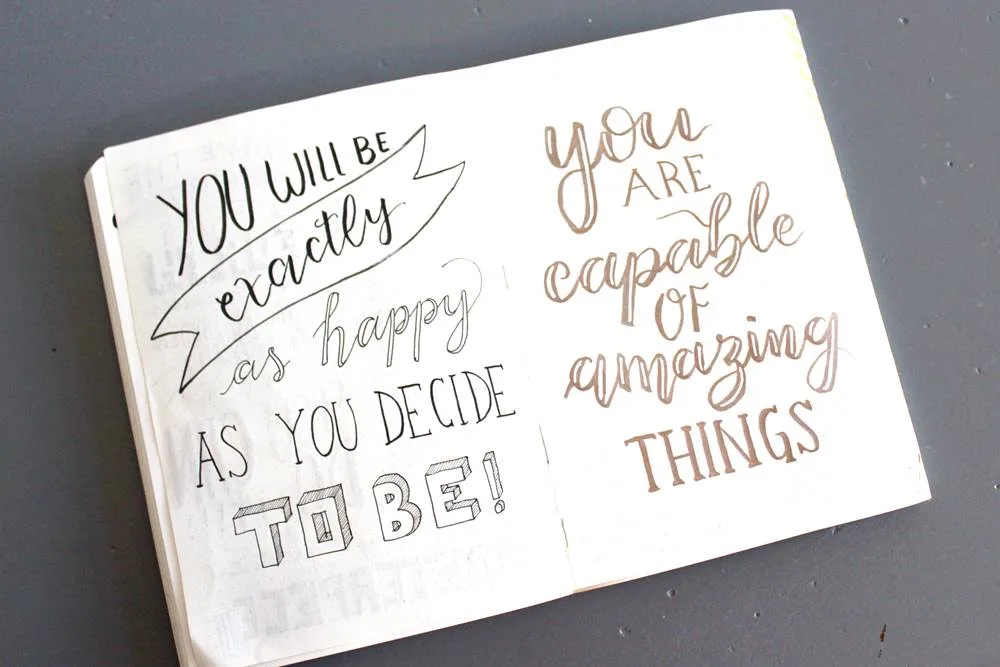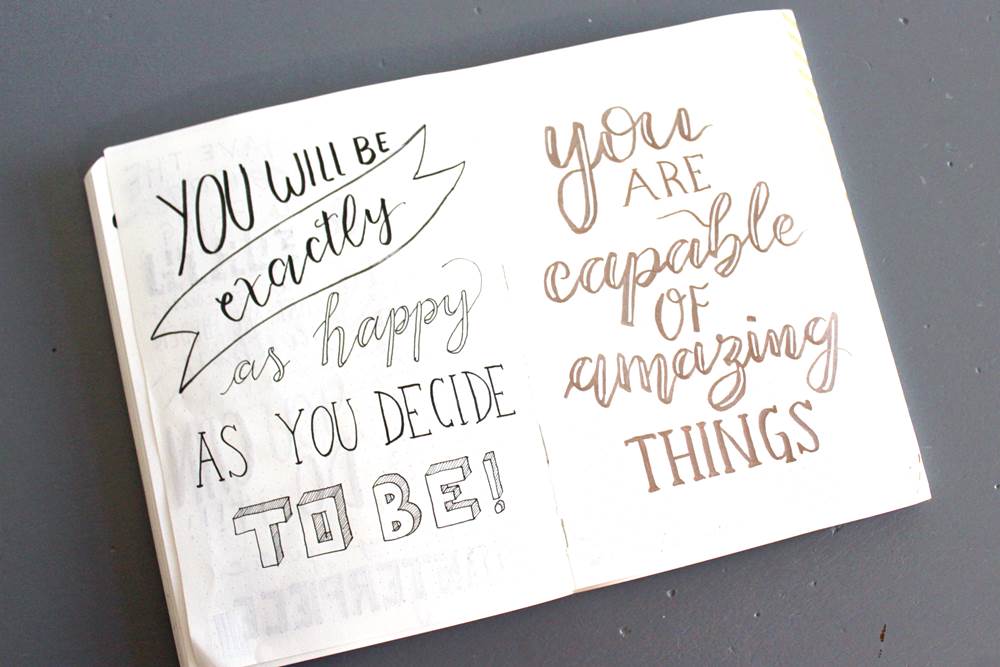 Here is the flip-out completely folded inside the notebook showing my vision board ideas for goals: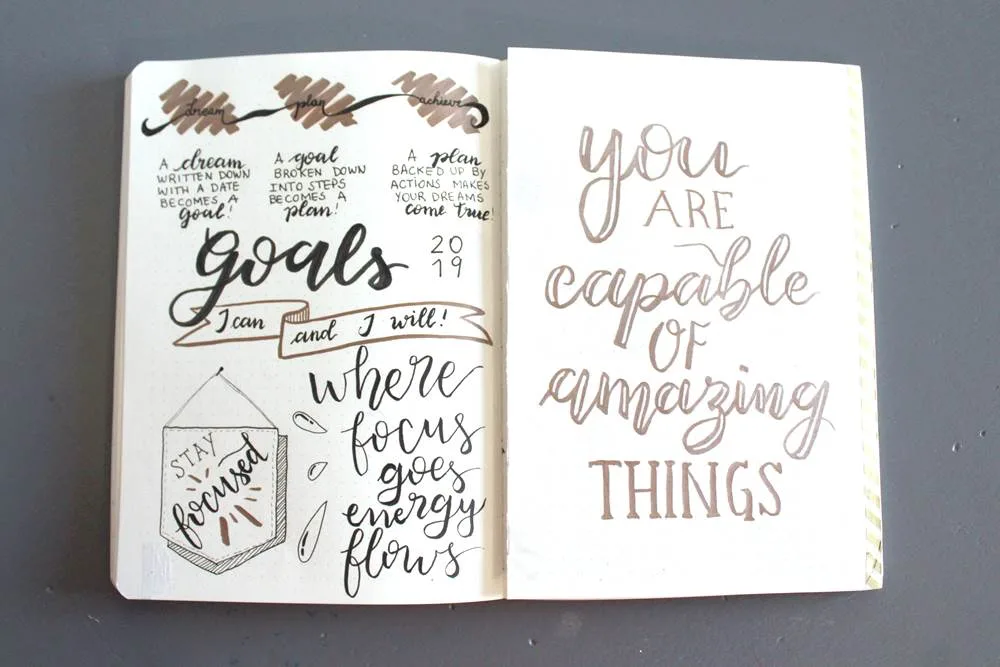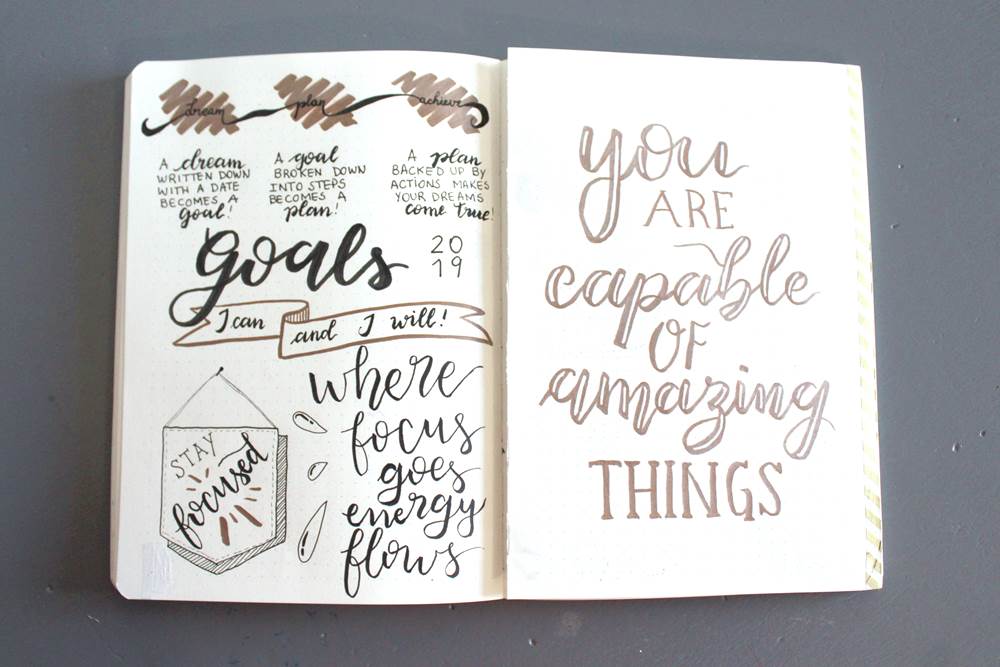 The first page is dedicated to my planning and goal-setting vision board.
I have been reading the 12 week year book and now I am always on top of my plan and goals.
Deals
Here is my page to remind me of my goals and plans!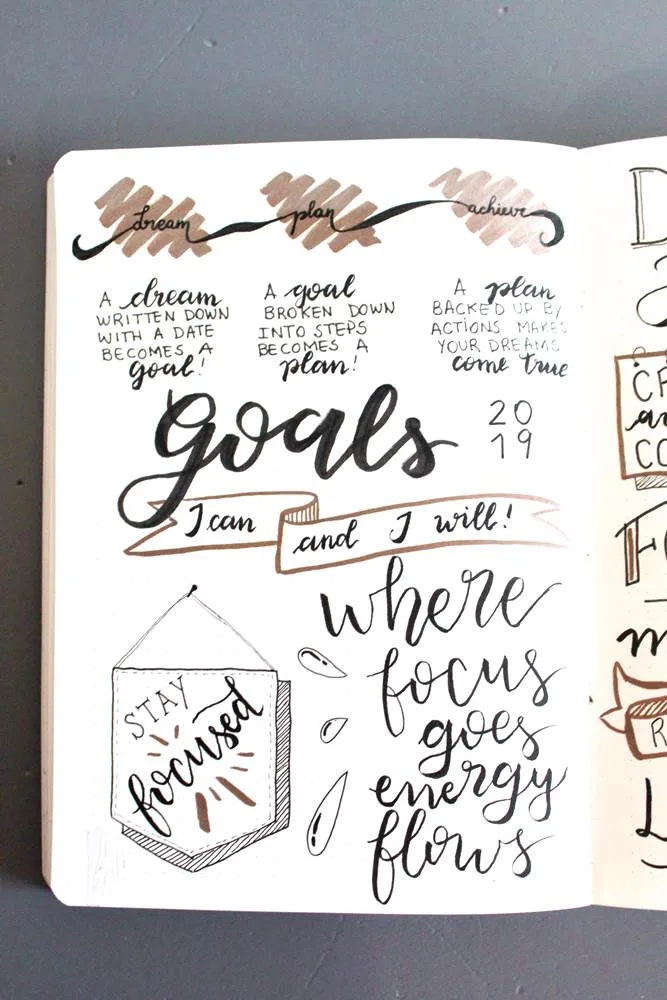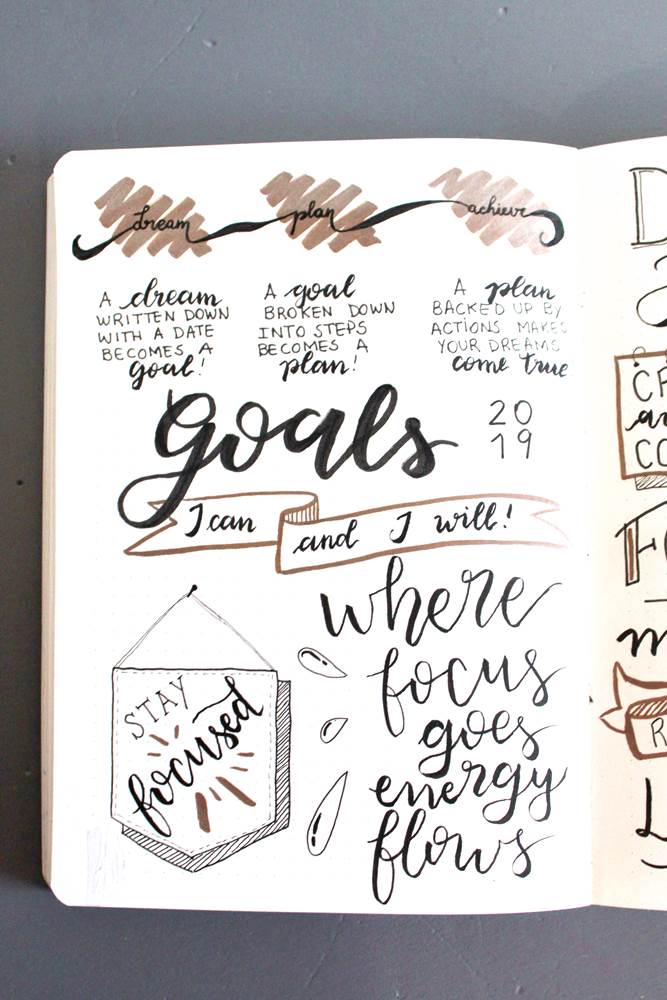 When I turn the flip-out page once I can see more of my vision board. I also can see the second quote page: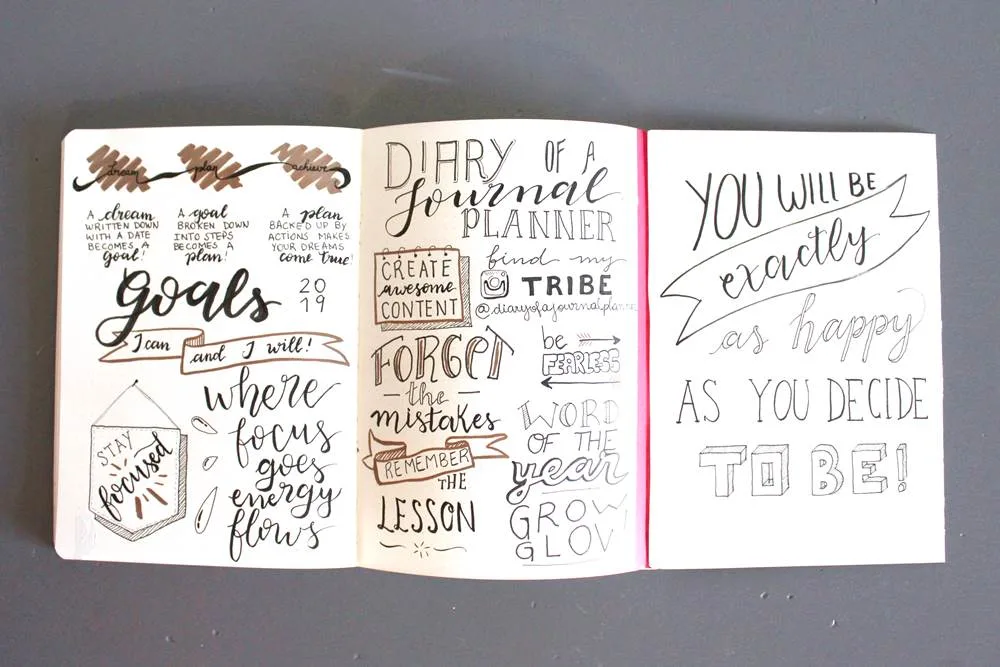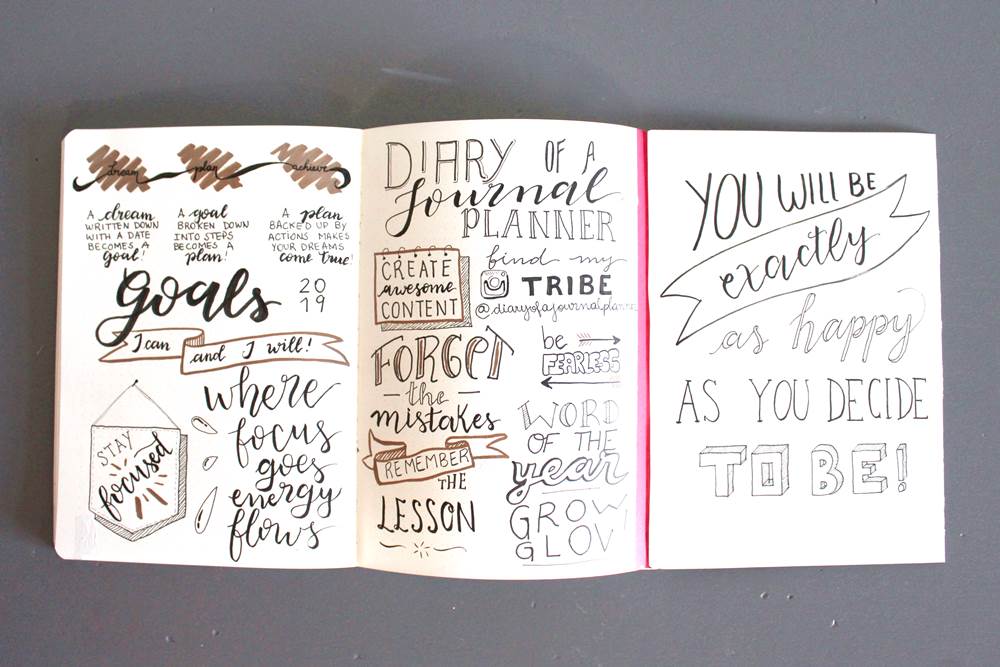 The second page of my vision board is all about Diary of a Journal Planner. I have been so excited about this site and I have BIG plans for the future! I can't wait to see where this next year takes us!
This will be the year that I really devote to social media and finding my tribe online, so watch out Instagram and Facebook, I am coming!
I can tell that this new year will be all about growth and glowing! Therefore the word of the year is there.
Here is what my vision board for work looks like: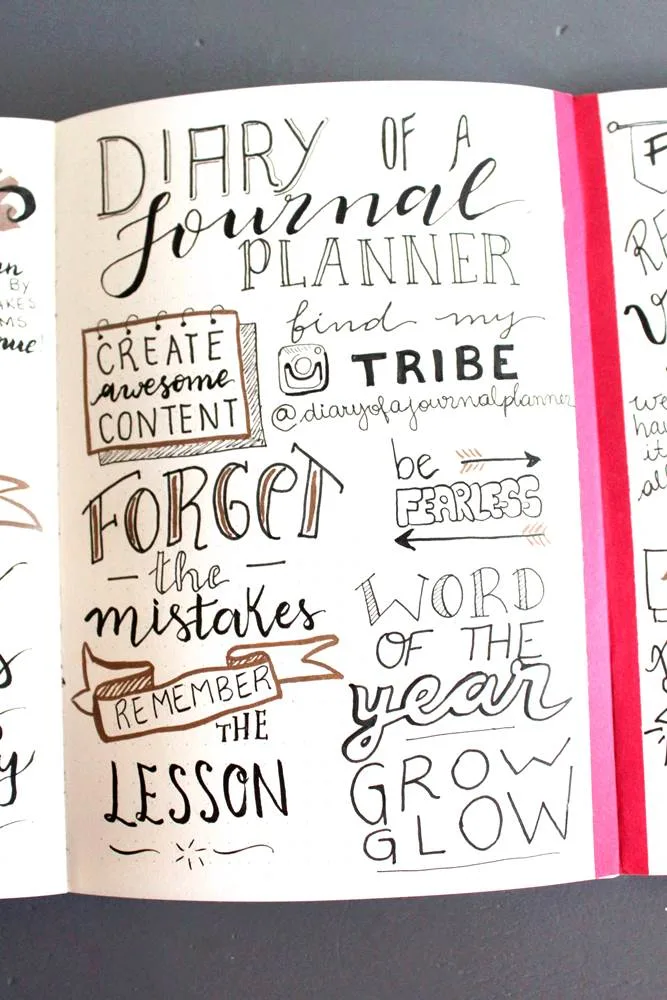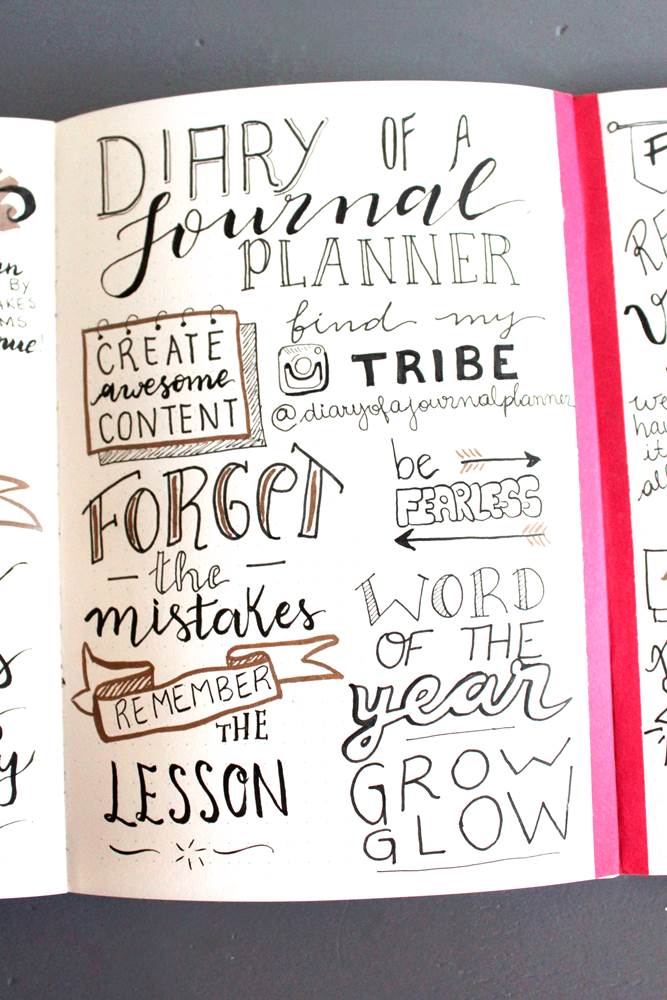 And now when I turn the second and last flip put page to the right I have my last 2 vision board pages shown: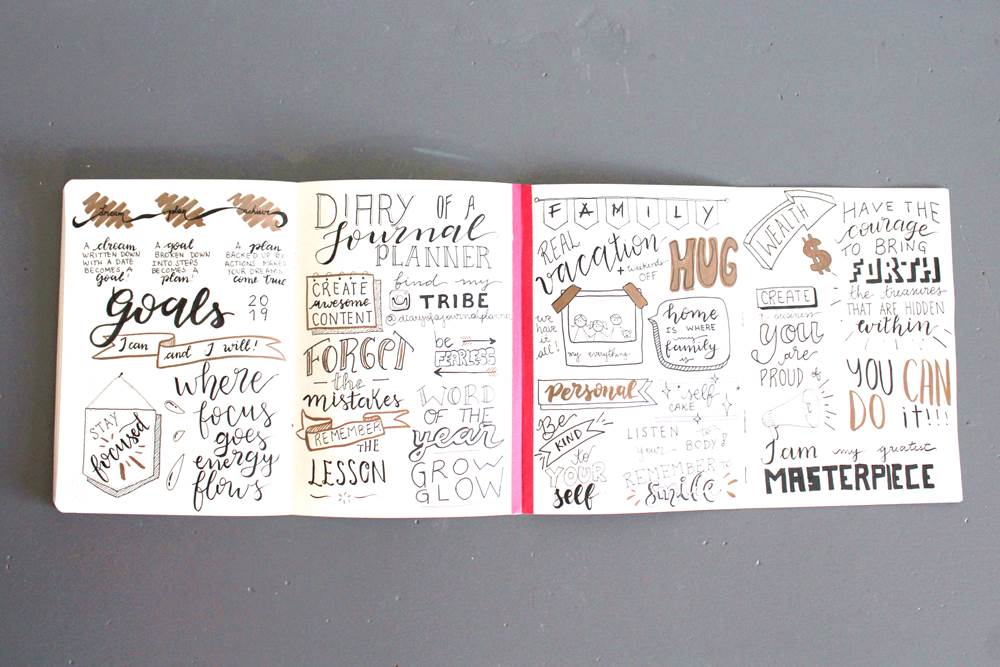 Yes, this is the entire vision board!
The third page of my vision board is about my family. While I am super ambitious regarding my professional goals for this site, for my family I want the simplest things!
We are lucky enough to have each other and we are great together! I am manifesting more hugs, more free time, more offline time.
We already have it all when it comes to a family, my deepest desire is to continuously grow closer to them.
I also have some personal goals at the bottom of the page. Now looking back I think I should have added an entire weight loss vision board page but it seems I didn't plan that too well.
Here is how it looks close up: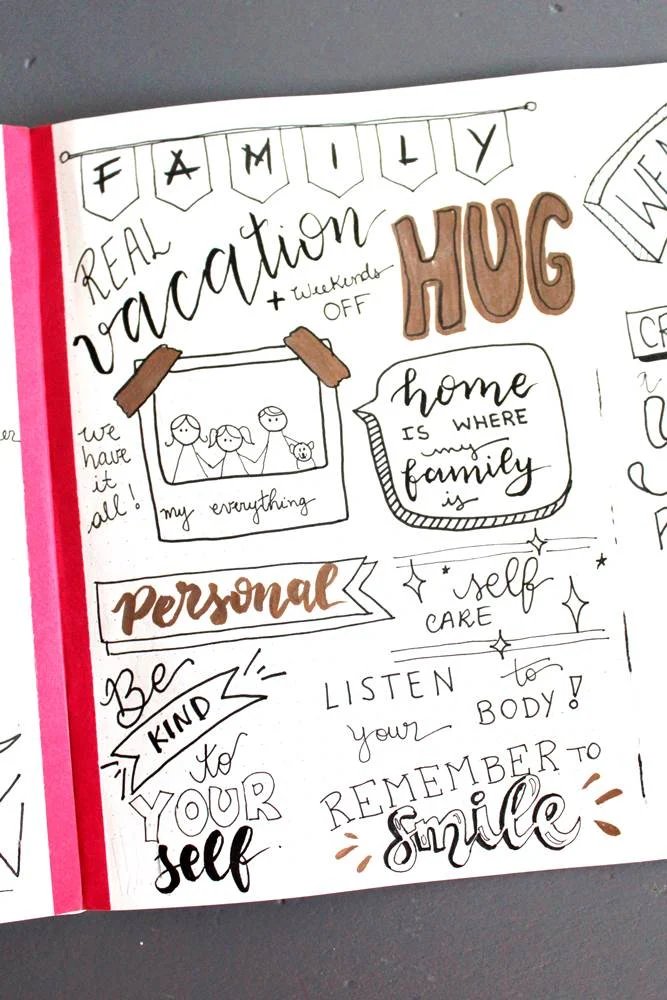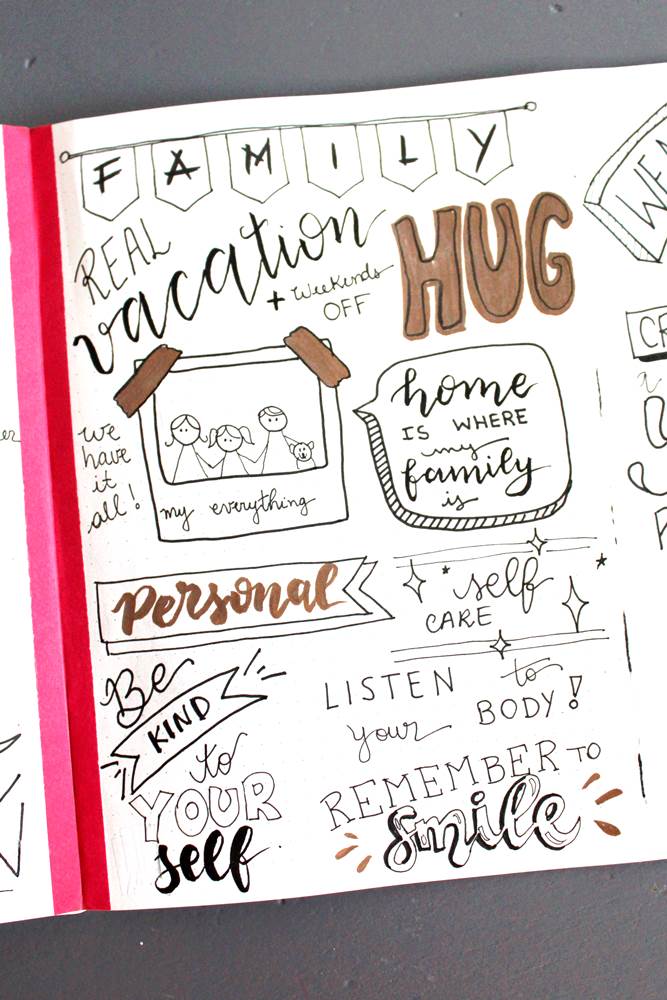 On the last page of my vision board, I have written some affirmation quotes to help me when the going gets tough.
When I am down for any reason and doubting that I can get through it and make my dreams happen!
It is just a reminder for me to be positive and keep sending the vibes that to the universe and make use of the law of attraction.
Your mind is the reality.
No dream is beyond achieving. Here it is what it looks like: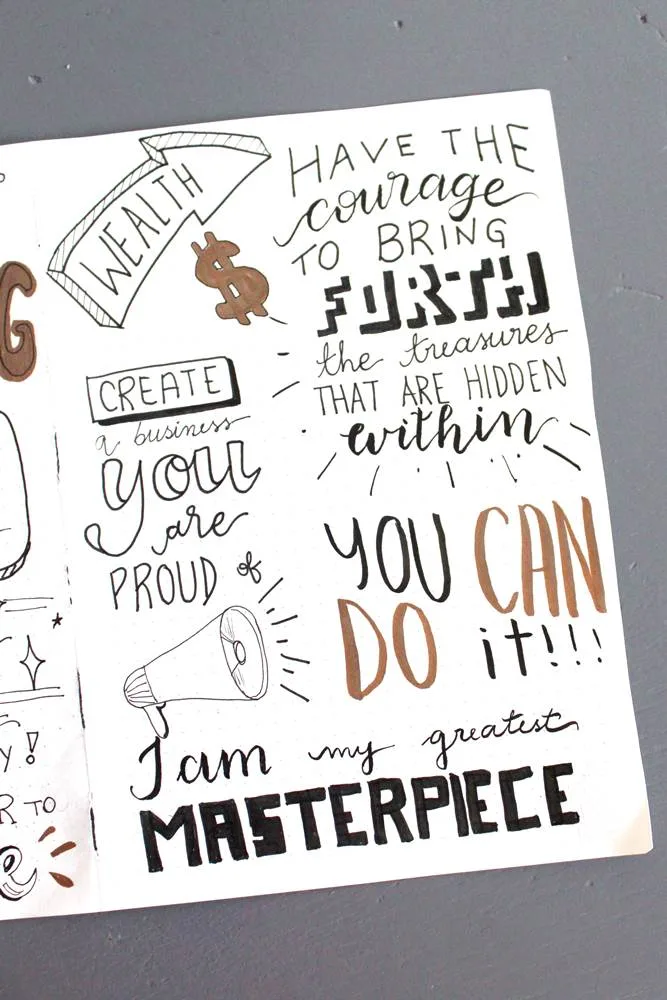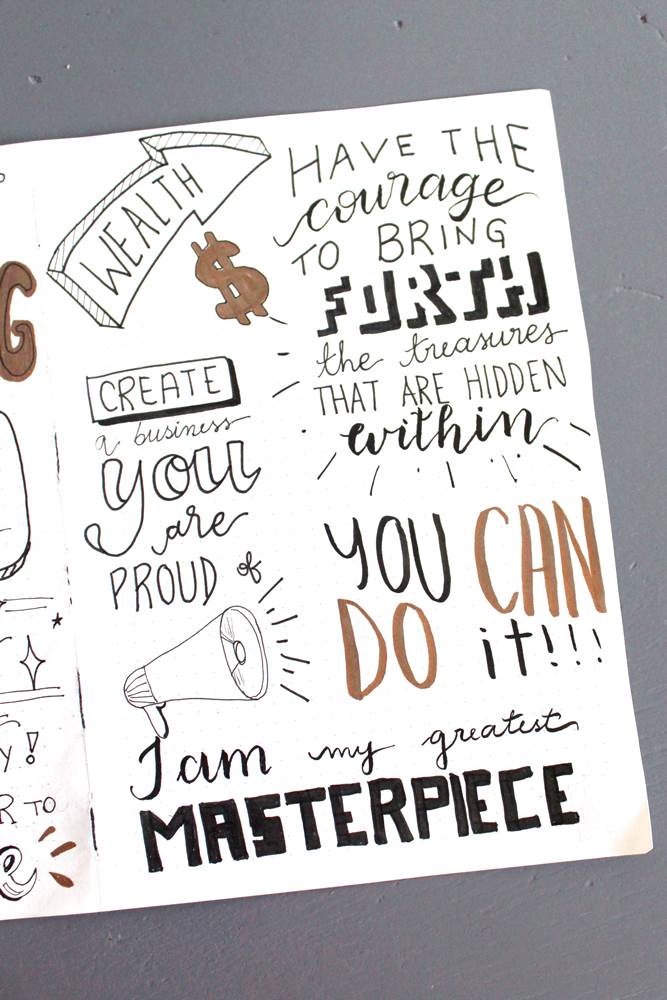 I am so happy with how it turned out!
Have you created your new year vision board already? What does it look like?
---
More bullet journal posts you will enjoy:
PIN FOR LATER!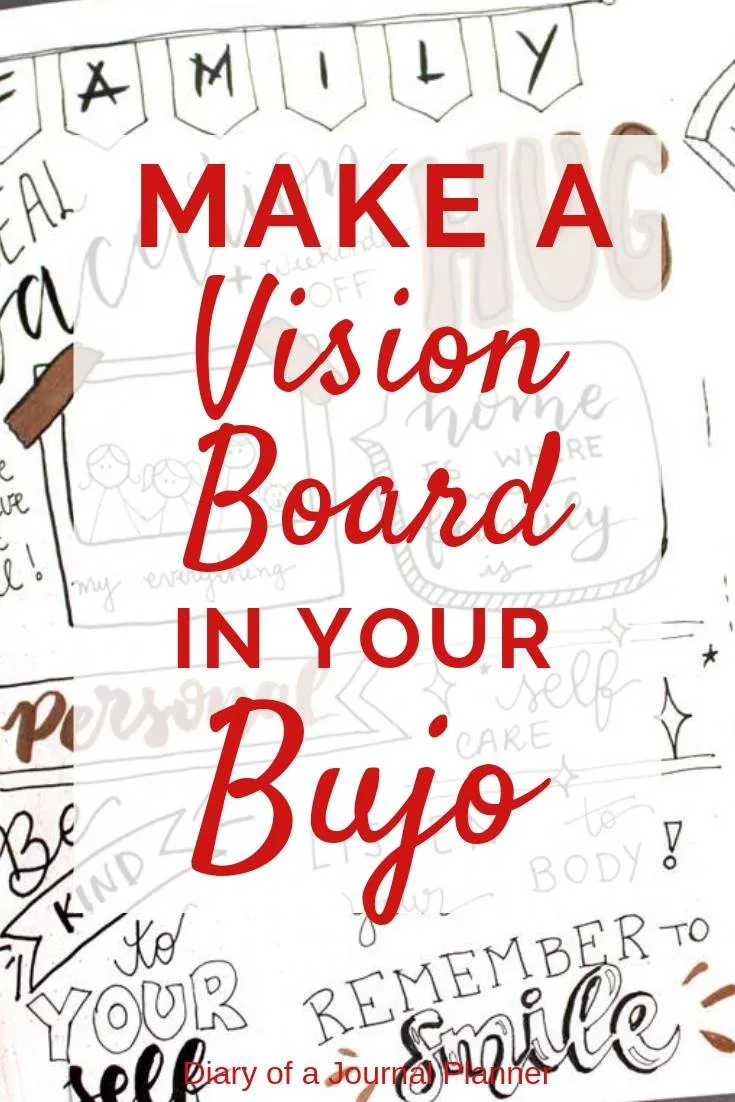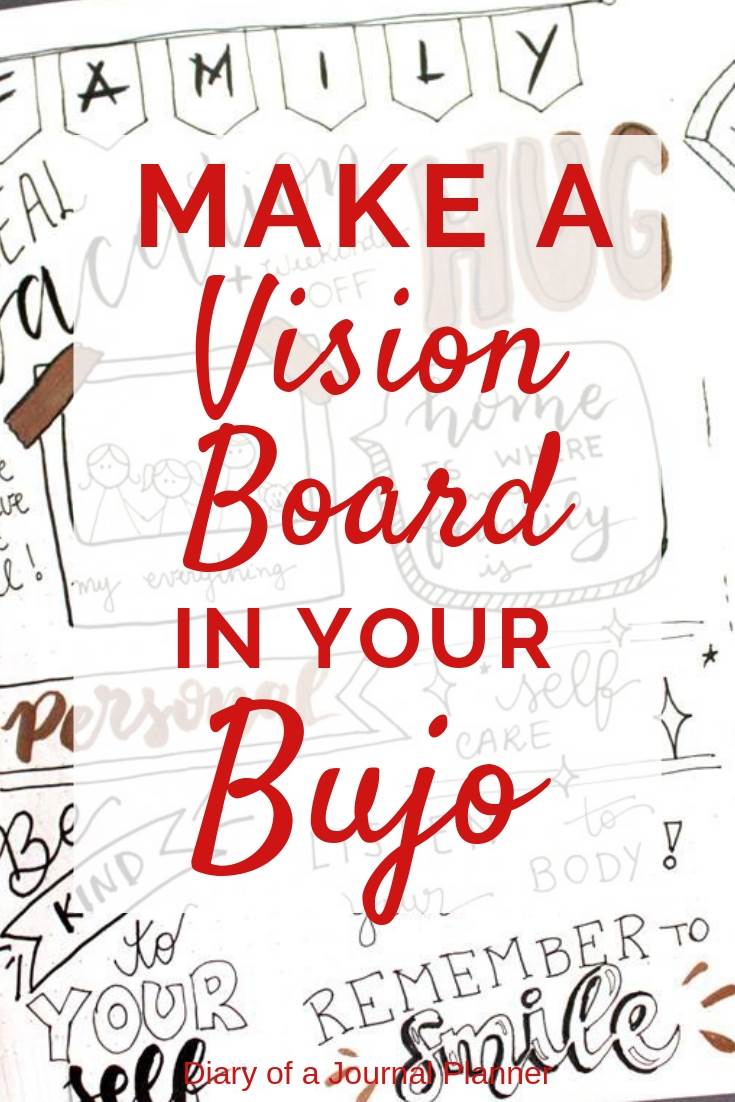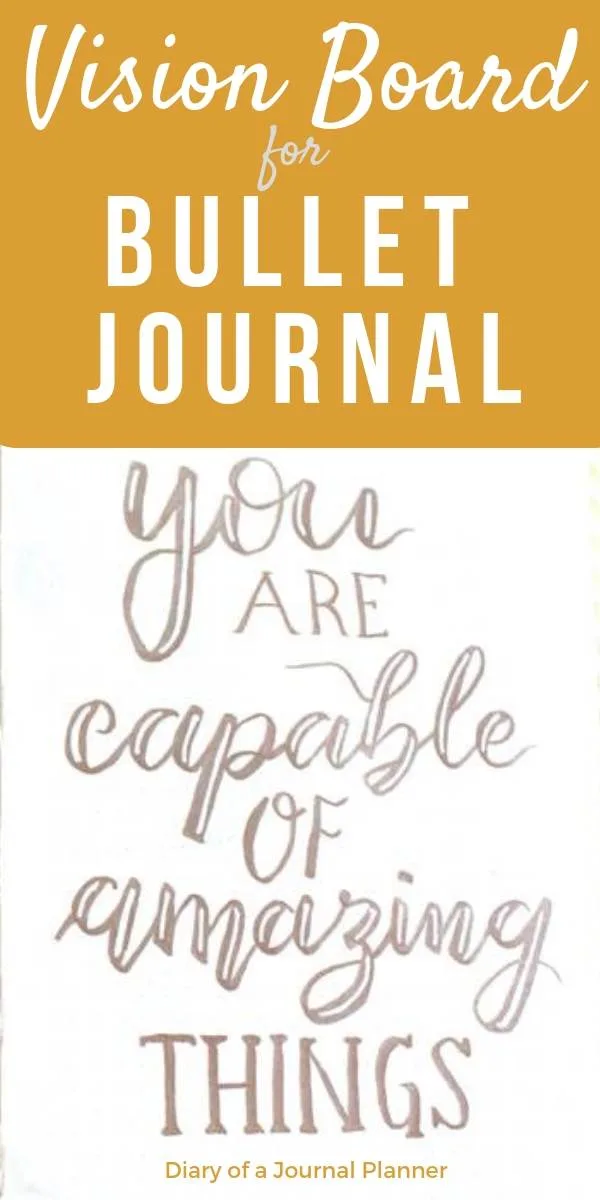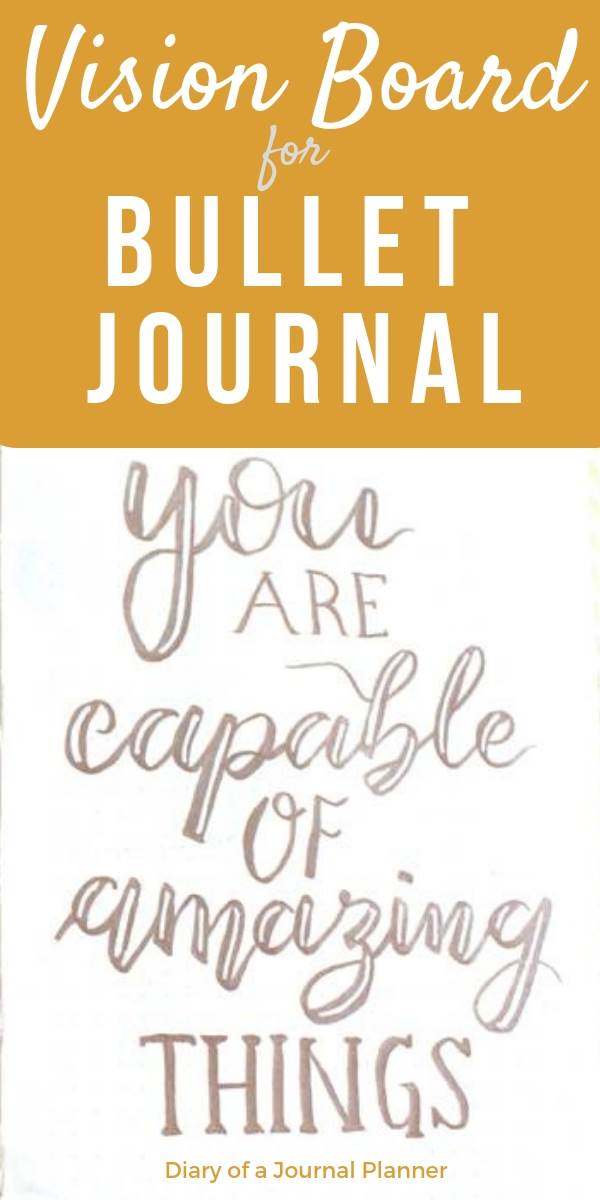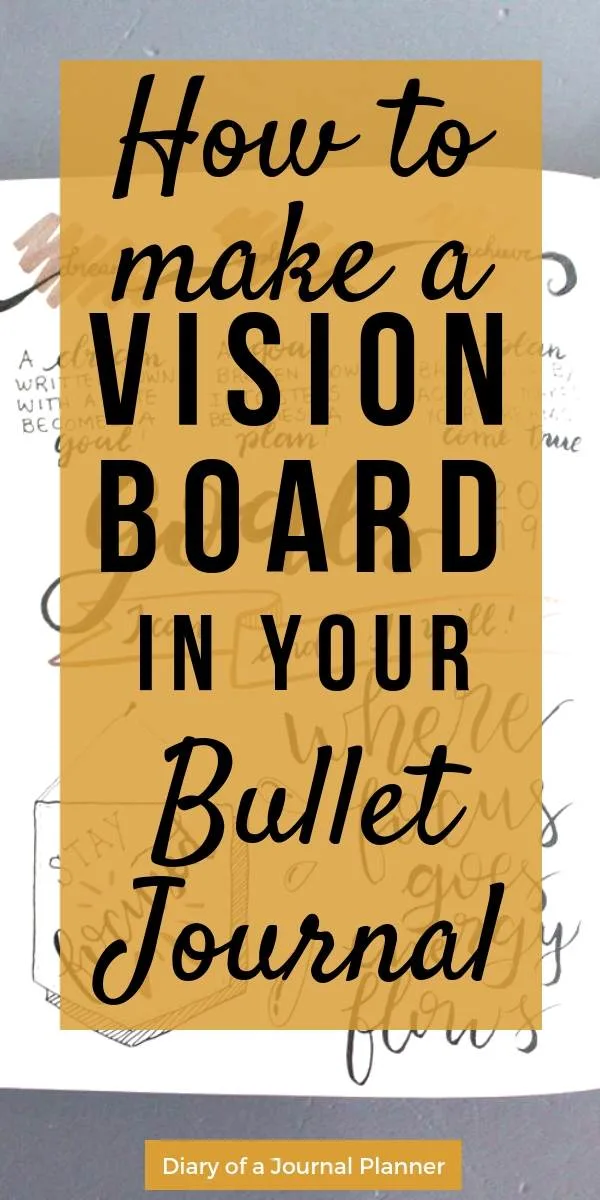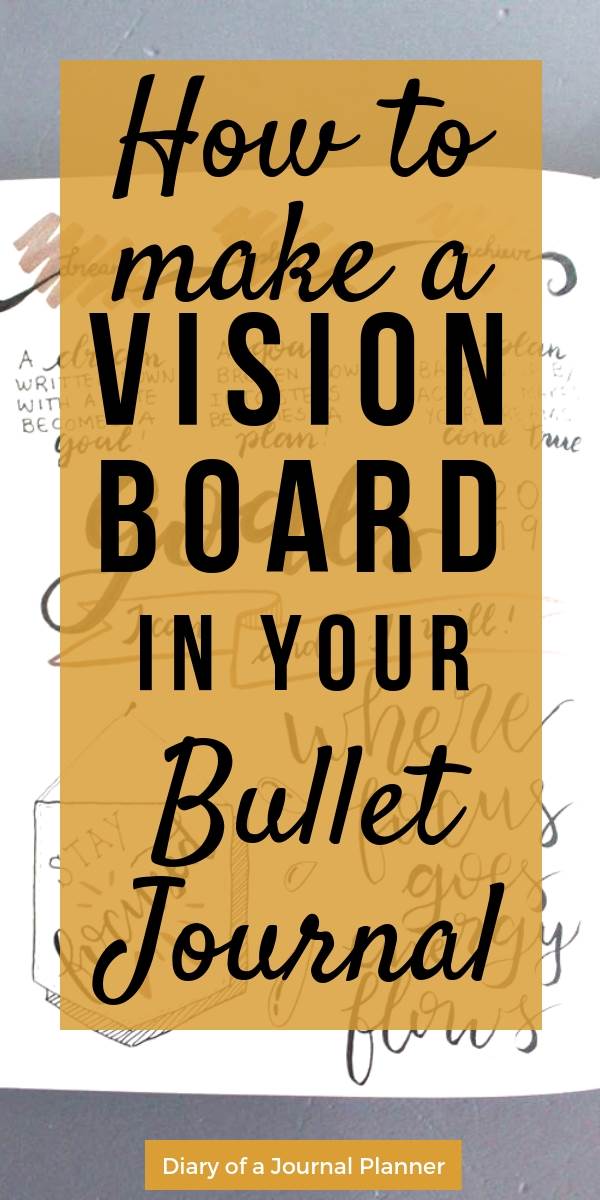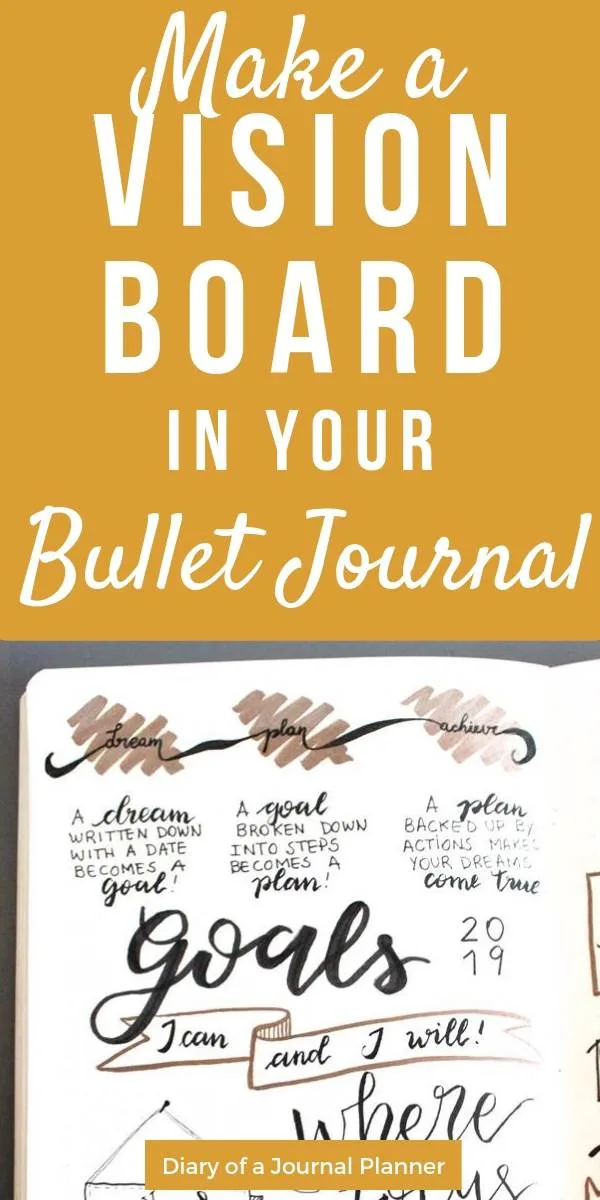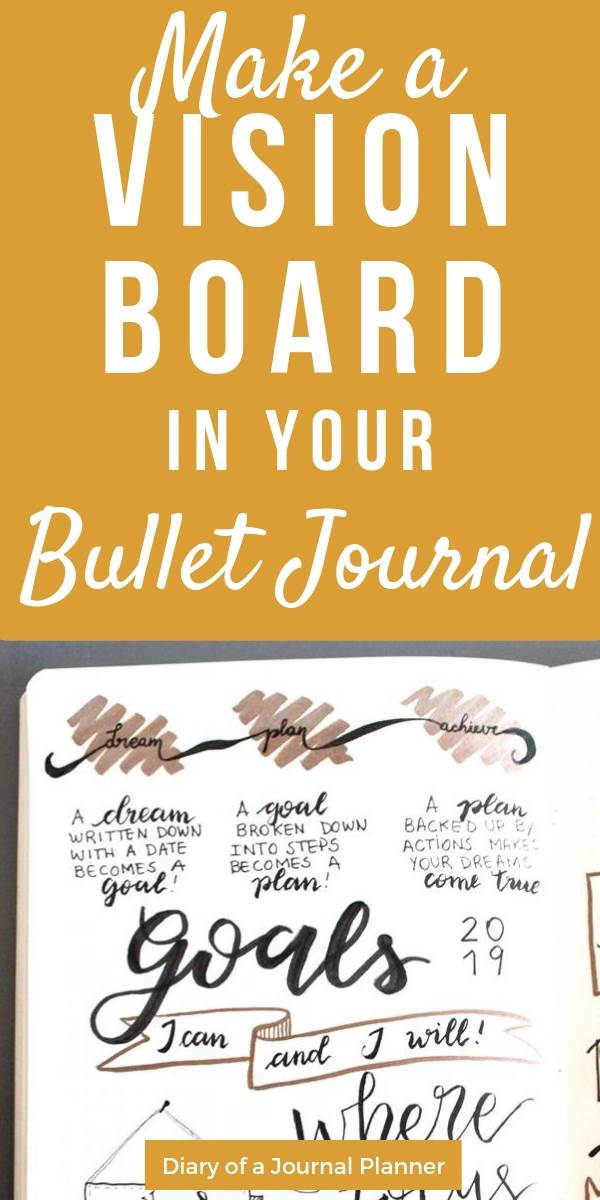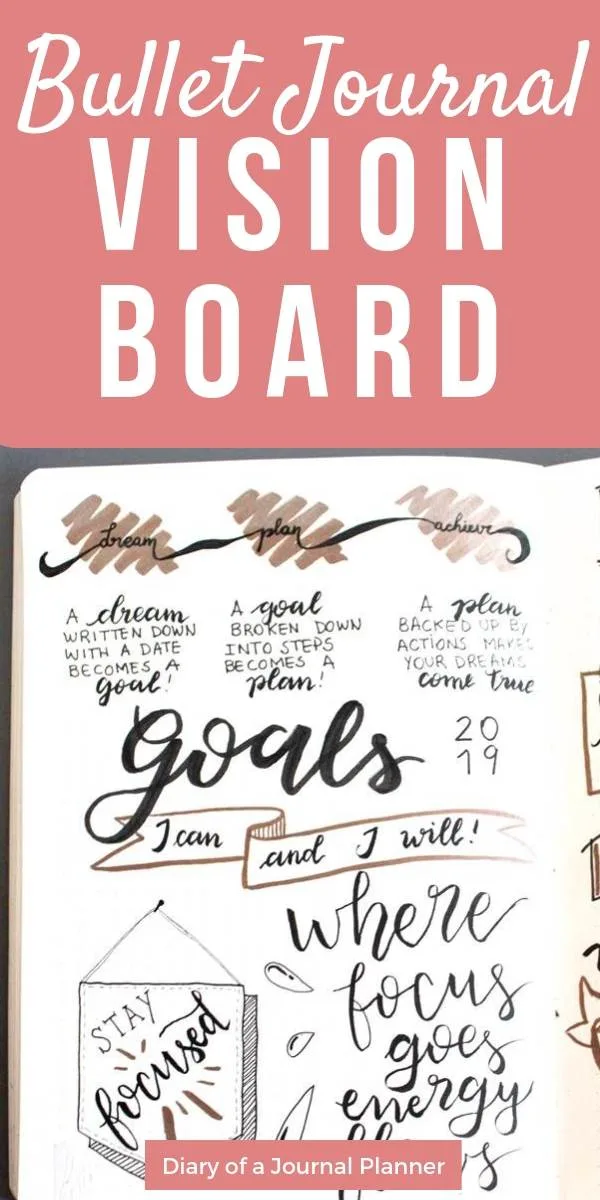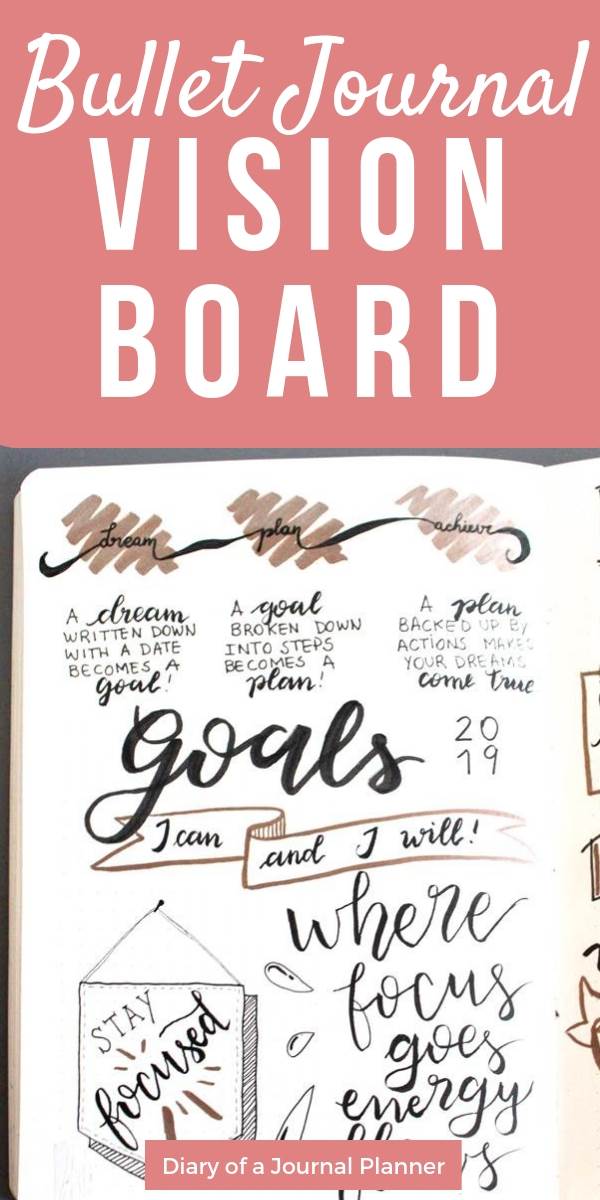 How to make a vision board notebook